AMERIGLO Unveils their First Pistol Mounted Red Dot – the Haven
Luke Cuenco 11.10.21

A new pistol red dot has just hit the market from an otherwise unlikely contender. The new AMERIGLO Haven Pistol mounted red dot optic has a ton of features specifically geared towards the concealed carrier and also has the same durability and reliability that is built right into AMERIGLO's lineup of iron sights. The new Haven Red dot optic will also have options for pre-packaged, co-witness height sights as well as up to a two-year battery life by using AMERIGLO's 12-hour on standby system.
AMERIGLO Unveils their First Pistol Mounted Red Dot – the Haven
The AMERIGLO Haven red dot sight contains a lot of features that cater directly to the concealed carry market. These features include either a 3.5 or 5.0 MOA dot, an RMR footprint with RMR-like durability, 12-hour auto-off, and 12-hour auto-on technology, and a 1-year constant on battery life. Best of all, the AMERIGLO Haven will come to the market at an MRSP of $379.00
The AMERIGLO Haven has proven thus far to be a reliable durable red dot. The red dot has loads of other cool features like a side-loading battery tray, large and intuitive controls for changing the power settings, and featuring AMERIGLO's propriety Carry-Lock lock-in mode. The red dot also features a large window for high visibility as well as a rear etched vertical post for faster dot acquisition for those who are not quite used to shooting red dots yet.
Another cool feature is that AMERIGLO will also be offering the Haven in a "Carry-Ready" configuration for Glock MOS handguns. This special package will include not only the AMERIGLO Haven red dot optic, but also a pair of co-witness height sights that will pair your new red dot sight perfectly with your MOS pistol and will keep you from having to hunt for a set of compatible co-witness sights. The AMERIGLO Haven will begin shipping on December 13th, 2021 and will retail for an MSRP of $379.00 for the optic only.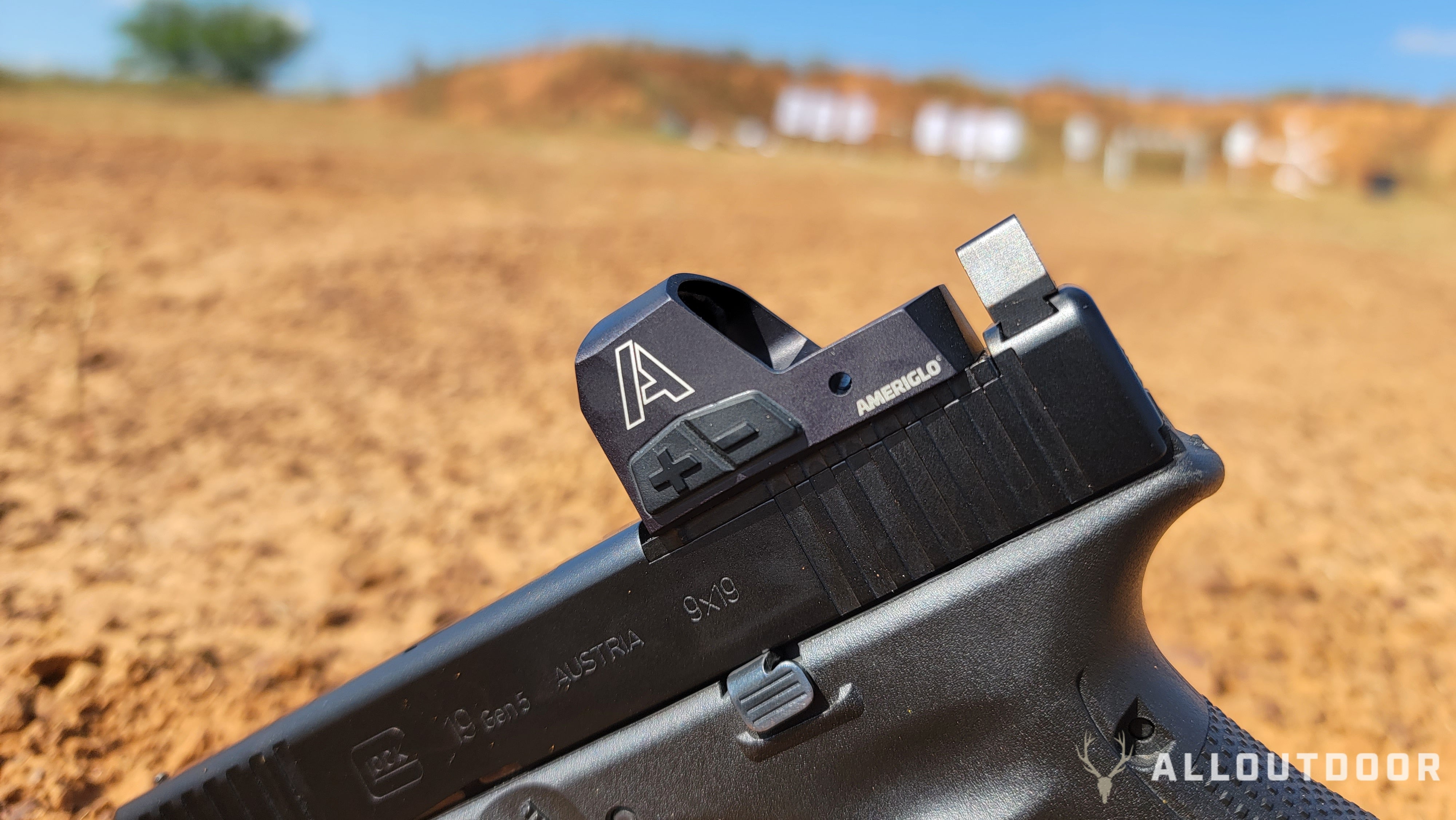 AMERIGLO Haven Features and Specifications

Lens Size: 1.1″ x 0.75″
Optic Size: 1.78″ x 1.24″ x 1.11″
Adjustment Range: +/- 45 MOA (1 click = 1.0 MOA)
Dot Size: Either 3.5 or 5.0 MOA
Battery: One CR2032
Battery Life: 1-year (constant on at power setting 4)
Brightness Settings: 11 (including 2 NV settings)
Construction: 6061 Series Aluminum Housing
Waterproof Rating: 1 Meter (30 Minutes)
Temperature Range: -4°F to 122°F
Compatibility: Glock MOS (non slimline models), Springfield OSP, FN 509 MRD & Tactical series, Beretta APX RDO, Taurus G3/G3C T.O.R.O, CP-P10 F/C, Walther Q4/A5/PDP, Smith & Wesson C.O.R.E.