NEW Smith & Wesson M&P 10mm M2.0 in 4″ or 4.6″ Optics Ready
Adam Scepaniak 11.16.21

For all of the 10mm faithful out there, you finally have a new option for the stout cartridge you love coming from Smith & Wesson! Smith & Wesson has debuted a NEW M&P 10mm M2.0 available in 4″ or 4.6″ Optics Ready configurations with or without a manual thumb safety. They will carry all of the accoutrements of a traditional M&P M2.0 pistol, but now available in 10mm.
Smith & Wesson Coverage on AllOutdoor
For the history buffs among us, Smith & Wesson used to produce semi-automatic 10mm handguns in the past and over time they eventually discontinued them. To what should be everyone's surprise and delight, they have brought back the 10mm cartridge to their fold by unveiling the Smith & Wesson M&P 10mm M2.0 in 4 pistols total. You will have your choice of a 4″ barrel (Compact), 4.6″ barrel (Full-Size), and with or without a Manual Thumb Safety. All of the models will be Optics Ready to add your favorite micro red dot of choice. The rest of the specifications can be read below as presented by Smith & Wesson:
 

10mm Auto

 

Stainless Steel with Matte Black Armornite® Finish with 1:10″ Right-Hand, 5-Groove Twist

Stainless Steel with Matte Black Armornite® Finish

 Manual 

Thumb Safety | No Manual Thumb Safety

 

15+1 Round Magazine

Sights: White Dot Front & Rear
 

28.5 Oz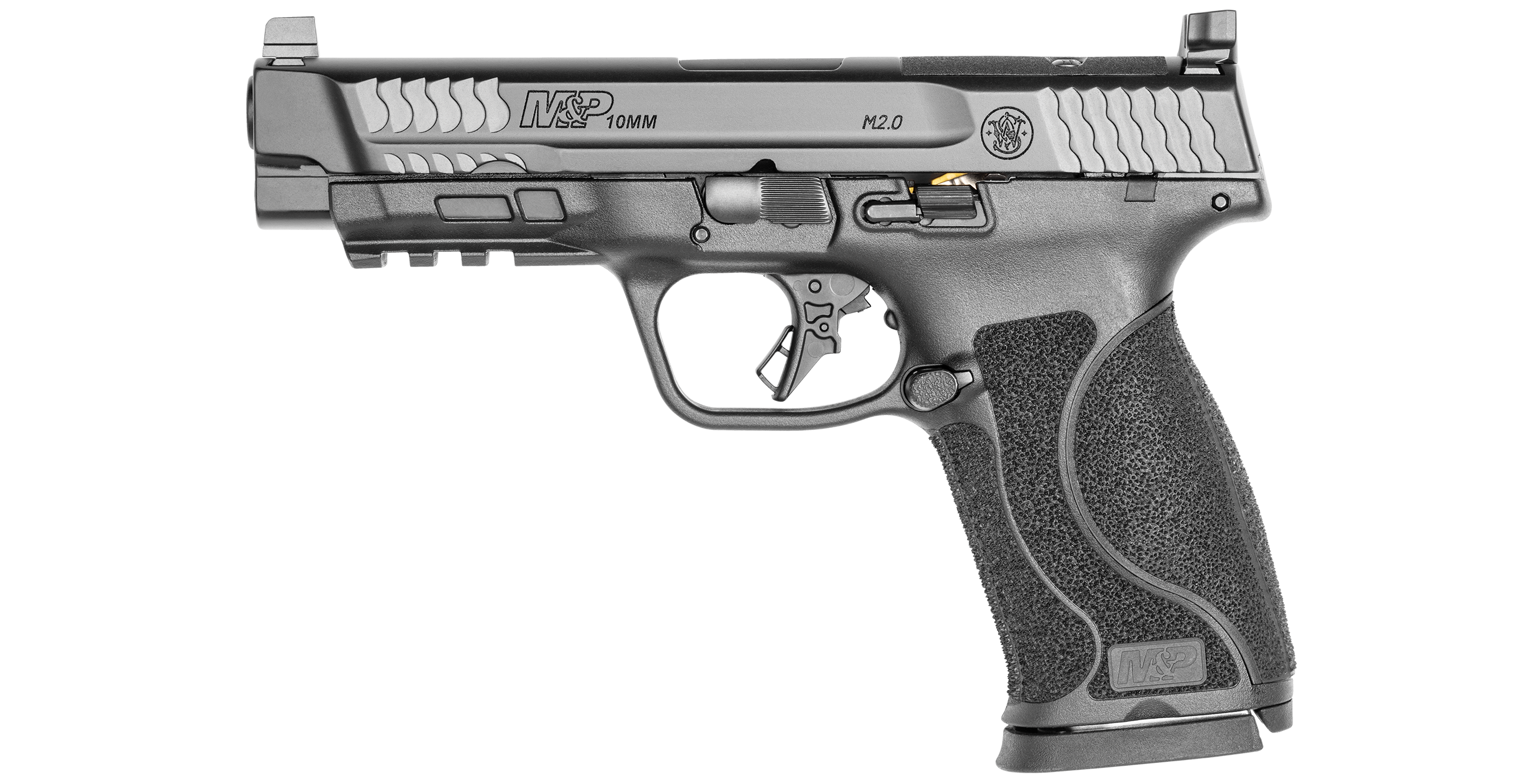 For those who might be unacquainted with the Smith & Wesson M&P M2.0 series as a whole, there is a laundry list of improvements from the original M&P 1st Generation (if you want to call it that) as well as traits that sets the Smith & Wesson line of pistols apart from its competitors. A sampling of those characteristics can be read below:
Slide cut for optics
M2.0 flat face trigger for consistent finger placement that allows for more accurate and repeatable shooting
Low barrel bore axis makes the M&P® pistol more comfortable to shoot reducing muzzle rise and allowing for faster aim recovery
Optimal 18-degree grip angle for natural point of aim
Four interchangeable palmswell grip inserts for optimal hand fit and trigger reach – Small, Medium, Medium/Large, Large
Enhanced grip texture allows the user to manage recoil, keep a firm grip, and delivers comfort when concealing
New M&P® M2.0™ crisp trigger with lighter trigger pull
Tactile and audible trigger reset
Accurate 1 in 10˝ twist M&P® M2.0™ barrel
Extended rigid embedded stainless steel chassis to  reduce flex and torque when firing
M&P's patented take-down lever and sear deactivation systems allow for disassembly without pulling the trigger
Armornite® durable corrosion resistant finish
So, there you have it! Smith & Wesson is back in the 10mm game with their freshly debuted M&P 10mm M2.0 in a 4″ or 4.6″ Optics Ready configuration. Whether you would like one for backpacking in grizzly bear country or you want something with more Ft-Lbs of energy for everyday carry (EDC) in the winter months where we are all wearing puffy coats like we're the Michelin man, this new 10mm from Smith & Wesson should do the trick. As always, let us know all of your thoughts in the Comments below! We always appreciate the feedback.