Now In TrueTimber: Mossberg 940 Pro Waterfowl Shotgun
Nicolas Lenze 12.14.21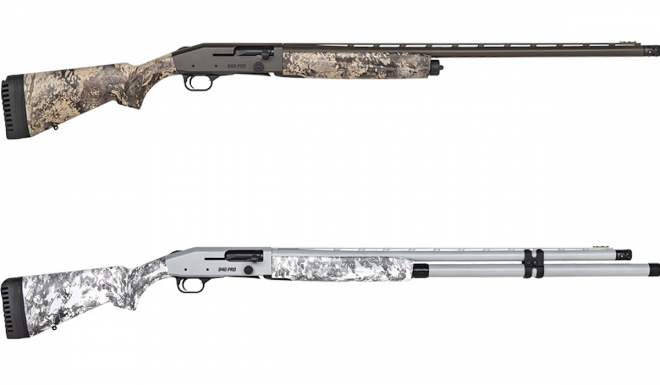 Mossberg has been making shotguns for over 100 years, which means they must be doing something right. Whether you prefer a pump or semi-auto, Mossberg has a shotgun that will fit your needs. For each type of hunter, there are specific considerations that have to be addressed. Waterfowl hunters need large trigger guards for gloved hands, reliability, and sometimes some help blending in. That's where TrueTimber comes in. New from Mossberg and TrueTimber, these are the Mossberg 940 Pro Snow Goose and Waterfowl Shotgun.

TrueTimber news @ AllOutdoor:
"We are really excited to see our camo patterns on these new guns and we know our waterfowl fans are really going to love having a reliable gun to match their gear," said TrueTimber CEO Rusty Sellars. "Mossberg has been a longstanding partner of ours and we are happy to see them expand their offerings in our camo patterns."
Mossberg 940 Pro Waterfowl Shotgun In TrueTimber Camo

These 940 Pro shotguns use a durable gas system and corrosion-resistant internals that should allow you to shoot 1,500 rounds before having to clean your gun. They use an enlarged and beveled loading port, along with an elongated elevator for smoother loading. The stock is adjustable for length of pull and uses a self-draining system to keep things dry. The stock and forend are finished in TrueTimber camouflage, while the metal parts are finished with durable Cerakote.
940 PRO WATERFOWL SPECS

Gauge: 12
Capacity: 4+1
Chamber: 3″
Barrel length: 28″
Overall length: 50.75″
Weight: 48.75″ lbs.
MSRP: $1,050.00
940 PRO SNOW GOOSE SPECS

Gauge: 12
Capacity: 12+1
Chamber: 3″
Barrel length: 28″
Overall length: 50.75″
Weight: 8.25 lbs.
MSRP: $1,120.00
If either of these shotguns had you daydreaming of falling ducks, get the rest of the info by heading to Mossberg's website. You can also find Mossberg on Facebook, Twitter, Instagram, and YouTube. If you want to take a closer look at their patterns, TrueTimber's website has them all. You can get more from TrueTimber when you follow them on Facebook, Twitter, Instagram, and YouTube. Go take a quack at some waterfowl!