AllOutdoor Review: Colt Anaconda .44 Magnum – Rebirth of a Legend
Adam Scepaniak 12.16.21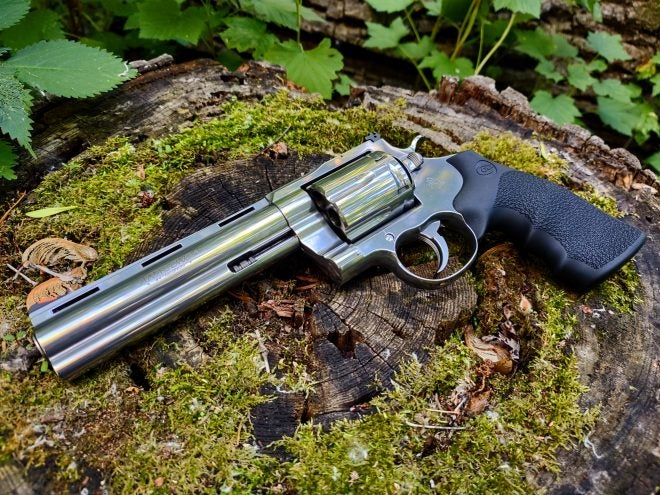 Throughout 2021 there have been a lot of huge headlining announcements of firearms being brought back from their former glory. One most recently was a new Hi-Power pistol produced now by Springfield Armory in the SA-35 9mm. The most shocking and exciting reintroduction of a firearm this year would most certainly be the beloved and nostalgic Colt Anaconda! When people talk about the King of Revolvers the Colt Anaconda is most definitely in that conversation. So, today we will take a look at this newly minted phoenix rising from the ashes in the Colt Anaconda. Let's dive in!
Colt Anaconda Coverage on AllOutdoor & TheFirearmBlog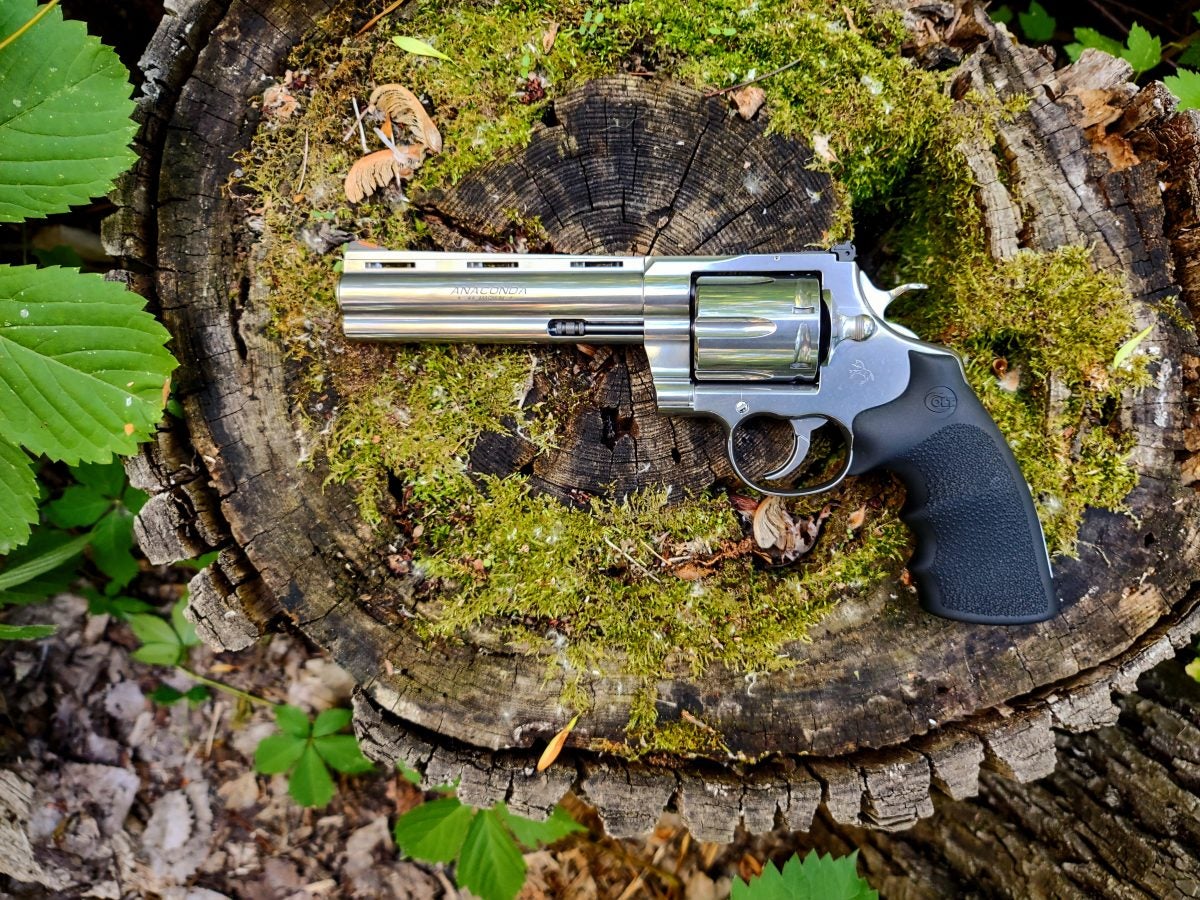 Specifications – Colt Anaconda .44 Magnum
For those who might be familiar with the Colt Anacondas of old, this big-bore revolver is built to be thick, robust, and substantial just like the originals. When you wear the moniker of the "King of Revolvers" we all know that heavy is the crown. This is not only good to mitigate the recoil of the .44 Remington Magnum cartridge, but also to steady your aim when shooting free-handed; it creates a stabilizing effect much like a stabilizer on a bow. The full specifications for the Anaconda .44 Magnum can be read below as presented by Colt:
Action: Double-Action/Single-Action
Caliber: .44 Magnum
Barrel Length: 6″ | 8″
Capacity: 6 Round
Hammer Style: Exposed, Serrated
Grips: Black Hogue Rubber
Sights: Red Ramp Front, Adjustable Rear
Frame, Cylinder, and Barrel Finish: Semi-Bright Stainless Steel
Overall Length: 13″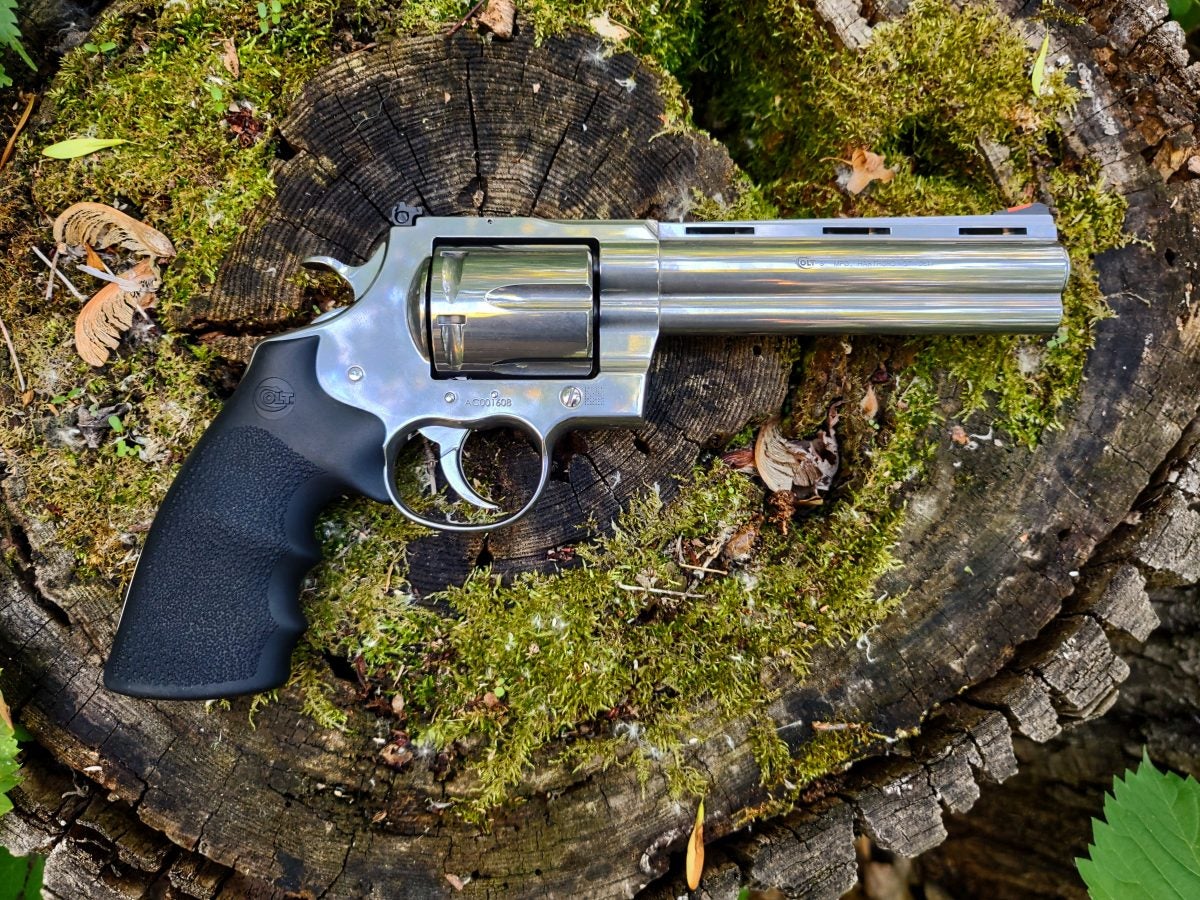 The Colt Anaconda – similar to other Cobra and King Cobra Target offerings – utilizes Colt's LL2 Linear Leaf Mainspring Design for a non-stacking, smooth-as-glass trigger pull. It also boasts forged American stainless steel throughout its frame and barrel. The current MSRP for the Colt Anaconda is $1,499 for either the 6″ or 8″ barrel offerings. An expanded explanation of the Anaconda can be read below via Colt's Press Release on this new wheelgun:
"Colt's popular Snake Gun revolver series gains a new addition with the updated Anaconda. The 2021 Anaconda has been fully re-designed to utilize an oversized Python action. Bulked-up with a solid stainless steel frame for strength and durability, this DA revolver is worthy of its pedigree.

Experience the Linear Leaf Spring Action for a non-stacking, smooth-as-glass trigger pull. With recoil-absorbing Hogue grips and adjustable, interchangeable sights, this .44 Magnum is cool and comfortable from the range to the woods.

A recessed target crown offers protection and the frame is drilled and tapped for optics mounts, making the Anaconda an unstoppable huntsman's sidearm."
First Impressions – Colt Anaconda .44 Magnum
When you first handle one of these revolvers you will immediately notice the heft and weight; you feel as though you authentically are holding something substantial as mentioned earlier. That is not to say I wouldn't consider backpacking with it, or would not want to use it as a primary or secondary option while hunting. Most of the time when I am black bear hunting in Minnesota my secondary line of defense is a reliable revolver.
Glossing over other features of this revolver you come to the Hogue black rubber grip which should do a wonderful job taming the recoil impulse and they are well-known for fitting most all shooters' hands with their ergonomic design. The next element that caught my attention is the barrel crown. So many revolvers nowadays do not feature a simple yet valuable crown to their barrel and it comes as no surprise that this Colt has a Recessed Target Crown like many other premium revolvers on the market today.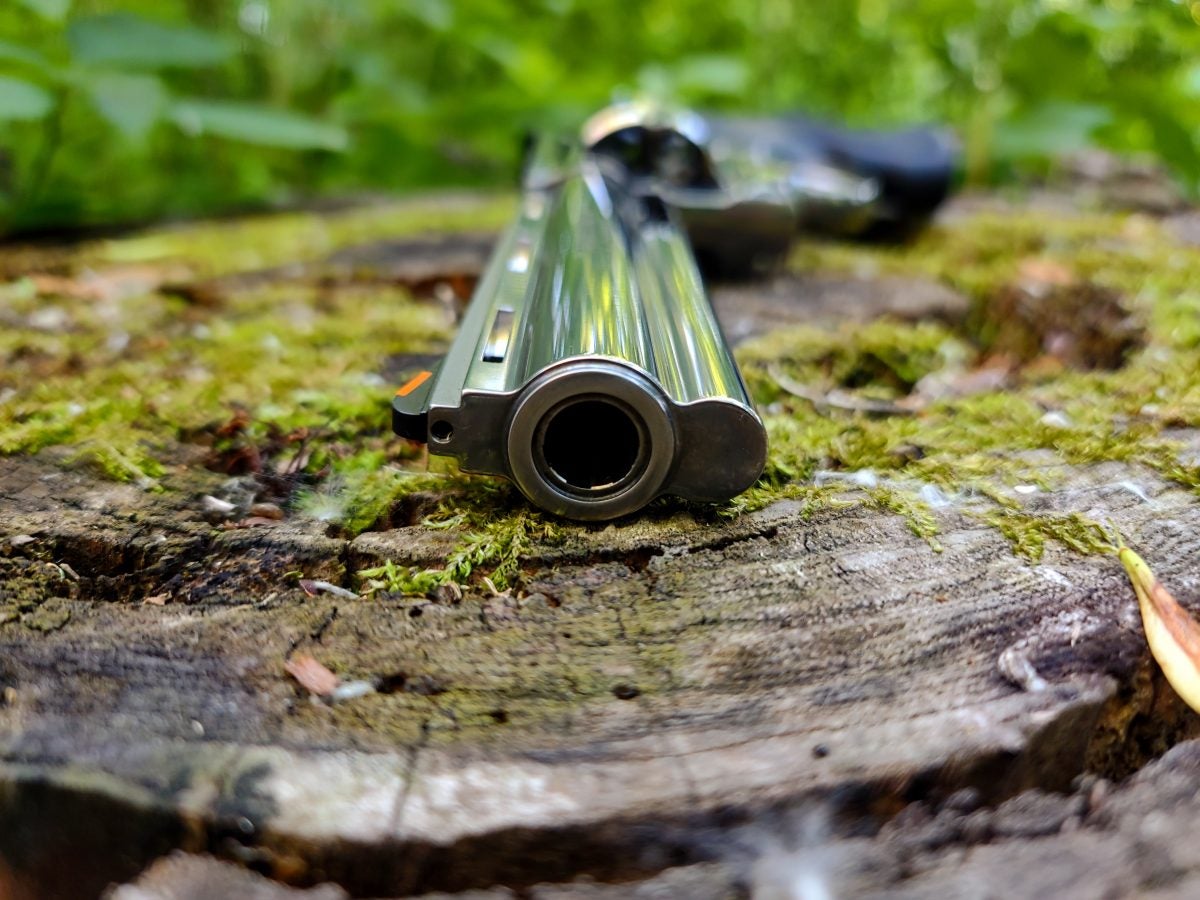 The next thing anyone is going to want to do when handling this timeless classic is dry-fire the trigger. I deem this a Wide Target Trigger (my words – not Colt's) which lets your trigger finger get cozy and comfortable; you really find where the pad of your finger should be seated for repeatable accuracy.
If you have the opportunity to dry-fire, or the pleasure to live-fire one of the new Colt Anacondas, you will be blown away by its Double-Action trigger pull; seriously! This is not hyperbole or empty-handed metaphors. I have fondled a lot of revolvers over the years and have 20+ in my infant collection, and this revolver's double-action trigger pull is the cleanest and smoothest I have ever felt in my life. It is appallingly nice. For any Colt doubters in the audience, you will not believe how nice this trigger is until you try one. For all of us who wax fondly about how nice Colts used to be, well, this is even better than I ever remembered those older models being.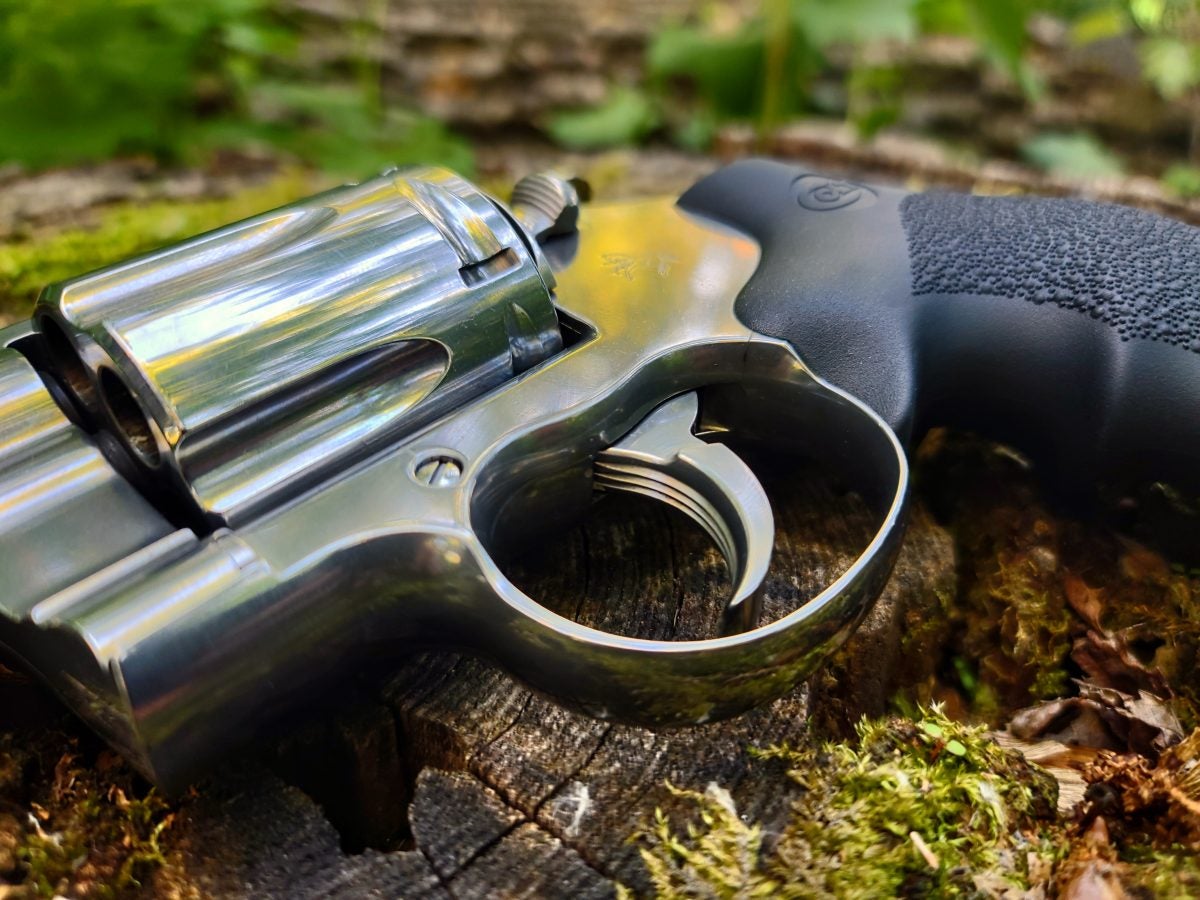 Range Time – Colt Anaconda .44 Magnum
Now, it is time for the most fun part – range time! Traditionally, whenever I shoot .44 Magnum revolvers it is a tolerable experience because of the inherent recoil. With the Colt Anaconda and its Full Lug, Vent Rib barrel and hefty frame it was an enjoyable experience. I could shoot this revolver two-handed with proper marksmanship grip or even one-handed, no problem. The overall weight to aim this revolver and the recoil tied to it were not an issue.
The sight picture is pretty standard for a Colt being a Red Ramp Front Sight with an Adjustable Rear. I typically feel confident aiming this style of sight out to 50 yards. I can "pie-plate" all day long at 50 yards free-hand which is serviceable for hunting, and at 25 yards or less you can pretty much call your shot because the accuracy of the revolver exceeds that of the shooter holding it (in my case, this is true at least). So, in regards to accuracy after shooting several flavors of .44 Magnum, this Colt was everything I could ask it to do and more.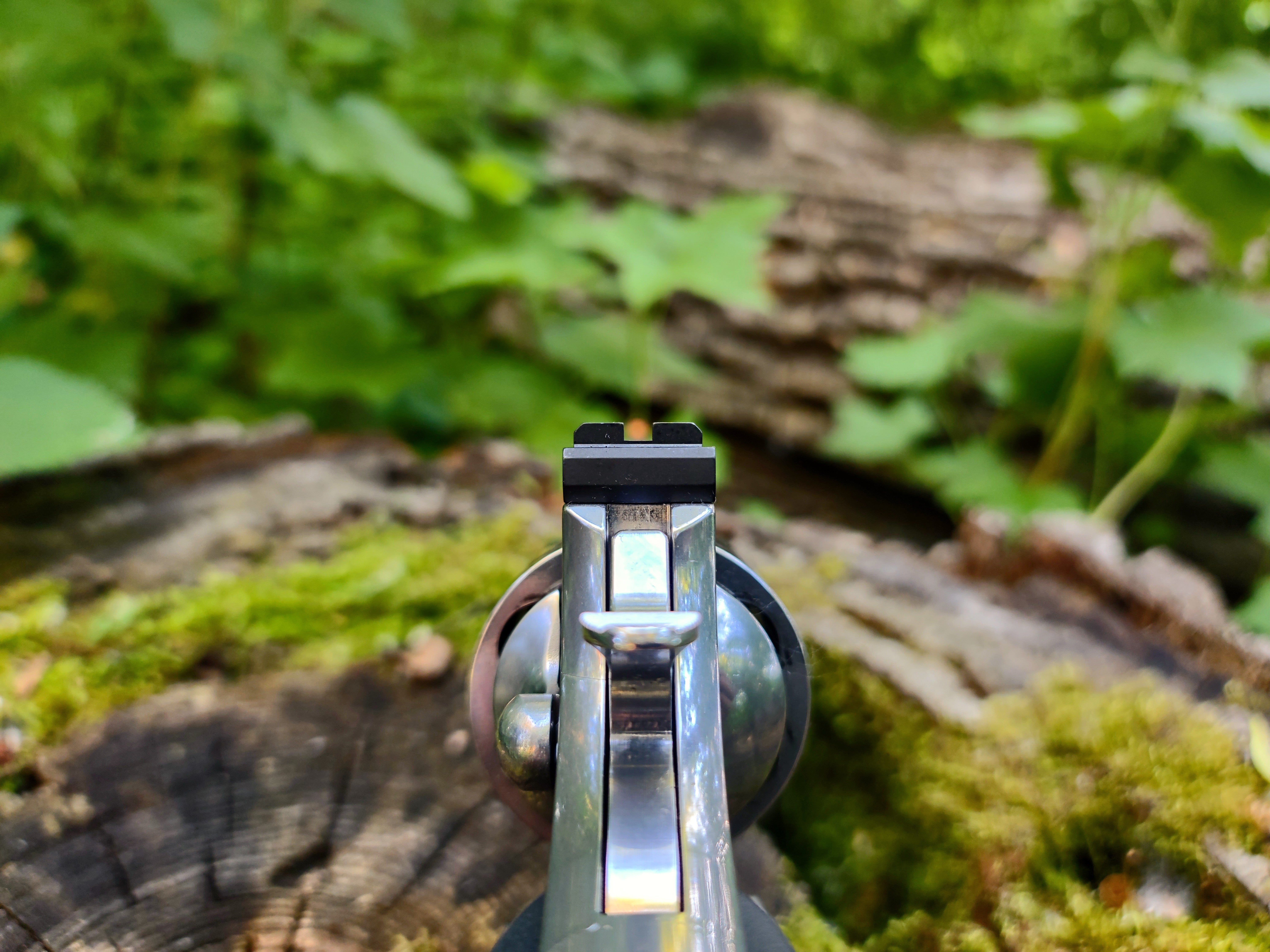 It is worth noting that if you really want to push the levels of accuracy of this revolver you absolutely can with an optic of your choosing. It is drilled and tapped from the factory so you could add an extended eye relief, handgun scope or even a simple micro red dot – whatever trips your trigger.
Final Thoughts – Colt Anaconda .44 Magnum
So, what are my final thoughts in the Colt Anaconda .44 Magnum?… Overall, this is a supremely well-crafted revolver. I don't have many negative critiques to give on this revolver if you are in the market for a full-frame .44 Magnum wheelgun. I would like to see a factory option with a beautiful wood grip (that is the collector in me coming out), but I am sure aftermarket options will abound soon enough. Also, it would be awesome to see this offered in a blued configuration as well as their iconic stainless finish.
Speaking of, this is a gorgeous presentation of a stainless finish. It is essentially mirror-like and the little Colt pony simply pops out of the frame of the revolver. For those who collect or not, that is a stunning signature on this revolver.
In closing, I want to say thank you to Colt for allowing AllOutdoor and myself the opportunity to try out their Colt Anaconda .44 Magnum revolver. That is greatly appreciated. Also, we would like to know what all of you guys and gals think? Do you believe that the Colt Anaconda .44 Magnum revolver is something worth spending your money on? As always, let us know all of your thoughts in the Comments below! We always appreciate your feedback.