AllOutdoor 1 Year Review – Leupold DeltaPoint Pro FDE 2.5 MOA Red Dot
Adam Scepaniak 12.20.21

Red dots are currently all the rage whether you affix them to your handgun, shotgun, or modern sporting rifle. What newer consumers do not realize is red dots are not a new idea; they have been around for quite some time. One of the OG red dots in the firearm industry that is considered by some to be the "gold standard" though is the Leupold DeltaPoint Pro. Its robust housing, "bullet proof" legacy, and reliable dot make it everything that you would essentially want in a red dot. For all of those reasons, AllOutdoor received a DeltaPoint Pro FDE 2.5 MOA Red Dot from Leupold to put those tenants to the test. For 1 year we applied this red dot to big-bore revolvers, lever-action rifles, and even AR-15 pistols to see how it would perform. Let's dive in and see!
Leupold Coverage on AllOutdoor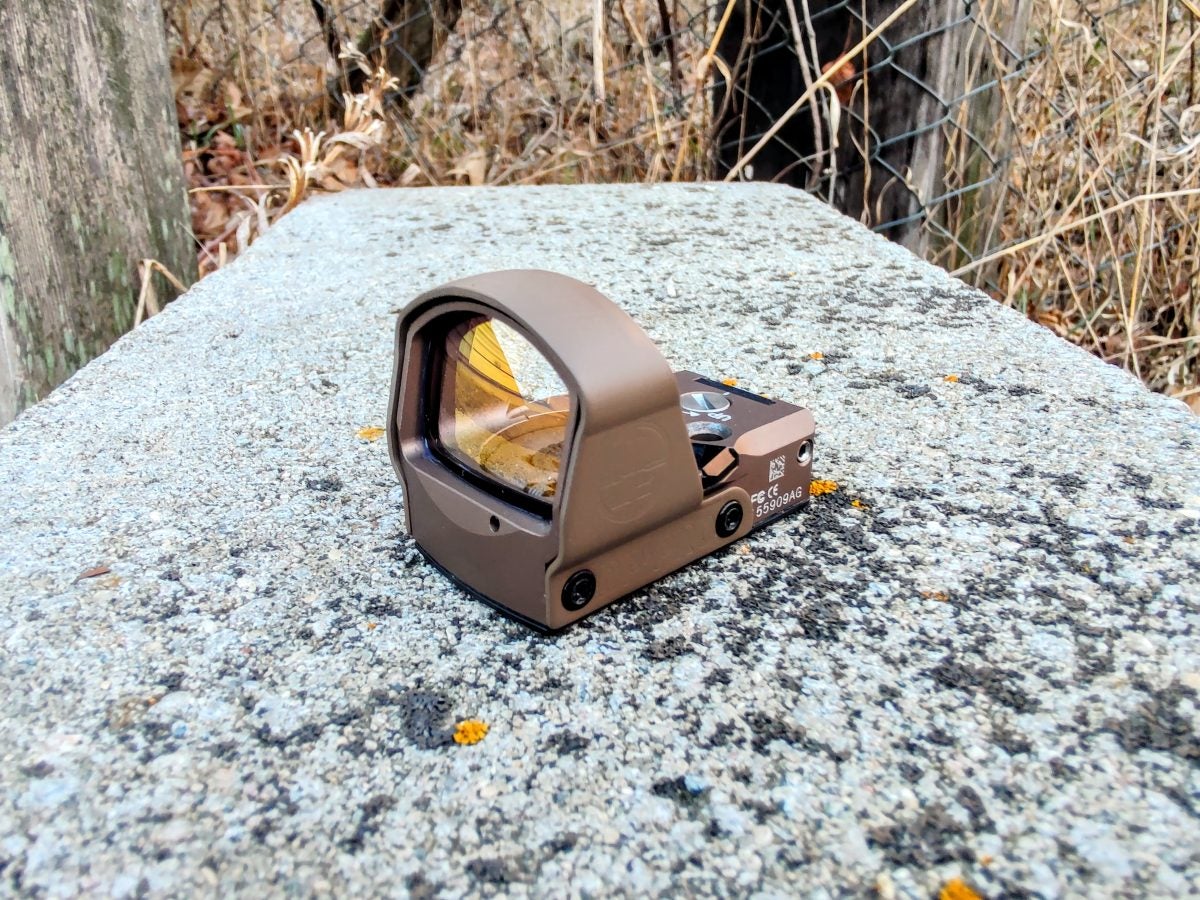 Specifications – Leupold DeltaPoint Pro Flat Dark Earth 2.5 MOA Red Dot
Whether it is their speed of deployment over iron sights or their nearly endless battery life, the Leupold DeltaPoint Pro in all of its offered configurations is an absolute best-seller. With varying mounting options and adapters, it can be equipped to fit essentially any firearm that can conceivably take an optic. The basic specifications for the DeltaPoint Pro Flat Dark Earth 2.5 MOA Red Dot we are reviewing here today can be read below as presented by Leupold:
Flat Dark Earth Finish
"Coin Click" Windage and Elevation Adjustable (1 MOA click adjustments)
2.5 MOA Red Dot
Weight: 1.95 Oz
Length: 1.8"
8 Illumination Settings (CR2032 Battery type)
Battery Life of 1,600 Hrs (Low Intensity) | 1,000 Hrs (Medium Intensity) | 300 Hrs (High Intensity)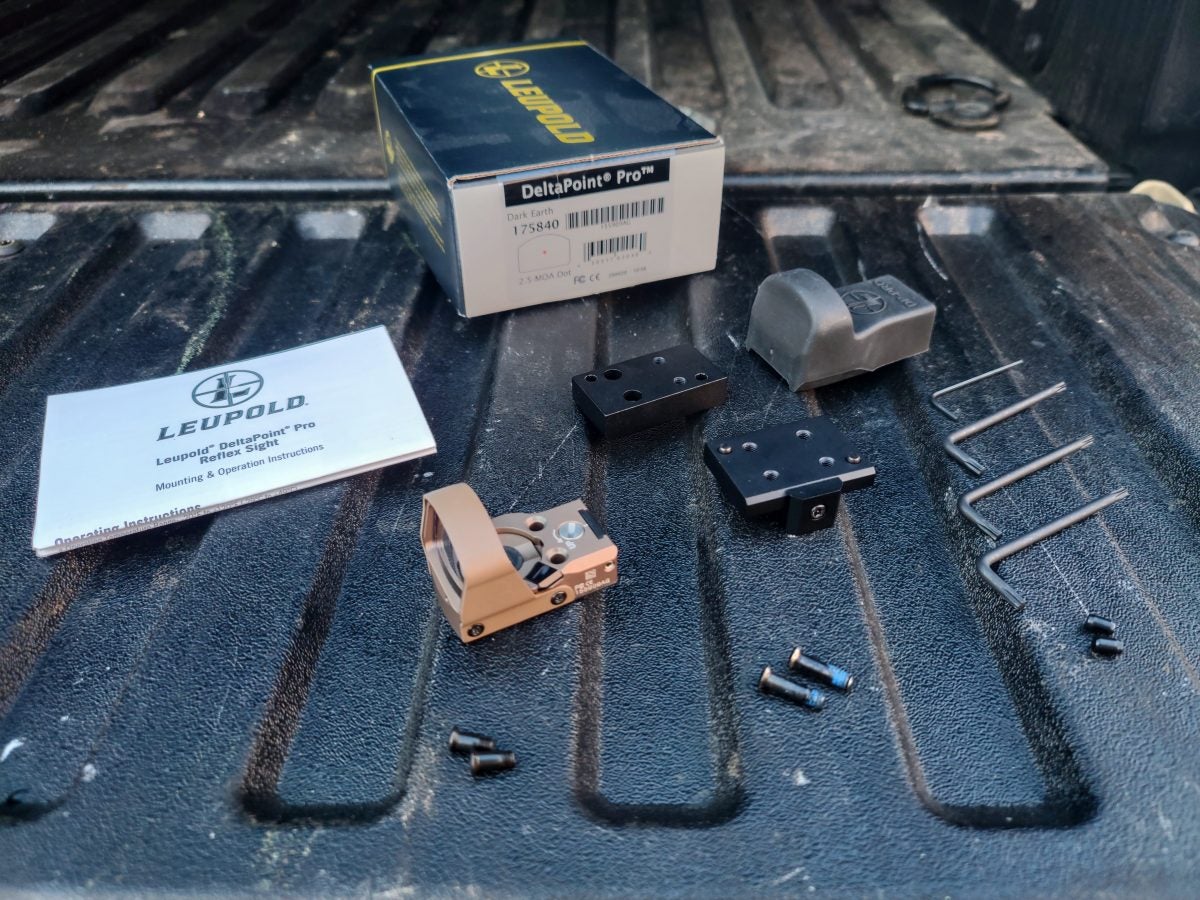 The Leupold DeltaPoint Pro Flat Dark Earth 2.5 MOA Red Dot we are examining here today retails for $449, and with Leupold's coverage and backing of their products you are Guaranteed for Life. Leupold goes on to explain their DeltaPoint Pro further and what all that optic entails below:
"The DeltaPoint® Pro is proof that you don't have to compromise performance on a small sight. Whether it's topping your AR, shotgun, or pistol, the DeltaPoint Pro gives you a clear field of view and the bold aiming point you need in high-pressure situations. Crafted from aircraft-grade aluminum, this sight is made to handle abuse.

This extremely versatile sight has an easy-access battery compartment, so you don't have to re-zero after a battery change. It also has click-adjustments for more precision and eight brightness settings, giving you plenty of control over the dot's intensity.

The DP Pro was made for men and women who rely on their equipment to perform when it matters most. Its compact design is lightweight and rugged and won't get your way in the field, while its sight picture is second to none. Like all Leupold® riflescopes, it's designed, machined, and assembled in the USA and guaranteed for life."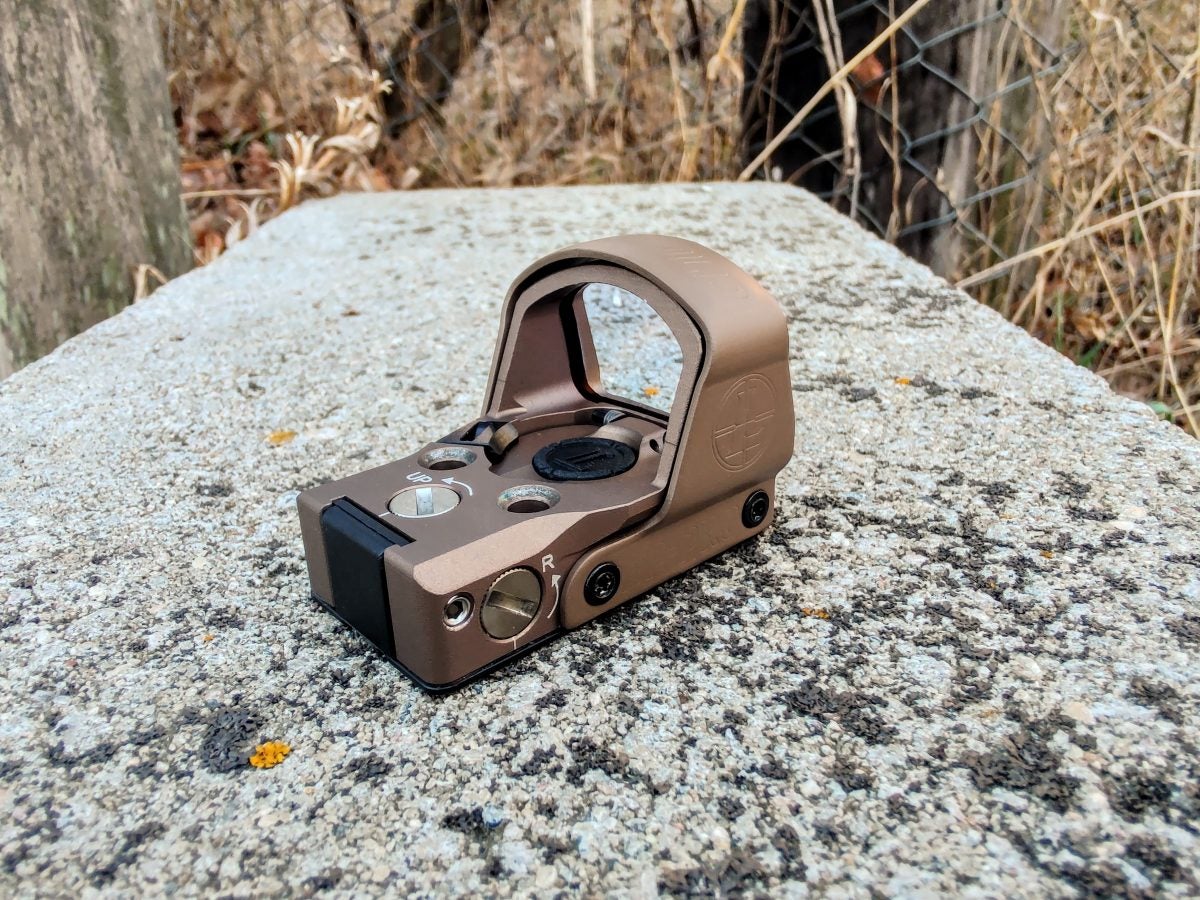 When it comes to many Leupold optics they are simple and elegant in design with much more than what meets the eye. This hold true for the DeltaPoint Pro (DPP) as well. Beneath its hooded, protective shell there are a lot of characteristics that people might not immediately notice or be able to glean from its appearance. Some of those less easily-identified traits are listed below:
Professional-Grade Red Dot Optical System – Leupold's Professional-Grade Red Dot Optical System offers unmatched light transmission that's designed to outperform in the most challenging lighting conditions, industry-leading glare reduction for a clear image in harsh, direct light, and the resolution and clarity that professional guides and shooters demand in the field.
Illuminated – This optic comes with an illuminated reticle, which can help you get on target faster in low-light situations.
Motion Sensor Technology (MST) – Motion Sensor Technology (MST™) extends battery life by automatically deactivating illuminated reticles after five minutes of inactivity and then reactivates instantly as soon as movement is detected.
Waterproof, Fogproof, and Shockproof – Leupold pioneered modern waterproof and fogproof technology using advanced internal gasses and sealing methods that withstand extreme temperatures, elevation changes, and shocks, so the internals of the optics stay moisture free and crystal clear for life.
Field Use (Springfield Armory SAINT Edge PDW 5.56 NATO) – Leupold DeltaPoint Pro Flat Dark Earth 2.5 MOA Red Dot
Throughout my time of using the Leupold DeltaPoint Pro Flat Dark Earth 2.5 MOA Red Dot, I wanted to use it across a multitude of platforms to see how it fared with different applications and practical uses. The DPP is widely accepted as being a stellar handgun optic, but it is also suitable for nearly any firearm you could place it on. The first gun I cozied it up to was a Springfield Armory SAINT Edge PDW 5.56 NATO.
This is an extremely compact AR-15 pistol that I used as a "ranch gun;" something I would backpack with me while tending cattle, checking fence lines, checking trail cameras, and essentially spending a lot of time on a four-wheeler in the outdoors. The optic was either jostled around in a backpack, slung around my body, or bounced around on an early '90s four-wheeler where suspension and a smooth ride was not a consideration for ATV manufacturers of the time.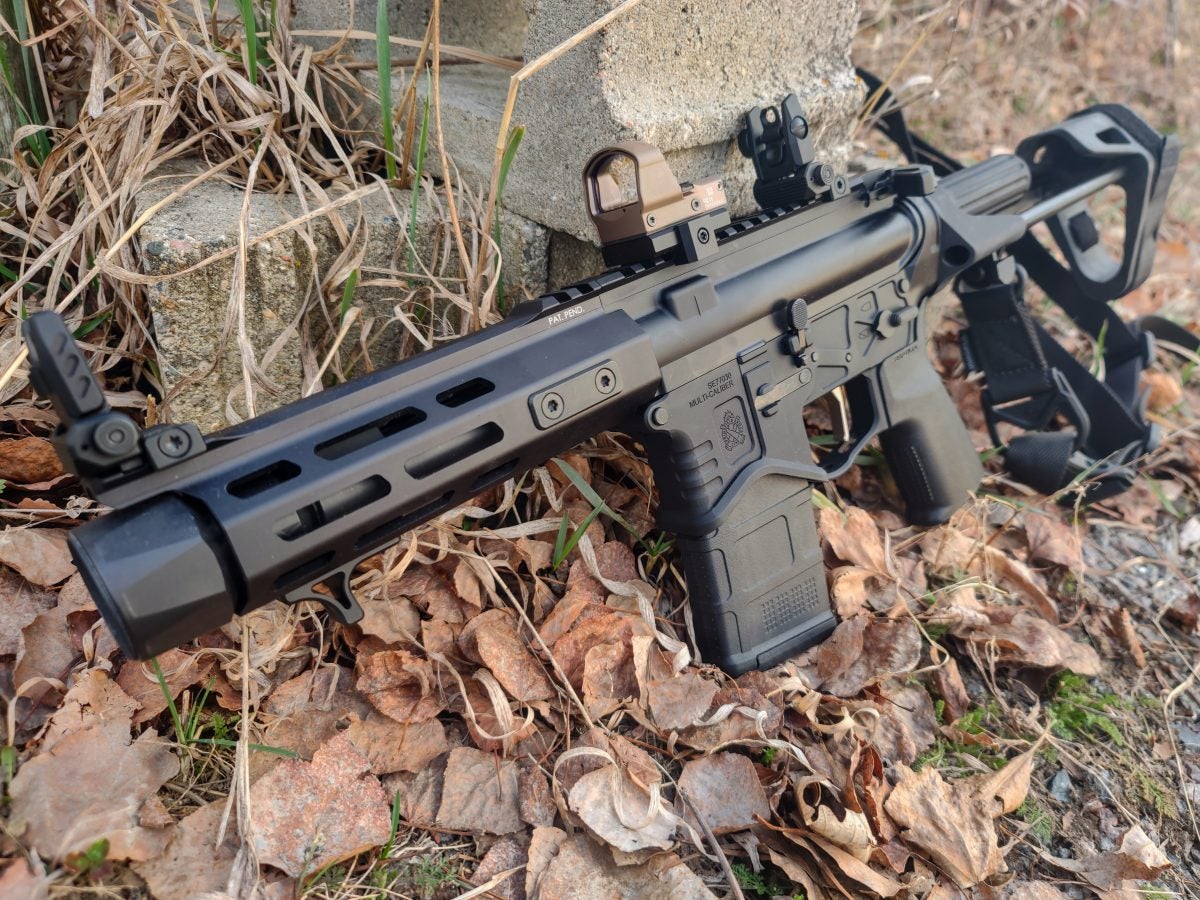 Throughout my time deploying the red dot in this fashion, I would intermittently shoot the PDW recreationally because it is one of my favorite AR-15 configurations. The red dot always held its zero for lack of "baby-ing" the optic and treating it better. Also, the battery and brightness of the dot never waivered either. Both good hallmark signs of quality from a working red dot in my book.
Field Use (Marlin 336 Dark .30-30 Win) – Leupold DeltaPoint Pro Flat Dark Earth 2.5 MOA Red Dot
A second firearm I tested the Leupold DeltaPoint Pro Flat Dark Earth 2.5 MOA Red Dot on for several months was my Marlin 336 Dark .30-30 Win lever-action rifle. It is unfortunate that financial hardship has befell Marlin Firearms because this is my favorite modern spin on a lever-action rifle I have ever seen hit the market. I wish more people had the opportunity to appreciate this lever gun.
Similar to the time the DeltaPoint Pro spent on my Springfield Armory SAINT Edge PDW 5.56 NATO, the DPP again utilized a Leupold Pro Cross Slot Mount to attach to the factory rail of the Marlin Dark. This gave me a sight picture that was a touch higher than I'd prefer on a lever-action, but it was still extremely fast acquiring the dot and engaging targets with it (as opposed to using the factory iron sights).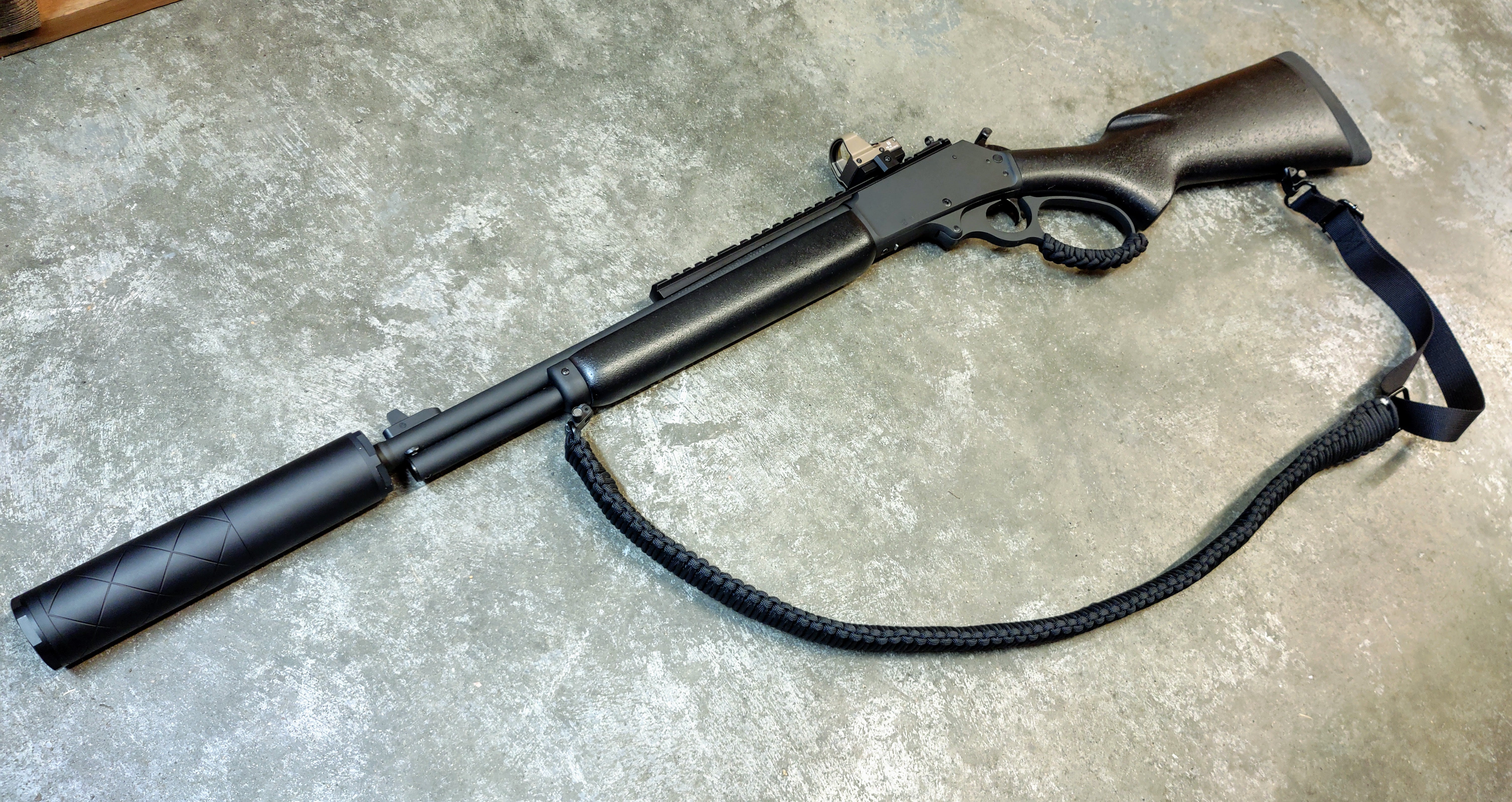 Since the silencer obstructed the sight picture of the irons considerably, the red dot made this rifle serviceable because I always had a full and clear sight picture. The factory iron sights are taller than normal, but they are not tall enough to fully clear a silencer's view. With the heated mirage that can sometimes come off of a hot silencer or the occasional plume of smoke, the DPP always allowed for a clean, clear sight picture for shooting in any type of environment which is extremely valuable; not something I could say if I were only deploying the iron sights.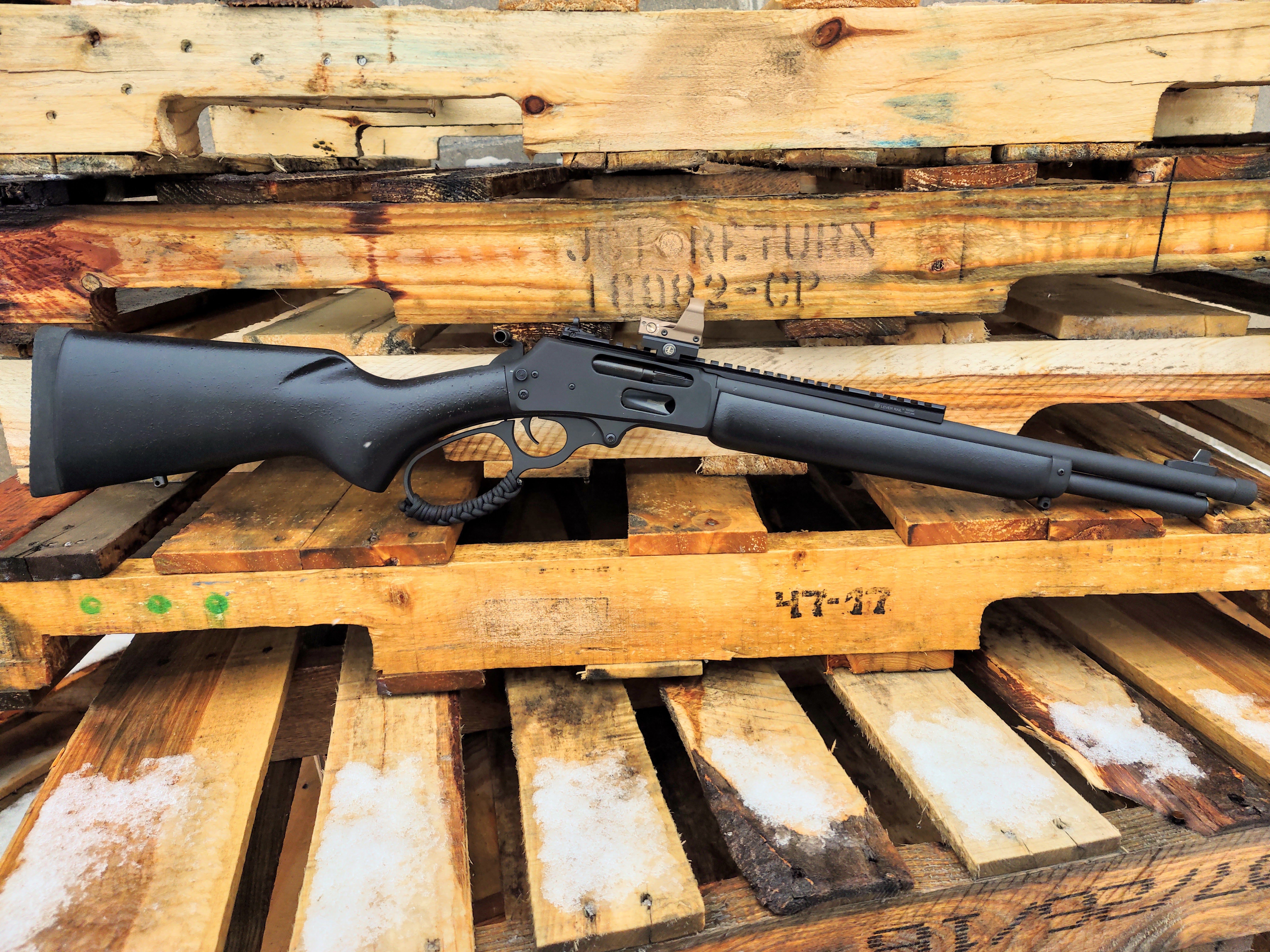 Field Use (Taurus Raging Hunter 460) – Leupold DeltaPoint Pro Flat Dark Earth 2.5 MOA Red Dot
A third and final firearm this optic was home to was a Taurus Raging Hunter 460. This specific firearm and cartridge are known to be "optic eaters." So, of course, I wanted to test that theory with the DeltaPoint Pro. I did like most people and read forums, asked around with my friends, and even sought more advice from strangers on the internet. All signs pointed to this being a bad idea from the word "Go," but I did it anyways.
Surprise! It worked like a champ. When shooting the Taurus Raging Hunter 460 part of what makes this huge gun in a mammoth cartridge tolerable to shoot is the weight. It is an absolute tank weighing 57 ounces – that's over 29x heavier than the optic itself. With all that being said, it is difficult to repeatedly aim iron sights with outreached arms considering the weight of the revolver and the inherent recoil coming your way once you touch off the trigger.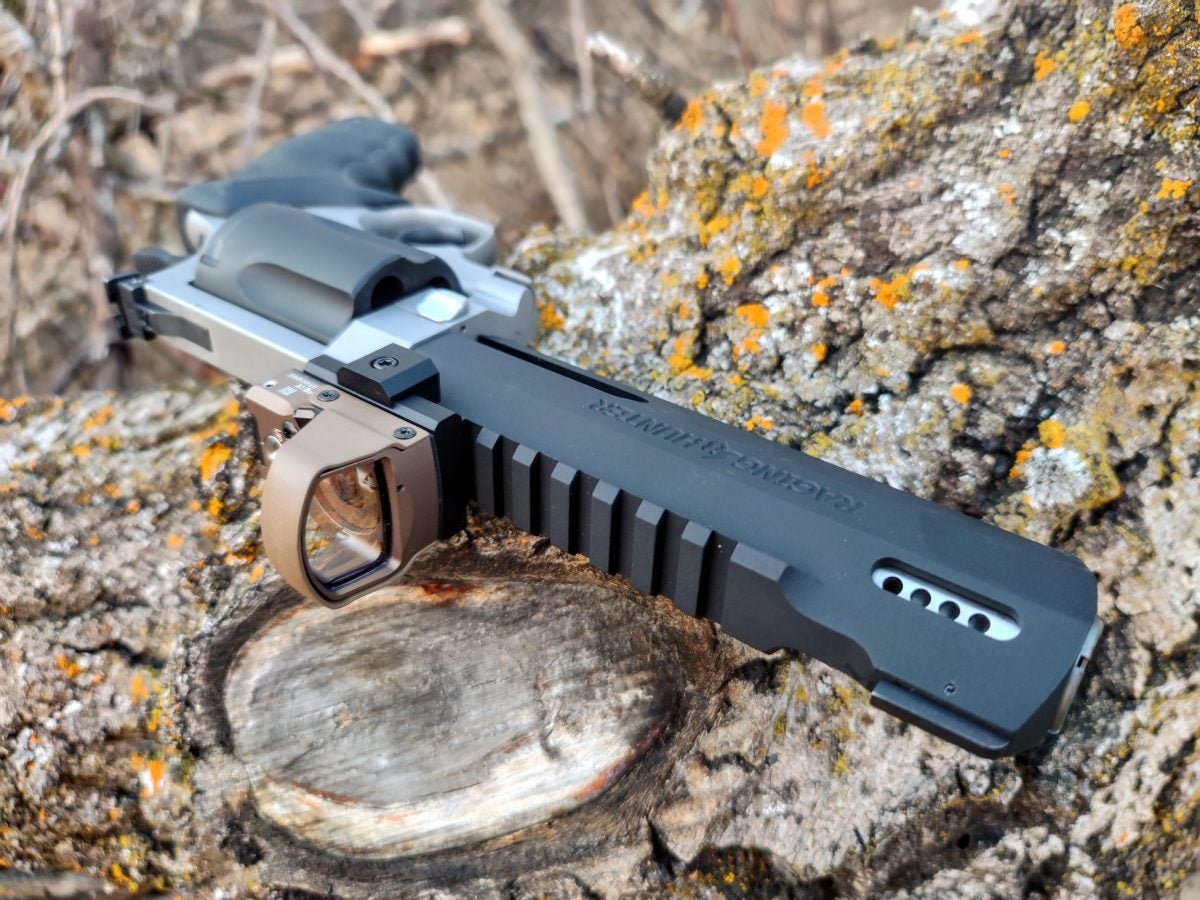 For those reasons, a high quality red dot like the DPP was invaluable. I could shoot 50 – 100 rounds of ammo (1 – 2 boxes) in a single range session and be authentically accurate while doing so. The faster sight acquisition meant I wasn't fishing around for a sight picture and getting fatigued while doing so. I present the revolver, catch the dot immediately, and shoot. As simple as that. Contrary to what the internet would lead you to believe, the DPP held up wonderfully against the thunderous recoil of the .460 S&W Magnum cartridge.
Final Thoughts – Leupold DeltaPoint Pro Flat Dark Earth 2.5 MOA Red Dot
So, what are my final thoughts on the Leupold DeltaPoint Pro Flat Dark Earth 2.5 MOA Red Dot after a year of use across multiple platforms?… Summarily, I am impressed. The DeltaPoint Pro has been touted as the gold standard of micro red dots for years, and it is not that I wasn't a believer, but I wanted to see to what limits (and firearms) that was applicable. All of the firearms and related accessories I have are tools. They are not safe queens that will never see the light of day and they equally are not replaceable objects I am errantly going to run over with my truck for "clicks" on social media. My firearms and optics getting used, but no abused. With all of that being said, the Leupold DeltaPoint Pro Flat Dark Earth 2.5 MOA Red Dot performed as good as I could ever hope if not significantly better.
In closing, I want to say thank you to Leupold for allowing AllOutdoor and myself the opportunity to try out their DeltaPoint Pro Flat Dark Earth 2.5 MOA Red Dot. That is greatly appreciated. Also, we would like to know what all of you guys and gals think? Do you believe that the Leupold DeltaPoint Pro Flat Dark Earth 2.5 MOA Red Dot is something worth spending your money on? As always, let us know all of your thoughts in the Comments below! We always appreciate your feedback.