NEW Boyds Agility Gunstock – Better Fit, Better Accuracy, Inclusive Shape
Adam Scepaniak 01.07.22

As we approach SHOT Show 2022, there will be an inevitable avalanche of new product releases and Boyds Gunstocks has one up their sleeve they are now prepared to announce. The NEW Boyds Agility Gunstock is their newest gunstock design to answer many shooters' prayers. This traditional appearing stock affords you a classic look with modernly crafted upgrades for today's forward-thinking shooter.
Boyds Gunstocks News Coverage on AllOutdoor
The Boyds Agility Gunstock incorporates Boyds' now-famous adjustable butt pad from the very popular At-One stock design. The adjustable butt pad quickly adjusts the length of pull to fit your body perfectly with just the push of a button. The Boyds Agility Gunstock also sports a Monte Carlo comb and ambidextrous cheek piece to give you the proper cheek weld. An optional adjustable comb is available with certain gun models, helping to make the Agility even more optics-friendly.
Ambidextrous Design
Hybrid Grip – Comfortable for offhand & prone shooting
Sling Swivel – for your favorite bipod or sling
Semi-Beavertail Forend – to fit comfortably in the hand
Monte Carlo Comb & Ambidextrous Cheek Piece – for proper cheek weld, adjustable comb available on certain models
Bring-It butt pad adjustment at the push of a button – from 12 1/2" to 14"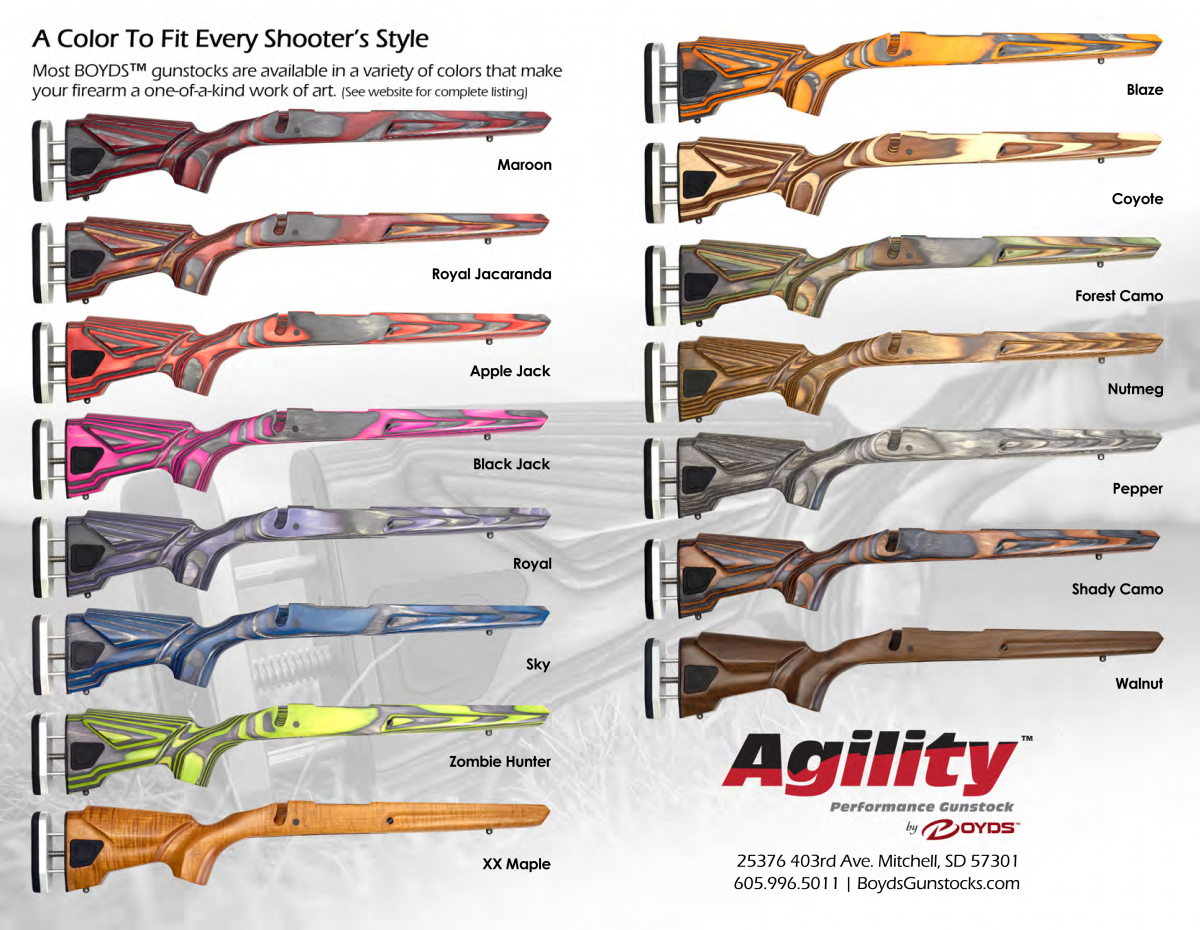 When you handle the Boyds Agility Gunstock you will immediately take notice of the Hybrid Grip which is a blend between a professional shooters' grip and a traditional gunstock; slightly more vertical. The forearm is lean and sleek which gives you a comfortable hold for steady shots. You also have two sling swivels – one on the forearm and the other on the butt stock – for attaching slings and other accessories. Currently, the Boyds Agility Gunstock is available in 15 beautiful colors that include a both a rich solid hardwood Walnut as well as a lovely solid hardwood XX Maple.
At the moment, a specific MSRP has not been set, but that surely will come soon. The only thing that remains is picking out which rifle in your collection you would like to upgrade to the Boyds Agility Gunstock. As always, let us know all of your thoughts in the Comments below! We always appreciate your feedback.
---
Boyds Gunstocks
Boyds is the largest after-market gunstock manufacturer in the world, making high-quality hardwood gunstocks in solid wood or laminate designs for over 1,200 different gun models. Boyds is an American, family-owned business located in Mitchell, South Dakota. Go to www.boydsgunstocks.com and jump into our gunstock configurator online to order your Agility stock today!
To see all the new options from Boyds and to order your replacement stock today, visit www.boydsgunstocks.com.