[SHOT 2022] Diamondback Sidekick 22LR / 22Mag Convertible Revolver
Adam Scepaniak 01.18.22

Diamondback Firearms was been teasing and showing off a new single-action/double-action revolver that is convertible from .22 Long Rifle to .22 Magnum dubbed the Sidekick. This wheelgun has the same profile as a throwback Model 1873 and actually is cross-compatible with Ruger Wrangler grips. So, of course, we had to check it out at SHOT Show's "Industry Day at the Range" this year.
SHOT Show 2022 Coverage on AllOutdoor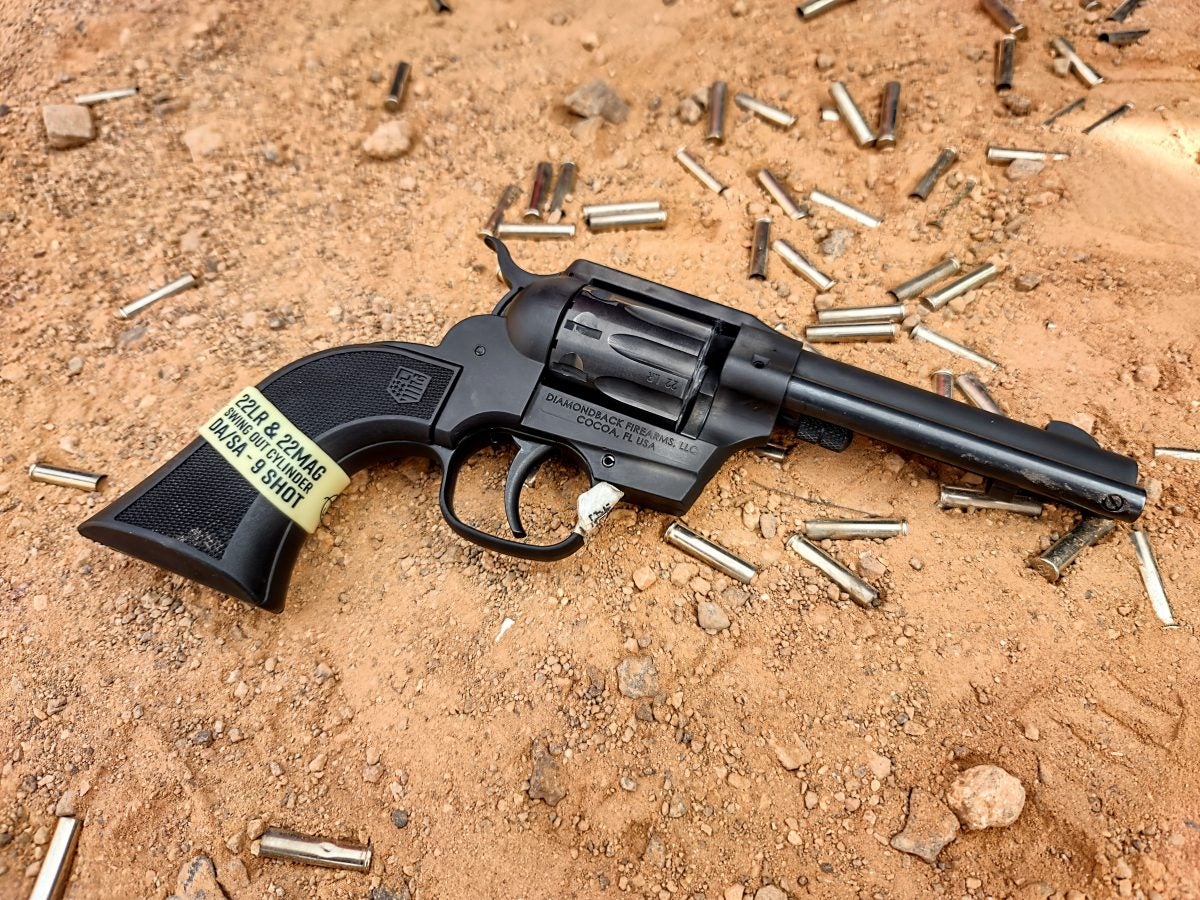 The secret sauce behind the Sidekick is that it is a typical 1873 profiled revolver (normally single-action only), but Diamondback Firearms cleverly figured out how to accomplish both a single-action trigger pull as well as a double-action one. This gives the revolver more utility whether you are using it for field work or simply a fun plinker at the range.
Caliber: 22LR / 22Mag Convertible.
Action: Single & Double.
Grips: Checkered glass filled Nylon.
Capacity: 9 rounds.
Front Sight: Blade.
Rear Sight: Integral.
Barrel length: 4.5".
Overall Length: 9.875".
Frame & Handle Material: Zinc.
Frame & Handle Finish: Black Cerakote.
Weight: 32.5 oz.
Twist:1:16 RH.
Grooves: 6
The advertised MSRP for the Sidekick is an extremely affordable $320. When we shot it at range day we had the opportunity to fire some .22 Magnum (.22 Winchester Magnum Rimfire | .22 WMR) rounds and it was astonishingly accurate. With simple blade, black-on-black iron sights we were able to hit steel gongs out to 100 yards. A pretty impressive feat at a busy range day.
The only potential drawback we can see in this humble and affordable revolver is that it is made of a cheaper alloy and it is not legal in all 50 states. Stay tuned to AllOutdoor all week long to catch information on all of the new products unveiled! As always, let us know all of your thoughts in the Comments below. We always appreciate your feedback.