[SHOT 2022] Browning X-Bolt Target Max from Industry Day at the Range
Adam Scepaniak 01.19.22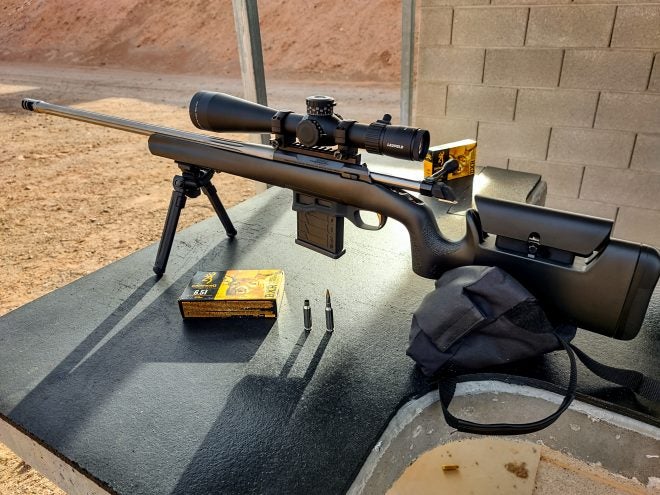 Every SHOT Show in recent memory that we have attended and seen Browning they have always introduced new rifles. This once again held true in 2022. While out at "Industry Day at the Range" for SHOT Show 2022, they had on display a curious looking PRS-style rifle that turned out to be their new X-Bolt Target Max meant for long-range shooting at a moderately affordable price-point.
SHOT Show 2022 Coverage on AllOutdoor
The Browning X-Bolt Target Max is, indeed, a PRS production class rifle because it falls into the "under $2,000" category requirement. It has a hefty muzzle brake at the end of the barrel which does a terrific job mitigating recoil. It also has an adjustable comb as well as a generous buttpad for a pleasurable shooting experience. Some of the other specifications can be read below as presented by Browning:
Calibers: 6mm Creedmoor, 6.5 Creedmoor, .308 Win.
Barrel Length: 26 inches
Weight: 9 lbs., 14 oz
Muzzle: Recoil Hawg muzzle brake, plus thread protector
Stock: Max composite
Trigger: Browning Target Trigger (adjustable from 2 to 3.3 lbs)
Barrel: Stainless bull barrel, Suppressor Ready threads
Picatinny Rail: Included
MSRP: $1,669.99
The Browning X-Bolt Target Max that we were able to shoot at Range Day was chambered for the venerable 6.5 Creedmoor and it was a delight to shoot. Soft-recoiling and impacts as straight as an arrow gives us optimism that this could be a popular rifle among PRS shooters. Stay tuned to AllOutdoor all week long to catch information on all of the new products unveiled! As always, let us know all of your thoughts in the Comments below. We always appreciate your feedback.