[SHOT 2022] CF Moto CForce 1000 Overland ATV – Conquer your Terrain
Adam Scepaniak 01.20.22

When it comes to SHOT Show – for those among us who are veterans to attending this yearly event – it takes a lot to trip our trigger or push that needle for excitement. Some people come to "Industry Day at the Range" to shoot machine guns for free, others are here for the silencers, and occasionally you get surprised by something from the motorsports category. I fell into the latter group when I met with the good folks from CF Moto and was introduced to their CForce 1000 Overland ATV.
SHOT Show 2022 Coverage on AllOutdoor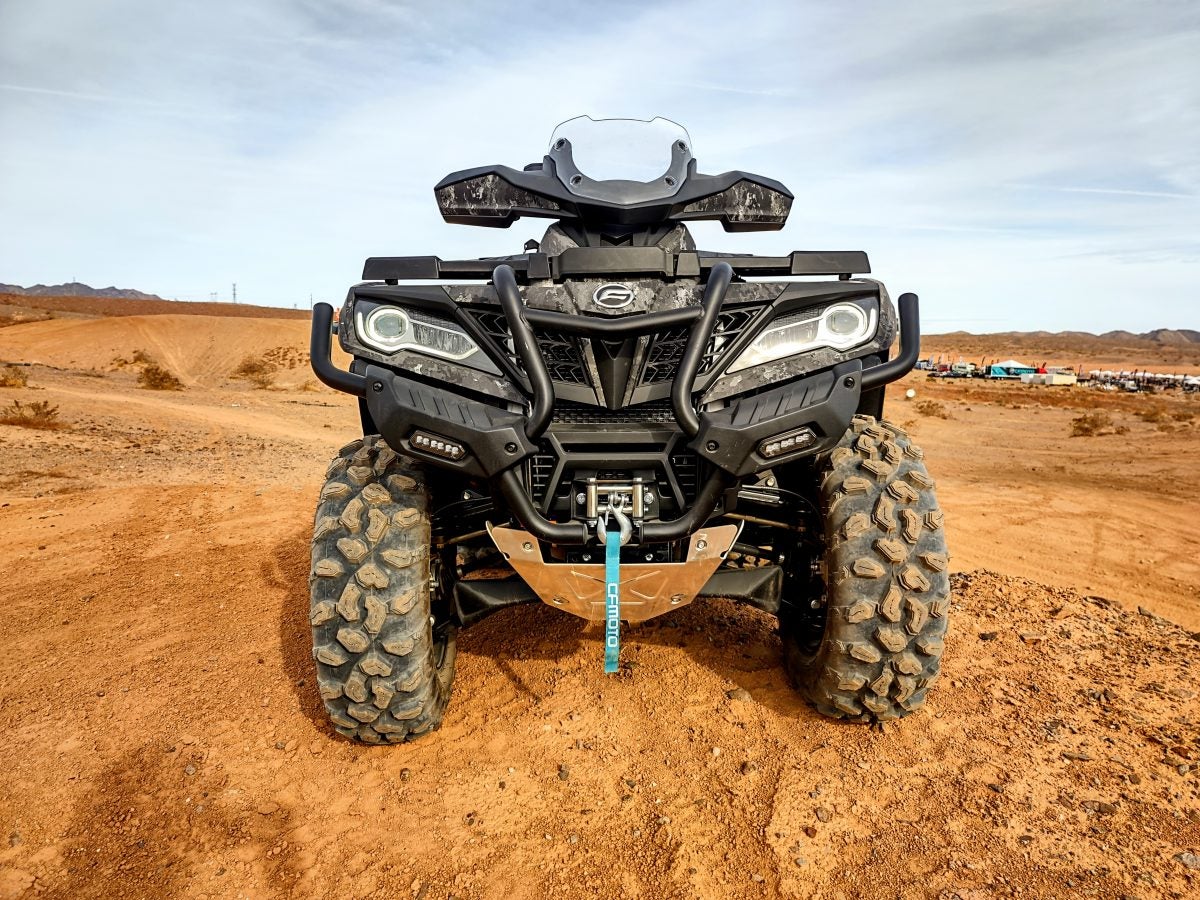 CF Moto CForce 1000 Overland ATV
A fairly extensive test course was setup in the desert at Range Day for people to put various ATVs, eBikes, and even electronic hunting scooters "through their paces." After a short primer on the ATV from CF Moto we started ripping through the desert hillside and feeling out this beast of a quad. The handling was superb and it had power in spades. With the extremely loose-powdered terrain of the desert, the tires augured through it like it was nothing. Even hill climbing felt like a leisurely activity for the CF Moto CForce 1000 Overland ATV.
79 horsepower 963cc V-twin engine
CST Clincher off-road tires
14-inch rims with bead locks
Trailing arm rear suspension
Fully adjustable gas shocks
Heavy duty steel front and rear bumpers
High strength front aluminum front bash plate
Durable full-length HDPE skid plates
Removable cargo boxes
Composite-over-steel racks
LED front flood lamps deliver better terrain viewing
Front fairing with integrated windscreen
Hand guards help protect the rider from the elements. The Overland also gets the Brushless electronic power steering
Being as CF Moto is based out of Plymouth, MN – my home state – this ATV and brand is something we look forward to hopefully covering more in 2022 for all of you. A very capable 4-wheeler can be a tremendous asset when hunting and working in the outdoors. Be sure to check out CF Moto's line of products when you have a chance. Stay tuned to AllOutdoor all week long to catch information on all of the new products unveiled! As always, let us know all of your thoughts in the Comments below. We always appreciate your feedback.