[SHOT 2022] Spypoint Flex Cellular Game/Trail Camera
Adam Scepaniak 01.20.22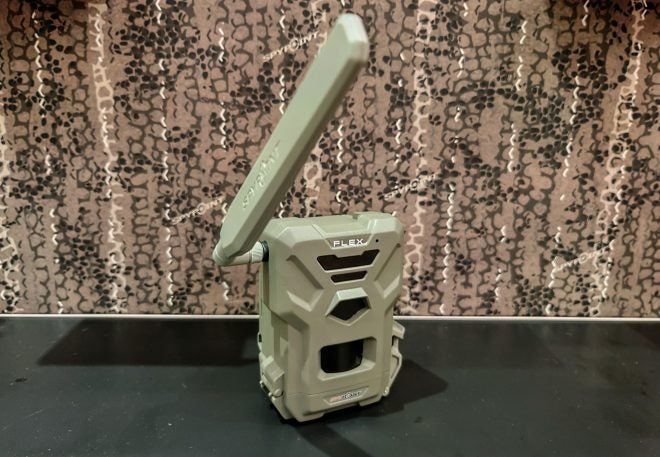 Hunting seasons around the country have finally come to a close with the beginning of winter, but that is the perfect time to think about planning for the next year. That planning and preparation typically includes getting your trail cameras in tip-top shape for months in the field. For those reasons, we believed it was mandatory to swing by the good folks at Spypoint to check out their newest game camera in the Flex cellular trail camera.
SHOT Show 2022 Coverage on AllOutdoor
Spypoint Flex Cellular Game/Trail Camera
Some of the advanced upgrades to the Spypoint Flex is the layout of the buttons, how the camera hinges open to access them, and the antenna it utilizes. The antenna on the Flex is going to afford you better reception and more range than previous models. Also, they opted to have a bottom opening door to access the buttons and controls as to better keep out wind, rain, and debris. The rest of the specifications for the Flex can be read below as presented by Spypoint:
33MP Photos & 1080p Videos w/ Sound
Video & Photo Transmission
Dual-SIM for Multi-Carrier Auto-Connectivity
Optimized Antenna
0.3s Responsive Trigger
100 ft. Flash & Detection Range
Test & Format Buttons
Remote Firmware Updates
Four Capture Modes
GPS Enabled
"The SPYPOINT FLEX gives you the function and performance choices you want, adapting the camera to your exact needs and preferences, so when your season arrives you are ready to fill your tags.

The FLEX captures 33MP photos and transmits 1080P videos with sound to the SPYPOINT APP. Receiving incredible photos and videos is easier than ever because the FLEX auto-connects to virtually any cellular network in the area thanks to Dual-Sim configuration and optimized antenna."
The future is definitely in cellular trail cameras as opposed to traditional ones you need to visit in-person to see the photos and video that was captured. By using a cellular trail camera, you will disrupt your hunting ground less and be able to be more responsive (get out and hunt) when wild game is actually in your area. Stay tuned to AllOutdoor all week long to catch information on all of the new products unveiled! As always, let us know all of your thoughts in the Comments below. We always appreciate your feedback.