POTD: North Korean Type 70 Semi-Automatic Pistol
Sam.S 01.27.22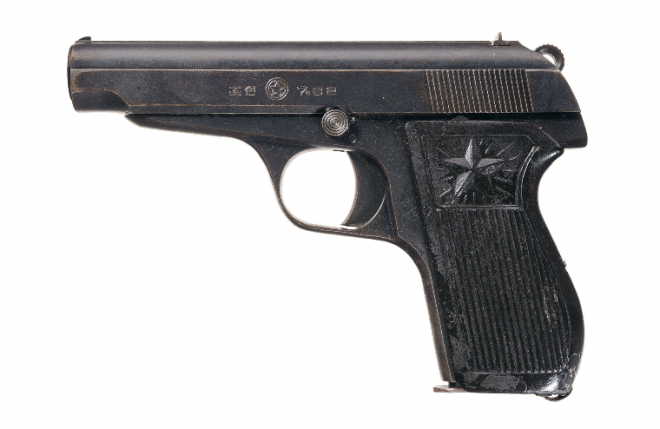 Welcome to today's Photo of the Day! Here we have an extremely unobtainable North Korean Type 70 pistol. This is North Korea's current military sidearm. The reason these are so scarce is the same reason anything made in North Korea is so scarce… There is no export/importation of anything from there! The predecessors to the Type 70 were FN 1900 copies and were capable of being easily fitted with suppressors. The Type 70 draws inspiration from several straight blowback .32 ACP pistols such as the Walther PPK and the Makarov. It has a strange forward cross-bolt safety just over the trigger and is hammer-fired.
"A design indigenous to North Korea, the Type 70 has elements of the Walther PP, Makarov, and even the Browning Model 1910 pistols. Operating on a hammer fired simple blowback mechanism with a cross bolt type safety, exposed serrated ring style hammer, fixed sights and one piece wrap around plastic grips with a large distinctive star molded at the top of both sides. The slide is marked with Korean characters, a circled star, and "7.62". It is, however, designed and chambered for .32 ACP (7.65 Browning Auto). These are rarely seen outside of North Korea."
Lot 1674: Rare North Korean Semi-Automatic Pistol. (n.d.). Rock Island Auction Company. photograph. Retrieved January 26, 2022, from https://www.rockislandauction.com/detail/66/1674/rare-north-korean-semiautomatic-pistol.