[SHOT 2022] TFBTV – Can Heat Shield? Modtac Rigid Suppressor Shield
Adam Scepaniak 01.28.22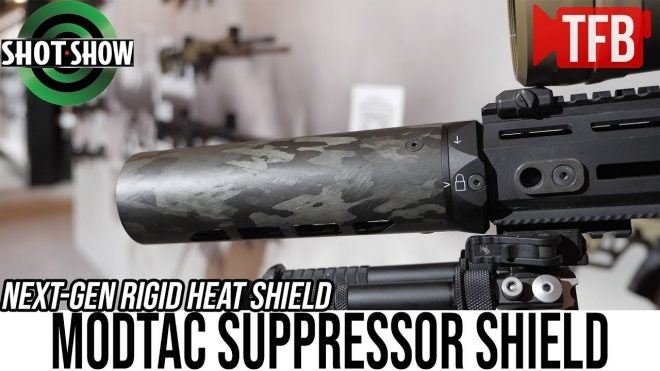 Hop's at Modtac for SHOT Show 2022 to talk about the Modtac Suppressor Shield, a device that fixes in place via your firearm's rail to form a protective shield over your suppressor and protect yourself and others from possible burning. Accoring to Modtac's website about this device:
"MODTAC designed the Universal Rail Attach Coupler Suppressor Shield – (U-RAC) to provide a free-float suppressor cover solution to the majority of standard forend's with top picatinny rails. Top picatinny rail systems maintain a standard height over bore, which allows the Suppressor Shield to be centered over the suppressor in a free-float configuration. Please check the fitment guide to see if your forend is compatible.

Our second generation of Suppressor Shields are designed to be completely free floated over the barrel and suppressor. This accomplished two objectives. First, it reduces the amount of heat transferred from the rifle suppressor to the outer surface of the shield. Two, it allows for a truly zero impact shift when attaching to a rifle. Additionally having zero contact between the suppressor and the shield, reduces hot spots seen on previous generations where the thermal transfer rate was high in certain areas.

The MODTAC U-RAC 2.0 Suppressor Shield now makes use of the previously un-used space where the picatinny rail mount is located. Since paring up with Unity Tactical © the U-RAC 2.0 mount has been slotted for the Fusion flip-up front sight. Now this space is no longer wasted.

These improvements only add to the successful design of the original clamp on suppressor shield which has proven to be vastly effective and still very popular around the world.

This design has been tested and reported on by agency after agency and continues to show that about ¼" of air gap surrounding the suppressor allows air to flow in the bottom vents, and out the ends of the shield allowing for nearly 50% reduction in both cool down time and in max outer surface temperature. These lower temperatures will lengthen the life of your suppressor, compared to being kept hot with a fabric style suppressor wrap.

The carbon fiber rigid outer hull is both impact and heat resistant, allowing for a drastic reduction in temperature for hot suppressors up to or exceeding 1000 Degrees F, while being able to take the hard abuse that weapons see on the battle field.

The U-RAC 2.0 is a great option for every day shooters, law enforcement officers, soldiers, operators and government agencies who are using suppressors and see the harsh but inevitable effects of a hot suppressor."
««« GUN AND GEAR GIVEAWAYS »»»
Check out our Patreon and SubscribeStar pages if you enjoy our program, and consider helping us at TFBTV out. We do not take money for positive reviews and we give away guns and gear EVERY month to our supporters. NOTE: We prefer SubscribeStar as they are a more gun-friendly platform.
https://www.patreon.com/tfbtv
https://www.subscribestar.com/tfbtv
Gun and gear giveaways are not affiliated with, associated with, or in any way endorsed by YouTube and TFBTV is solely responsible for the giveaways mentioned in this video and this description. No purchase required for gear worth over $250. Full rules and terms are found at http://tfbtv.gun.team/
««« FOLLOW US ON SOCIAL MEDIA »»»
https://www.instagram.com/TFBTV/
https://www.facebook.com/TheFirearmBlog/
https://www.facebook.com/TheFirearmBlogTV/
https://reddit.com/r/tfbtv/
««« TFB CHAT ROOM »»»
Want to join the TFBTV chat room? Use our Discord Invite: discord.gg/tfbtv
#TFBTV #SHOTSHOW2022