POTD: Excellent Spanish Star Model B Pistol – A Movie Star!
Sam.S 02.09.22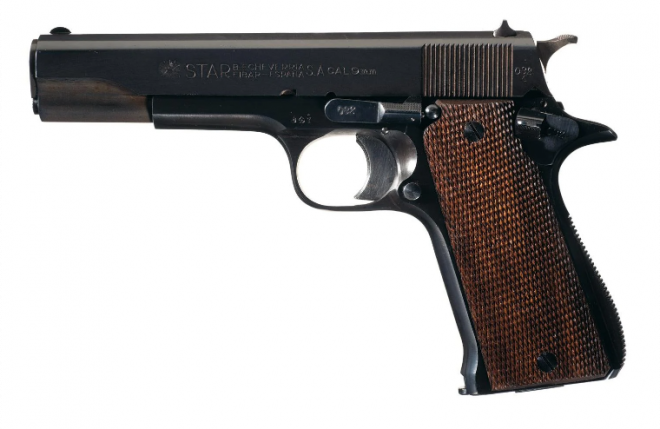 Welcome to today's Photo of the Day! Here we have a Star Model B which is a real movie star. The Star Model B first introduced in 1924 was the Star company's first 9mm Parabellum outing in their 1911 lookalike line of handguns. The Model B was the follow-up to an earlier Model A and the grandfather of the BM which is found in many surplus circles today. The cool thing about the Star Model B is that since it looks like a 1911 and it is a cheaper surplus gun in its own right, it has been used in cinema for a very long time. Apart from its affordability, it is chambered for 9mm which many blanks are made for 9mm nowadays. This makes them a perfect budget and reliable substitute for 1911 handguns in many war and action movies. If you see a Model 1911 in a movie, make sure to take a closer look because it is very likely this charming copy!
"An improved version of the Model A, this pistol is very similar in design to the Model 1911. The left side of the slide is marked with the Star logo followed by "STAR B. ECHEVERRIA/EIBAR – ESPANA S.A. CAL 9mm". Complete serial number marked on the heel of the butt with the matching partial number "082" on most parts, including on the toe of the "STAR" marked magazine. The barrel chamber is marked "Cal. 08″. All blue finish with casehardened hammer and bright trigger, checkered arched mainspring housing and fitted with checkered walnut grips."
Lot 367: Excellent Star Model B Semi Automatic Pistol. (n.d.). https://www.rockislandauction.com/detail/54/367/excellent-star-model-b-semi-automatic-pistol. photograph. Retrieved February 8, 2022, from Rock Island Auction Company.