TFBTV – Was this Rare .22 Long Rifle Pistol used by CIA Agents?
Adam Scepaniak 02.15.22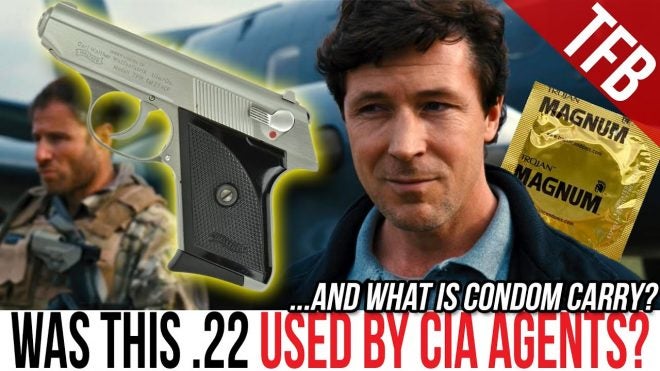 In this PACKED episode of TFBTV, James Reeves reviews a svelte little .22LR that was rumored to have been carried by members of the intelligence community – CIA Agents – in decades past: the Walther TPH. The TPH is like a shrunken down PPK, with a 6+round capacity of .22LR. This is one high-end, rare-ish pistol that was discontinued years ago, but it still carries quite a story with it – including… carrying with condoms? Plus, James includes a mini-review of the Rugged Mustang, a new .22 can from Rugged that you can pick up from @SilencerShop.
««« HOW TO GET GEAR USED IN THIS VIDEO »»»
• New Version Walther PPK in .380ACP: https://bit.ly/3opG0Io
• More PPKs and Magazines: https://bit.ly/3HNsZku
• Rugged Mustang 22: https://www.silencershop.com/catalog/product/view/_ignore_category/1/id/6167/s/rugged-mustang-22/
• Magnum Condoms: https://amzn.to/3GIxJ9u
• Apparel: All TFBTV apparel is sponsored by 5.11 Tactical and you can get it at www.511tactical.com
««« GUN AND GEAR GIVEAWAYS »»»
Check out our Patreon and SubscribeStar pages if you enjoy our program, and consider helping us at TFBTV out. We do not take money for positive reviews and we give away guns and gear EVERY month to our supporters. NOTE: We prefer SubscribeStar as they are a more gun-friendly platform.
https://www.patreon.com/tfbtv
https://www.subscribestar.com/tfbtv
Gun and gear giveaways are not affiliated with, associated with, or in any way endorsed by YouTube and TFBTV is solely responsible for the giveaways mentioned in this video and this description. No purchase required for gear worth over $250. Full rules and terms are found at http://tfbtv.gun.team/
««« FOLLOW US ON SOCIAL MEDIA »»»
https://www.facebook.com/TheFirearmBlogTV/
https://www.instagram.com/TFBTV/
https://www.reddit.com/r/tfbtv/
««« SPONSORS »»»
Please Support Them! They help make our videos possible.
– Ventura Munitions – www.venturamunitions.com
– Blue Alpha Gear – www.bluealphagear.com
– Top Gun Supply – www.topgunsupply.com
««« TFB CHAT ROOM »»»
Want to join the TFBTV chat room? Use our Discord Invite: discord.gg/tfbtv
#TFBTV
@WaltherFirearms @BWE Firearms @Guns & Ammo
Contents:
0:00 Intro
1:44 History and Features
4:29 Walther TPH vs. PPK
5:31 History (cont.)
7:43 What's the TPH Cost?
8:54 Shooting Review
11:11 Suppressing It w/ Rugged Mustang
13:12 Review (cont.)
14:42 Rugged Mustang Performance
15:58 Did Spies Really Carry It?
17:13 With…Condoms?
19:26 Conclusion