SIG Sauer Introduces the New P365-380 .380 ACP Pistol
Luke Cuenco 02.21.22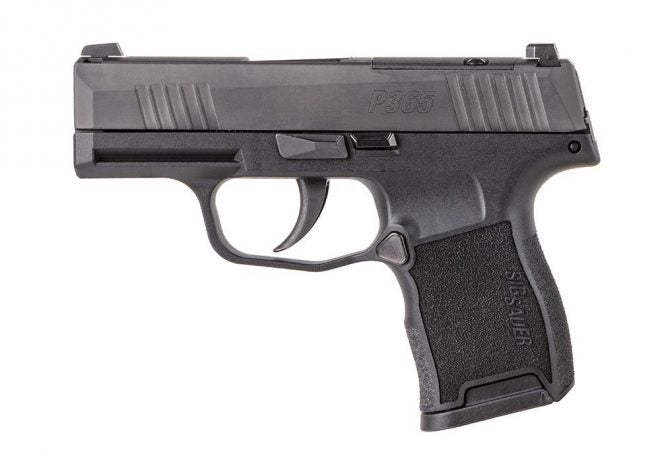 Recoil sensitivity for some is something that stops a lot of people from carrying what many would consider being a "normal" handgun caliber. While .380 ACP has been around for over 100 years, it often plays second fiddle to the much more popular and more common 9mm. However, The folks over at SIG Sauer have decided to release the long-awaited P365-380 pistol chambered in .380 ACP. The new lighter-recoiling micro-compact pistol shares nearly all of the things that make the P365 9mm great, but in a package that is much easier to manage when it comes to recoil.
SIG Sauer Introduces the new P365-380 380 ACP Pistol
The .380 ACP is a popular cartridge for many because of its lighter recoiling nature that still manages to meet FBI standards for penetration and expansion. This new option is just another offering from SIG Sauer that will allow more shooters to have access to quality concealed carry options that work for them and will hopefully encourage those who have been struggling with 9mm micro-compacts to get out to the range to train and hope to carry on their person more often.
"The P365-380 offers all the same features as America's #1 selling micro-compact pistol, now in the softer shooting 380 caliber resulting in easier handling and less felt recoil.

The long-awaited P365 chambered in 380 is finally here, creating a new, softer shooting, easier handling micro-compact option for everyday carry. It uses the same grip module and fire control unit as the popular 9mm version with a lightened slide and barrel making it completely compatible with all existing P365 holsters. With a Nitron® finished stainless slide, DLC barrel, and completely redesigned two-piece captured guide rod, the P365-380 is the most durable 380 micro-compact pistol on the market. Rigorously tested at SIG SAUER, the P365-380 was designed for all shooters, especially those with smaller hands and those who find the manipulation and recoil management of 9mm caliber pistols challenging."
Nitron® finished optic-ready slide
Shared FCU and grip module with P365 9mm
Less recoil and reduced racking force
Accessory rail
(2) 10rd magazines w/ mag loader
The Sig P365-380 is available now through your local SIG Sauer firearms dealer. There will be versions both with and without manual safety. For more information visit http://sigsauer.com/