AllOutdoor Review: Rukx Gear Messenger Bag – Business, Tactical Style
Eve Flanigan 02.25.22

Rukx Gear is a relatively new label for tactical/adventure luggage, distributed in the US by American Tactical, Inc (ATI). According to a company rep, Rukx Gear is closing in on Drago as the most popular brand in its market. Now, having tested two of their bags, I can understand why. These bags are thoughtfully equipped and good-looking.
My introduction to the brand was the first Rukx Gear pack offered by ATI, called the Survivor. That pack has continued to serve me well almost two years on and with weekly use. So, it was with positive expectations that I welcomed a new Rukx bag which ATI calls the Discrete Business Bag. (Note to grammarphiles, yes, ATI now knows about the homonym error). This messenger-style bag has a little extra for the gun-toting business person.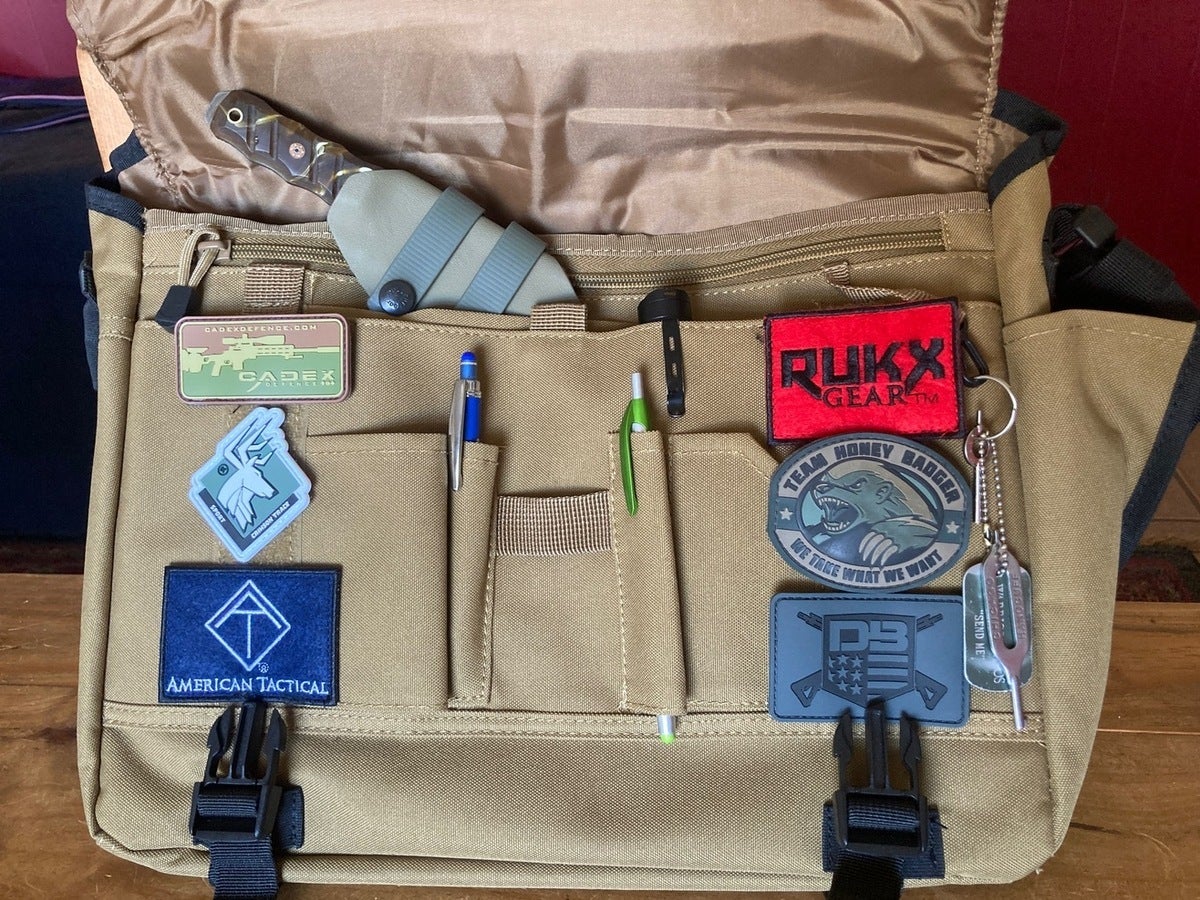 Working as an instructor for a couple of licensing programs entails its share of toting guns and paperwork into meeting rooms located in town. There's always the possibility of conspicuous armament drawing unwanted attention from both thieves and the law-abiding, but gun-averse. This bag is the perfect cover for such urban work. It has a great business casual appearance and safely holsters a single handgun up to duty size, plus enough accessories and paperwork to run an all-day classroom event.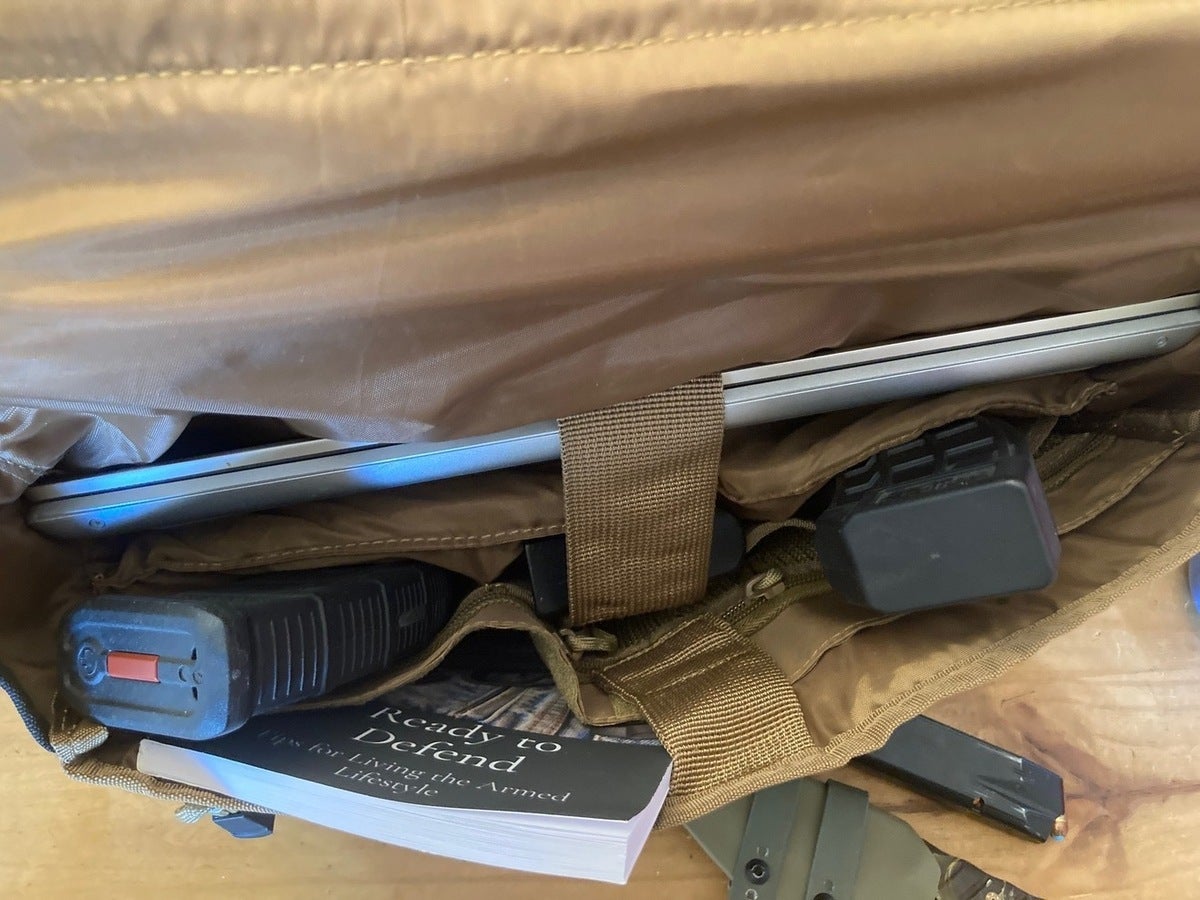 The gun compartment of the Rukx Gear Discrete Business Bag follows the intelligent design of good holster purses which is to say the gun compartment is on the body-facing side and has a side-opening compartment with a moveable sheath inside for the gun. Said sheath has a sturdy retention strap that closes with Velcro. While I'm personally not a fan of retention straps or Velcro for concealment holsters, the relatively cavernous compartment makes them almost a necessity to keep a gun, especially a compact or subcompact, in place. Unlike some poorly designed on-body systems, the zippered opening on this one allows me to easily unzip the bag and establish a firing grip while the gun is still entirely concealed. In the context of defensive preparedness in public spaces, this is a tremendous asset, and something I regard as the one true asset of purse/bag carry if the tool is built well.
With proper technique, an operator can move quickly without attracting unwanted and possibly dangerous attention from bystanders. That training includes, at minimum, effectively drawing and moving the gun to a ready or firing position and a strategy for dropping the bag post-draw if it's not worn with a cross-body strap, so that its near-inevitable drop from the shoulder about the time sight picture is achieved doesn't result in a round going somewhere it shouldn't. If I were to use this bag as my primary concealed carry holster, I'd add a large fob to the gun compartment zipper pull to make it both unmistakable and gross-motor grab capable.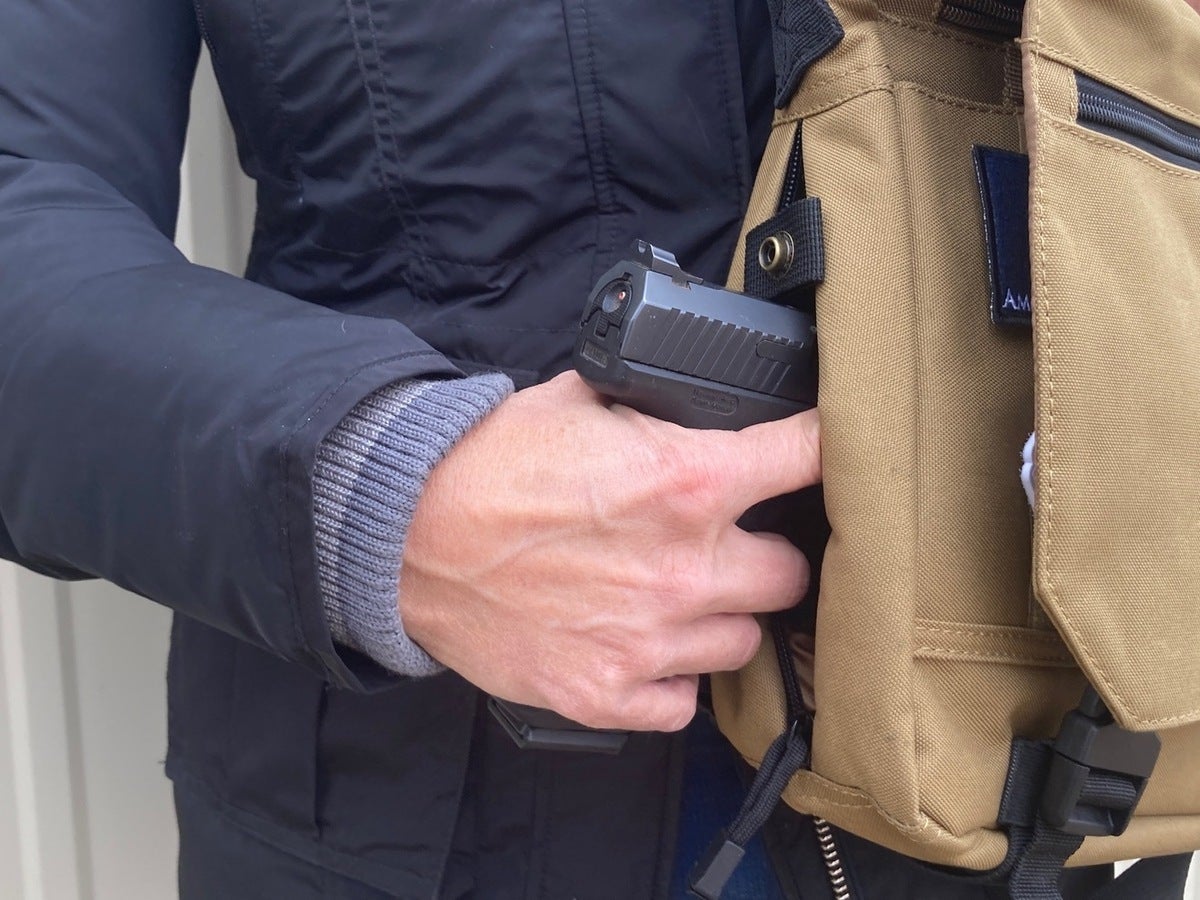 Aside from the gun compartment, the Rukx Gear Discrete Business Bag is replete with other well-designed features. Working from innermost aspects outward, the back panel has a clear-window sleeve nicely suited for an ID card or, as I use it, a place to tote business cards in a quickly accessible manner. Just in front of the gun compartment, there's a padded laptop chamber that easily accommodates my 17-inch screen device, even though the product description says it'll take up to 16-inch displays. This portion has a nice wide Velcro closure to keep the machine in place. The main inner compartment is roomy enough for stuffed-full folders of academic paraphernalia, or if you're stomping around a trade show, it'll hold about as many marketing materials as is comfortable to carry. All zippers are heavy duty and rust resistant. Just under the main flap is hidden some loop material to which I've attached some favorite brand and morale patches. Like a really cozy pair of socks, those patches which are hidden most of the time provide a boost to my mood whenever I see them. Individual pen sleeve are also located there
A small, zippered compartment under the flap is ideal for small valuables. The outer flap secures with two partially hidden, heavy duty Mil-Spec squeeze buckles on wide webbing which do their part not only to secure the flap, but to maintain a discreetly tactical flavor. Two flat, zippered compartments on the outer flap are great for little items needed on short notice, like Kleenex and business cards. The adjustable shoulder strap is made of wide webbing and has a lightly padded protector to prevent strain. On top of the flap is a padded handle that provides yet another option for method of carry. The contrasting webbing on the tan and gray bags makes for an attractive appearance that can flow between environments with ease while the solid black is tactically unremarkable in appearance.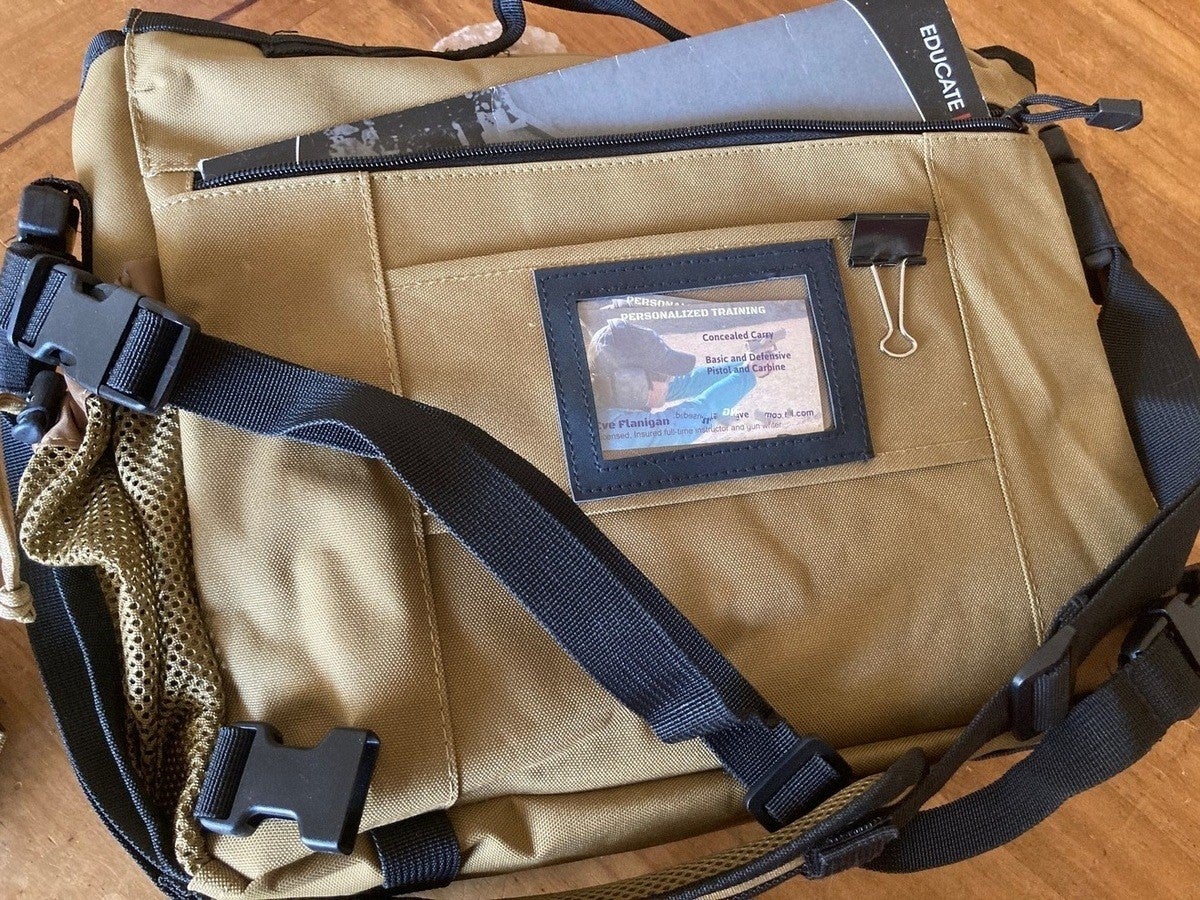 Four colors are offered: tan, black, and smoke gray. All have black webbing. The Rukx Gear Discrete Business Bag is covered by ATI's limited lifetime warranty and return policy. It's available from dealers of the company's distribution network, available on the website, or by direct order for $69.95. If you or your tactical loved one is into the matchy-matchy, this bag makes a great companion to the growing line of bags and gun cases in the Rukx Gear collection.
Safety Note:  Off-body carry has advantages but entails a higher obligation of training to not be a liability for personal and public safety. Get professional training for bag or purse carry from someone who's actually practiced the art. And of course, keeping the bag out of reach of people who have no reason to handle your gun is your responsibility.