AllOutdoor Review: Springfield Armory Hellcat Pro OSP 9mm w/ Hex Wasp
Adam Scepaniak 03.04.22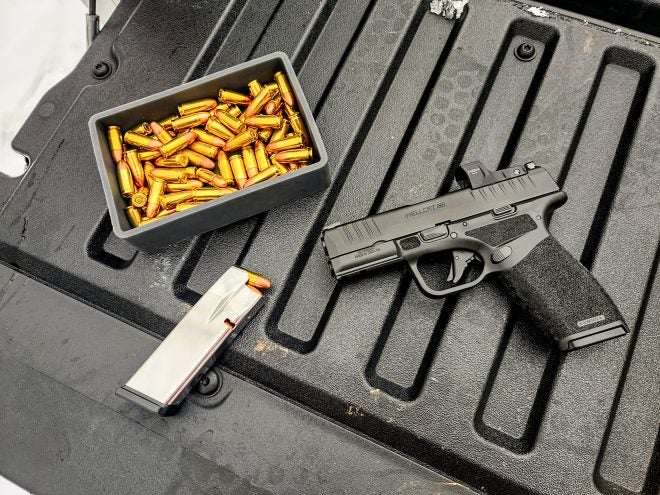 If Springfield Armory was a record label, they would be at the top of the Billboard charts for a couple years straight for the amount of bangers they have been producing lately. The Hellcat released a few years ago set the concealed carry world on fire as the world's highest capacity micro-compact. Then, they followed that up with a smoldering bolt-action rifle in the Waypoint. Next, was the restoration of an American classic in the model SA-35 (Hi Power). Then, they shocked us again with the Hellion – a bullpup like no other. Now, they have melded the best of full-size, range pistols with the secret sauce of the carry-ready Hellcat by debuting a Hellcat Pro with Springfield Armory's OSP (Optical Sight Pistol) qualities. We are going to take a deep-dive look at the Springfield Armory Hellcat Pro today to see exactly how it stacks up. Let's dive in!
Springfield Armory Hellcat News Coverage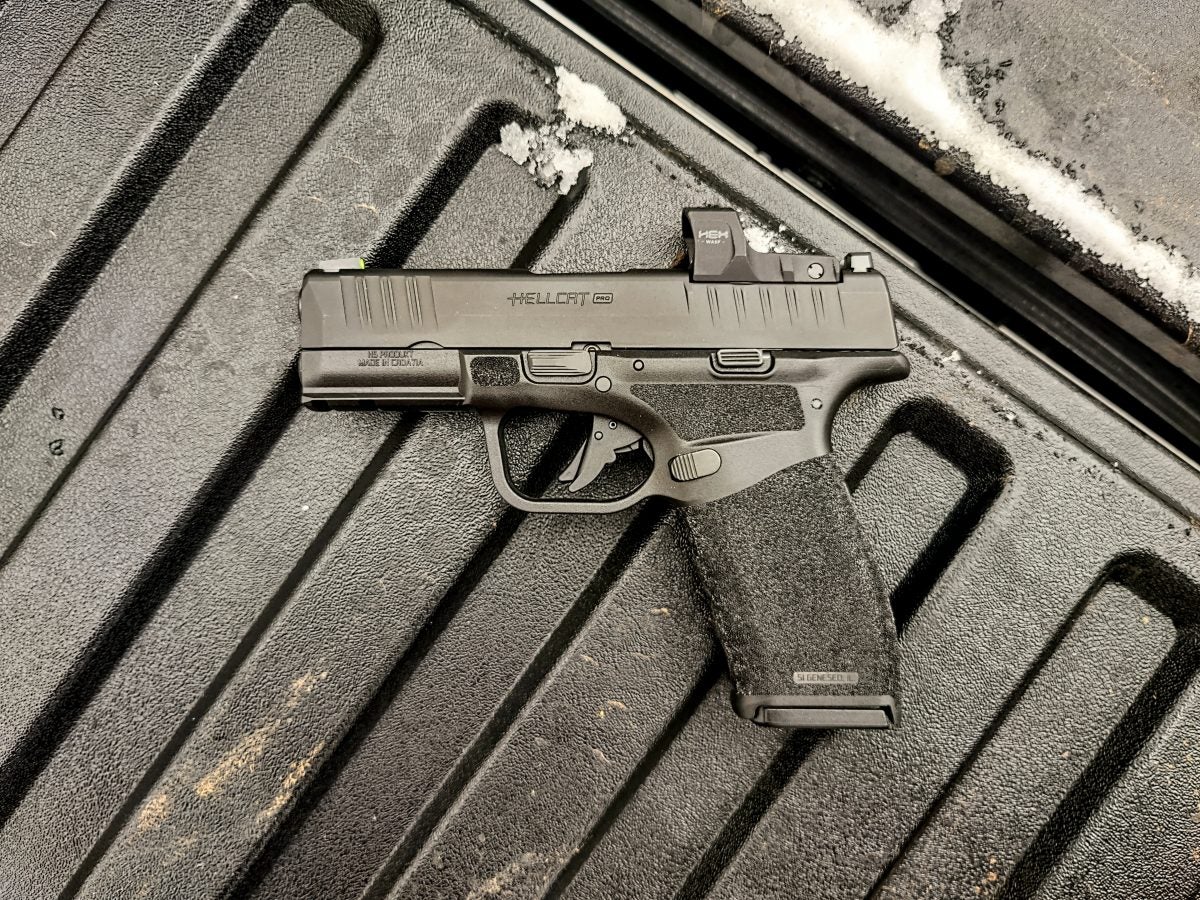 Specifications – Springfield Armory Hellcat Pro OSP 9mm w/ Hex Wasp
The Springfield Armory Hellcat Pro will carry many of the attributes and traits that we love from the original Hellcat – and even the Hellcat RDP (Rapid Defense Package) – plus much more to tantalize your wallet and gun safe. The most obvious changes are a longer grip/frame to allow for flush-fit 15-round magazines. Also, the barrel length has been stretched out to 3.7″ for a longer sighting plane and more inherent accuracy. The rest of the specifications for the Springfield Armory Hellcat Pro can be read below:
Cartridge: 9mm
Barrel: 3.7″ Hammer Forged Steel w/ a Melonite® Finish and 1:10" Twist
Slide: Billet Machined, Melonite® Finish, Optics Ready
Frame: Black Polymer w/ Adaptive Grip Texture
Sights: Tritium/Luminescent Front, Tactical Rack U-Notch Rear
Recoil System: Dual Captive Recoil Spring w/ Full Length Guide Rod
Magazines: (2) 15-Round
Width: 1″
Weight: 21 oz
Length: 6.6″
Height: 4.8″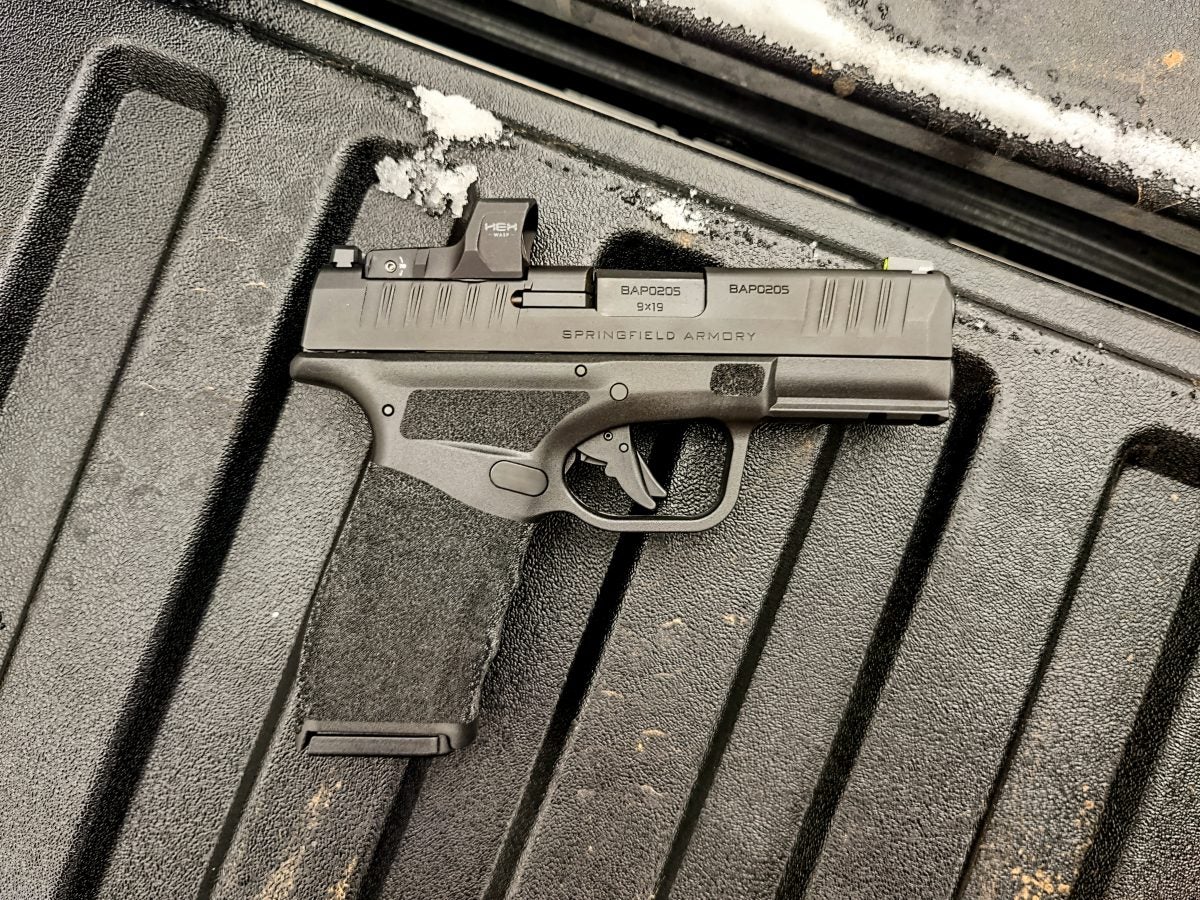 The current MSRP is $634 for the Springfield Armory Hellcat Pro OSP and it also carries their Lifetime Warranty in the rare event that you should ever need service for your firearm. The Hellcat Pro OSP is adaptable to common micro red dots including the popular Hex Wasp which is already known for fitting and suiting the Hellcat RDP (Rapid Defense Package) very well. The Hellcat Pro will not be offered with the Hex Wasp as a factory-package; rather, the Hellcat Pro is sold strictly as an optics-ready pistol. Springfield Armory was gracious enough to provide a micro red dot optic to us for this review. A final statement from Springfield Armory on the Hellcat Pro can be read below:
"Combining the performance of a larger handgun with class-leading concealability and capacity, the new Hellcat® Pro is a compact pistol chambered in 9mm that offers 15+1 capacity in a smaller footprint than any other gun in its class. Optics ready and equipped with a versatile accessory rail and hammer forged barrel, this exceptional everyday carry pistol delivers the perfect balance."
First Impressions – Springfield Armory Hellcat Pro OSP 9mm w/ Hex Wasp
One of my first impressions when handling this pistol straight out-of-the-box is how comfortable it was. The ever so slightly longer grip/frame fits my hand perfectly. The grip circumference feels right, the Adaptive Grip Texturing that Springfield is known for catches my palm well, and I can easily manipulate all of the functions on the pistol with no issues. For how small the footprint of this pistol is, it handles as good, if not better, than an actual full-size handgun.
The longer grip coupled with the longer barrel made the Hellcat Pro feel like it points faster for me as well; I could acquire a sight picture much more quickly. I don't know if this could be fully attributed to the full-size feel of the grip or the longer sighting radius helping me "find my target," but it was extremely easy to point this firearm.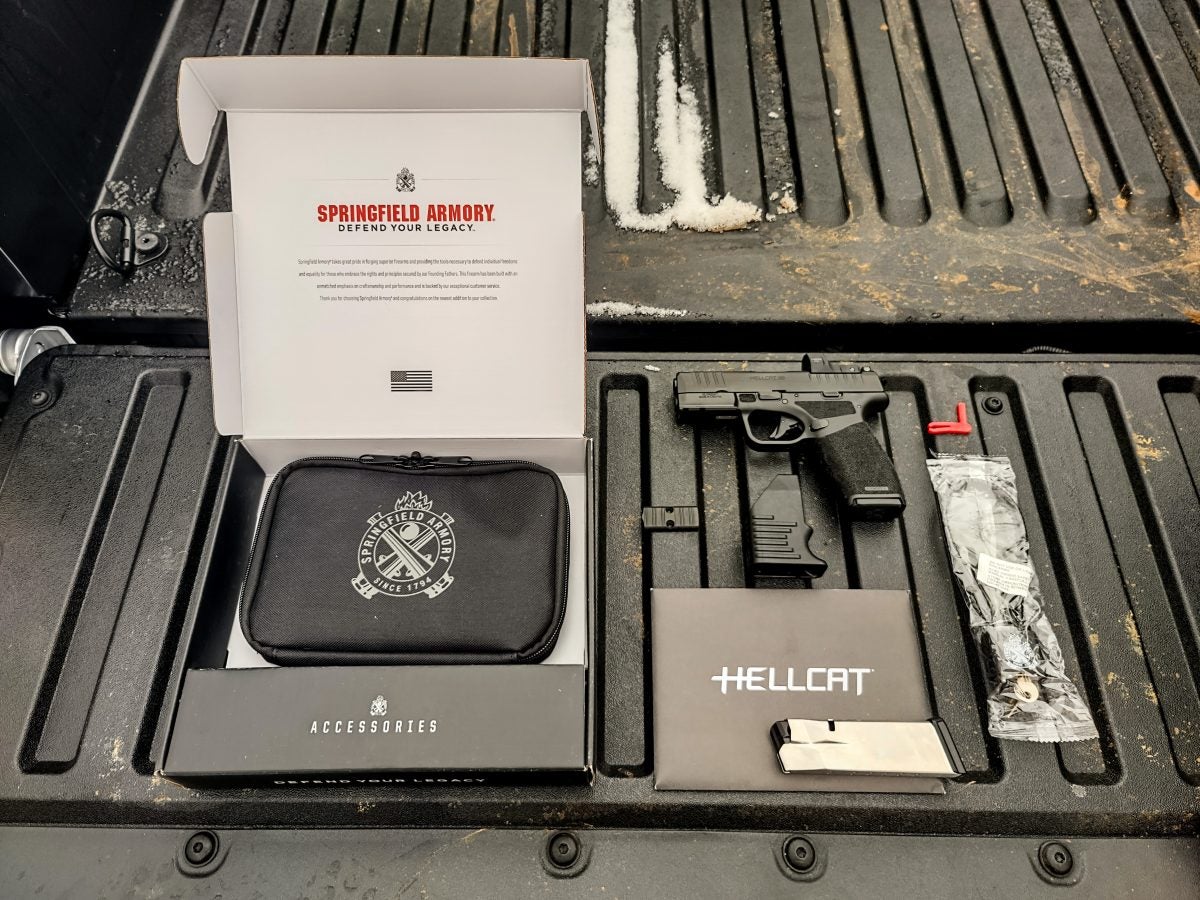 I already own an original Hellcat as well as the Hellcat RDP, and while the Hellcat Pro has superb handling it did not seem much larger than its prior two iterations. What I mean by this is carrying the Springfield Armory Hellcat Pro should feel no different than its predecessors. It is still a slender 1″ in width and only 21 ounces. So, for a lot of upside with the new Hellcat Pro this would be a logical conclusion for concealed carry if someone does not already have a stable, everyday carry (EDC) piece.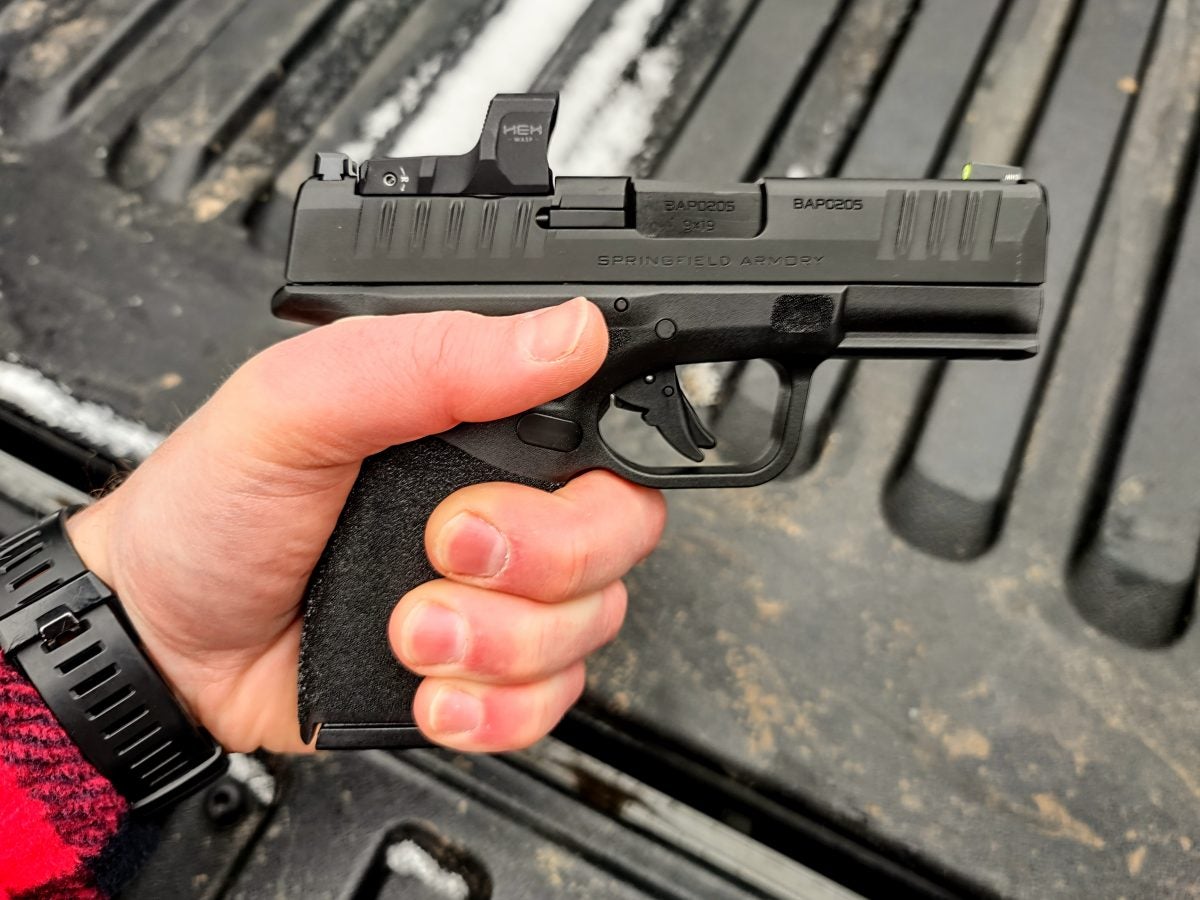 Range Time – Springfield Armory Hellcat Pro OSP 9mm w/ Hex Wasp
Now, let's skip to the good part – aroma therapy! Once at the range it was an absolute blast to start sending lead down range with the Springfield Armory Hellcat Pro. The pistol points incredibly well (as I observed during initial handling and throughout live-fire). This made my recovery after firing – getting back on target – incredibly fast. The recoil is smooth, controllable, and the pistol cycles well. Everything I would expect and hope for from a Springfield product.
The full frame and grip of the Hellcat Pro gives you a significant purchase on the weapon with supreme handling compared to other micro compact pistols on the market. I was able to shoot this as accurately with one hand as I did with two which typically never happens for me. In a rare defensive situation where you might not be able to use both hands, I found it very impressive I could accurately place rounds down range with one hand – dominant or non-dominant.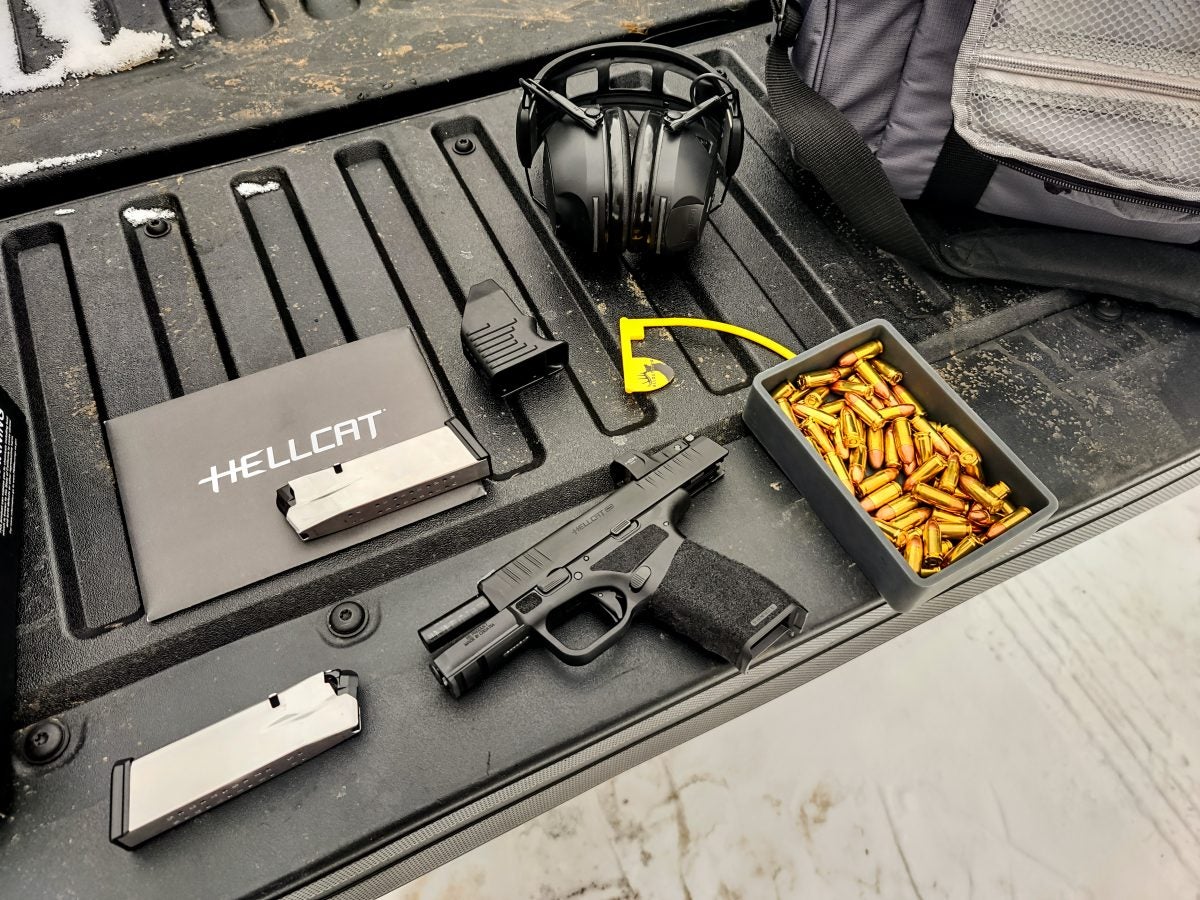 As far as accuracy goes, if you did your part of maintaining a strong grip, controlling your breathing, and pressing the trigger with repeatable pressure, this pistol was exhibiting point-and-hit accuracy. On the category of concealed carry guns that I review, I do not measure group sizes because when it comes to defense, an "A" zone hit is an "A" zone hit. We aren't sniping out at 100 yards; rather, we're looking for a means to defend ourselves and our loved ones. If you can ring steel plates all day long then you have achieved your acceptable standard of accuracy.
The ammunition I was shooting was some tarnished "white box" Winchester 9mm 115 Grain that I drug out of storage. All of the rounds cycled, fired, and impacted perfectly with no malfunctions whatsoever. The Springfield Armory Hellcat Pro ran like a Swiss clock with no complaints at all.
Final Thoughts – Springfield Armory Hellcat Pro OSP 9mm w/ Hex Wasp
So, what are my final thoughts on the Springfield Armory Hellcat Pro OSP 9mm?… For one, I will admit I am a tremendous Springfield Armory fan and I was still surprised by the performance of the Hellcat Pro. I did not believe a small increase in the grip/frame plus the barrel would make a significant difference, but it does. It is a tiny bit more pleasant to shoot, less felt recoil, and you get more rounds on board. Plus, with the OSP capabilities you can run a Hex Wasp micro red dot just like we did, and that makes you all the more faster at the range or in self-defense situations. So, for all of those reason, I do not have a significant complaint or critique of the Hellcat Pro. It is a great pistol at the asking price of $634.
In closing, I want to say thank you to Springfield Armory for allowing AllOutdoor and myself the opportunity to try out their Springfield Armory Hellcat Pro OSP 9mm with a Hex Wasp micro red dot. That is greatly appreciated. Also, we would like to know what all of you guys and gals think? Do you believe that the Springfield Armory Hellcat Pro OSP 9mm with a Hex Wasp micro red dot is something worth spending your money on? As always, let us know all of your thoughts in the Comments below! We always appreciate your feedback.