AllOutdoor Review: Mad Pig Customs – Lever Guns Go Avant Garde
Eve Flanigan 03.08.22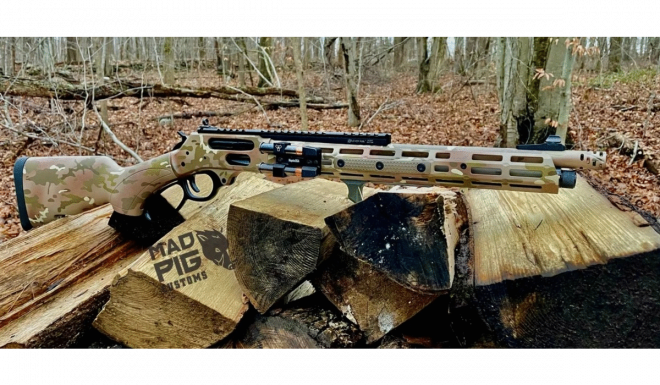 Steve Tyliszczak (pronounced like TYE-lis-shack) is a member of the Army National Guard based in Connecticut, but he has an off-hours gig that's gaining a big following on-and-off social media where I first discovered his shoot-able 'wares. Mad Pig Customs, once just a Cerakote shop, is now teetering on the brink of fame thanks to their modernized yet practical lever guns. The first time I saw a photo of one I was tantalized by the mean-looking combo of modern accessories and color on a classic action. My curiosity was doubly piqued when I noticed the page garnering props from some of the industry's heavy hitters on both the manufacturing and retail fronts. Luckily for me, being a writer is a perfect excuse to indulge that curiosity and request a phone interview to learn the backstory on these unique carbines and short-barreled rifles (SBRs).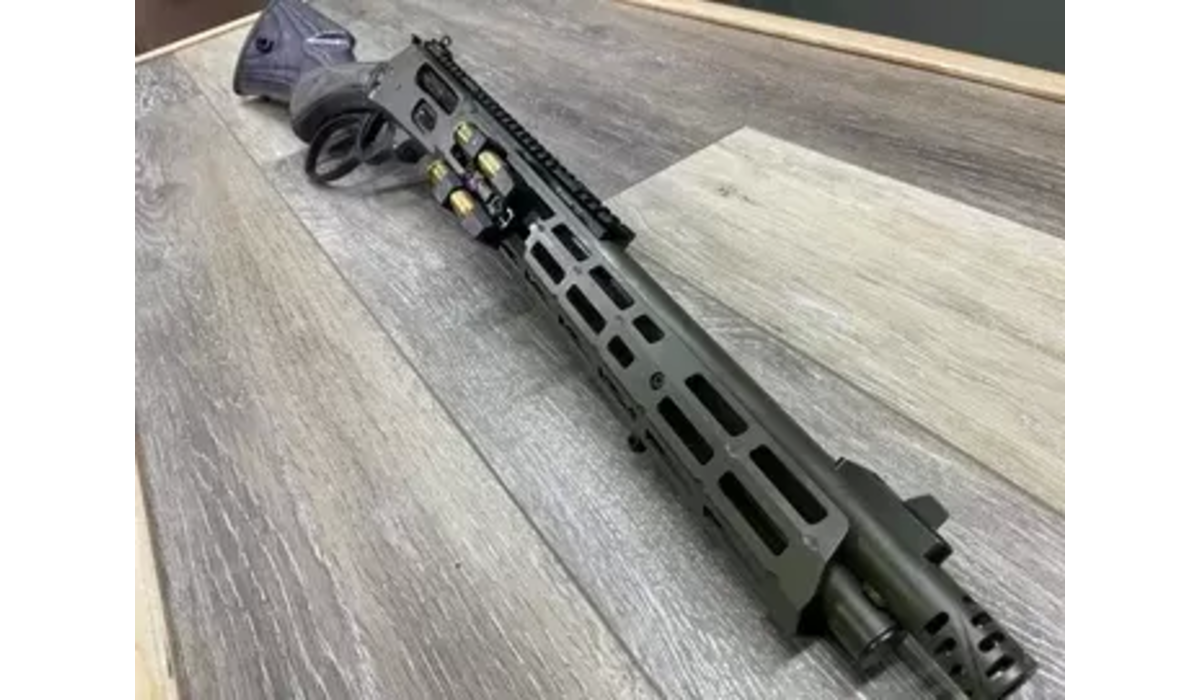 SHOT Show 2020 was the first to bring modernized lever guns to the forefront. Cerakote finishes, full-length Picatinny rails, and MSR-style sights lent a look to the Marlin booth, the likes of which were unlike any other. Of course since then, Marlin has been acquired by Sturm, Ruger, & Co. which leads me to wonder if their new lever-action models should be called Rooglin or maybe Marler, but I digress. If those rifles looked fashion-forward at SHOT two years ago that puts Mag Pig Customs' rifles on the level of avant garde. Think of a stagecoach from Bonanza crashing into a tank from Mad Max and a firearm is born from the cross-century union. They're that cool, and ultra-rugged. Tyliszczak says the inspiration for Mad Pig Customs has evolved over the past couple years.
"At one time I was an emergency management consultant and had less work and lots of time. I replied to a Facebook ad looking for cerakoting for rails. For a time we were just a Cerakote shop, but we are lever-gun gunsmiths, too. A good friend who was into Marlin lever guns originally just wanted Cerakote. Around that time, Midwest Industries released their aluminum M-LOK handguard, and that started the shift. Soon it became necessary to get an FFL, we had more people wanting what we do."
The shift he refers to is an overhaul of the furniture and/or barrel of a lever gun to create an eye-catching and functional combination. Tyliszczak says his shop is simply "adding modern utility to an already-useful platform." There are several variants of these customizations to which Mad Pig Customs has given the name Thumper. Each is enjoying growing popularity for Henry and Marlin owners who are ready to enjoy modern features on their rifles.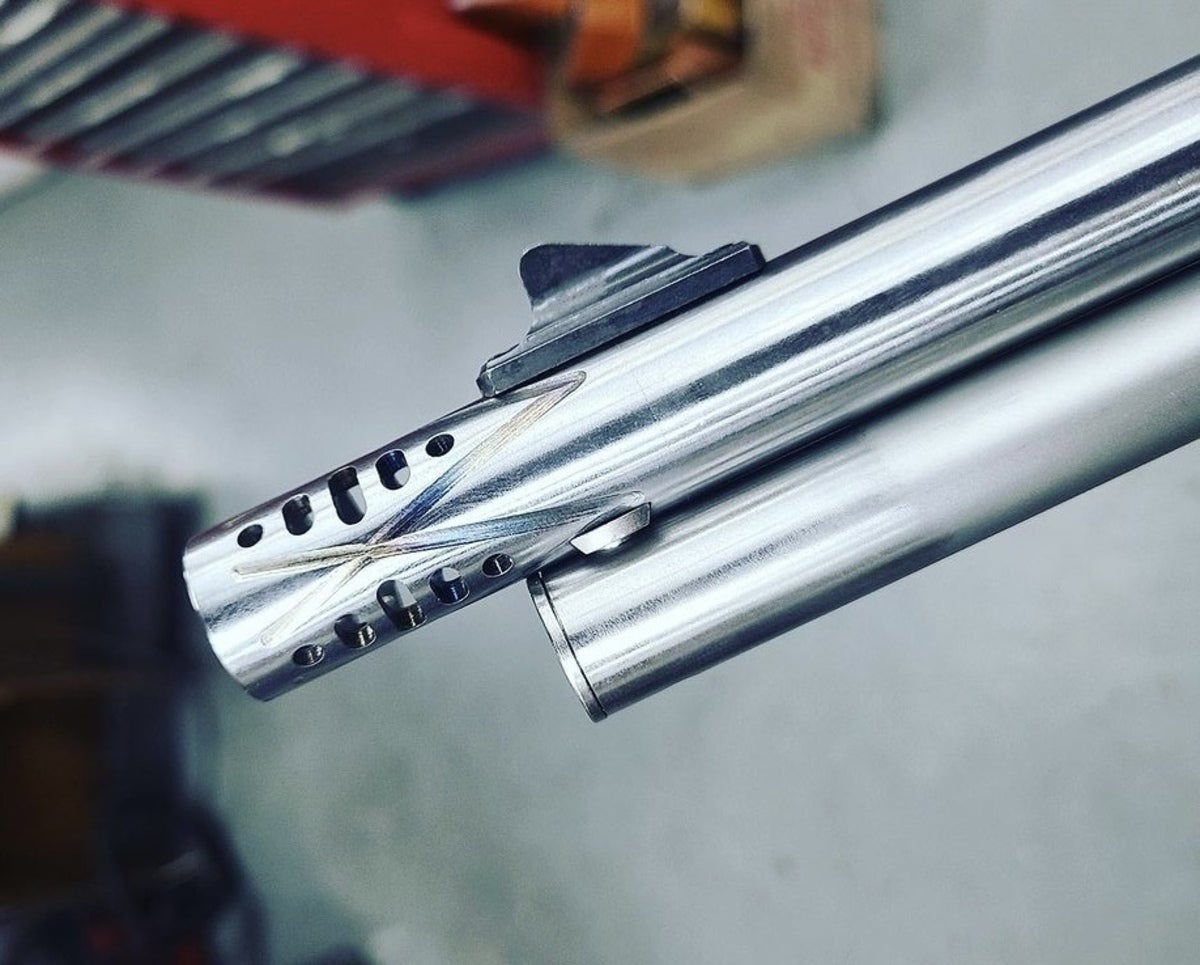 First in the Thumper series is the company's original, popularized in Chris Costa YouTube videos. It's named the V1A1 Costa Ludus, and is a Henry or Marlin with the barrel cut down to 14.5 inches then threaded and fitted with a Mad Pig Customs signature muzzle brake that's pinned and welded to bring the total barrel length to a portable yet non NFA-classified 16.5 inches total – not to mention bringing the "Thump" factor. Standard forends are replaced with a Midwest Industries M-Lok handguard. On top is an XS Sights Sight rail and a Skinner Sights Bear Buster front sight. Of course, the package receives a custom Cerakote job to make a one-of-a-kind rifle for its owner.
A variant on the V1A1 model is also offered for those who prefer a quieter ride sometimes. SilencerCo has been a partner with Mad Pig Customs since the companies made the connection at SHOT Show a couple years back, and now provides their suppressor-ready ASR muzzle brake as an alternative to the Mad Pig brake. With the SilencerCo product up front, a prominent, modern profile remains on the plain rifle, but with the option to add a suppressor. This one is also non-NFA.
Two other 16.5-inch barrel models are optimized for nighttime hunting and guide/brush gun use called Thumper V2 and V2A1. On both, the receiver and forend gain real estate that's ready for magnifying and night vision optics and a bipod, plus with right-mounted irons (the latter are included). The V2A1 version includes a suppressor-ready barrel, and on it the factory stock is swapped for a Chisel Aluminum Skeletonized Stock, a product designed via a Mad Pig Customs collaboration. Rather than an ammo cuff, the stock has brackets for a handful of extra rounds.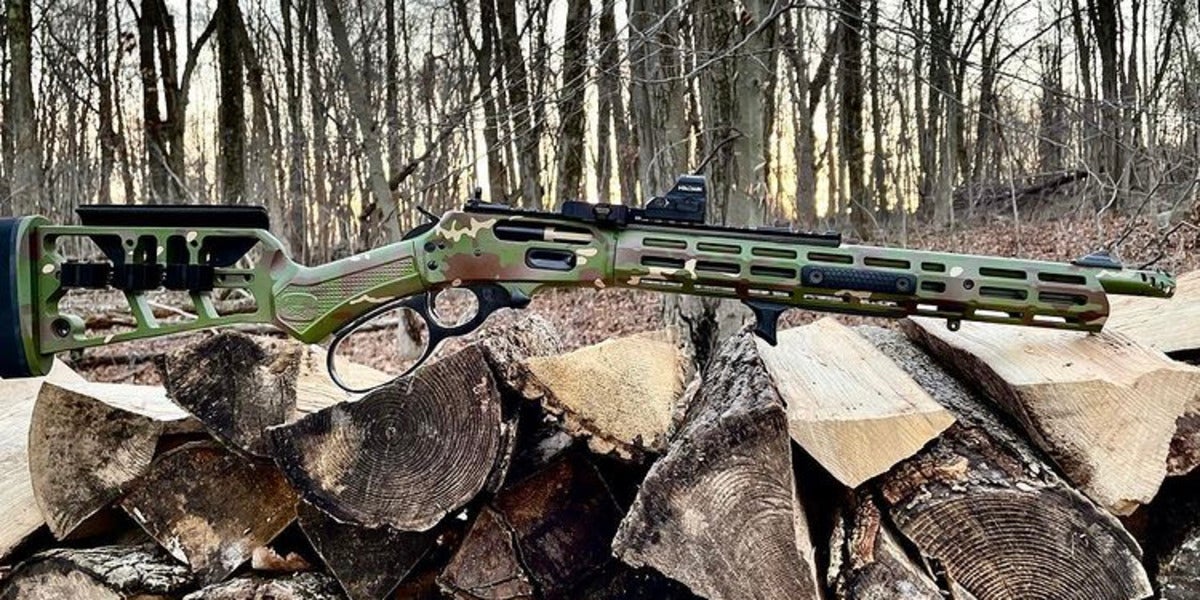 Demand for more portable rifles is strong, and Mad Pig is delivering with SBR versions of its designs. In the pistol caliber version of Marlin 1894 and Henry Big Boy rifles, a significant amount of gunsmithing is undertaken to produce these jaw-droppers. The work begins with cutting barrels to 11.5 inches. Factory stocks are traded for the Chisel Aluminum skeleton stocks which complement the Midwest Industries handguard. On the suppressor-ready version of the SBR, Mad Pig reduces that handguard a bit to make room for whatever muzzle device the user wants to add.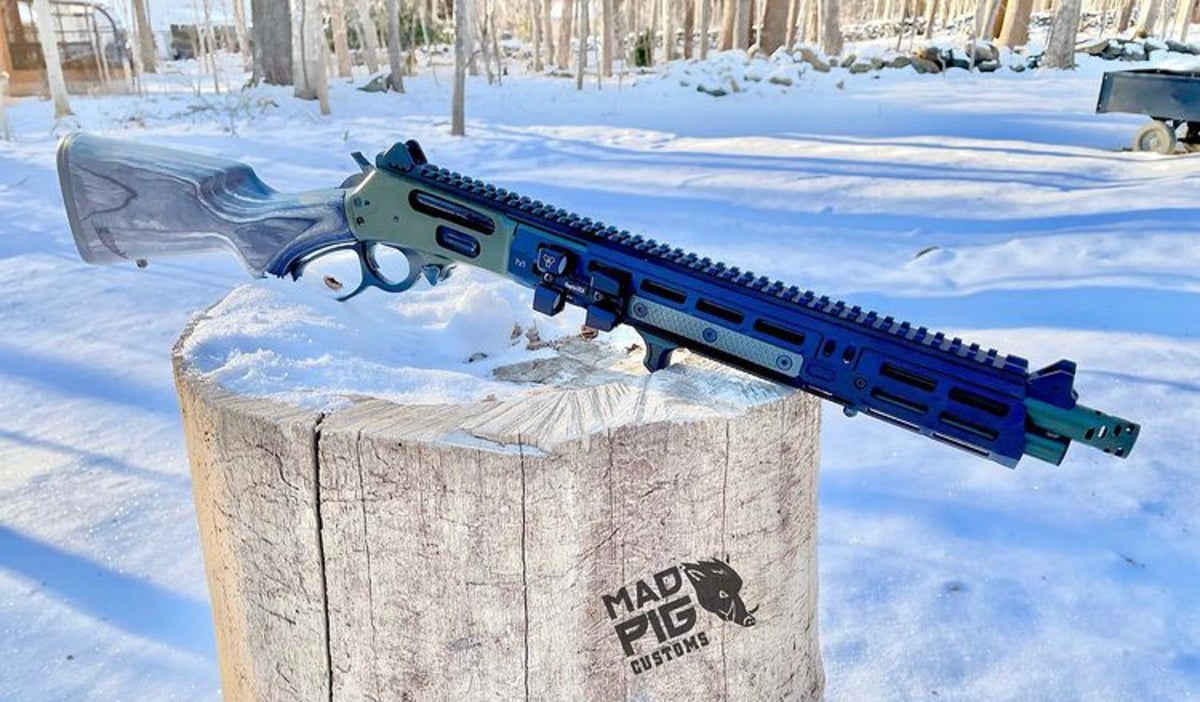 As with any emerging style, there are a few surprises. Tyliszczak is proud that, even in heavy calibers, these rifles are pleasurable to shoot. That's due in large part to a slight increase in weight, an unexpected result of aluminum components which are actually heavier than the originals. He's emphatic that these rifles are the product of lever gunsmiths and are meant for using in the real world. While Mad Pig Customs has a social media presence, there's no intention of seeking popularity through so-called influencers there. Online accolades fade in importance to the working customers he connects with. "We do a lot of business with hog hunt guides in Texas, Louisiana, and Georgia," Steve said. "Alaskan bush pilots are another. A .458 Socom in the back of the Cessna tends to make their left-leaning passengers uneasy. But a 45-70 that's ready for bear and has all the features that pilot needs, they find okay."
The success of Mad Pig Customs is based on a love of the lever platform combined with competent gunsmithing and a handful of great industry partnerships. To say that their rifles have steampunk style wouldn't be a stretch. Meanwhile, the lever gun community is famously traditional. I asked if there's been any pushback from the "Fudds" in the lever gallery. The response came with a chuckle. "Public perception is most interesting. A couple years ago, I got banned from the (name a big-bore) Facebook group as soon as they realized I own Mad Pig Customs." But Tyliszczak is quick to say that perceptions are changing fast as real people with his products show up with photographic evidence of how their carbines and SBRs are integrated into real work. Only a fool would argue with the booming success of the shop and years-long partnerships with several respected manufacturers.
If you want your own Mad Pig, first get a Henry or Marlin to send. The company doesn't yet sell complete rifles. Expect a six- to eight-month wait to receive that very unique rifle back with the outlay to Mad Pig being from $1,600 to $2,500 or more depending on work done. The average base Thumper conversion is around $2,000 as of this writing.
If a single, user-installed component is what's desired, new products are soon to appear on the company website. Those include a plug-and-play muzzle brake for the Henry X series and new Ruger/Marlin lines. To make your lever rifle into a Thumper or just to avail your eyes to the joy of modern lever guns, visit madpigcustoms.com.