TFBTV – NEW SIG P210 Carry is FINALLY Here: But is it Worth the Wait?
Adam Scepaniak 03.21.22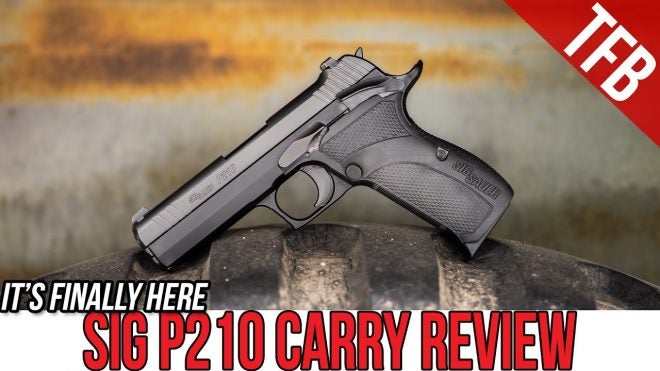 In this episode of TFBTV, James Reeves FINALLY gets to review the SIG Sauer P210 Carry. After being shown over two years ago at SHOT Show 2020, the SIG P210 Carry in 9mm is finally available. James gives you a full review and compares it to the SIG P365XL, P365, and the SIG P210 classic model as well.
««« GEAR USED IN THIS VIDEO »»»
• Sig P210 Target model: https://bit.ly/3ug4d73
• Sig P365XL: https://bit.ly/3N20W3J
• Holosun 507k Optic: https://bit.ly/3Jk2cwN
• Apparel: All TFBTV apparel is sponsored by 5.11 Tactical and you can get it at www.511tactical.com
• Oakley Ballistic M-Frame Shooting Glasses: https://amzn.to/3tg58Uj
• Walker Razor Slim Electronic Muffs: https://amzn.to/3CdwC1b
According to SIG's web page on the P210 Carry:
"The P210 CARRY, the latest in the historic line of P210 pistols from SIG SAUER, is rooted in the tradition of its 1949 Swiss predecessor but includes new checkered G10 grips, a precision-machined stainless steel slide and lightweight aluminum alloy frame. Equipped with SIGLITE night sights and two 8-round 9mm magazines, the P210 CARRY pays homage to the foundational craftsmanship of its forerunner while maintaining the features, weight, and balance of an ideal carry pistol."
««« GUN AND GEAR GIVEAWAYS »»»
Check out our Utreon and SubscribeStar pages if you enjoy our program, and consider helping us at TFBTV out. We do not take money for positive reviews, we don't push video games or sketchy products, and we give away guns and gear EVERY month to our supporters. Consider supporting us on Utreon or SubscribeStar:
https://utreon.com/c/TFBTV
https://www.subscribestar.com/tfbtv
Gun and gear giveaways are not affiliated with, associated with, or in any way endorsed by YouTube and TFBTV is solely responsible for the giveaways mentioned in this video and this description. No purchase required for gear worth over $250. Full rules and terms are found at http://tfbtv.gun.team/
««« FOLLOW US ON SOCIAL MEDIA »»»
https://www.facebook.com/TheFirearmBlogTV/
https://www.instagram.com/TFBTV/
https://www.reddit.com/r/tfbtv/
««« SPONSORS »»»
Please Support Them! They help make our videos possible.
– Ventura Munitions – www.venturamunitions.com
– Blue Alpha Gear – www.bluealphagear.com
– Top Gun Supply – www.topgunsupply.com
««« TFB CHAT ROOM »»»
Want to join the TFBTV chat room? Use our Discord Invite: discord.gg/tfbtv
#TFBTV