POTD: Barely Fired in Anger – Triplett & Scott Repeating Carbine
Sam.S 03.30.22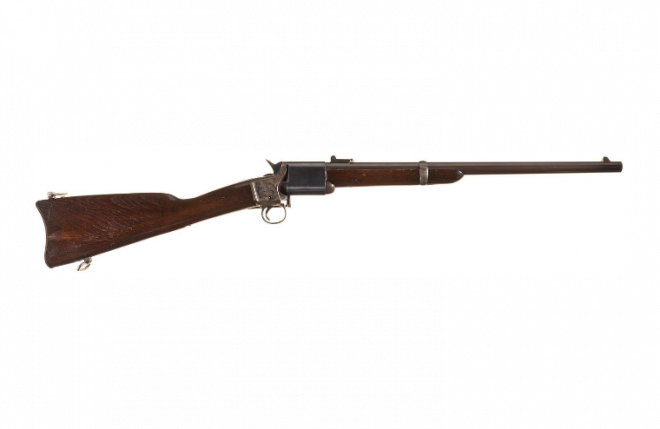 Welcome to today's Photo of the Day! Here we have a deceivingly interesting American Civil War repeater. This is the Triplett & Scott Repeating Carbine manufactured by Meriden Firearms Co. These were in production toward the end of the Civil War but were only delivered a month before the war was over. That being said 5000 were made (rifles and carbines) then they were shipped to Kentucky and used but very minimally. The cool part about these rifles is how they work. Much like many early cartridge repeaters of the 1850s and 1860s, this rifle uses a tubular magazine in the stock (Like the Spencer we covered in a previous POTD). This one hides a loading gate under the belly of the receiver. Seven cartridges of the 56-50 Spencer cartridge that the Spencer Carbine is known for are fed into a spring-loaded magazine tube from the loading gate under the receiver. After the magazine tube is loaded up, with the hammer in half cock, a button is pressed at the top of the receiver and the entire receiver and barrel assembly can be rotated until a cartridge from the magazine tube is slid into the chamber. In a way, this makes it on par with the Spencer in terms of cycling and operation time.
Model: Triplett & Scott Repeating
Type: Carbine
Gauge: 52
Barrel: 22 inch round
Finish: blue/casehardened
Stock: walnut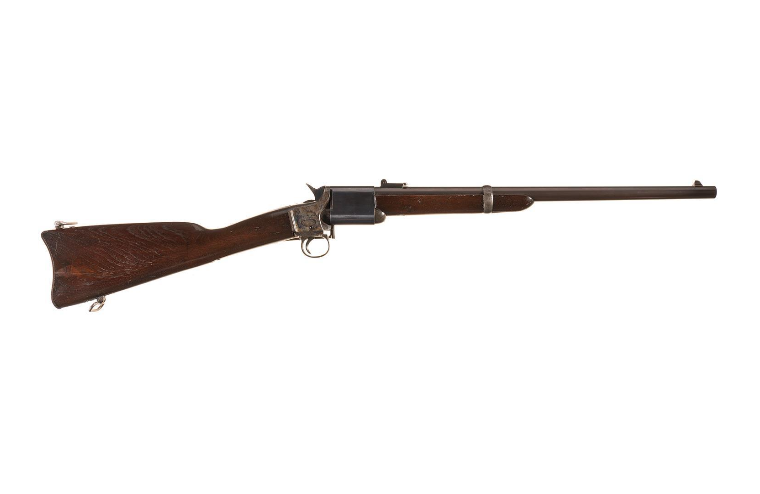 Lot 2168: Meriden Firearms Co Triplett & Scott Repeating Carbine 52. (n.d.). Rock Island Auction Company. photograph. Retrieved March 29, 2022, from https://www.rockislandauction.com/detail/1027/2168/meriden-firearms-co-triplett-scott-repeating-carbine-52.