Silencer Central Receives First eForms Approval in Less Than 90 Days
Adam Scepaniak 03.31.22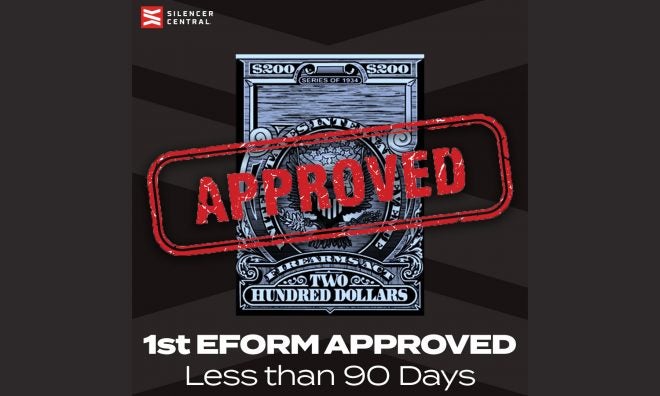 Silencer Central has been on the cutting edge when it comes to implementing the new ATF eForms system for silencers and they are already getting approvals for customers in less than 90 days! This is an alarmingly positive improvement to the former depressing lead times of 8 – 12 months in some cases.
Silencer Central Coverage on AllOutdoor
Late last year – around Christmas 2021 – the ATF informed silencer customers that a new eForms system was going to be available for submitting Form 4 paperwork (the necessary paperwork for civilians to buy silencers). The ATF rollout of the system had severe hiccups and growing pains, but Silencer Central was there the whole way learning, working, and pushing through the difficulties to better serve their customers. Now, less than 90 days later, they are reporting approval letters for their customers!
"Sioux Falls, South Dakota – March 25, 2022 – Silencer Central, America's largest silencer dealer, is thrilled to announce the receipt of their first eForms approval from the Bureau of Alcohol, Tobacco, Firearms and Explosives (ATF).

The eForms process expedites the application process in the states where the purchase of silencers is legal, cutting down wait time and repetitive data entry to approximately 90 days.

"We have always been committed to making buying silencers simple for our customers but with a turnaround time from the ATF under 90 days, we can now do that in record time!" said Brandon Maddox, CEO of Silencer Central.

This approval was received within the promised 90-day timeframe for a customer in Oklahoma. Setting a precedent for future eForm applications, this process has ensured that Form 4 submissions arrive at the ATF instantaneously and are ready for the approval process. Silencer Central has everything needed to complete your silencer purchase, including direct shipment to your door."
Silencers are a phenomenal tool for shooters for innumerable reasons with some of the greatest being sound reduction, recoil mitigation, and a generally more pleasurable shooting experience. If you have not given silencers a try already, we highly suggest you do and give Silencer Central a look. For more information about purchasing a silencer using an eForm, visit the Silencer Central blog. For more general product information, call 888-781-8778 or visit SilencerCentral.com.
---
About Silencer Central
Silencer Central started its illustrious journey in 2005 as South Dakota Silencer, an events-based business, created with the goal of reaching the underserved hunting and sport shooting market by simplifying the silencer ownership process. It became Dakota Silencer, and finally rebranded as Silencer Central after expanding its simplified process in August 2020 to all 42 states where silencers are lawful. Silencer Central makes it simple to purchase a silencer by managing the entire buying process for the consumer, providing a free NFA Gun Trust, offering interest-free payment options, and shipping directly to their front door, once approved.