POTD: Air Crew Harrington & Richardson M4 Survival Carbine
Sam.S 04.04.22

Welcome to today's Photo of the Day! Here we have the M4 Survival Carbine. This little devil has an interesting place in history as being a military-issued weapon for aircrewmen in survival situations. It was chambered for 22 Hornet which is an interesting choice even for the era. The idea of a survival rifle, carbine, pistol, etc is not a new one. Back in the second World War, aircrewmen on the Allies side usually were issued Colt M1911 .45 ACP pistols and some German aircrewmen in the Africa campaigns were issued drilling combination guns. After World War Two, the United States military sought to adopt a "survival rifle." They had test runs with commercial combination guns like the Stevens Over/Under-style .410 Gauge/.22 Long Rifle. In the end, what they came up with was the Harrington & Richardson M4 Survival Carbine. The Harrington & Richardson M4 Survival Carbine was a bolt-action, magazine fed .22 Hornet carbine. It featured a collapsible wire stock and a crude wire pistol grip. Many mistaken individuals believed that it was replaced by the later AR7 rifle which is not the case. More information on the AR7 and its variants can be found at the link here, here, and here!
Manufacturer: Harrington & Richardson Inc
Model: M4
Type: Rifle
Gauge: 22 Hornet
Barrel: 18″ Round
Finish: Parkerized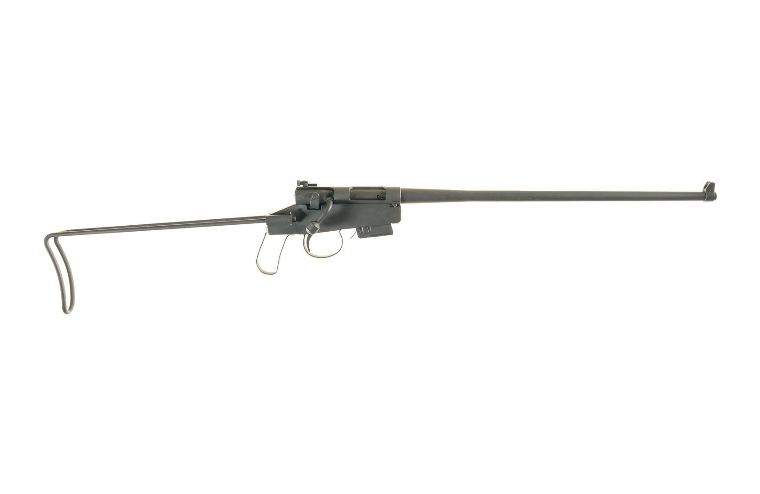 Lot 2939: Harrington & Richardson Inc M4 Rifle 22 hornet. (n.d.). Rock Island Auction Company. photograph. Retrieved April 3, 2022, from https://www.rockislandauction.com/detail/1027/2939/harrington-richardson-inc-m4-rifle-22-hornet.