POTD: A Beginning of an Evolution – The Colt 1860
Sam.S 04.15.22

Welcome to today's Photo of the Day! I saw that Rock Island Auction Company published a post entitled The 7 Most Sought-After Civil War Guns. We figured we would share since it is a very well done article covering a whole host of guns we have looked at in brief here on our POTD session. Here we have a Colt 1860. This is the younger brother of the Colt 1851 we covered in yesterday's Photo of the Day. In terms of the American Civil War, this revolver was the new updated Colt black powder revolver. It was a popular slightly more expensive revolver utilized mainly by Union troops. They tended to be more reliable than the older Colt 1851 which would often fall prey to cap jamming. Cap jamming is when the fired caps become lodged in the rotating mechanism of the cylinder and prevent it from rotating and locking up correctly. They were made from 1860 to 1873 boasting around 200,000 made. Later revolvers would be converted to use self-contained metallic cartridges such as 38 Long Colt and 45 Colt.
"The accompanying factory letter lists this revolver with an 8 inch barrel in .44 caliber, blue and plated finishes and "wood" stocks when shipped to Colt's New York City office on September 3, 1862, as part of a 5 gun shipment. Factory records for Model 1860s are rarely found. This civilian marketed Colt 1860 has a four screw frame cut for a shoulder stock, the one-line New York barrel address, "COLTS/PATENT" frame marking, naval cylinder scene and "44 CAL" on the left trigger guard shoulder. A number "2" is stamped above or below the matching serial numbers on the barrel, frame, trigger guard and back strap. The cylinder, wedge and arbor pin are also numbered to the gun."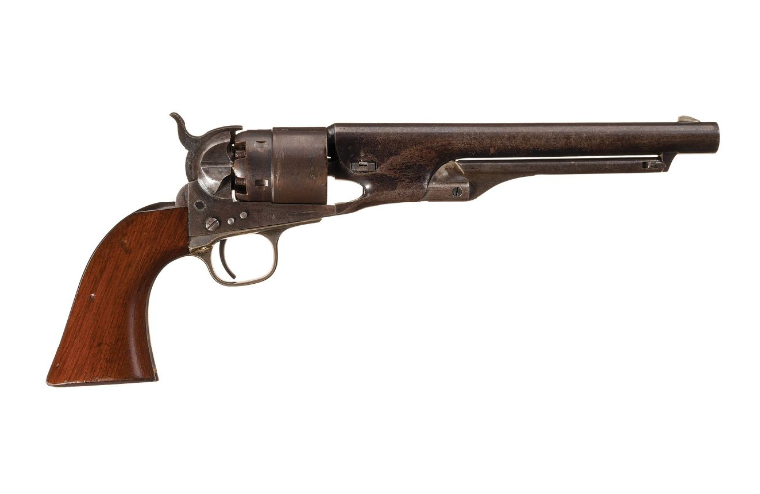 Colt Model 1860 Army. (2019). Rock Island Auction Company. photograph. Retrieved April 12, 2022, from https://www.rockislandauction.com/riac-blog/7-best-civil-war-guns?msclkid=a94e2739aa2011eca205ffa082614340.