AllOutdoor Review: Springfield Armory 9mm Garrison 1911
Sam.S 04.22.22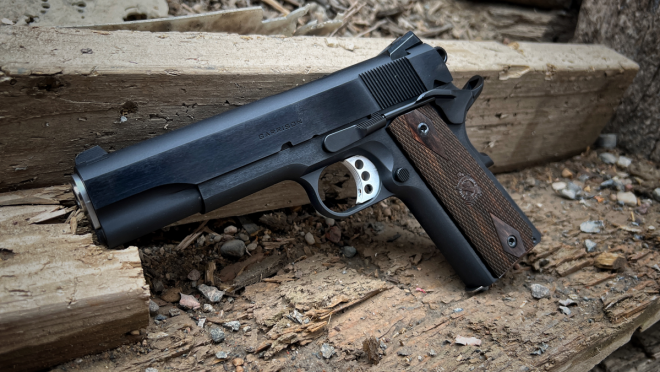 Back in November of last year, Springfield Armory announced a new 1911 was hitting shelves. This was the Springfield Armory Garrison 1911 in 45 ACP. The Garrison 1911s are nostalgic-style guns built with a modern spin and specifications.  They were released for the guy or gal out there that are old souls, but crave the reliability and quality of modern technology. Modern aspects being forged frames, slides, and barrels for durability as well as enhancements such as thinline grips, an extended right-hand manual thumb safety, and low-profile high-visibility sights. The Garrisons were released in both a matte blue with polished accents and a stainless finish with polished accents. Today they are rolling out the same style 1911s, but in the reliable and comfortable 9mm cartridge. Let's jump right into the Springfield Armory 9mm Garrison 1911!
Springfield Armory Coverage on AllOutdoor
Specifications: Springfield Armory 9mm Garrison 1911
The Springfield Armory 9mm Garrison 1911 comes in the now-standard black Springfield Armory cardboard box. Within the box, the 1911 is enclosed inside of a minimalist soft case that features a single pouch for a spare magazine or whatever you decide to put in it. Besides a soft case, the Garrison also comes with one extra nine-round magazine. This is a nice addition considering the 45 ACP Garrison only comes with one magazine to my knowledge. Most 1911s regardless of brand or price-point tend to only come with a single magazine to save on cost. The box also contains the normal cable lock, manual, and warranty registration information. Lastly, a small hex key is included for the adjustable trigger on the Garrison.
 1911 Garrison Handgun

Recoil System: Bushing-GI Style

 

Matte Blue with Polished Accents or Stainless with Polished Accents

 Right Hand Extended 

Manual Thumb Safety

 8.6 Inches

Height: 5.5 Inches

 Dovetailed, Low Profile Combat Ramp, 

White Dot

Dovetailed, Low Profile Combat, 

White Dot

Thinline Wooden Grip Pannels

 

Forged Stainless Steel, Match Grade, Fully Supported Ramp

Barrel Twist: 1:16

Forged Carbon Steel (Blued Model), Forged Stainless Steel (Stainless Model)

Forged Carbon Steel (Blued Model), Forged Stainless Steel (Stainless Model)

 

5 Inches

 38 oz.
The MSRP of the blued Springfield Armory 9mm Garrison 1911 is $849 and the stainless model is $899. I would say as far as model 1911 pistols go these days that is pretty fair since its in the middle of the road. You get a match-grade barrel, thoughtful finishes, an adjustable trigger, and an extra magazine.
"Featuring forged materials and heirloom-quality construction, the Garrison 1911 combines modern materials and design with a heritage spanning back more than a century. Available with classic hot salt blued carbon steel or rust-resistant stainless steel construction, the Garrison is a rock-solid 1911 that gives you a host of modern upgrades along with the strength to provide a lifetime of service. For those who respect tradition and demand the best, the Garrison stands ready.

With more than a century of service behind it, the 1911's capabilities are beyond question. The Garrison builds upon that solid foundation with the features today's shooters demand. Forged construction, low-profile yet high-visibility sights, skeletonized hammer, extended beavertail grip safety and much more define this modern take on the proven classic.

The forged frame and slide of the Garrison 1911 provides shooters with a durable foundation for the pistol. In addition, it is available with either hot salt blued carbon steel construction or rust-resistant stainless steel. Either way you choose, the Garrison will provide you with an attractive and durable take on this classic design."
First Look: Springfield Armory 9mm Garrison 1911
Out of the box, my first big impression was being thankful that it came with another magazine. I don't think the 9mm magazines are any cheaper per se it is probably more Springfield Armory adjusting to the fact that those magazines may be harder to find for the average Joe. The second thing I noticed while actually handling the gun was how smooth the slide felt. It was not wobbly nor did it rattle. It was genuinely very smooth and easy to work with. I am guessing it felt like that to me since I am used to a standard 45 ACP 1911 which offers a little more resistance. With that resistance taken away those tight tolerances that Springfield Armory is known for really show through.
Mechanical feel aside, looking at the aesthetic, it is a very humble-looking gun. The whole sales pitch is classic looks plus modern features, but this is more than just classic looks, it is classy. This specific model (it will be the same setup for the stainless) is blued. It has polished accents on the side of the slide and frame and is a matte blue on the top of the slide to reduce glare which I find very thoughtful. The polished portions are very cool looking, but once you touch them they become caked in smudges very easily and you find yourself trying to wipe them off with your shirt or a rag.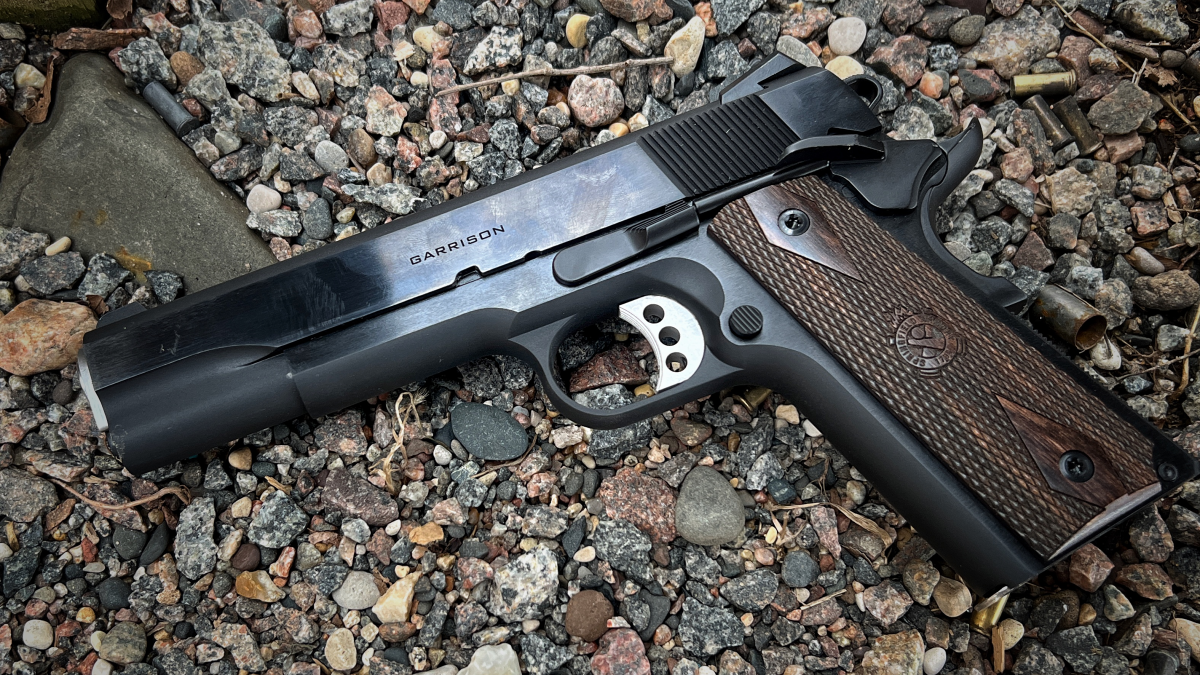 Range Time: Springfield Armory 9mm Garrison 1911
I have had the pleasure of shooting a Springfield Armory 1911 before in the form of their Mil-Spec model. I reviewed that over at our sister site TheFirearmBlog.com. I loved working with that gun so much that I ended up picking one up. It was a great shooter and as an old soul, it itched that nostalgic feel for me. The Mil-Spec is a 45 ACP 1911. This Garrison is in 9mm. I was extremely excited to feel the difference for the first time and give you my unbiased results.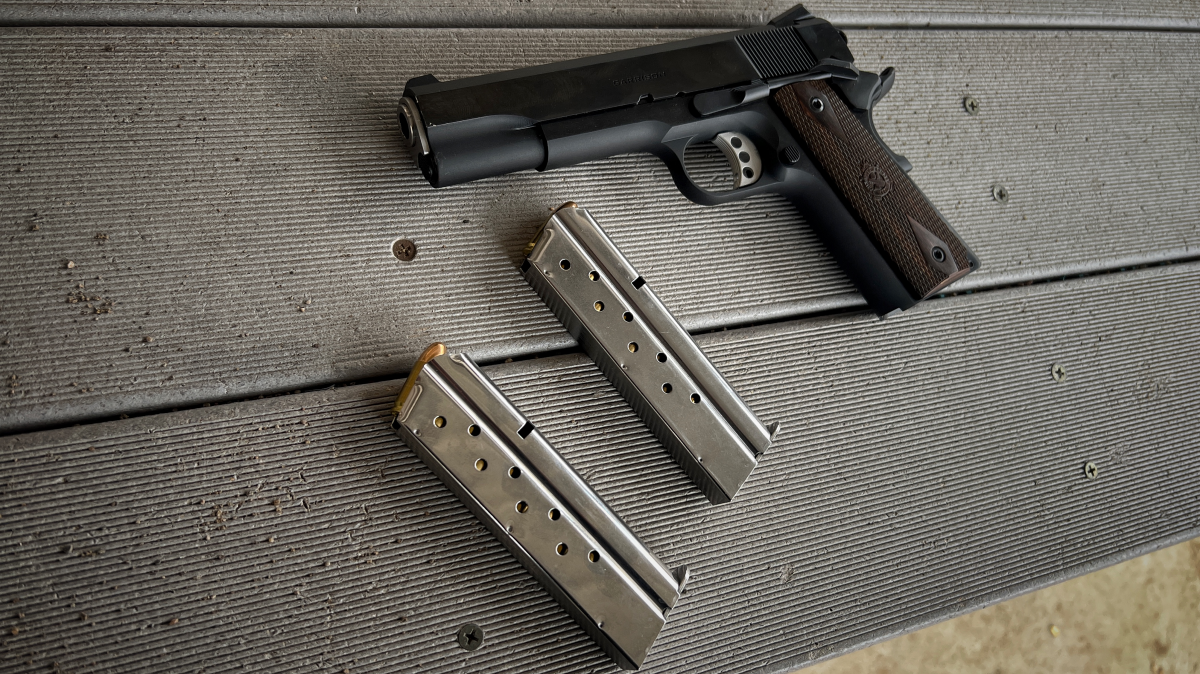 The target you see below is my very first 9 rounds of 9mm fired with the Garrison at 15 yards. My first five shots were basically a hole in the hole and at that point, I got a little loosey-goosey and cocky and my group got a bit bigger with some flyers. I was really surprised by its performance and my own. I do not go out and shoot pistols often so it was cool that this gun made me look good for five shots in a row.
The handling was astonishing when comparing it to the jerky snap that 45 ACP can produce. It was a really comfortable shooter. The trigger was a crisp single-action trigger like most 1911 handguns. The reset was plenty obvious when doing a slow fire session. The magazine well was a tight fit when inserting a fresh magazine so at one point when I smacked the mag past the release it did not fully lock up. The top of the loaded magazine must have had enough spring pressure to force the magazine back down slightly so when I racked the slide and attempted to fire, well nothing happened.
I fired a good mix of 9mm through the Garrison. I started with an old box of some 115 grain Federal American Eagle. I also had some Remington 115 grain Range, 147 grain Blazer, 115 grain Sig Sauer V-Crown, and a handful of 92 grain G2 Research R.I.P. 9mm. All shot fine through the Garrison without malfunction. I did have one of the Blazer rounds get caught on the top of the chamber when I racked and released the slide, but I blame this on user error. I racked the slide too slow since my hands were getting cold. That brings me to another point! I had not cleaned or lubricated this pistol since it entered my possession. It was around 25 degrees Fahrenheit out with a decent amount of wind. This gun did not fail, jam, or cause me grief once. It was a thoroughly enjoyable range experience! All said and done I had probably sent roughly 250 rounds through the Garrison before I packed up and headed home.
Final Thoughts: Springfield Armory 9mm Garrison 1911
So, here it is. I really like the Springfield Armory Garrison 9mm 1911. It is a neat idea to blend old looks with new modern features. This example of that attempt is excellent in my opinion. It looks and feels elegant and shoots very well. The recoil is perfect for someone who may be shy about rocking and rolling with the good ole 45 ACP and it is definitely more affordable shooting so no shame there. The price for the Garrison is very middle of the road and that is great because in a lot of ways it is an above-average model 1911. Match grade barrel, adjustable trigger, tight tolerances, and an extra magazine. It is hard to ask for more for that price and the package it all comes wrapped up in. The Springfield Armory Garrison 9mm 1911 has my seal of approval and I would recommend it to anyone!
In closing, I want to say thank you to Springfield Armory for allowing AllOutdoor and myself the opportunity to try out their 9mm Garrison 1911. That is greatly appreciated. Also, we would like to know what all of you guys and gals think? Do you believe that this version of the Garrison is worth spending your money on? Would you take this out to the range? Would this be your go-to 1911 pistol? Let us know all of your thoughts in the Comments below! We always appreciate your feedback.