POTD: Twice as Rare as Last Time – The Cartridge Cofer
Sam.S 05.02.22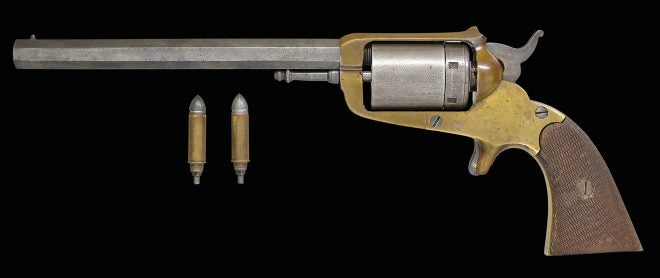 Welcome to today's Photo of the Day! Here we have another Confederate revolver that still is not a Colt-style one! This is the Cofer revolver…again. This time there is something different! This one is modified to use percussion cap cartridges! This makes this Particular Cofer the Cartridge Cofer. The Cartridge Cofer uses a two-piece cylinder much like modern conversion cylinders used for reproduction black powder revolvers. This revolver would use strange cartridges with built-in nipples to support a percussion cap. Very weird and inefficient so it is strange it was tried at all. I highly recommend checking out this PDF that poulinauctions.com put together here.
"The only Confederate firearms patent, "patent # 9" was granted August 12, 1861 to Thomas W. Cofer of Portsmouth Virginia. This Confederate revolver based on his patent has unique two-piece cylinder utilizing a specially made percussion cartridge. Top strap marked in two lines: "T.W. COFER'S PATENT / AUGUST 1861". Cofer did sell at least 17 revolvers to the Confederate government as noted by a January 18, 1862 receipt and most likely issued to 5th Virginia cavalry. "NO 7" stamped on brass butt strap of the grip frame. Barrel marked in a single line: "PORTSMOUTH VA". This revolver has survived with original finish due to catastrophic failure which broke the frame and blew off barrel early in its life. The revolver was beautifully restored by pioneer Confederate collector Berkley Lewis over 50 years ago. This revolver has a wonderful collection history being part of several of the finest Confederate arms collections in America till its current offering. There is a large file accompanying this gun showing its history and provenance. There are only examples of this ultimate confederate rarity and even restored is the best of the 2 survivors for completeness and condition."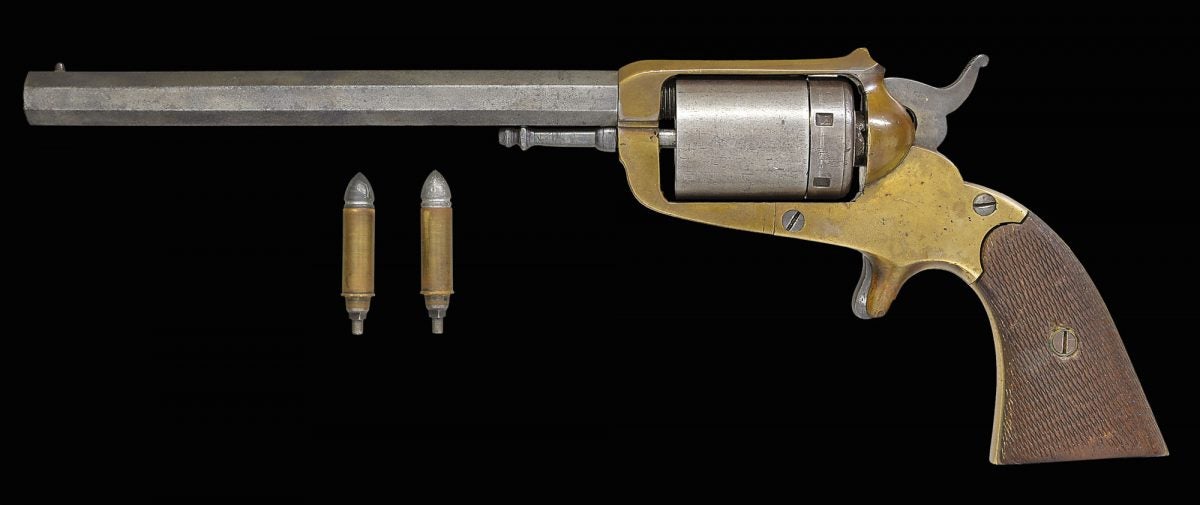 Extremely Rare Confederate Cofer Patent Cartridge Percussion Revolver. (n.d.). poulinauctions.com. photograph. Retrieved May 1, 2022, from https://www.poulinauctions.com/extremely-rare-confederate-cofer-patent-cartridge-percussion-revolver/.