TFBTV: No-Rust Benelli 828U Over-Under with BE.S.T. Finish
Adam Scepaniak 05.04.22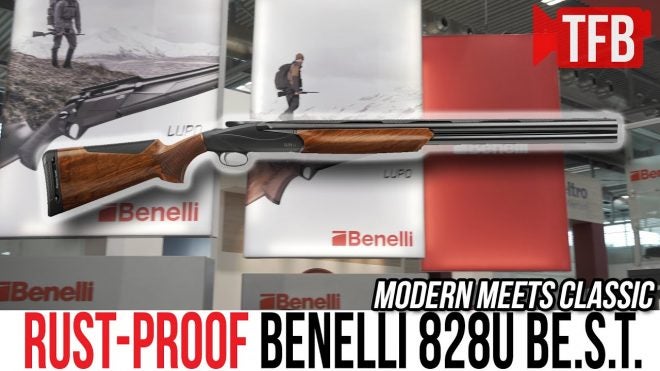 In this episode of TFBTV, James Reeves is visiting the Benelli booth at EOS or the European Outdoor Show to speak with Benelli engineers about the new Benelli 828U featuring the BE.S.T. (Benelli Surface Treatment) finish, a remarkable new coating that is rustproof and guaranteed for 25 years.
According to Benelli's marketing materials relative to the Benelli 828U:
'828' is the code that identifies Urbino, a UNESCO World Heritage site. The 828 U over & under firearm combines the experience of the past with the new technological era. The sleek lines of the dark-coloured receiver exude elegance and emphasize the sportiness of the shotgun in a perfect harmony of shapes and materials. The wood incorporates the Progressive Comfort system, the butt plate and the special polyurethane comb are the ideal combination to reduce perceived recoil and muzzle rise. The Benelli 828U is the epitome of lightweight and comfort, stability and adaptability. A shotgun with fast, yet extremely stable swinging, capable of adapting perfectly to the shape and shooting stance of the hunter. The only over & under shotgun that provides for fine-tuning of drop and deviation (Perfect fitting). The heart of the Benelli over & under shotgun is the Lock Plate locking system made from hardened steel. A simple and ingenious device that ensures strong and reliable locking and cancels mechanical stress. the aluminum receiver makes for a lightweight over & under (at less than 3 kg), yet extremely resistant and perfectly balanced. Another important element is the 828 U's compact, removable, precise, practical, reliable cocking assembly with short percussion times. 828 U delivers optimal performance and comfort tailored to your needs.
««« GUN AND GEAR GIVEAWAYS »»»
PLEASE check out our Patreon and Subscribe Star pages if you enjoy our program, and consider helping us at TFBTV out! We give away hundreds of dollars of gear a month to our supporters!
https://www.patreon.com/tfbtv
https://www.subscribestar.com/tfbtv
NOTE: These giveaways are not affiliated with, associated with, or in any way endorsed by YouTube and TFBTV is solely responsible for the giveaways mentioned in this video and this description. No purchase required for gear worth over $250.
««« FOLLOW US ON SOCIAL MEDIA »»»
https://www.facebook.com/TheFirearmBlogTV/
https://www.instagram.com/TFBTV/
https://www.reddit.com/r/tfbtv/
««« SPONSORS »»»
Please Support Them! They help make our videos possible.
– Ventura Munitions – www.venturamunitions.com
– Blue Alpha Gear – www.bluealphagear.com
– Top Gun Supply – www.topgunsupply.com
««« TFB CHAT ROOM »»»
Want to join the TFBTV chat room? Use our Discord Invite: discord.gg/tfbtv
#TFBTV