TFBTV – The Rare, No-Bullshit Tactical Watch: The Garmin Tactix 7
Adam Scepaniak 05.09.22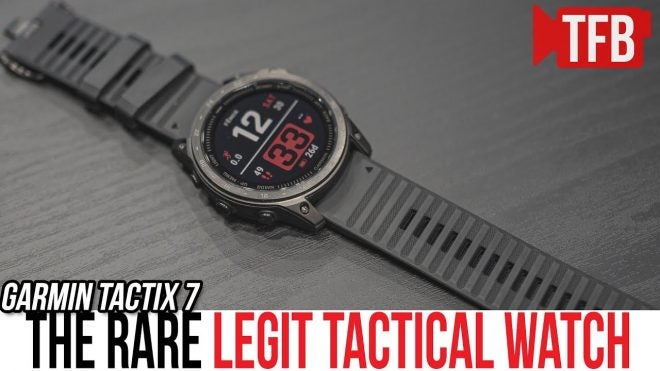 In this episode of TFBTV, James Reeves is at EOS, the European Outdoor Show, at the Garmin booth to talk about the only real, legit tactical watch out there: The Garmin Tactix 7. Some models include a ballistics calculator, night vision modes, and jumpmaster modes.
Per Garmin's materials on these watches:
"The rugged tactix 7 Series is built to a military standard (MIL-STD-810) and water-rated to 10 ATM1. The new metal button guards with reinforced metal lugs are paired with a black DLC coated titanium bezel and rear cover, as well as black tactical nylon QuickFit bands on tactix 7 Pro Series, to create a watch as tough as its users. Available in three models, all tactix 7 units feature a large 1.4" display with a scratch-resistant sapphire lens. Users can feel confident knowing the sapphire used is considered one of the hardest materials on earth, ensuring the tactix 7 display remains operationally ready even in harsh environments.

New to the tactix 7 Series is a dual touchscreen and button user interface. The traditional button controls work in any environment and are matched with a responsive new touchscreen for direct access to selections and functions. The powerful 5-button and touchscreen interface enables quick and intuitive engagement with the topographical maps, offering confident "off-grid" situational awareness.

To lead the way during night operations, the tactix 7 Series provides a new built-in multi-LED flashlight providing quick access to a bright, steady light in either white or a dedicated green. Users will find the green light useful in maintaining their eyes' natural night vision.

Tactix 7 Series customers can utilize stealth mode, which collects distances traveled and biometric data without recording location data, to physically train or during operations. Leveraging this security feature ensures customers can use tactix 7 – and even upload logged data – without concerns of revealing location information through popular mobile training apps. By not recording location data to the device, stealth mode also protects operational security should a device become lost.

The tactix 7 Series brings significant battery life gains to the rugged smartwatch family; tactix 7 – Standard Edition provides up to four weeks of battery life in smartwatch mode and – thanks to advancements in solar technology – tactix 7 – Pro Series can provide up to 37 days of battery life in smartwatch mode2.

Packed with dedicated features for tactical operations, the tactix 7 Series includes night-vision goggle compatibility mode, Jumpmaster, dual-position GPS formatting, projected waypoints, and the ability to erase all user data in a matter of seconds should the need arise. During airborne operations, individuals can use Jumpmaster for three jump types: HAHO, HALO, and Static. Set the watch to dual-positioning mode, and it will simultaneously display two sets of coordinate systems, such as MGRS and latitude/longitude, on a single data screen. When night-vision mode is activated, the backlight settings of the screen will reduce to a level that won't interfere with the function of night-vision goggles.

Both civilian and service aviators will benefit from the tactix 7 Series Direct-To Navigation feature, which allows users to navigate straight to an airport in the world aeronautical database or use the "Nearest" function to activate a path to a nearby airport. Additionally, pilots can also access aviation weather, including NEXRAD radar, METARs and TAFs, to see winds, visibility, barometric pressure and more directly on their tactix 7 unit3.

Using multi-band GNSS support, customers can access multiple frequencies sent by navigation satellites for improved position accuracy in areas where GNSS signals are reflected, weak or typically don't penetrate. All tactix 7 units come preloaded with multicontinent Topo maps from the customer's regions and provide free access to download additional maps from around the world. For recreational uses, the tactix 7 Series come preloaded with Public Land Boundaries Maps, SkiView Maps, and more than 42,000 full-color golf courses around the world.

Customers needing the enhanced solutions provided by Applied Ballistics (AB) will be pleased to know the tactix 7 – Pro Ballistics Edition now integrates with the AB ecosystem, including the AB Synapse™ app and sensor integration."
««« GUN AND GEAR GIVEAWAYS »»»
PLEASE check out our Patreon and Subscribe Star pages if you enjoy our program, and consider helping us at TFBTV out! We give away hundreds of dollars of gear a month to our supporters!
https://www.patreon.com/tfbtv
https://www.subscribestar.com/tfbtv
NOTE: These giveaways are not affiliated with, associated with, or in any way endorsed by YouTube and TFBTV is solely responsible for the giveaways mentioned in this video and this description. No purchase required for gear worth over $250.
««« FOLLOW US ON SOCIAL MEDIA »»»
https://www.facebook.com/TheFirearmBlogTV/
https://www.instagram.com/TFBTV/
https://www.reddit.com/r/tfbtv/
««« SPONSORS »»»
Please Support Them! They help make our videos possible.
– Ventura Munitions – www.venturamunitions.com
– Blue Alpha Gear – www.bluealphagear.com
– Top Gun Supply – www.topgunsupply.com
««« TFB CHAT ROOM »»»
Want to join the TFBTV chat room? Use our Discord Invite: discord.gg/tfbtv
#TFBTV