TFBTV – Inexpensive Italian with Accuracy Guarantee: Franchi Momentum
Adam Scepaniak 05.10.22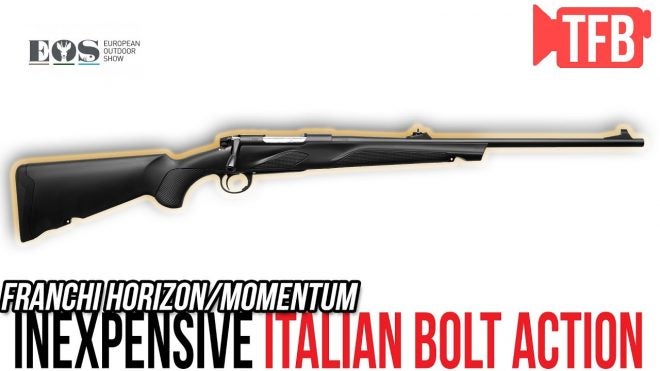 In this episode of TFBTV, James Reeves visits the Franchi Booth of EOS (European Outdoor Show) to check out the cookbooks, club music, women – oh yeah – and the guns. Bruno walks James through the Franchi Momentum series of bolt-action rifles, an inexpensive but well-made Italian bolt gun that still carries an MOA-accuracy guarantee.
According to Franchi's materials on the rifle:
"The feature-rich Momentum represents the cutting edge of hunting rifle technology and performance. Ergonomic, light and fast-handling, its accuracy-enhancing, free-floating, coldhammer-forged barrel is threaded to accept a muzzle brake or suppressor (not included). Enjoy 1-MOA accuracy with premium factory ammunition. The bolt has a short 60-degree throw for fast cycling. A TSA recoil pad reduces felt recoil up to 50 percent. the single-stage trigger adjusts 2 to 4 lbs. Momentum takes the same scope bases as the Remington model 700 (two piece bases only)."
««« GUN AND GEAR GIVEAWAYS »»»
PLEASE check out our Patreon and Subscribe Star pages if you enjoy our program, and consider helping us at TFBTV out! We give away hundreds of dollars of gear a month to our supporters!
https://www.patreon.com/tfbtv
https://www.subscribestar.com/tfbtv
NOTE: These giveaways are not affiliated with, associated with, or in any way endorsed by YouTube and TFBTV is solely responsible for the giveaways mentioned in this video and this description. No purchase required for gear worth over $250.
««« FOLLOW US ON SOCIAL MEDIA »»»
https://www.facebook.com/TheFirearmBlogTV/
https://www.instagram.com/TFBTV/
https://www.reddit.com/r/tfbtv/
««« SPONSORS »»»
Please Support Them! They help make our videos possible.
– Ventura Munitions – www.venturamunitions.com
– Blue Alpha Gear – www.bluealphagear.com
– Top Gun Supply – www.topgunsupply.com
««« TFB CHAT ROOM »»»
Want to join the TFBTV chat room? Use our Discord Invite: discord.gg/tfbtv
#TFBTV