AllOutdoor Review – Old Trapper Beef 'n Cheese Zero Sugar Snack Sticks
Adam Scepaniak 05.17.22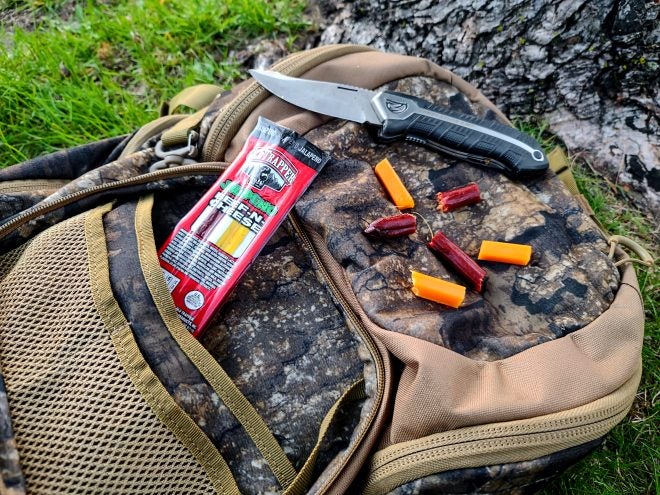 When it comes to exploring in the outdoors one of the first things we look to place in our packs are snacks. Depending on the amount of time we are spending in the wilderness and just how "lost" we are looking to get in nature, we might need anything from a handful of trail mix to packing out full-fledged meals. More often than not, we are simply reaching for grab-n-go type snacks like nuts, beef jerky, or fruit. Beef jerky is easily the most popular because it is stable and safe to eat for so long because it's nearly impervious to extreme heat or cold. One beef jerky snack we will be taking a look at here today is Old Trapper Beef 'n Cheese Zero Sugar Snack Sticks in their Jalapeño flavor. Let's dive in!
Food Coverage on AllOutdoor
About the Company – Old Trapper Beef 'n Cheese Zero Sugar Snack Sticks
Old Trapper (like many great companies and how most good stories begin) started from humble means and grew into something much larger over time. Beef jerky of all kinds is a favorite snack among outdoor enthusiasts because it is shelf stable for a long time and once it is in your pack it remains resistant to extreme temps, adverse weather, and unpredictable conditions Mother Nature might throw at you for long periods of time. The origin story of Old Trapper is outlined below by the company itself:
"Our famous Old Fashioned beef jerky was born 50 years ago in the back of a small roadside grocery store on the outskirts of Tillamook, Oregon. After years of hard work and sacrifice, Old Trapper had grown to become a favorite among local jerky lovers and connoisseurs nationwide, but the best was still yet to come. 

Today, we're the country's second-largest beef jerky manufacturer, our new facility is fully operational, and we're ready to take the next big step in a company story that began in a humble grocery store way back in 1969."
Specifications – Old Trapper Beef 'n Cheese Zero Sugar Snack Sticks
This Jalapeño version of the Old Trapper Beef 'n Cheese Zero Sugar Snack Sticks contain some natural meat and flavors as well as some artificial ingredients (preservatives to make it shelf stable longer). Overall, it is expectedly high in protein and fat while being low in carbs with zero sugar. All of this has upsides and downsides depending on how you look at it which we will discuss shortly. All of the ingredients can be read below as presented by Old Trapper:
Beef, Beef Hearts, Water, Reduced Lactose Whey (Contains Milk)
Hydrolyzed Corn Protein, Corn Syrup Solids, Salt, Flavorings
Monosodium Glutamate, Dextrose, Sodium Phosphate, Sodium Erythorbate
Lactic Acid Starter Culture, Sodium Nitrite, BHA, BHT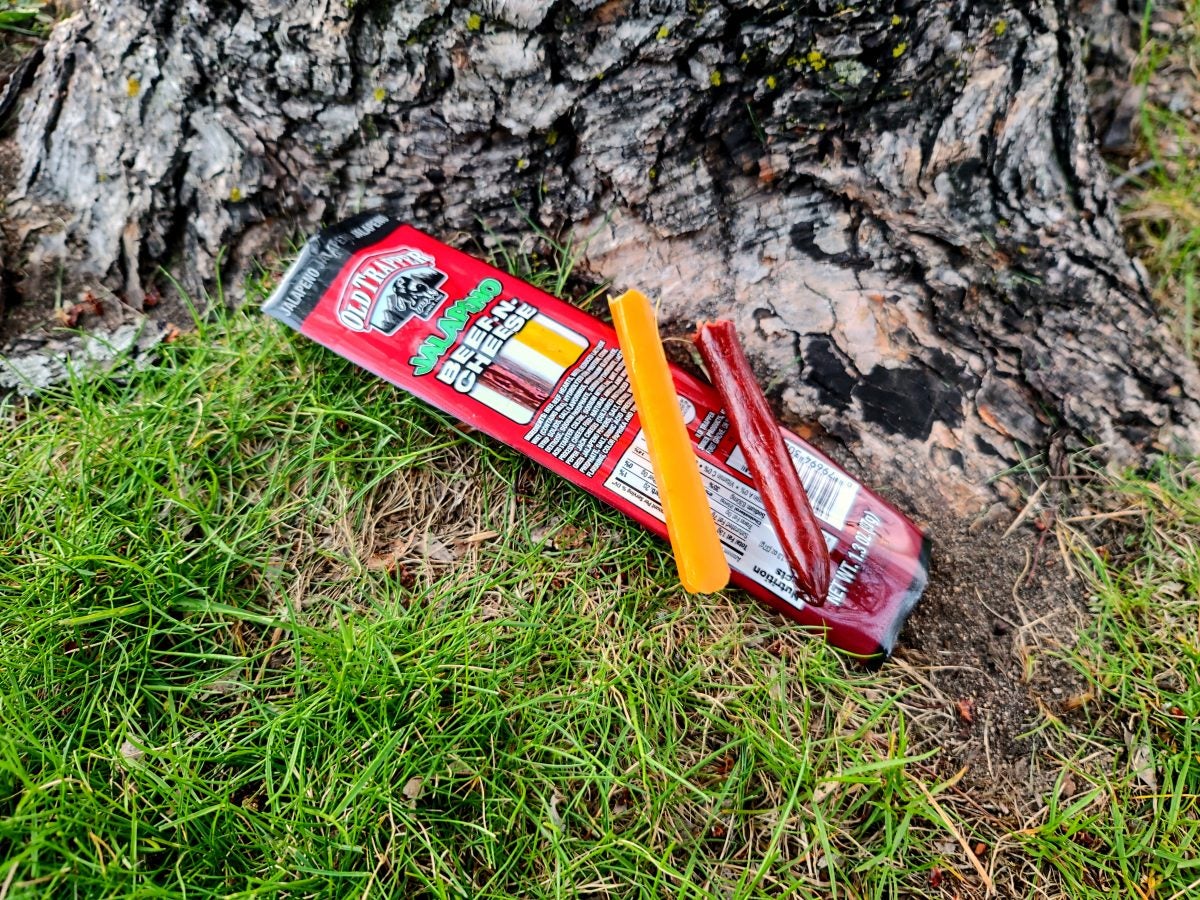 The Jalapeno version of Old Trapper's Snack Sticks are meant to add in a bit of spiciness with Jalapeño pepper flavor in the beef stick and a spicy Pepper Jack cheese to compliment it. These snack sticks are available in either an Original flavor or the Jalapeño kind we are reviewing here today. They are individually sold in grocery and convenience store checkout lines nationwide. The MSRP is $21 for a 14-count box if bought in bulk.
"Old Trapper's Beef 'n Cheese Zero Sugar Snack Sticks – a savory, zero sugar snack combo perfect for hunting and outdoor adventures. It is low in calories and carbohydrates and high in protein, as well as packed full of iron and zinc, which are essential minerals that help boost the immune system and fuel the body – a quick grab and go treat to pack for hunting trips."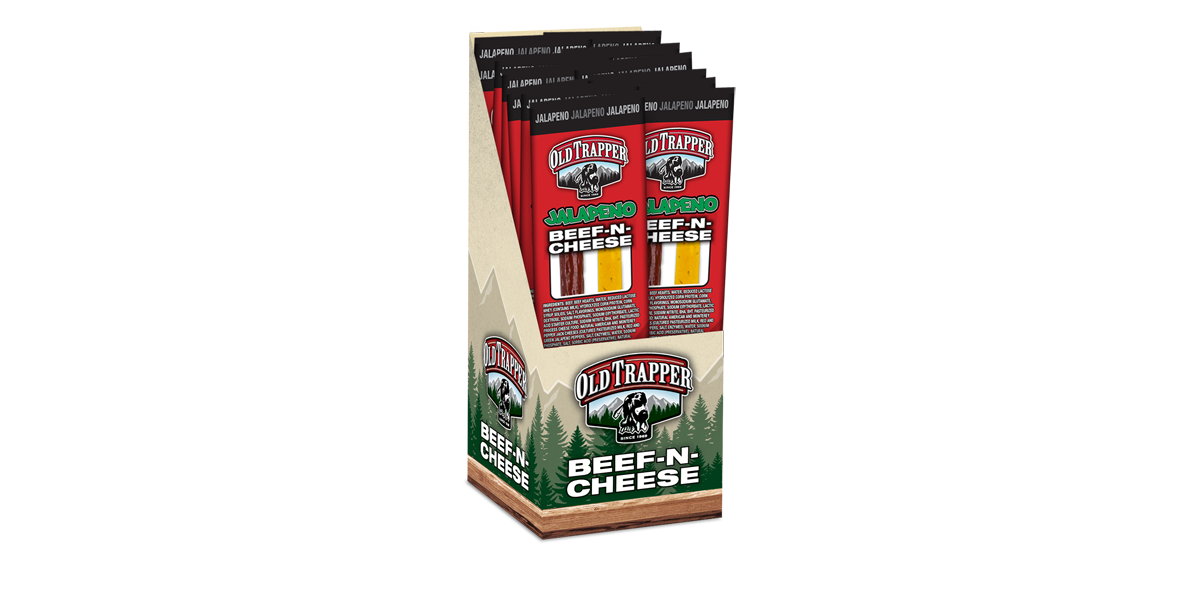 Field Use – Old Trapper Beef 'n Cheese Zero Sugar Snack Sticks
When it came to using and consuming these snack sticks out in the field I had quite a few thoughts. The meat stick of this duo package had good texture, a firm yet soft bite into it, and its taste was on point. The meat tasted like it was of good quality and the Jalapeño flavor was a slight kick; nothing overpowering or unpleasant. So, for the meat stick in this package, I rate its taste and quality pretty high.
The cheese stick, that accompanied the Jalapeño beef stick, left me desiring something more. The cheese had a processed taste, was surprisingly dry, and simultaneously greasy in the packaging. The cheese by itself was uninspiring, but paired with the Jalapeño beef stick, they made a decent pair. I ate the Old Trapper Beef 'n Cheese Zero Sugar Snack Sticks by chomping on a portion of cheese and beef together. In this fashion, they were a suitable snack for being out in nature.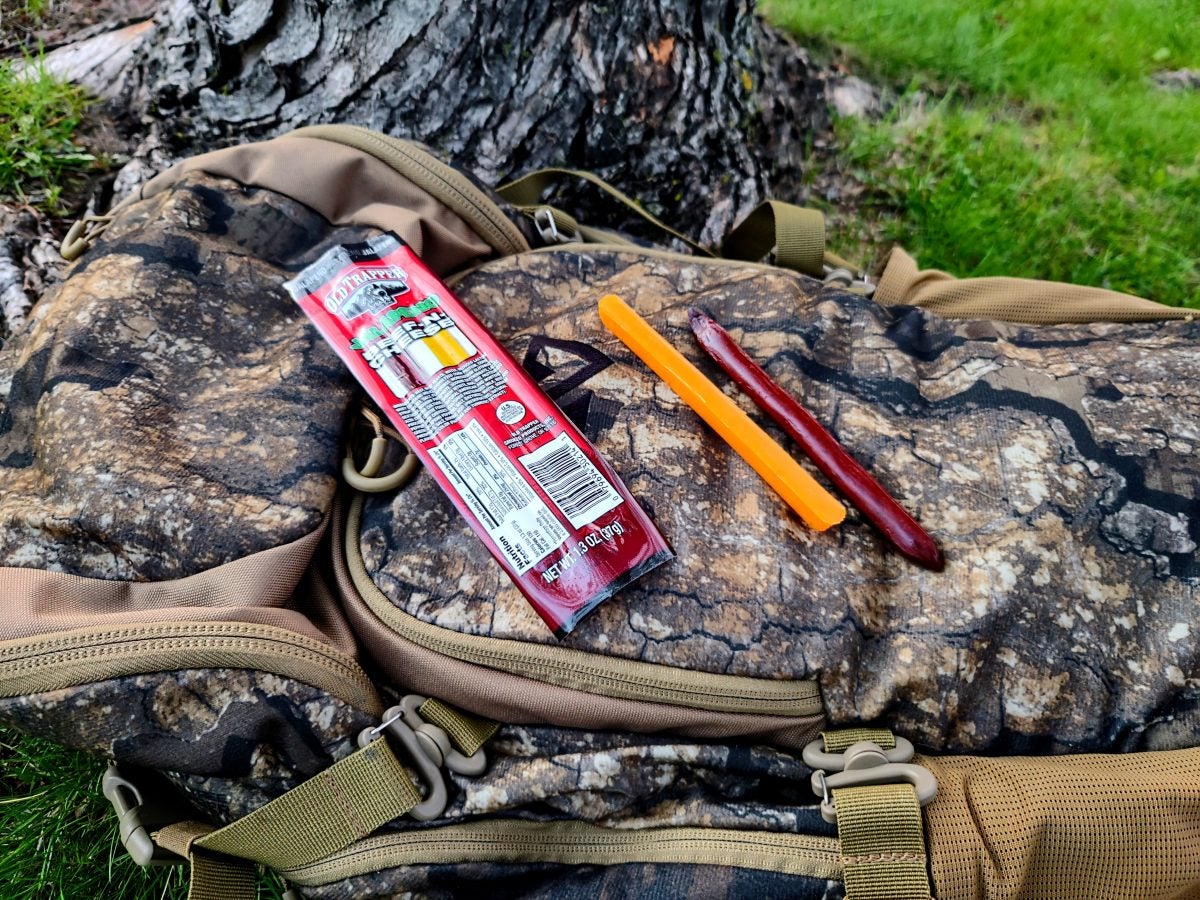 I brought them with while tending my family's angus beef cattle and also while out on long walks with my two rambunctious corgis. I appreciated that there was no sugar in these beef sticks because I felt no "spike" or "crash" in energy from eating them. Simply, they satisfied my hunger temporarily until my next full meal. When it comes to beef snacks that is exactly what I am looking for: curbing satiety and keeping on the move.
Final Thoughts – Old Trapper Beef 'n Cheese Zero Sugar Snack Sticks
So, what are my final thoughts on the Old Trapper Beef 'n Cheese Zero Sugar Snack Sticks in their Jalapeño flavor? Overall, I wasn't as impressed with the cheese stick, but I thoroughly enjoyed the beef stick. When you also consider there is zero sugar and it is fortified and enriched with vitamins and minerals, it makes for a good on-the-go, outdoor snack. For anybody standing in line at a gas station wondering what to reach for on their next hiking trip, this is a solid option.
In closing, I want to say thank you to Old Trapper for allowing AllOutdoor and myself the opportunity to try out their Old Trapper Beef 'n Cheese Zero Sugar Snack Sticks. That is greatly appreciated. Also, we would like to know what all of you guys and gals think? Do you believe that the Old Trapper Beef 'n Cheese Zero Sugar Snack Sticks is something worth spending your money on as an outdoor or backpacking snack? As always, let us know all of your thoughts in the Comments below! We always appreciate your feedback.