Curious Relics #039: Leaps in Change – The Colt Police Positive Special
Sam.S 05.18.22

Welcome, if you are a newcomer to this fun bi-weekly segment of AllOutdoor.com! The last time around I covered the history of a revolver that I have had in my collection for a few years. It is simple yet it has a weight of importance to history behind it. Today we are jumping back into the Colt Police Positive Special and its variations and how to date your personal Colt Police Positive Special. This revolver was a popular sidearm for police and security forces around the world. Let's dive right into the rabbit hole!
---
Welcome to our recurring series of "Curious Relics." Here, we want to share all of our experiences, knowledge, misadventures, and passion for older firearms that one might categorize as a Curio & Relic  – any firearm that is at least 50 years old according to the ATF. Hopefully along the way you can garner a greater appreciation for older firearms like we do, and simultaneously you can teach us things as well through sharing your own expertise and thoughts in the Comments. Understanding the firearms of old, their importance, and their development which lead to many of the arms we now cherish today is incredibly fascinating and we hope you enjoy what we have to share, too!
---
Variations: Colt Police Positive Special
The Colt Police Positive Special had five different variations. Some are more different from the rest, but for the most part, the early ones sport small differences. They were popular police revolvers for decades, and because of this, there may be different aspects to your personal Colt Police Positive Special that does not match the ones below. This is because, like mine, it may have been issued to a foreign police force and they may have had specific requests such as a different caliber or additions like different grips or a lanyard loop. These variations below are described as issues as in 1st Issue, 2nd Issue, etc.
Issue #1: The first of their kind was made from 1907 to 1928. They were offered in 32 New Police, 38 New Police (38 S&w), 32-20 WCF, and 38 Special. The barrel lengths were 4, 5, and 6 inches. They had a blued or nickel finish and featured hard black square butt rubber grips until 1923 with checkered walnut with silver medallions making an appearance on some guns from 1923 to 1928. All first-issue Colt Police Positive Specials will have a 1905 patent date on top of the barrel and a smooth top strap.
Issue #2: The second iteration of the Colt Police Positive Special was made from 1928 to 1946. The new wood grips were smoothed at first and then changed back to checkered. The top strap was grooved to cut down on glare. The trigger face was textured, and the space between the trigger guard and grip frame was widened to make more room for fingers.
Issue #3: Arguably the last actual Police Positive Special. The third iteration was made from 1947 to 1976. It heavily took design and frame features from the Colt Detective Special of the time. The main difference between this Issue and the Detective Special is the same as Issue #3 was offered in a 4, 5, and 6-inch barrel length. They had a new ramped front sight instead of the old half-circle style. They boasted a new and improved cylinder retention system with a grooved trigger. A mixture of grip changes happened during the '50s and '60s ranging from different checker patterns and round versus square butt styles in order to achieve a more comfortable grip. These were made commercially in 38 Special, but (my personal Colt for example) ones ordered by police forces such as the Hong Kong Police were made in 38 New Police/38 Smith & Wesson.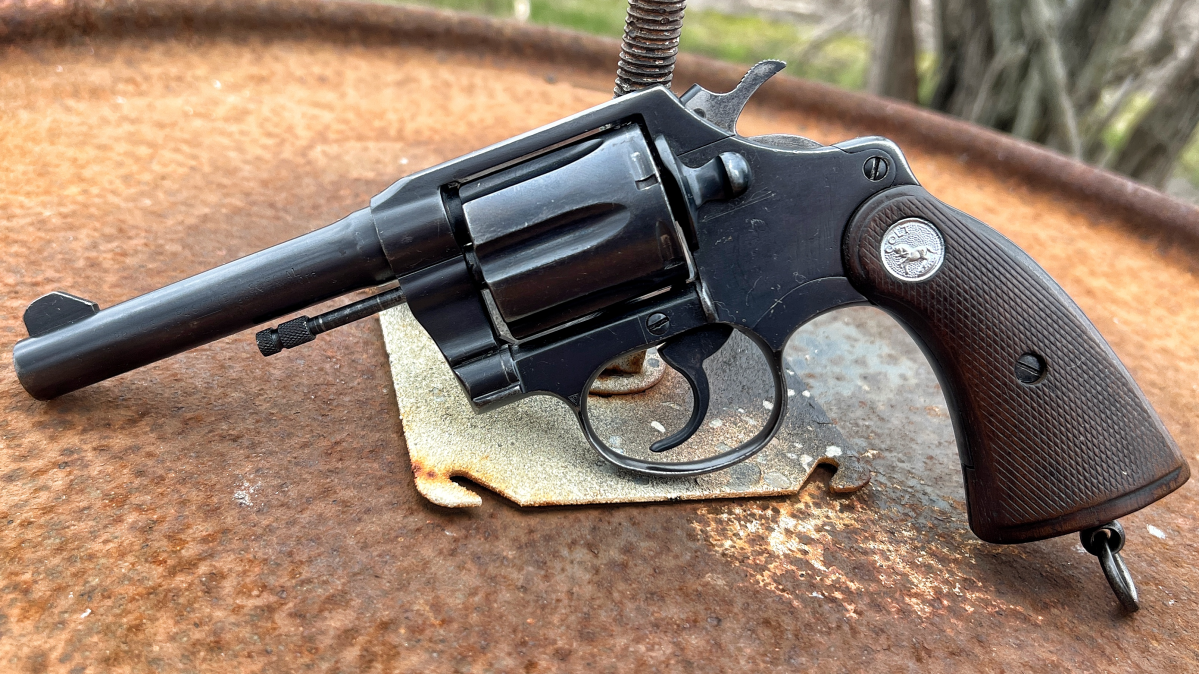 Issue #4: The Police Positive Special and Police Positive were sort of combined into this revolver. It is simply called the Police Positive. These were made in a very brief window from 1977 to 1978. They are a whole change in character and a more modern take on the Police Positive Special. They featured a new shrouded ejector rod housing (not a full lug/full shroud) which makes it look a lot more like the very popular Smith & Wesson revolvers of the time. They were offered in blued or nickel finishes and were made specifically in 38 Special. From what I have found these were only made with a 4-inch barrel.
Issue #5: Riding on the major difference from the last issue before, these guys were made in an equally short window from 1994 to 1995. They took obvious influence from Colt's very popular snake series of revolvers. They were dubbed the Police Positive MK V. They were offered in a blued finish with a 4-inch full shrouded barrel. They featured black rubber grips and were only in 38 Special.
Dating: Colt Police Positive Special
Thankfully, Colt has a built-in serial number lookup. According to my little lookup, my Colt Police Positive Special was manufactured in 1970 which makes sense because lots of other Hong Kong police revolvers were from 1970 as well which tells me that it was all from a large batch or block of production. Beyond that, there are the obvious indicators of an "Issue" or type of variation that can give you a good window. My Colt Police Positive Special has a ramped front sight and is not a more modernized version. It is not in 38 Special which makes it an odd anomaly, but with its presence overseas it makes more sense that the 38 Smith & Wesson cartridge may have been more popular.
End of Part Two: Colt Police Positive Special
So, here closes the end of part two of the Colt Police Positive Special. I think it is interesting how this beautiful memento of the early 20th century slowly improved itself and then quickly jumped into the modern look. The fourth and fifth issues alone are curious pieces in themselves and I think it would be lots of fun to work with them if I ever get the chance. What do you folks think? Do you have one of these yourself? One of the earlier or later variations? Let us know in the comments below and I will see you next time!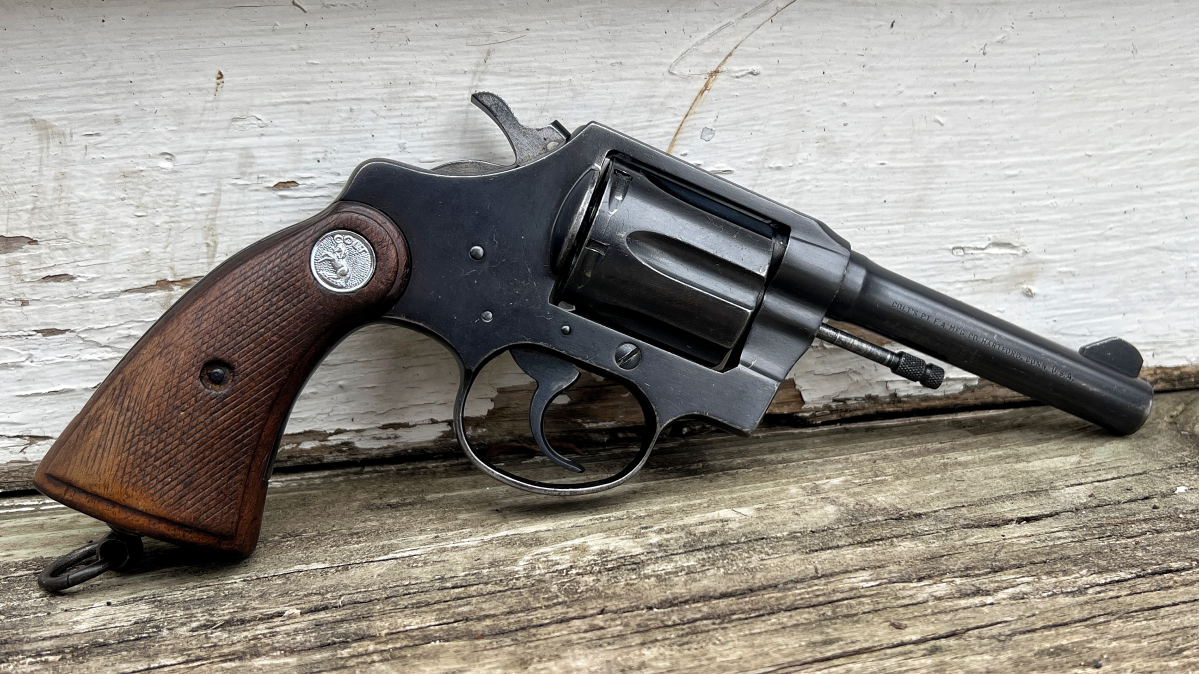 In closing, I hope our Curious Relics segment informed as well as entertained. This all was written in hopes of continued firearm appreciation and preservation. We did not just realize how guns were supposed to look and function. It was a long and tedious process that has shaped the world we live in. So, I put it to you! Is there a firearm out there that you feel does not get much notoriety?  What should our next Curious Relics topic cover? As always, let us know all of your thoughts in the Comments below! We always appreciate your feedback.