AllOutdoor Review: Springfield Armory XD-M Elite 4.5″ OSP 10mm
Adam Scepaniak 05.25.22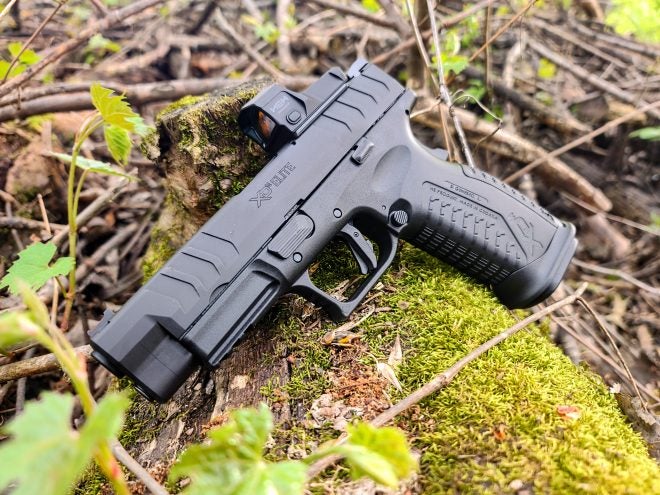 What do you think of when a 10mm pistol comes to mind?… Power, capacity, size, and something that's likely rad and intimidating, right? Well, not all 10mm pistols check all of those boxes. In fact, very few do. The 10mm cartridge has seen a mild resurgence in the past few years because conversations about "bear rounds" (what is appropriate for protection in bear country and actually hunting them) have become popular around the water cooler and on internet forums. With summer just beginning and hunting seasons a mere 3 months away, Springfield Armory has impeccable timing debuting their NEW XD-M Elite 4.5″ OSP 10mm with a Hex DragonFly Red Dot. Does this check all those aforementioned boxes? Let's dive right in and find out!
Springfield Armory Coverage on AllOutdoor
Specifications – Springfield Armory XD-M Elite 4.5″ OSP 10mm
As alluded to earlier, the 10mm cartridge continues to grow in popularity yet not many offerings on the market today hit the mark of what shooters envision a 10mm to be. The Springfield Armory XD-M Elite 4.5″ OSP 10mm with a Hex DragonFly Red Dot comes impressively close to meeting expectations. All of the specs for the XD-M Elite 4.5″ OSP 10mm with a Hex DragonFly Red Dot can be read below as presented by Springfield Armory:
Barrel: 4.5″ Hammer Forged Steel, Melonite® Finish, 1:16
Slide: Forged Steel, Melonite® Finish, Optics Ready
Frame: Black Polymer
Sights: Fiber Optic Front, Tactical Rack U-Dot™ Rear
Recoil System: Captive
Grip Width: 1.2″
Magazines: (2) 16-Round
Weight: 31 oz
Length: 7.6″
Height: 5.75″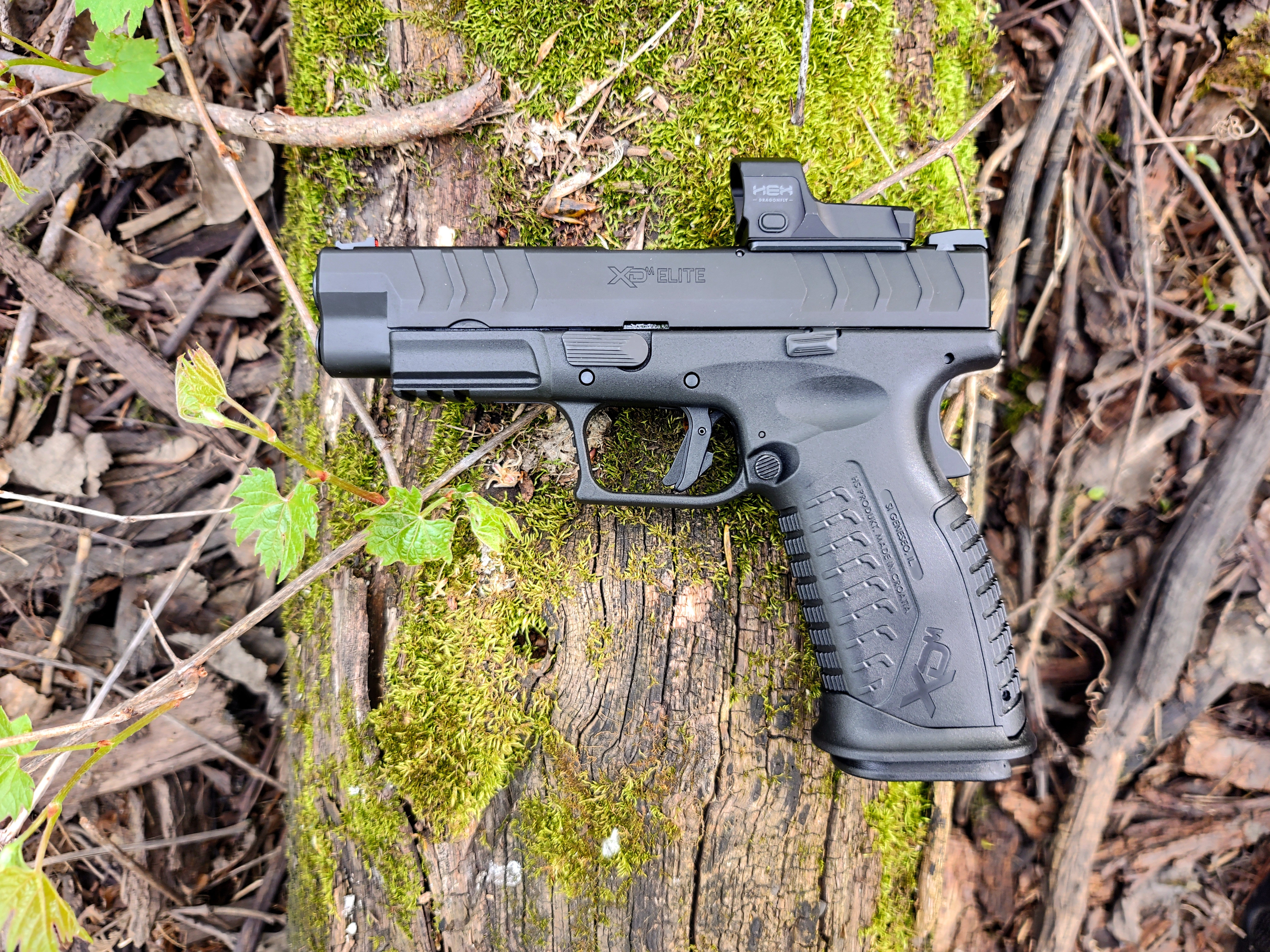 The MSRP for the base model XD-M Elite 10mm retails at $653 while the Hex Dragonfly Red Dot equipped version (the precise model being reviewed here today) punches in at $837. As always, in the rare event that you should ever need service for your firearm, Springfield Armory has a Lifetime Warranty that stands behind all of their firearms. One final snapshot into what the XD-M Elite 4.5″ OSP 10mm with a Hex DragonFly Red Dot is all about can be read below in Springfield Armory's Press Release statement:
"The new XD-M® Elite 4.5" OSP 10mm combines all the refinements of the Elite series with the impressive power of the 10mm cartridge. Offering an impressive 16+1 capacity, the pistol features the Match Enhanced Trigger Assembly (META™) with a flat face, crisp break and integral overtravel stop. Additional features include an optics-cut slide, an extended/removable flared magwell, improved slide serrations and an ambidextrous slide stop. The result is a highly shootable — and remarkably powerful — polymer-framed pistol."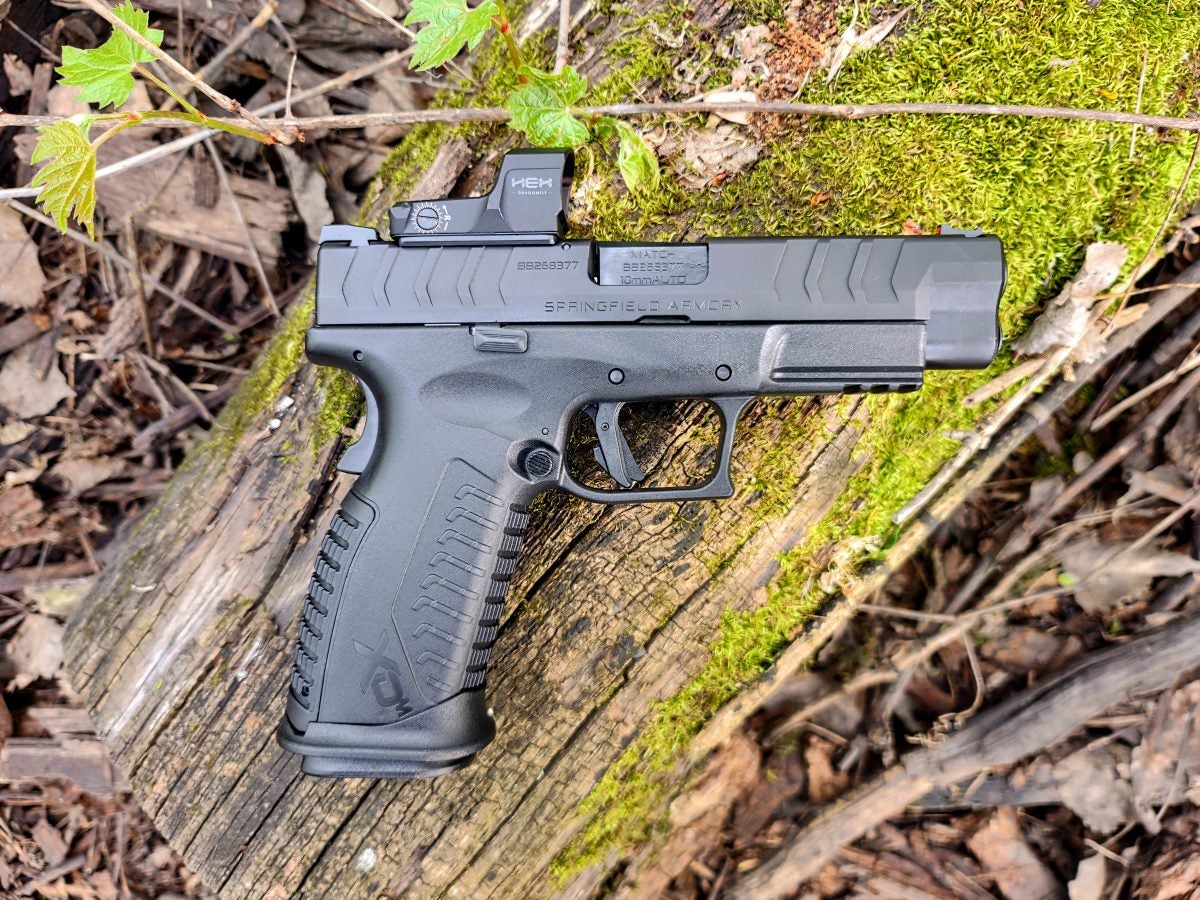 First Impressions – Springfield Armory XD-M Elite 4.5″ OSP 10mm
When I pulled the XD-M Elite 4.5″ OSP 10mm out of its box my first impression was that this is a big boy! To Springfield's credit, I like that it is a large handgun. No one wants to shoot a dainty 10mm; that recoil would suck. While the sheer size of the pistol is large and so is the grip, it is not too large where you cannot effectively grip the firearm and easily manipulate all of its functions.
My curiosity of just how heavy this pistol might be got to me so I weighed it with the factory-equipped Hex Dragonfly Red Dot on it plus 16 Winchester Silvertip 175 Grain Jacketed Hollow-Points (all versions of the XD-M Elite 4.5″ 10mm ship with 16-round magazines). It punched in at a touch under 3 Lb with the scale reading 43.6 ounces.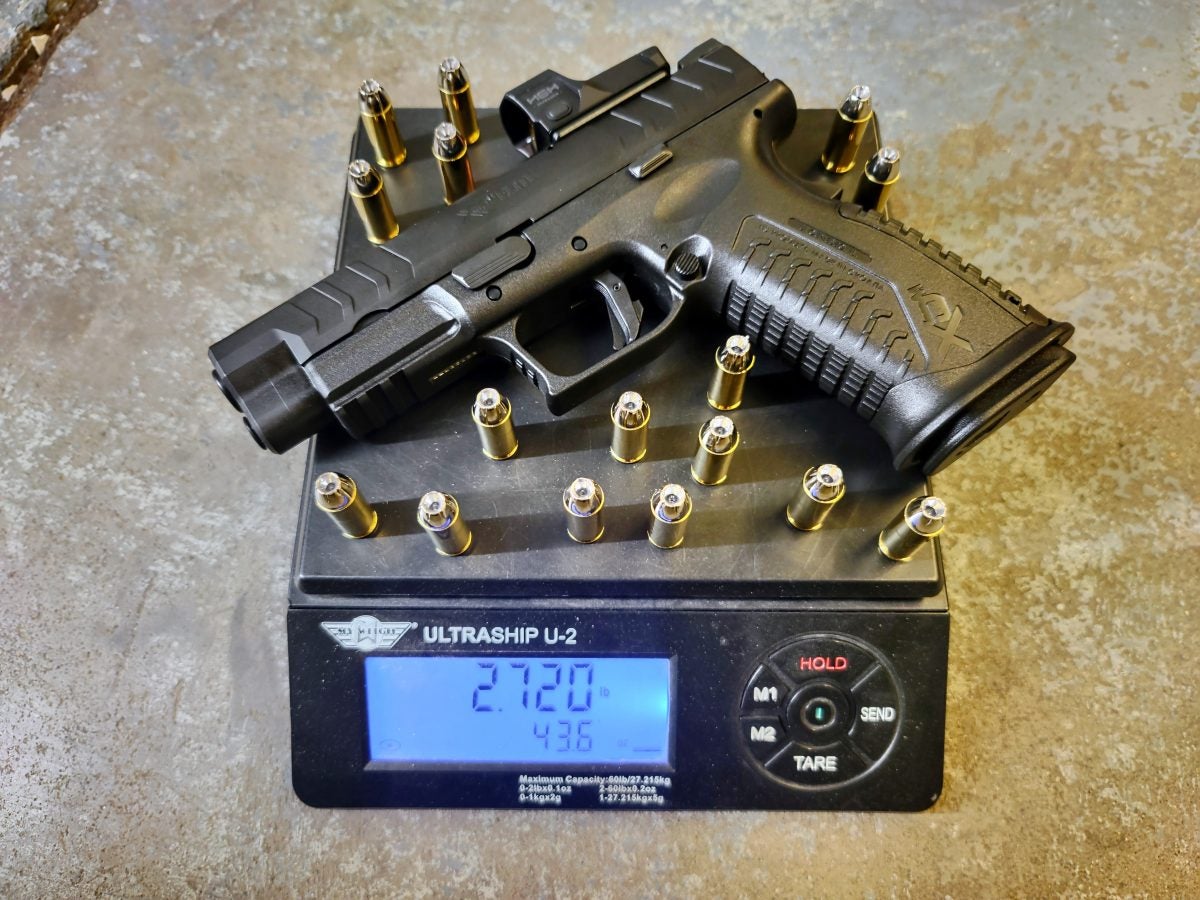 This pistol is also equipped with Springfield's patented META Trigger (Match Enhanced Trigger Assembly) so I wanted to test out the trigger's pull weight. After dry-firing the pistol a half dozen times, all of the trigger pull weights averaged from 4 ½ – 4 ¾ Lb. I found that to be pretty impressive because it not only has a good tactile feel, but it breaks light and cleanly. Most polymers, generally speaking, do not have good triggers; they are very average.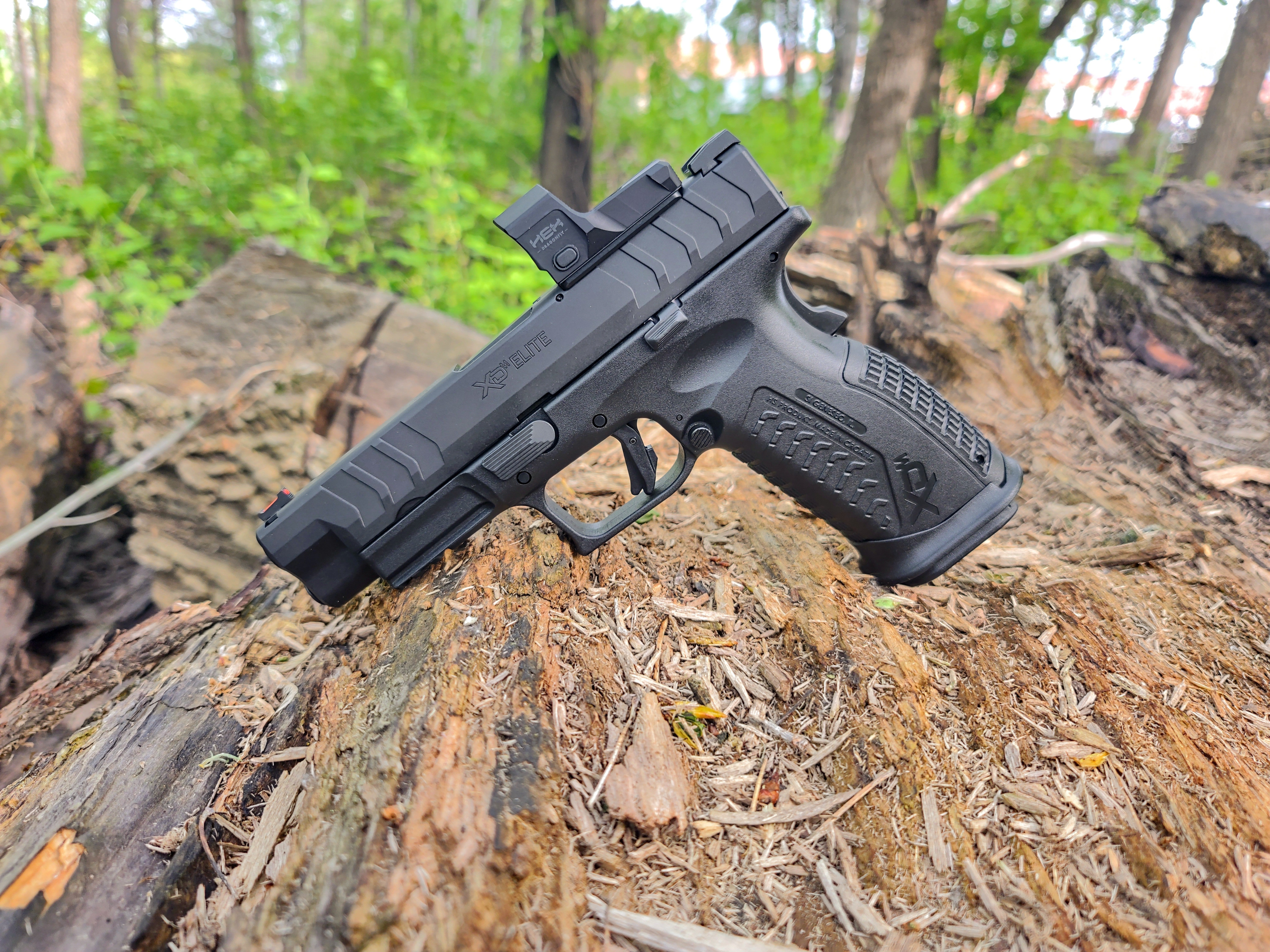 Finally, I really appreciated the flared and beveled magwell that the XD-M Elite series is equipped with. It is a small upgrade and a detail not everyone might appreciate, but if you need to reload while hunting – either to get a humane follow-up shot on game or need more rounds for defense – you need that 2nd magazine in the gun NOW, and that enhanced magwell helps a lot.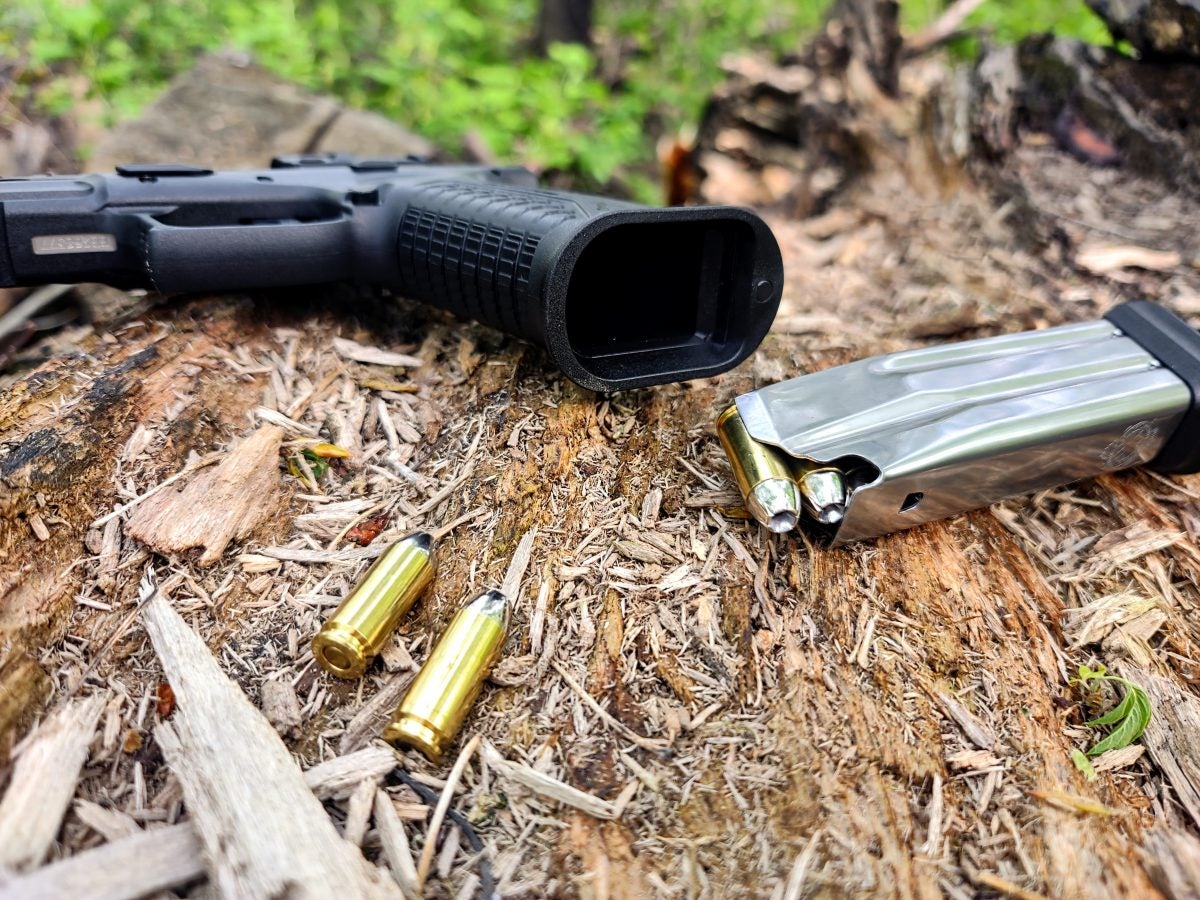 Field Use – Springfield Armory XD-M Elite 4.5″ OSP 10mm
When it came to sending some ammunition down range I had several thoughts. For one, this is an incredibly accurate 10mm. It is admittedly heavy which helps mitigate the recoil impulse, it has a long sighting plane, it boasts a Match-Grade barrel, Match-Grade trigger, and the red dot affords you a fast sight-acquisition. At roughly 15 yards, this pistol was shooting (off-hand, unsupported) roughly 2″ groups. The limiting factor might be the size of the red dot or it could simply be that I did not shoot this off of bags or a rest. Regardless, this type of accuracy is more than acceptable for hunting and defense out in the wilderness.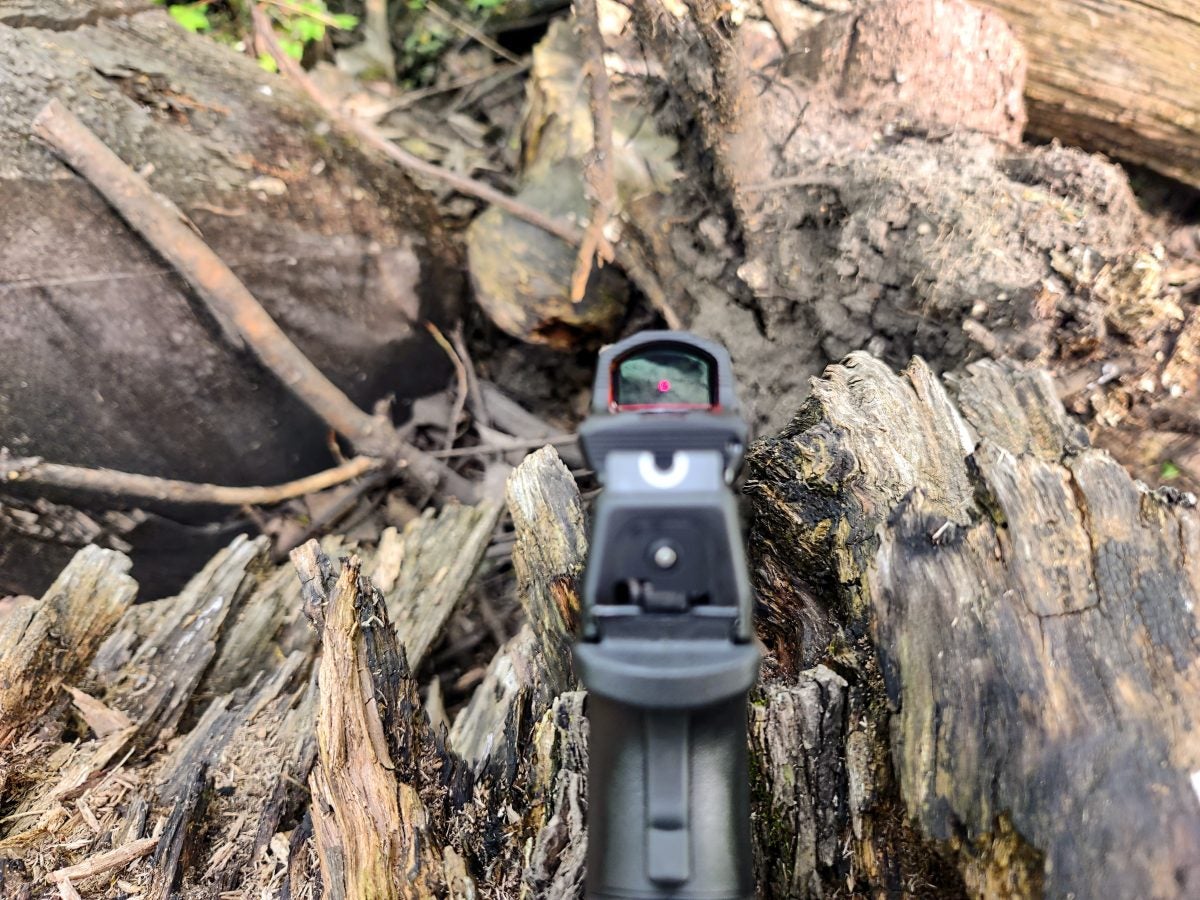 As far as recoil goes, there is a definitive push behind this 10mm (I have yet to shoot a 10mm that didn't have even moderate recoil) and this XD-M Elite 4.5″ OSP 10mm did land on the lighter side of the recoil spectrum. The cost of 10mm ammunition might curb you from shooting a lot of volume through this pistol, but it definitely will not be the recoil that is holding you back from pulling the trigger more.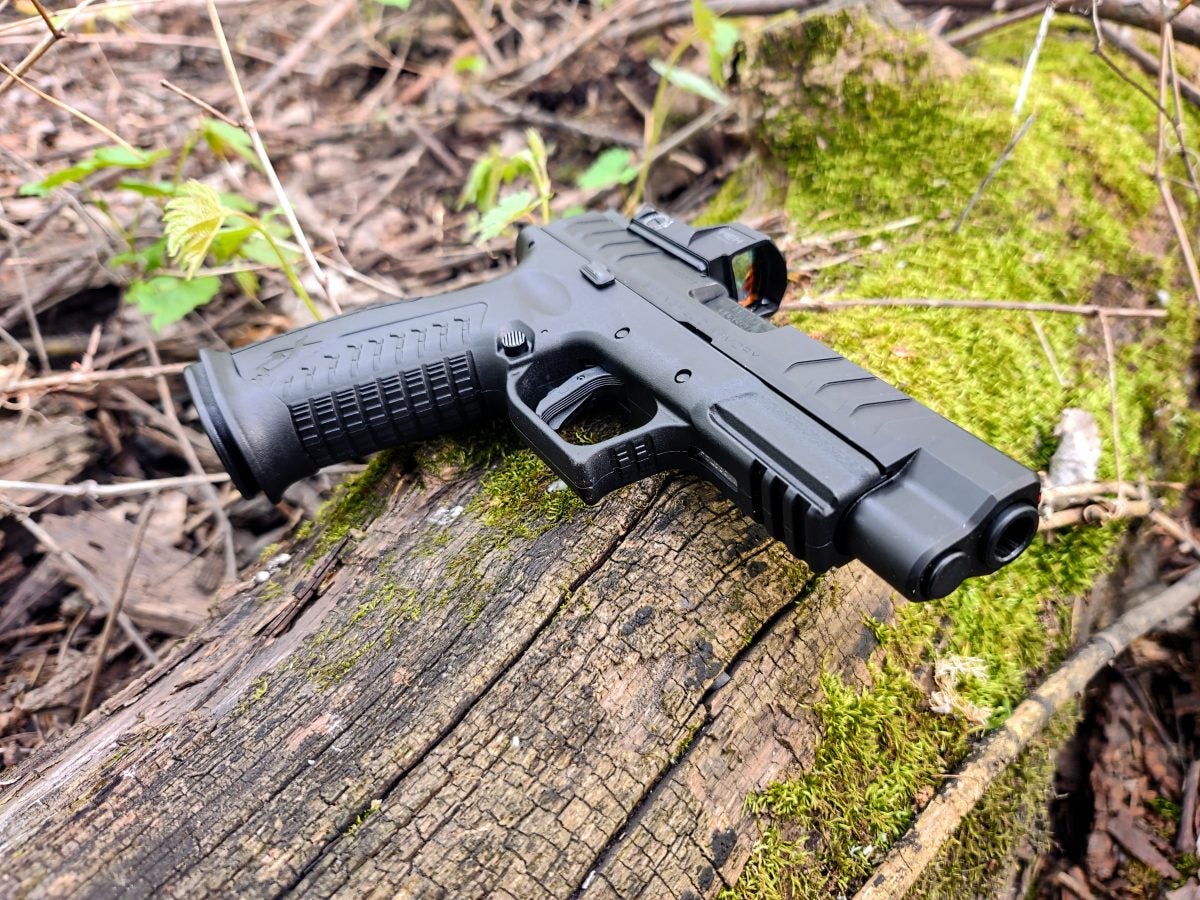 Personally, I could see this pistol getting a lot of use while camping, hiking, scouting, and as a back-up gun while hunting. I spend a good amount of time in the Boundary Waters Canoe Area Wilderness of Minnesota which is known for being equally remote, beautiful, and laden with timberwolves and black bears. I have run-ins with wolf packs and black bears with cubs on a yearly basis where I go hiking and hunting. I have never discharged a firearm in self-defense (self-awareness and avoidance are your greatest ally), but having a tool like this available to you would be comforting.
Final Thoughts – Springfield Armory XD-M Elite 4.5″ OSP 10mm
So, what are my final thoughts on the Springfield Armory XD-M Elite 4.5″ OSP 10mm with a Hex DragonFly Red Dot? Overall, I am impressed with it like many Springfield pistols in the past. It is a well put together handgun, accurate, and I am definitely on the bandwagon of Let's put a Red Dot on Everything! Red dots simply make shooting that much easier and faster. The only qualm I could have isn't even a strike against Springfield, but I hope holster manufacturers jump on board to support this pistol. Something simple like a leather or Kydex hip holster would be perfect for carrying out in the woods. Other than that, I believe the MSRP of $837 is very fair for what this pistol has to offer.
In closing, I want to say thank you to Springfield Armory for allowing AllOutdoor and myself the opportunity to try out their Springfield Armory XD-M Elite 4.5″ OSP 10mm with a Hex DragonFly Red Dot. That is greatly appreciated. Also, we would like to know what all of you guys and gals think? Do you believe that the Springfield Armory XD-M Elite 4.5″ OSP 10mm with a Hex DragonFly Red Dot is something worth spending your money on while scouting and hunting? As always, let us know all of your thoughts in the Comments below! We always appreciate your feedback.