POTD: Two Shots or Bust – J. P. Lindsay Martial Size Two-Shot Pistol
Sam.S 05.31.22

Welcome to today's Photo of the Day! Here we have yet another product of the American Civil War. This is the J. P. Lindsay Two-Shot Pistol. Produced by the Union Knife Company in Naugatuck, Connecticut, the J. P. Lindsay was a double hammered, single triggered, two-shot pistol with one barrel. If you are wondering how that math makes sense look no further than a previous POTD on the John Walch 12 Shot Navy Model Revolver. That revolver had six chambers just like any other revolver but the major difference was it had two percussion cap nipples. Both of these guns would be loaded the same way. The chamber would be loaded with a charge and ball and then a charge and ball again! One hammer/trigger ignites a percussion cap that leads to a flash hole in the center of the chamber which leads to the forward most charge and the second hammer fires the second charge manually as well.
"This is among the rarest of Civil War era American percussion pistols and is in outstanding condition. Only 100 are estimated to have been manufactured by the Union Knife Company in Naugatuck, Connecticut, for John P. Lindsay, a former employee of the Springfield Armory. All of Lindsay's weapons are rare, but this model and the slightly smaller belt version are the rarest. He had hoped to get a government contract for this version. Lindsay lost his brother to an Indian attack and sought to prevent other families from suffering the same loss. His brother had been armed with a conventional musket and was able to neutralize one of his two attackers, but, with his only shot spent, his second, likely furious, assailant was able to overpower him, kill him, and take his scalp. Lindsay believed a second shot would have saved his brother's life and thus set about finding a way to provide one. His answer was three sizes of two-shot pistols and the Model 1863 rifle-musket. Firearms with multiple loads in a single barrel had been experimented with since at least the 16th century, but they were never widely adopted because they were potentially dangerous to their users."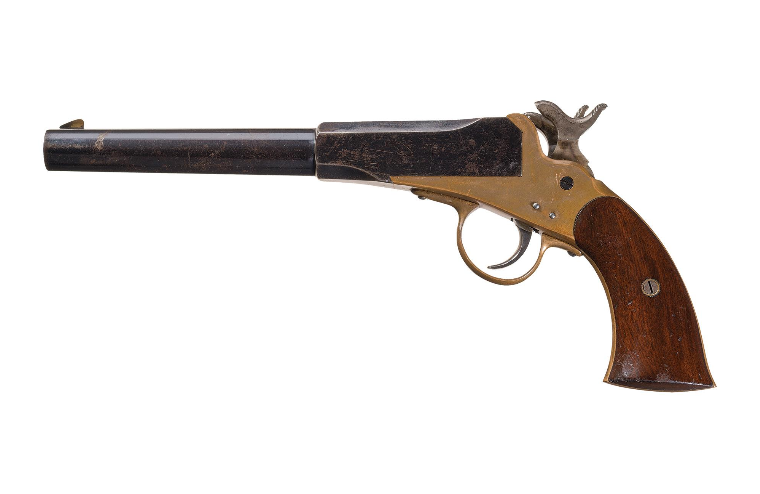 Lot 1152: J. P. Lindsay Martial Size Two-Shot Pistol. (n.d.). Rock Island Auction Company. photograph. Retrieved May 29, 2022, from https://www.rockislandauction.com/detail/69/1152/j-p-lindsay-martial-size-twoshot-pistol.