Ruger Announces the Return of the Marlin 1895 Trapper
Nicolas Lenze 05.31.22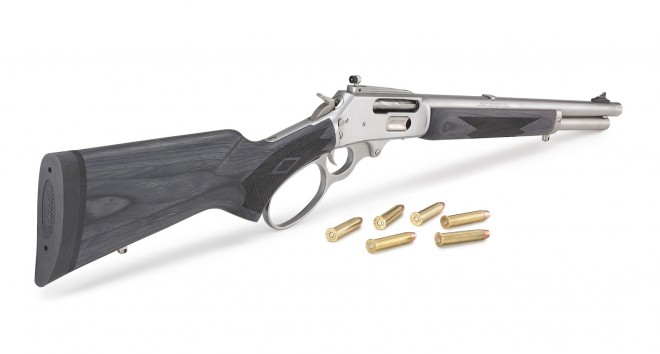 Lever action rifles are often thought of as old and irrelevant. Unfortunately for those who agree, you're wrong. Several companies have been piling additional, modern features onto these guns, and I like what I'm seeing. Threaded muzzles and improved sights are just the start. The latest lever gun to get this treatment is the revival of the classic Marlin 1895 Trapper, made possible by Marlin's new Ruger ownership.

Marlin Coverage on AllOutdoor
"This American-made lever-action rifle was manufactured with great pride and attention to detail. You can expect the same time-honored design as the traditional 1895, combined with Ruger's trusted reputation for producing high-quality, reliable firearms."
Ruger Announces the Return of the Marlin 1895 Trapper

The Model 1895 Trapper has some new tricks up its sleeve. The rear sight is an Adjustable Skinner Sights receiver-mounted peep sight. The grip panels are checkered and the stock and forend feature an improved all-weather finish. The forend has been made thinner for improved ergonomics and aesthetics. The muzzle is 11/16″-24 threaded for muzzle devices and suppressor use. If you prefer not to use a muzzle device, the Trapper comes with a match-polished, factory-installed thread protector. The rifle holds five rounds in the magazine, plus one in the chamber, meaning it keeps a total of six rounds of .45-70 Govt on board.

SPECS
Caliber: .45-70 Govt
Capacity: 5+1
Barrel length: 16.1″
Overall length: 34.25″
Weight: 7.1 lbs
MSRP: $1349.00

If you'd like to trap one for yourself, you can find all of the information you need on the Marlin website. You can also follow along with Marlin on social media if you're looking for more lever gun content. They can be found on Facebook and Instagram. Stay safe and shoot straight!