POTD: Hunting Rifle Turned Military – Experimental Winchester Model 100
Sam.S 06.15.22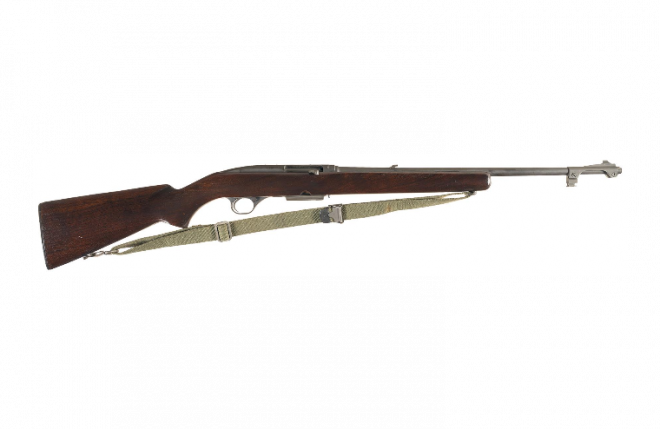 Welcome to today's Photo of the Day! Here we have an experimental military version of a Winchester Model 100. The Winchester Model 100 was a very plain and ordinary hunting rifle that came onto the scene in 1961. It used a four-shot detachable box magazine and was made in a few calibers such as .308, .243, or .284 Winchester. In 1963 the United States government had a military contract up for grabs for a lightweight semi-automatic military rifle. There are much more notable submissions than this one but this is one of Winchester's attempts to grasp that sweet money. An ordinary Winchester Model 100 was modified to shoot 7.62 NATO, have a bayonet lug, and also featured a grenade launcher sight attachment point on the lefthand side much like an M1 Garand.
"Winchester decided instead to ignore the action design of the Model 50 and 100 and build a rifle on the Model G30R Williams' pattern which was perfected in 1944. The rifle never went into production. The only visible markings on the rifle are "CAL. 7.62 NATO" on the left rear directly behind the rear sight, "WRP" in an oval on the left side of the barrel and receiver at the breech and the serial number "65809" on the left front of the receiver. The ramped front sight is integral to a bayonet lug and the rear sight is a folding single leaf. On the left side of the stock just ahead of the trigger is a base for a grenade launcher. The top and left rear of the receiver are factory drilled and tapped for scope/sight mounting. The bottom of the box magazine is marked "WINCHESTER/TRADE MARK" and the follower is marked "M-100". All metal surfaces are parkerized and the rifle is mounted with a one-piece oiled walnut pistol grip stock with a checkered hard rubber shotgun buttplate. Complete with a green military canvas sling ink stamped "MRT 7-59". There is a brief excerpt in reference to the Model 100 rifle and a photograph of one identical to this rifle (without a sling) on page 299 in "Winchester Repeating Arms Company History and Development from 1865 to 1981″ by Herbert G Houze."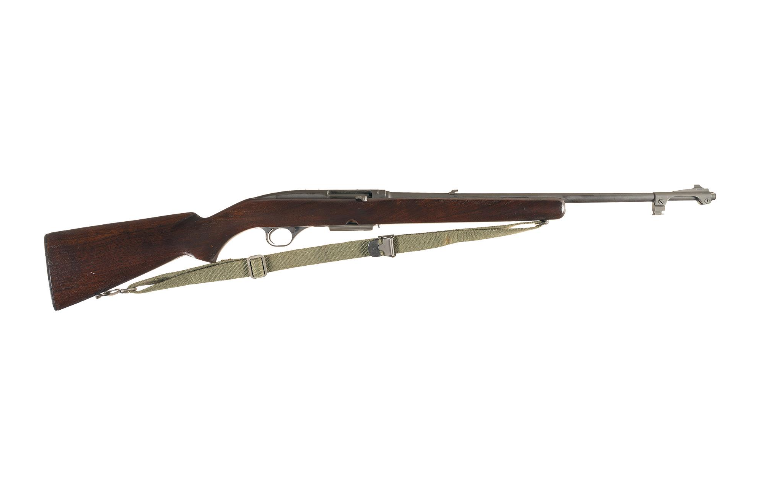 Lot 1609: Winchester Military Model 100 Semi-Automatic Rifle. (n.d.). Rock Island Auction Company. photograph. Retrieved June 15, 2022, from https://www.rockislandauction.com/detail/69/1609/winchester-military-model-100-semiautomatic-rifle.