Federal Ammunition Raises an Astonishing $218K for Local Organizations
Adam Scepaniak 06.22.22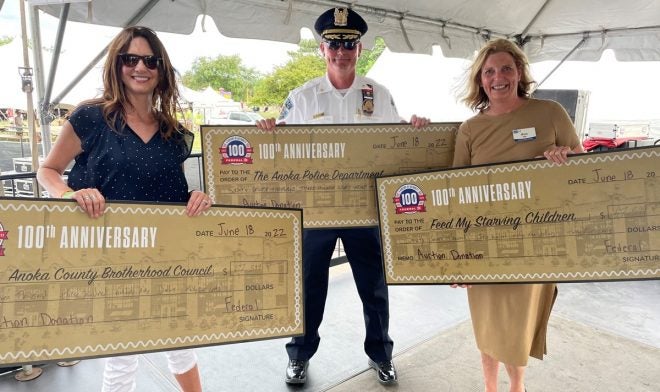 Federal Ammunition recently surpassed a tremendous milestone in its company's history by celebrating its 100th Year Anniversary. To commemorate this event, they have been producing Limited Edition, 100th Year Anniversary packaging for various ammunition, they have produced a coffee table book as part of their storied history, and more recently yet they have been able to raise $218,000 for local organizations within their community.
Federal Ammunition Coverage on AllOutdoor
For those who might be unaware, Federal Ammunition is located in Anoka, Minnesota near the center of the state (in the bustling Twin Cities). During a company event on June 18th, 2022 they raised $218,000 through silent and live auctions that was given to local organizations in Minnesota:
Anoka Police Department – established in 1878 with a mission to maintain the peace and protection of the public through diligent enforcement of all laws and to effectively respond to calls for service.  Dollars contributed will help build a new gun range for critical training.
Feed My Starving Children – as a Christian nonprofit, FMSC is dedicated to seeing every child whole in body and spirit.  The FMSC process is simple. Donations given by people just like you fund the meal ingredients. Volunteers hand-pack the meals. Meals are donated to FMSC food partners around the world, where kids are fed, and lives are saved.  According to FMSC, this will provide food to more than 400,000 kids in need.
Anoka County Brotherhood Council – a local food shelf helping those in need of food, clothing, and other resources. Founded in 1971 by four women who wanted to help and did so out of their basements, the organization has grown and alone in 2022 has already served more than 500,000 pounds.  According to the Executive Director, this is the largest donation in the charity's history.
"Industry partners stepped up and generously donated to the auctions in support of a key element in Federal's mission statement and its legacy of giving back and supporting the local communities where our employees live and work. To see that amount of money raised, that is what it was all about, helping out the community!  Long after we are gone, the legacy of helping the community will stay part of Federal's DNA. Thank you to the employees, retirees, and guests for the generosity, it is simply tremendous." – Federal Ammunition's President Jason Vanderbrink
It is not only amazing to see a company like Federal Ammunition eclipse a period of 100 years in business, but to also use that moment to generate money for others. That is absolutely wonderful. As always, let us know all of your thoughts in the Comments below! We always appreciate your feedback.