Curious Relics #042: The World's Sidearm – The Browning Hi-Power
Sam.S 06.29.22

Welcome, if you are a newcomer to this fun bi-weekly segment of AllOutdoor.com! The last time around I covered the history of John Moses Browning's final pistol design, the Browning Hi-Power. Thanks to John Browning's assistant and protege, Dieudonné Joseph Saive, his design went from a working prototype to an international phenomenon. The Hi-Power quickly became the service weapon of both militaries and police forces around the world in more than 70 countries.  Today, we are jumping back into the Hi-Power and its variations. I had planned to insert a portion on how to date your personal Hi-Power, but the list of variations was never ending as you can imagine so that will have to wait. Let's dive right into the rabbit hole!
---
Welcome to our recurring series of "Curious Relics." Here, we want to share all of our experiences, knowledge, misadventures, and passion for older firearms that one might categorize as a Curio & Relic  – any firearm that is at least 50 years old according to the ATF. Hopefully along the way you can garner a greater appreciation for older firearms like we do, and simultaneously you can teach us things as well through sharing your own expertise and thoughts in the Comments. Understanding the firearms of old, their importance, and their development which lead to many of the arms we now cherish today is incredibly fascinating and we hope you enjoy what we have to share, too!
---
Variations: The Browning Hi-Power
Just as a brief opening and disclaimer, given the prominence of the Browning Hi-Power and its use worldwide it has an almost endless list of variations and differences. Some are very well documented and some are not. Some were produced for specific countries and some were commercial firearms. I tried to the best of my abilities to research and at the very least provide the basics of some (definitely not all) of the variations of the Hi-Power. I will start with what I consider to be the main handguns in this category and then provide a few at the end that I feel are more notable than others.
1933 Belgian Military Trial Model: Before the Hi-Power was ever introduced to the commercial and worldwide market FN thought it best to submit a large batch of proof of concept or trial guns to the Belgian Military for their handgun trials in 1933. At this point, it was a lot like the original P35 that would be released in 1935 but it was called the Grand Rendement and had a more oval-shaped ejection port. Around 1,100 were manufactured in 1933. 100 of them were intended to be trial guns (probably for more than just Belgium) and the other 100 were going to be sales samples.
P35 Hi-Power: The first of its kind! These models were produced by the FN factory in Herstal, Belgium kicking off in 1935. They featured a blued finish, shallow checkered walnut grip panels, a ring-style hammer, and a 4 1/2″ barrel. These pistols were chambered for the 9×19 Parabellum (9mm Luger) cartridge and 13 of them would fit in the detachable magazine. Since these were produced just before the outbreak of WWII it should be mentioned that during the German occupation of Belgium the FN factory was taken over and production was being done for the Nazis. Some minor changes happened in there that I will mention down below.
Mark I: The Mark I model started the Hi-Power's emergence into the United States civilian market. In 1954 The Browning Arms Company began the Importation of the FN P35. The slide was roll mark was "BROWNING ARMS COMPANY ST LOUIS MO MADE IN BELGIUM". These Hi-Power pistols were aesthetically similar to the FN sold Hi-Powers (they were those Hi-Powers) besides their roll mark. They had a "thumbprint" scallop cut in the slide and maintained the internal style extractor until the mid-1970s when it was done away with altogether. In the meantime starting in 1962 the Browning Arms Company released models with an external extractor and would maintain that feature through the Mark I's run. Spur hammered Mark I pistols were introduced starting in 1971. The newly imported Mark I pistols came in green, maroon, or red and black cardboard or plastic boxes but later manufactured ones came in black bags/punches with silver or gold zippers. The Mark II made a slight production appearance starting in 1982 and but the official transition into the Mark II pistols is slated at happening in 1988-1989. This is a misconception since production dates overlap with different variations.
Mark I Lightweight: Much more of a side note but these "Lightweight" models were FN-marked alloy-framed Mark I pistols that were being developed for paratrooper use in the 1950s but nothing really ever came of it which makes them extremely rare today. Very similar concept to what Inglis was attempting with their own lightweight pattern of their Inglis Pistol No 2 Mk 1 and Pistol No 2 Mk 1*.
Mark II: The Mark II as I mentioned above was more of a transitional pistol. In essence, it was the "upgraded" version of the Mark I and is only called the Mark II to help differentiate between all the slight differences. To put it simply: Starting in 1982 Mark I pistols were outfitted with more modern quality of life features such as ambidextrous thumb safeties, nylon grips (they still offered walnut ones), and  3-dot sights. That is really all that is different but just to be safe they are referred to as the Mark II. I have seen some photos of Mark II pistols that had a lanyard loop but I doubt this was common at all and it was probably offered on the Mark I as well. Adjustable sights were offered on some production runs. The Mark II was only made in 9mm and was available in either a matte parkerized finish or a blued finish.
Mark III: The Mark III is the real deal Browning Hi-Power you see the most of. These were the last of the true to its roots Hi-Power pistols beginning their manufacturing journey in 1988-1989. They were produced by both FN and Browning. They were offered in 9mm Para. or .40 S&W (starting in the 1990s and ending in 2010). The 9mm versions maintained the 13-round capacity while the .40 S&W ones had a capacity of 10 rounds. The main mechanical difference between the two is that the 40 S&W models have a barrel that has an extra lug on it to better help with strength. These .40 S&W Hi-Power pistols can be converted to 9mm with a barrel change as long as the 9mm barrel has that third lug on it.
These pistols were very similar to the Mark II pistols in that they had ambidextrous thumb safety, three-dot sights, magazine safety, and walnut grips. One important thing to mention is that the Mark III had features offered on both the Mark I and Mark II such as those thumbprint marks. The main helpful difference is said to be twofold. The muzzle end drain hole that is sometimes present on the Mark II is not present on the Mark IIIat all and the Mark III does not have the extended non-removable barrel bushing that the Mark II has. The Mark III and all of its variations were discontinued in 2017 ending an 82-year production run of John Moses Browning's final pistol design. Final shipments of the Mark III left in 2018 and had special serial numbers: LASTHP1701 – LASTHP1725. The 17 denotes the final year of manufacture and the second number denotes the number out of the last 25 that were made.
Side Note: My personal FN Hi-Power was made in 2003 and is chambered in .40 S&W.
There are a few "Micro Variations" of the Mark III I thought I would touch on in brief.
Standard: This was what the Mark II model was called at its most basic level. Glossy blued finish, fixed sights, and walnut grips. You know… standard.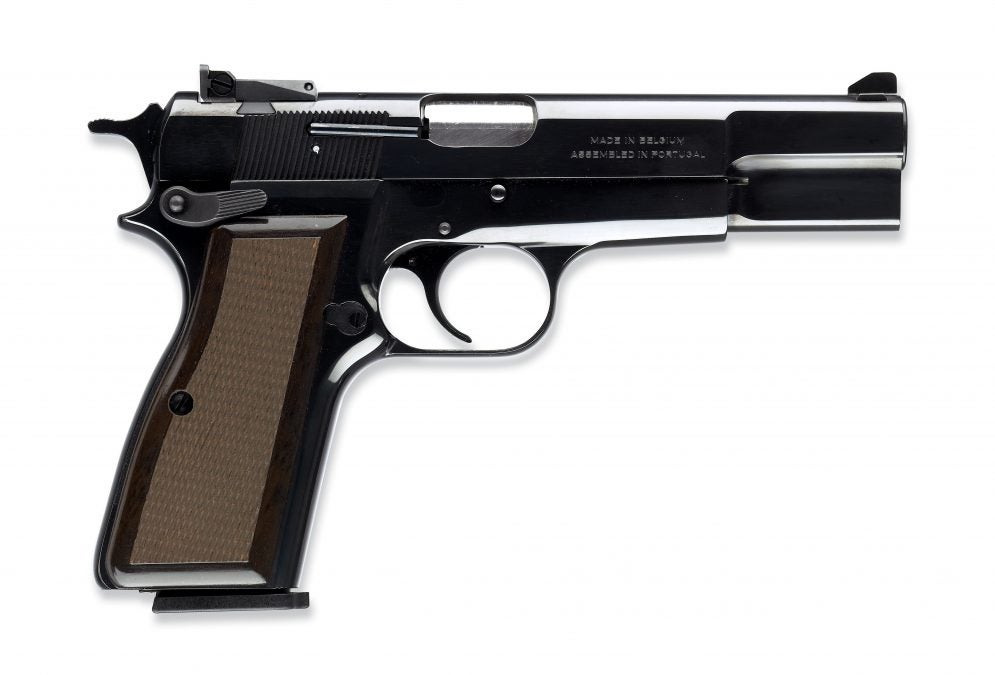 SFS Hi-Power: One of the neatest things I got to play with at the FN factory when I worked there. The SFS Hi-Power was a Mark III with a special safety system called the "Safe-Fast-Shooting" system. This system allowed the user to literally push the cocked hammer of their Hi-Power down with the pressure of a finger. Doing this would lower the hammer and engage the thumb safety automatically. When the user intended to fire they would flip the thumb safety which would snap the hammer back to the ready-to-fire position. Aftermarket modifications exist if this interests you. From what I have found these were introduced in the early 2000s for a short time.
Captain: Showing up in 1993 the Captain variant of the Mark II featured an adjustable rear sight, checkered walnut grips, and the old-fashioned P35 ring style hammer.
Practical: A Mark III with a black polymer coating on the slide, chrome-colored frame, adjustable rear sight, the old-fashioned P35 ring style hammer, rubber wraparound Pachmayr single piece grip, and Pachmayr magazine base plates.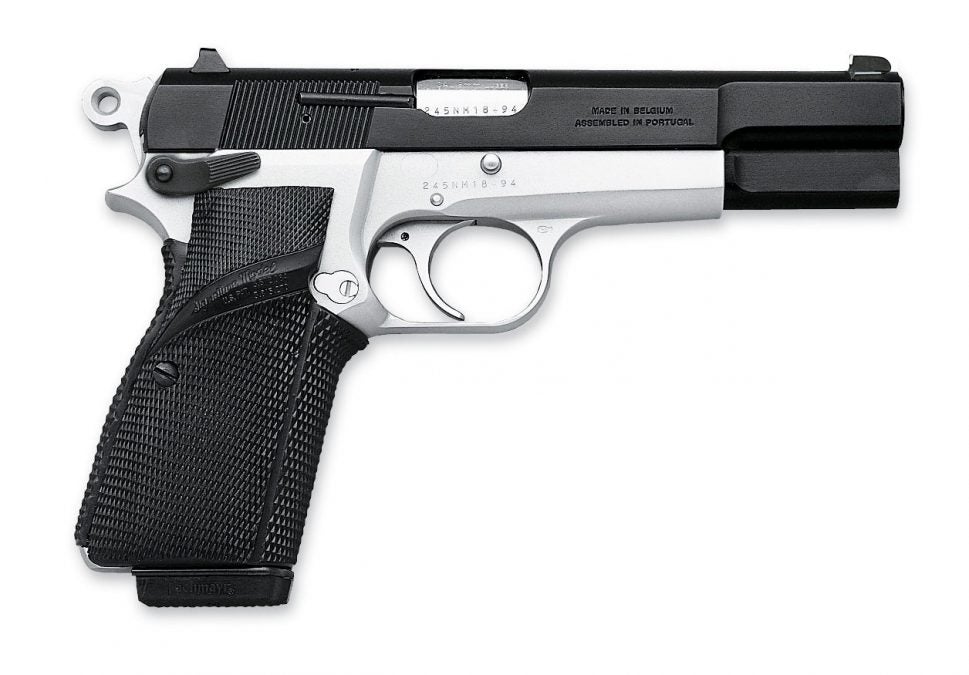 Honorable Variation Mentions: The Browning Hi-Power
Pistole 640(b): The "b" refers to Belgium. These were the original P35 pistols that were produced by/for the Nazis while Belgium was occupied by the Germans. These specific Hi-Powers were usually reserved for top-ranking SS soldiers and the German Paratrooper units.
Inglis Pistol No 1 Mk1, No 2 Mk 1, or Pistol No 2 Mk 1*: Canadian-made Hi-Power pistols. these were basically licensed copies of the Hi-Power made by the Inglis company in Canada for British, Canadian, and Chinese forces. They usually had adjustable sights, and wood grips, and some even had a cut-out for a shoulder stock.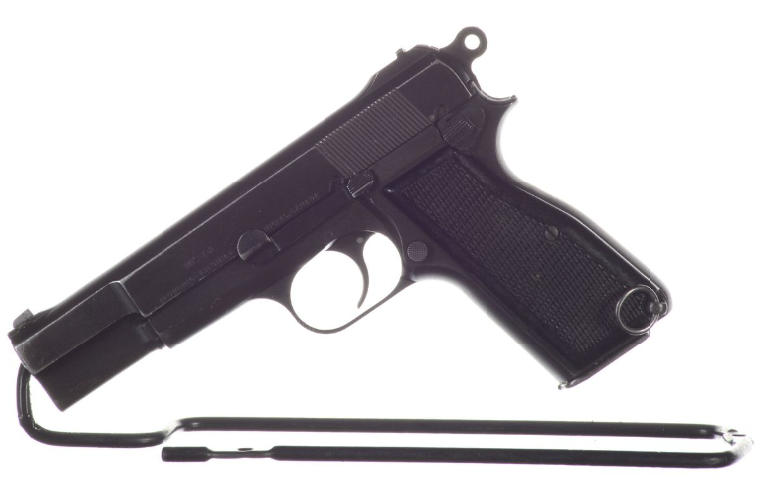 L9A1: The British variant of the Hi-Power. Featured an ambidextrous thumb safety, wood grips, adjustable rear sight, and exterior extractor.
FN High Power: The most recent iteration of a Hi-Power. In January of 2022 FN released the updated "High Power" pistol. In truth, this specific one is an updated Hi-Power hence the name change for sake of better differentiating them. It has a lot of intentional aesthetic callbacks to the original Hi-Power but is still very different. The new High Power is completely engineered and uses very few legacy parts from the original Hi-Power pistols. It now uses a new 17-round magazine rather than the original 13-round Hi-Power magazine.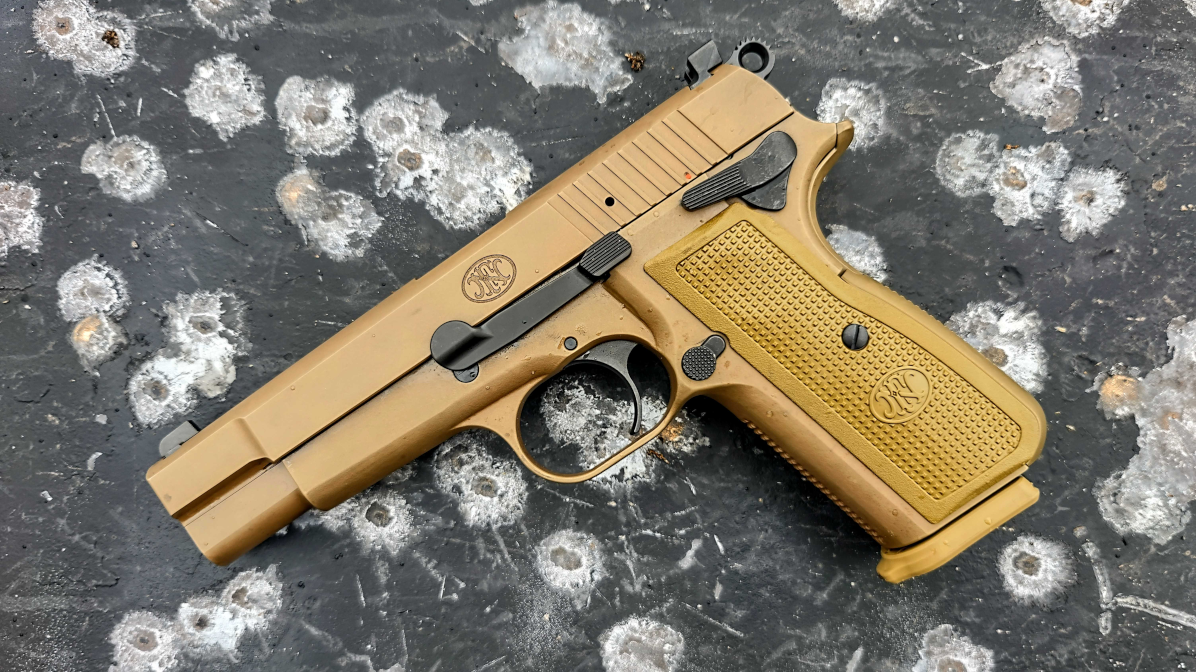 End of Part Two: The Browning Hi-Power
Woof that was a bunch of information, I know. To the best of my abilities, I tried to mention all of the prominent/necessary variations of the Browning Hi-Power along with some fun honorable mentions. If I ever have the chance to photograph/play with any of the different ones listed I would be happy to do a more focused Curious Relics article on them in the future. Until then we have two separate articles on the new FN High Power and the much more true-to-form Springfield Armory SA35 if you need some more John Moses Browning legacy content. I will see you all next time with some more Browning Hi-Power content in Part III!
In closing, I hope our Curious Relics segment informed as well as entertained. This all was written in hopes of continued firearm appreciation and preservation. We did not just realize how guns were supposed to look and function. It was a long and tedious process that has shaped the world we live in. So, I put it to you! Is there a firearm out there that you feel does not get much notoriety?  What should our next Curious Relics topic cover? As always, let us know all of your thoughts in the Comments below! We always appreciate your feedback.