Springfield Armory Gear Up 2022: 3 Extra Mags + Range Bag FREE!
Adam Scepaniak 07.01.22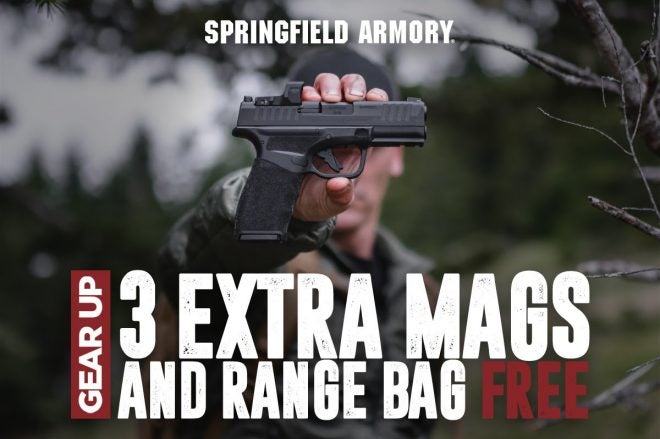 Springfield Armory constantly looks to bring the most value to the table as possible in not only the quality of their firearms, but also in the inherent accessories we look to purchase and add to our arsenal. This includes nice packaging, additional magazines – and at times – even a holster from the factory. This value boost is getting kicked up a notch beginning this 4th of July weekend with Springfield Armory's Gear Up 2022 promotion!
Springfield Armory Coverage on AllOutdoor
Now, if you buy an striker-fired pistol from Springfield Armory you can receive an additional 3 extra magazines as well as a quality range bag for FREE! This includes their line of original XD pistols, Hellcats, XD-S Mod.2, and XD-M Elite firearms. Phil Rawlings, Vice President of Sales and LE for Springfield Armory, elaborated on the Gear Up 2022 promotion:
"Springfield Armory's striker-fired pistols, including our newest offerings such as the Hellcat Pro, provide shooters with ruggedly strong and utterly reliable handguns. And with this new Gear Up promotion, they will receive a great selection of valuable accessories at no extra cost."
It is always fantastic to see manufacturers giving added value to a consumer's investment in defense, recreation, hunting, or all of the above when it comes to firearms. Springfield Armory is legendary for their line of firearms, in not only striker-fired handguns, but 1911s, M1As, AR-15s, and many more models. Be sure to check out all of the links below as well as watch their short video further explaining the Gear Up 2022 promotion. As always, let us know all of your thoughts in the Comments below! We always appreciate your feedback.
"Gear Up is back. Receive 3 extra magazines and a range bag FREE when you purchase any new Springfield Armory® striker fired handgun July 1 – August 31, 2022."