AllOutdoor Review: Bergara B-14 Wilderness HMR 6.5 Creedmoor
Adam Scepaniak 07.06.22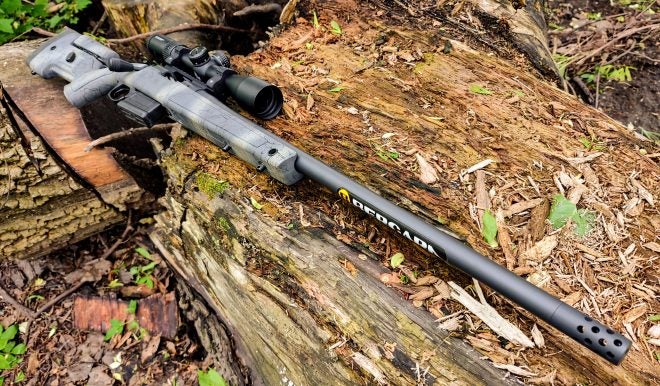 When it comes to precision rifles "the sky" is absolutely the limit. If you want to fork out used car money for something that shoots lasers from 10 miles away (like all of our shooting buddies state they can do), there are definitely options to empty your wallet out there. Not surprisingly, the realm of hunters has evolved over the last decade where we are looking for rifles with precision rifle traits in order to fill tags on mule deer, antelope, elk, and lots of other big-game species. This new sub-category of precision rifles for hunting is where I live.
I am a hunter first and foremost, and I demand accuracy and surgical precision from my tools in harvesting game. The predominant leader in this space is Bergara because of the extremely-affordable, precision hunting rifles they produce. With a 1 MOA (Minute of Angle) accuracy guarantee out-of-the-box coupled with popular camouflage configurations, you have utility that kills. So, in this AllOutdoor Review here today, we are going to take a look at the Bergara B-14 Wilderness HMR chambered in 6.5 Creedmoor to see how it performs. Let's dive in!
Bergara Coverage on AllOutdoor & TheFirearmBlog
Specifications – Bergara B-14 Wilderness HMR 6.5 Creedmoor
In the past I have reviewed an HMR Pro in 6.5 Creedmoor from Bergara and I left that rifle being very impressed. So, when the opportunity of a wolf hunt in Idaho came about this last winter, I reached out to Bergara once again to see if we could use one of their rifles. The B-14 Wilderness HMR is coated in a Sniper Grey Cerakote to fight the elements of Mother Nature and boasts one of Bergara's hand-painted camouflage stocks with added webbing for increased texture and grip. The rest of the extensive attributes that make this rifle desirable can be read below as presented by Bergara:
Fluted, 4140 chromoly steel, one piece bolt body
Weight: 9.5 lbs-9.9 lbs
Overall Length: 40"-47.5"
Barrel Length: 20"-26"
Finish: Sniper Grey Cerakote
Magazine: AICS style detachable
Mag Capacity: 5 round mag provided (3 round mag: 6.5 PRC)
Barrel Taper: No. 6
Muzzle: Threaded 5/8-24" with Omni Muzzle Brake
Stock: Bergara HMR Molded with mini-chassis
Scope Mount: Fits Remington 700 bases with 6-48 screws
Trigger: Bergara Performance Trigger
Integrated QD flush cup sling mounts and swivel mounts
Adjustable cheek piece, and length-of-pull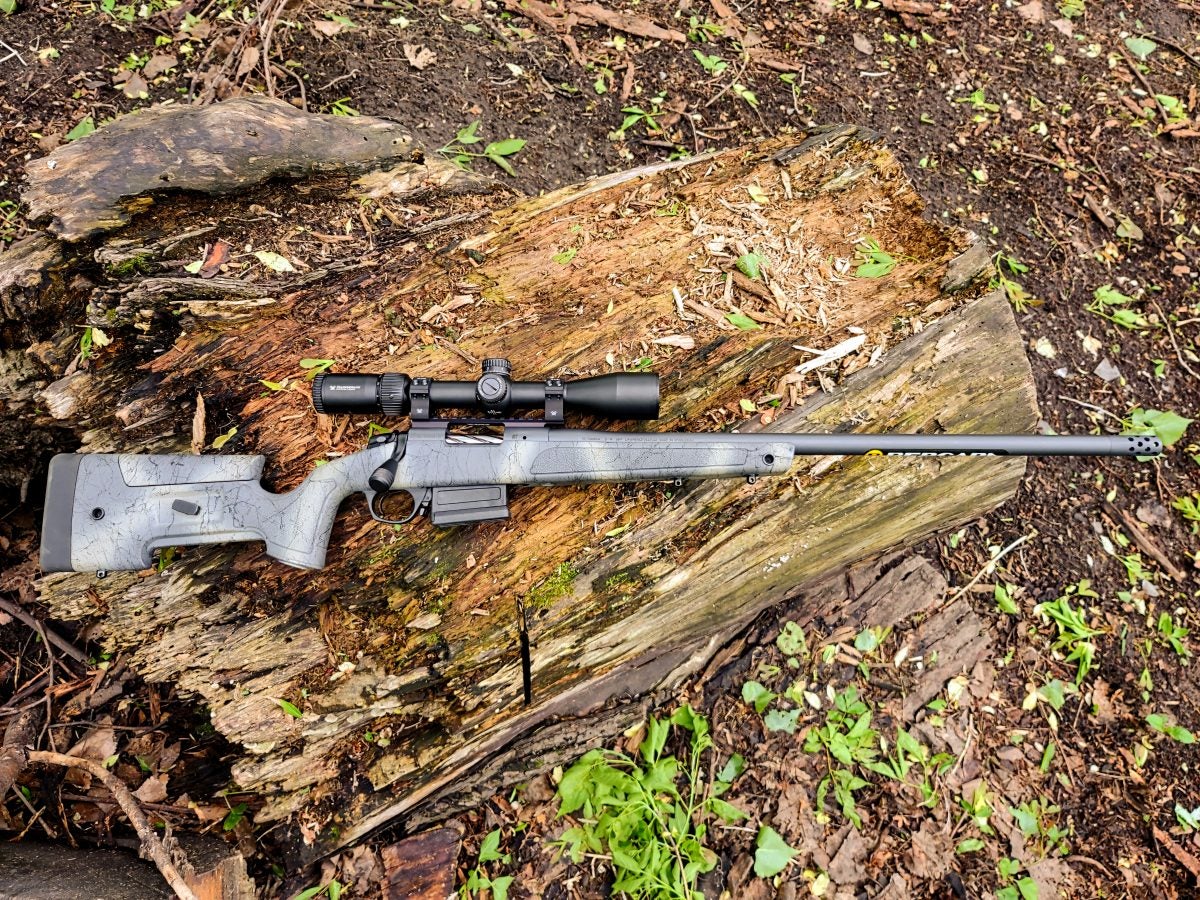 The MSRP for the 6.5 Creedmoor is $1,260 while the rest of the cartridge offerings for this model retail for $1,260 – $1,340. It has been factory drilled and tapped to fit Remington 700 style rings and bases which is nice since it is so common. The one element shooters should note though is that this receiver takes 6-48 screws (which is a stronger, more robust screw for attachment). If 6.5 Creedmoor doesn't happen to be your jam, there are 7 cartridges in total that the B-14 Wilderness HMR is chambered in:
6.5 Creedmoor | 1:8″ Twist
6.5 PRC | 1:8″ Twist
7mm Rem Mag | 1:9.5″ Twist
28 NOSLER | 1:9.5″ Twist
.308 Win | 1:10″ Twist
.300 Win Mag | 1:10″ Twist
300 PR | 1:9″ Twist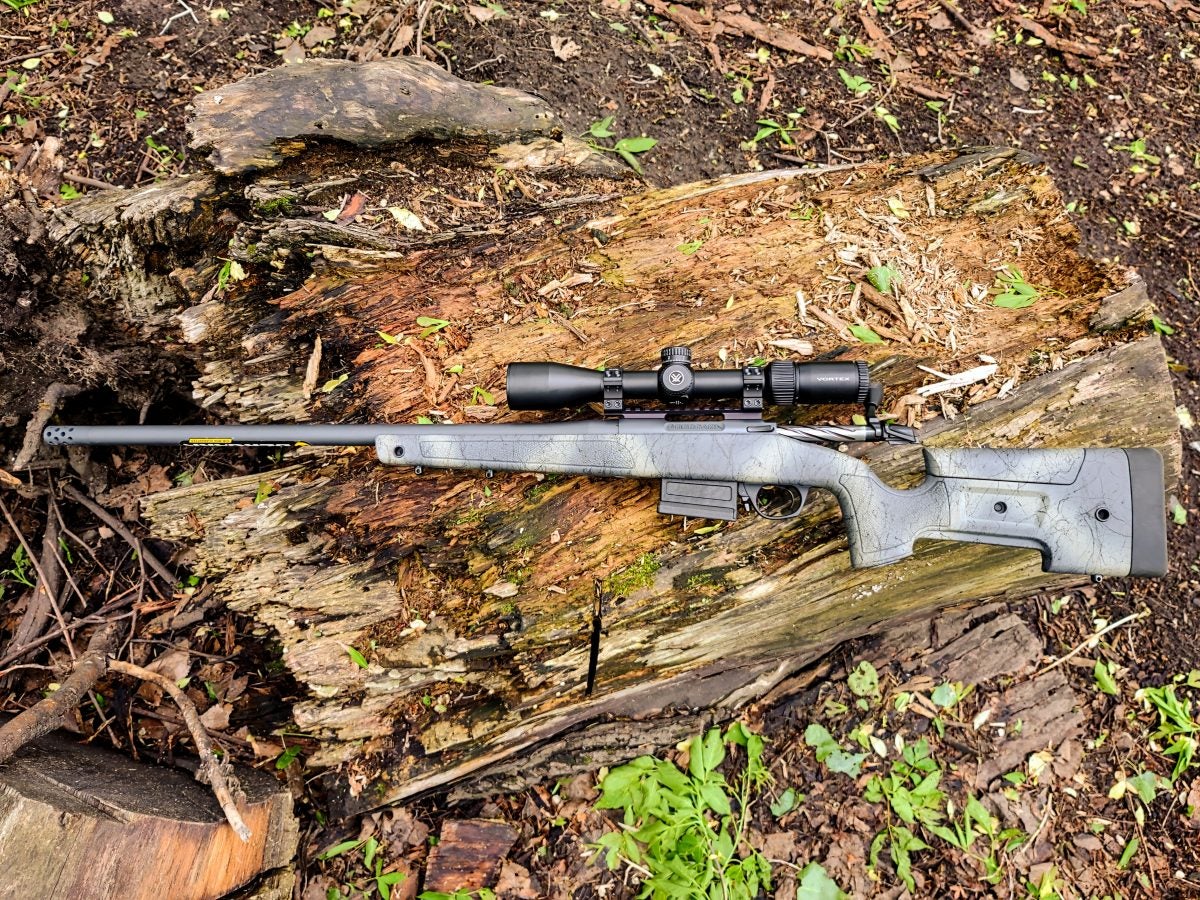 All of the B-14 Wilderness HMR rifles are guaranteed to produce groups of 1 MOA or less at 100 yards with quality factory, match-grade ammunition. Also, Bergara stands behind their rifles. They are always willing to assist you in the rare event an issue should arise and you need service performed.
"The Wilderness Series tackles the need for rifles that can withstand the rugged and unforgiving wilderness while blending into those very same elements – hence Bergara's hand-painted camouflage stocks with added webbing for increased texture and grip. All Wilderness Series barreled actions feature Sniper Grey Cerakote® finishes for advanced protection in extremely harsh weather.

The B-14 Wilderness HMR rifle features our integrated mini-chassis molded into the stock to give the rifle repeatable bedding and accuracy. This rifle is also outfitted with a Bergara Performance Trigger and a 5 round (3 round: 6.5 PRC) AICS style detachable magazine. The world-renowned (#6) Bergara barrel is finished in Sniper Grey Cerakote and features a seamless, omnidirectional, and multi-ported muzzle brake that will reduce felt recoil by up to 35 percent. The Wilderness HMR is complemented by our super-smooth B-14 Action, which is a two-lug system with a sliding plate extractor and a coned bolt nose and breech to ensure smooth feeding and extraction of the cartridge. It has been factory drilled and tapped to fit Remington 700 style rings and bases and includes QD flush cups, adjustable cheek piece and length-of-pull spacers.

The B-14 Wilderness Series provides a great deal of added value for the hunter that wants a no-nonsense performer that is built to withstand the backcountry. We are breaking through the uninhabited and inhospitable regions to bring you the weather protection needed to withstand these conditions. We believe the word wilderness, while may be rugged, harsh and unforgiving, describes an experience rather than a location. We built the B-14 Wilderness Series to match every stride taken off the beaten trail."
Field Use – Bergara B-14 Wilderness HMR 6.5 Creedmoor
So, while I have been familiar with the accuracy and quality of Bergara rifles for years, the precise reason why we, at AllOutdoor, reached out to Bergara to test this B-14 was to go on an Idaho wolf hunt. For people who might be unfamiliar with Idaho's situation, there are so many livestock predation insurance claims that the Idaho Game and Fish has now gotten to the point where it is more frugal to pay hunters to harvest wolves to help alleviate predation claims. With all of that being said, we planned out a hunt to Idaho and leaned on the surgical precision of a Bergara to hopefully complete this dream hunt.
With 2 months of preparation behind me in reading topographical maps, getting input from a friend who ranches bison out there, and securing a B-14 Wilderness HMR for the hunt… Mother Nature had other plans. An old school, Biblical snowstorm hit North Dakota and Minnesota creating whiteout, blizzard conditions for multiple days. As I was traveling to Idaho, all the interstates in North Dakota got closed for the public's safety. Dejected, defeated, frustrated, and stranded at a truck stop in Moorhead, North Dakota I had no other choice than to turn around and return home in central Minnesota.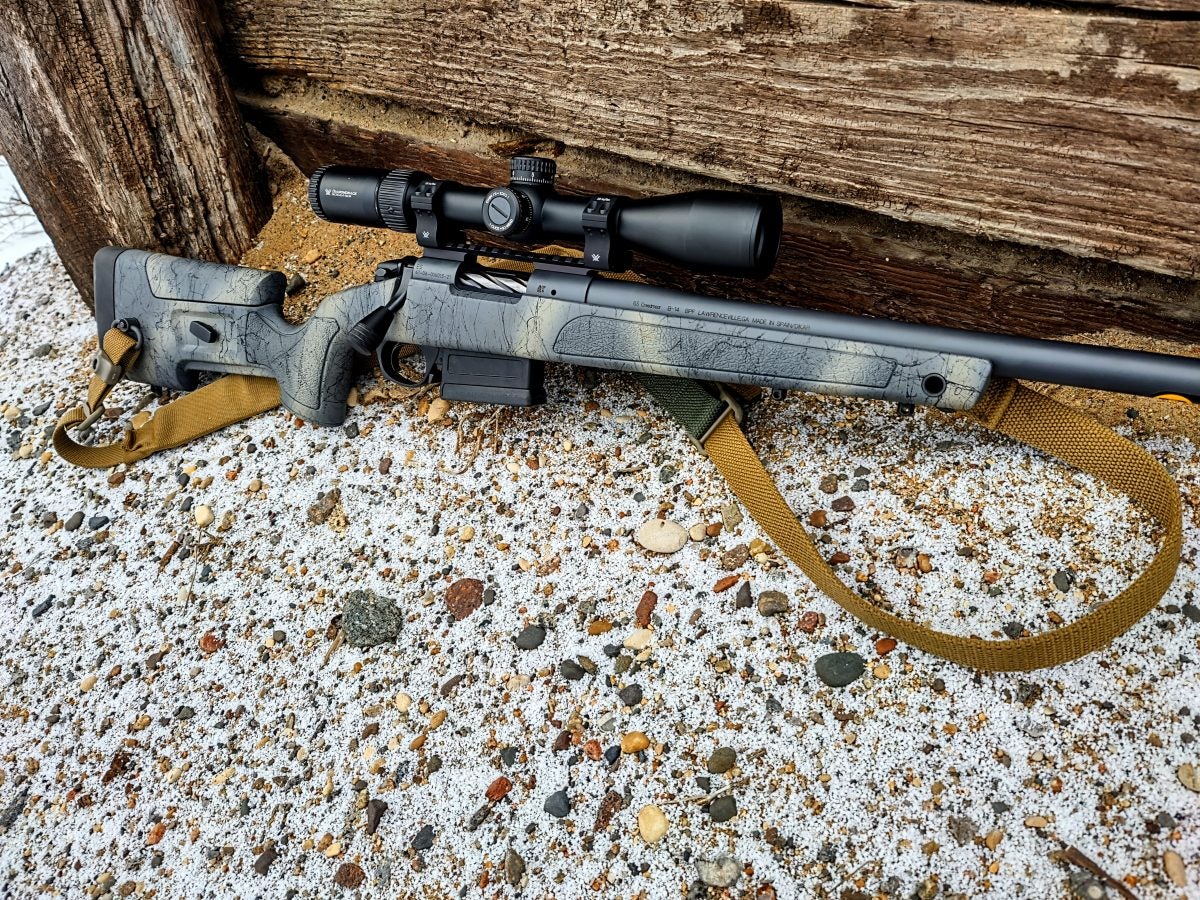 So, while the dream hunt of harvesting a wolf might need to wait for another year in the future, we still had a Bergara B-14 Wilderness HMR in our possession to test and review. While preparing for the hunt that never happened, I brought the rifle to the range to get it sighted in at 100 yards; simple and straightforward. Since I did not know how close or far I might be taking aim at a wolf, a 100 yard zero seemed reasonable for how flat-shooting the 6.5 Creedmoor cartridge is and I could calculate DOPE (Data of Previous Engagement) from there.
While shooting simple boxed ammunition from Hornady – specifically Hornady Precision Hunter 6.5 Creedmoor 143 Grain EXD-X – I was able to achieve a 0.535″ 3-shot group in the 1st 4 shots of using the rifle! Being overly confident, I hung a target at 100 yards hoping for the best (hoping my laser boresight job would be stellar and I would at least hit paper). To my surprise, my 1st shot wasn't that far off from the bullseye. I then adjusted a bit of windage into my Vortex Diamondback Tactical 4-16x44mm FFP scope and sent 3 more rounds down range. The group speaks for itself.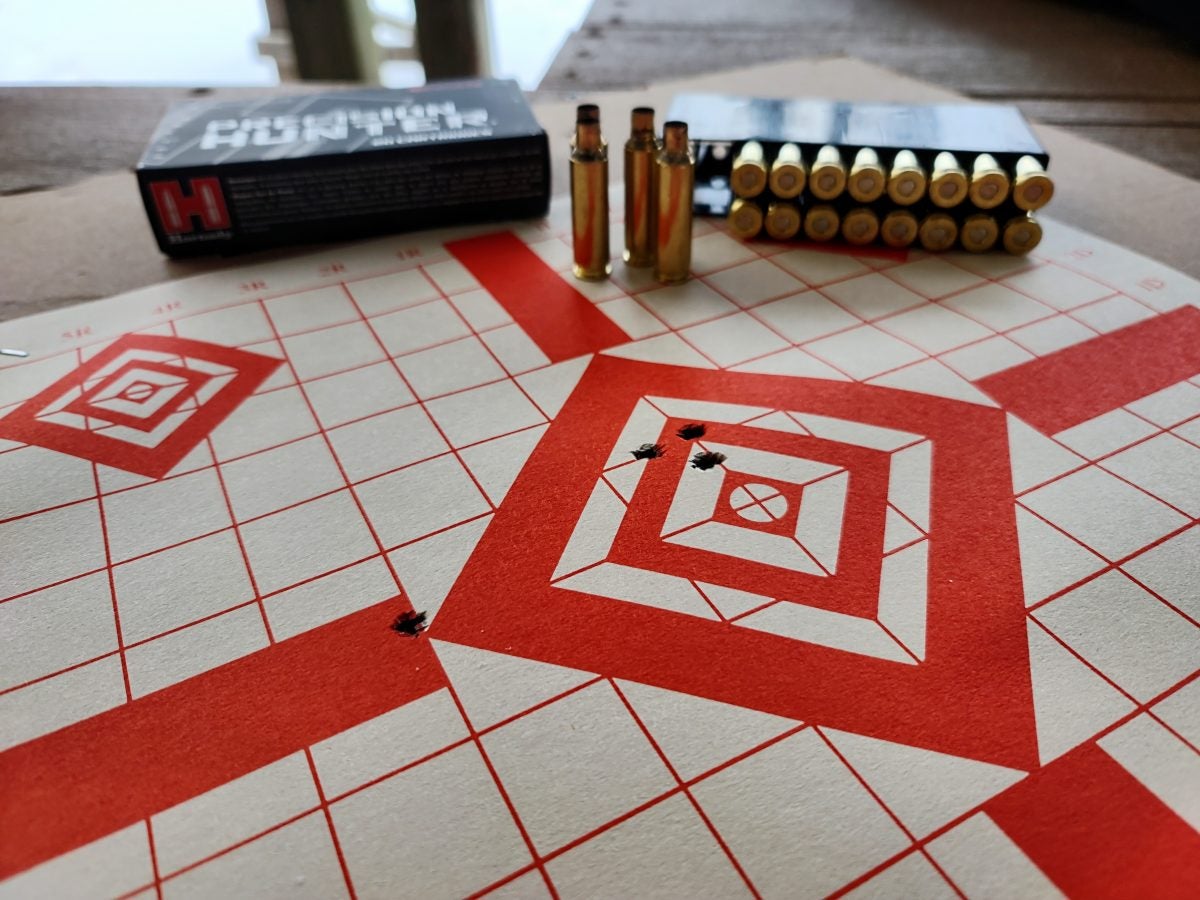 The last Bergara I reviewed for TheFirearmBlog (TFB) I was able to achieve a group smaller than 0.20″ after pushing over 200 rounds through the rifle. So, to say that Bergara makes some lights-out shooters is an incredible understatement. These aren't "used car money" rifles that cost $5,000 – $10,000. They cost roughly $1K which is very attainable for any prudent hunter and/or shooter.
Throughout my 6 months of using this rifle – in preparation for an attempted wolf hunt, taking it coyote hunting a few times, and simply enjoying it at the range – there are a bevy of traits to enjoy about this rifle. The Cerakote finish is matte, non-glare, and protects the barrel. The camouflaged stock blends into a multitude of environments from a snowy landscape to a blossoming, summer woods. There is adjustability in the stock to comb height as well as length-of-pull (LOP) to customize it to any shooter. Also, you have a lot of QD cup holes to quick-attach a sling as well as sling studs for bipods and even more traditional slings. You even have a muzzle brake to tame the mild recoil of the 6.5 Creedmoor cartridge, and can easily remove it to expose threads for a silencer or your own preferred flavor of muzzle device.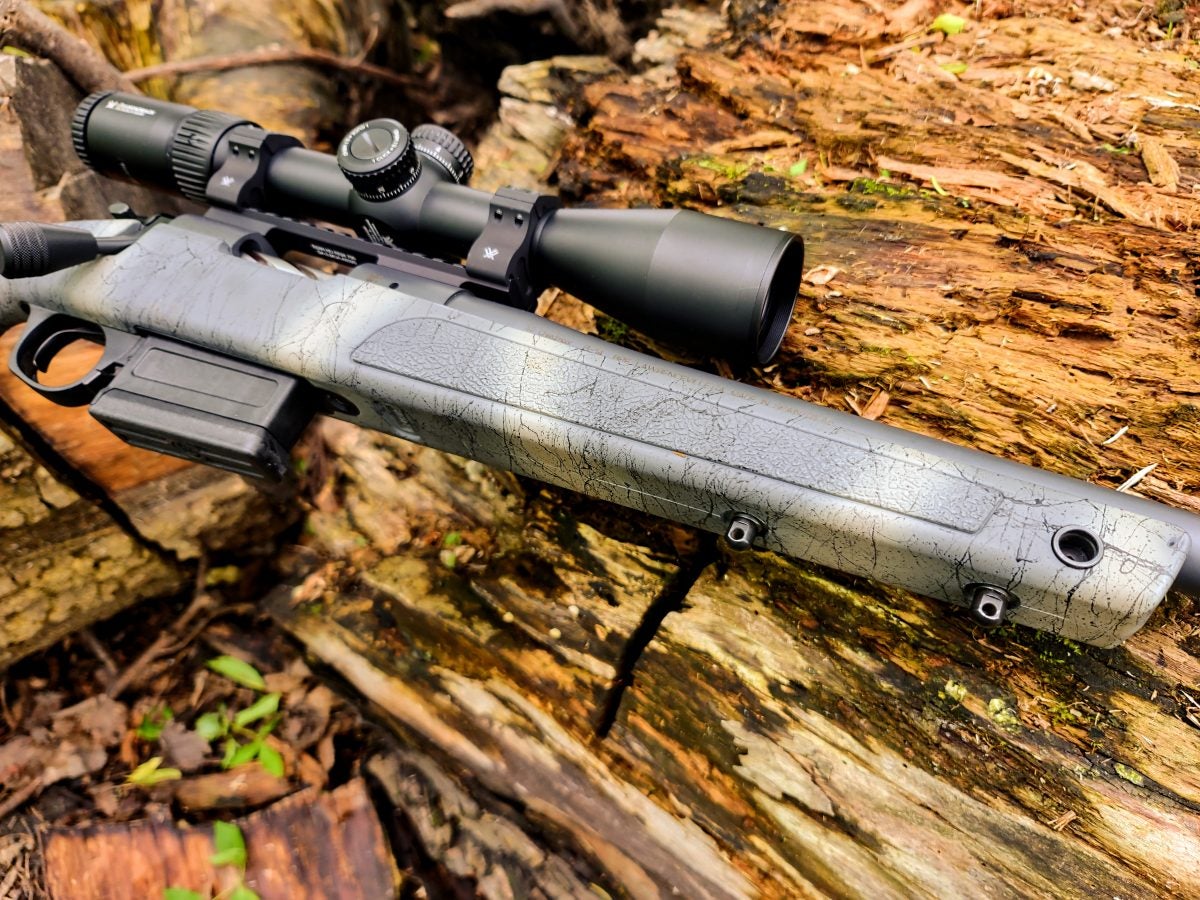 Final Thoughts – Bergara B-14 Wilderness HMR 6.5 Creedmoor
So, what are my final thoughts after reviewing the Bergara B-14 Wilderness HMR 6.5 Creedmoor?… Overall, if you are looking for both a surgically-accurate rifle that provides you the features you might desire as a hunter, this is it. From the unparalleled accuracy to the exterior, protective finishing touches this rifle offers a lot for its $1,260 MSRP price-tag. The only negative I can state about the rifle at all is the 9.7 Lb weight sans accessories like a scope and sling. Other than that, I am continually impressed with the rifles Bergara produces. Regardless of the  cartridge you pick or the sexy camouflage aesthetic that trips your trigger the most, you cannot go wrong with a Bergara.
In closing, I want to say thank you to Bergara for allowing AllOutdoor and myself the opportunity to try out their Bergara B-14 Wilderness HMR 6.5 Creedmoor. That is greatly appreciated. Also, we would like to know what all of you guys and gals think? Do you believe that the Bergara B-14 Wilderness HMR 6.5 Creedmoor is something worth spending your money? Would you take it hunting with you out west for big-game, or would you use it as a precision rifle for a league? As always, let us know all of your thoughts in the Comments below! We always appreciate your feedback.