The New EL Range Binoculars from Swarovski Optics
Luke Cuenco 07.08.22

Packed with the best technology, and featuring some of the best optical quality glass on the planet, Swarovski Optics has just announced the newest iteration of their EL Range tracking binoculars. These new binoculars feature Bluetooth connectivity and a unique tracking assistant that helps you better dial in your rifle for long-range hunting applications. Using the technology on the EL Range binoculars allows you to develop consistent and reliable ballistic data so you're more accurate when the time comes to take the shot. In addition, the EL Range is now available in a special order Orange Armor coloration – very popular among hunters. A brief overview and press release are below.

The New EL Range Binoculars from Swarovski Optics
The new LE Range Swarovski Binocular should prove to be a very helpful addition to any hunter's or long-range shooters' toolkit. The EL Range is available now for a price of $3,999.00 for the 8×42 version and $4,110.00 for the 10×42 version. Both have very comparable specifications but as always the final decision will often come down t your specific preferences and abilities. For full details, you can visit the Swarovski Optics website for information and ordering details. The EL Range in the Orange armoring is only available on special orders so you can contact Swarovski for special ordering information through their website.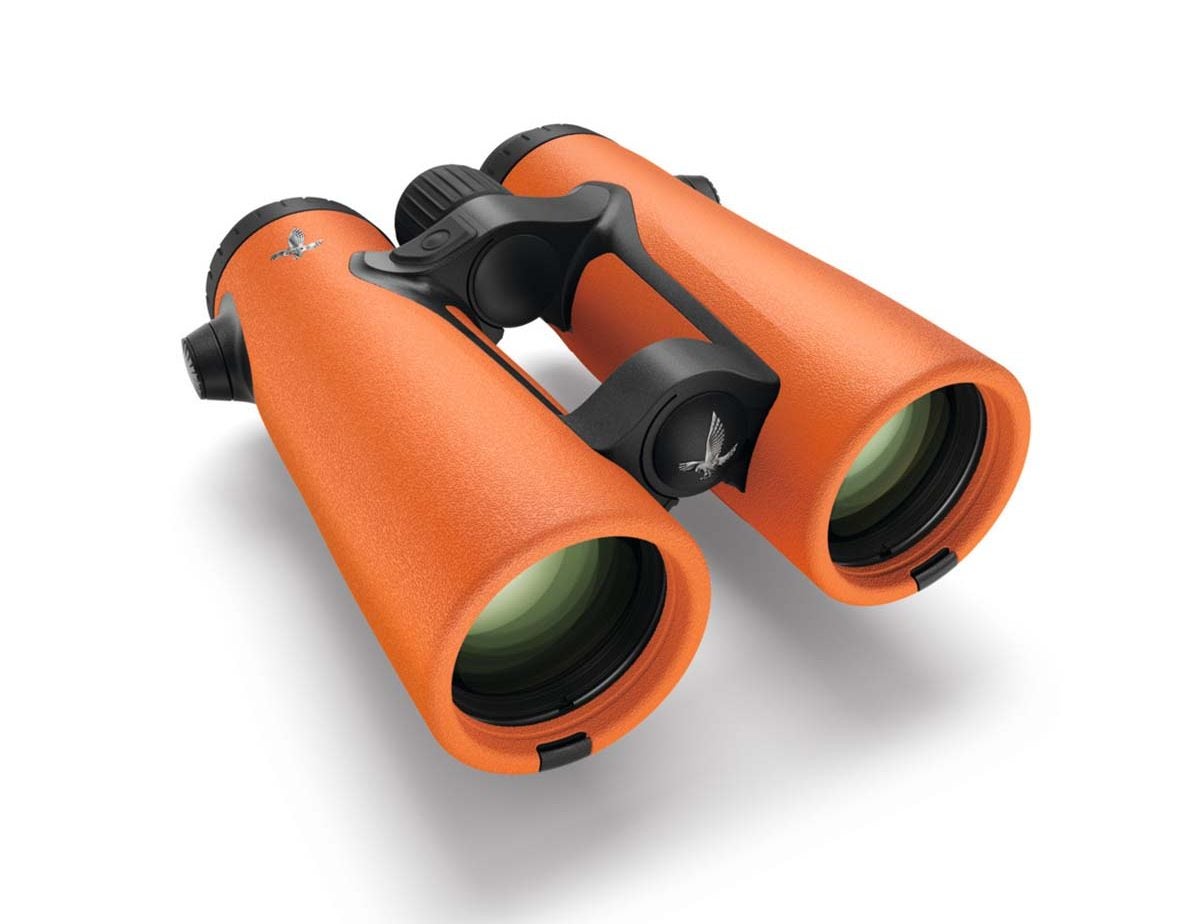 The new EL Range with Tracking Assistant features SWAROVISION technology. Now with perfect edge to edge sharpness and combined with color fidelity and outstanding detail resolution. Also, with an enhanced FOV of 359 ft when compared to the original EL Range of 330 ft.

Using the built-in Bluetooth interface, three different ballistics curves can be fed in the EL Range with Tracking Assistant. While all the other settings can also be adjusted on the binocular itself, configuring the ballistics must be done via the EL Range with Tracking Assistant Configurator App. The range measurement of the EL Range with Tracking Assistant is based on a travel time measurement using a laser. The range can be measured between 10.9 yards (10 meters) and 2200 yards (2000 meters). Once the ballistic data is entered into the app, you can choose to have the EL Range with Tracking Assistant send back data letting the user know elevation corrections in the rifle scope in MOA, MRAD or clicks. Angle, Temperature and Air Pressure are automatically measured by the EL Range with Tracking Assistant in calculating the corrections.