AO Review: Kate's Real Food Peanut Butter Dark Chocolate Snack Bites
Adam Scepaniak 07.11.22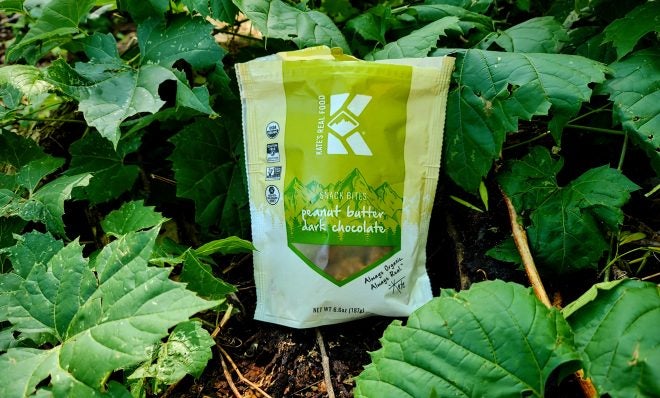 If you are a weekend warrior like so many of us, we are always looking for adventure in the outdoors. This can vary from morel mushroom hunting in the spring to chasing scenic waterfalls in the summer and even hunting in the fall. What all of this has in common is the need to stay fueled and have adequate energy throughout our times of exploration and recreation.
A trend we have seen in the last 10 – 15 years is people being more conscious of what they are putting in their bodies; we are reading labels. As consumers, we are not asking much wanting food and products with ingredients we have heard of and can pronounce. Processed, sugary trail bars might be temporarily delicious, but the inevitable crash doesn't fuel us to finish the hiking trail we started.
That is why when a food/snack company in Kate's Real Food approached AllOutdoor to try their products, we were intrigued. A label you can actually read coupled with a delicious looking product was all the incentive we needed to try some. So, today we will be reviewing some Kate's Real Food Peanut Butter Dark Chocolate Snack Bites. Let's dive in!
Food Coverage on AllOutdoor
About the Company – Kate's Real Food
For Kate Schade, founder of Kate's Real Food, the passion for making food right with organic and simple ingredients began back in her childhood while growing up on a family, generational farm. This continued into one of her first big jobs at Cosmic Apple Gardens in Idaho. Eventually, her spirit for adventure brought her to Wyoming where she tinkered to make her own wholesome energy bars.
USDA Organic
Non-GMO Project Verified
Gluten-Free Certified by SCS Global Services
Soy-Free
True Source Certified Honey
After awhile, she began to get a demand from her friends for the homemade energy bars she was bringing along on all of her outdoor adventures. Finally, the obvious could not be ignored anymore and she dove in to officially start Kate's Real Food. With her products now being retailed in over 4,000+ locations like Whole Foods and more, her sustainable practices are continuing to grow more every year.
Nutritional Facts – Kate's Real Food Peanut Butter Dark Chocolate Snack Bites
When it comes to the snacks I put in my body, I have come to care a lot more about "what's in the package" like many people have. I respect sustainable food efforts and greatly appreciate simple, whole food ingredients. It is not only healthier for us, but it gives us a more consistent level of energy and performance in our daily lives (less spikes and collapses in energy that have us calling for a nap at 2pm). The macronutrients of these Peanut Butter Dark Chocolate Snack Bites is fairly, evenly distributed with your carbohydrates being higher (your main driver for easily digestible energy) with a healthy profile of fat and protein as well.
Net Weight: 6.6 Ounces (187 Grams)
One Serving: 1.1 Ounces | 31 Grams | ~4 Bites
Calories per Serving: 130 Calories
Total Fat: 6 Grams
Total Carbohydrates: 17 Grams
Protein: 3 Grams
These snack bites – like all of the products from Kate's Real Food – are made in the USA, carry a 100% Satisfaction Guarantee, and Kate's Real Food offers a No-Contact Delivery FREE on orders over $75 from their website.
"Our Peanut Butter Dark Chocolate Bars in bite form! Perfect to take on-the-go and pop in during outdoor adventures or busy days. These bites are made with whole food ingredients like protein-packed peanut butter, heart-healthy dark chocolate, and fiber-filled dried fruit. They're lightly sweetened with honey to create a nourishing, lower-sugar snack or meal replacement.

These Peanut Butter Dark Chocolate Bars pack in 3 grams of protein and 2 grams of fiber per serving for long-lasting energy. All of Kate's Real Food products are made with certified gluten-free oats, making them a good choice for those with gluten allergies or intolerances."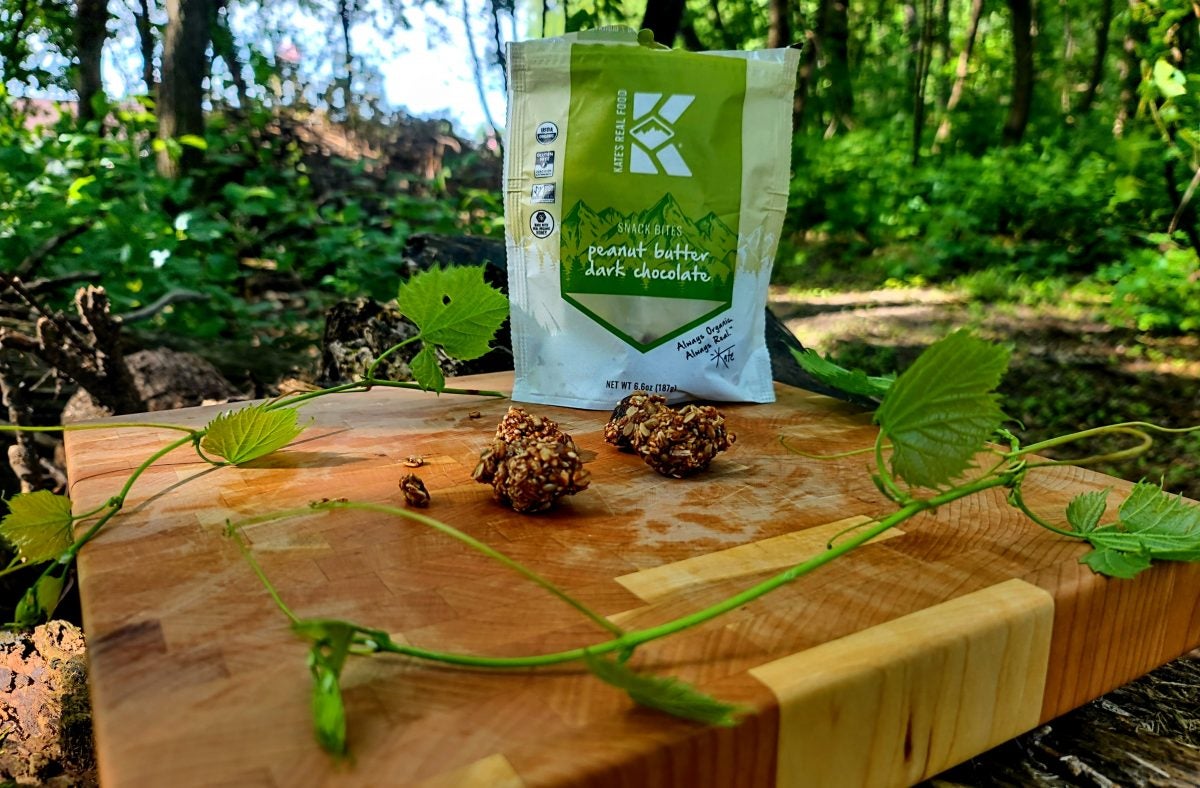 Field Use – Kate's Real Food Peanut Butter Dark Chocolate Snack Bites
When I am reaching for a snack in the outdoors I could be doing innumerable things. My family likes to source our own food as much as Kate's Real Food does so we have angus beef cattle I tend to (for steaks and hamburger), Mangalitsa pigs (for pork and bacon), honey bee hives (for honey and honeycomb), and chickens (for their eggs). As great as it is that we have all this available to us that we look to feed, raise, and grow naturally – being the caretaker – I still need a bite of energy, too.
I enjoyed the Kate's Real Food Peanut Butter Dark Chocolate Snack Bites because they are not only delicious, have a soft and consistent texture, and are filling, but also because the ingredients were real. All of the ingredients you can actually pronounce like certified gluten free oats, honey, peanut butter, brown rice crisps, dark chocolate, and dried apricots as a few examples on the label. Also, when you are eating it you do not get the feeling that they are overly soaked in processed sugar where it might be momentarily delicious, but you also inevitably crash.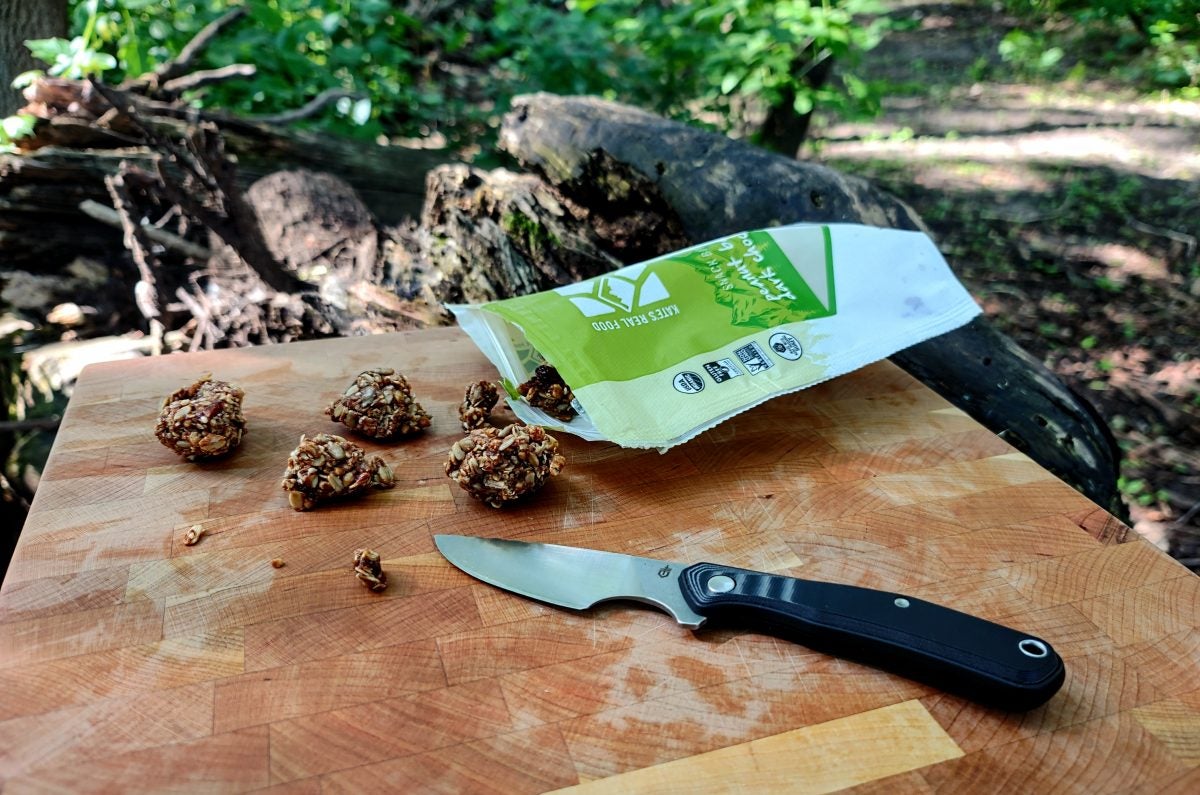 My days off are longer than the ones when I show up to work. I try to squeeze all the fun and recreation I possibly can into one day to "make up for lost time." As a result, my body yearns for fulfilling food to keep me going. I would definitely put Kate's Real Food Peanut Butter Dark Chocolate Snack Bites into that category.
Final Thoughts – Kate's Real Food Peanut Butter Dark Chocolate Snack Bites
So, what are my final thoughts on Kate's Real Food Peanut Butter Dark Chocolate Snack Bites?… Overall, I have no complaints or constructive criticism of these Peanut Butter Dark Chocolate Snack Bites. They taste great, have real food ingredients you can pronounce, it has a good nutritional profile for energy, and they are sweet enough with the natural honey where I feel like I am giving myself a treat (that dopamine bonus for my sweet tooth is always awesome). If you are akin to an adventurer, weekend warrior, or simply love wholesome real food, I would highly suggest trying a bag of Kate's Real Food Peanut Butter Dark Chocolate Snack Bites at $20.97 for a 3-pack.
In closing, I want to say thank you to Kate's Real Food for allowing AllOutdoor and myself the opportunity to try out their Kate's Real Food Peanut Butter Dark Chocolate Snack Bites. That is greatly appreciated. Also, we would like to know what all of you guys and gals think? Do you believe that the Kate's Real Food Peanut Butter Dark Chocolate Snack Bites is something worth spending your money? Would you take it hunting with you, hiking, camping, or would you use it as a daily snack? As always, let us know all of your thoughts in the Comments below! We always appreciate your feedback.