Moultrie Mobile Edge Cellular Trail Camera – Easy-to-Use, Feature-Packed
Adam Scepaniak 07.28.22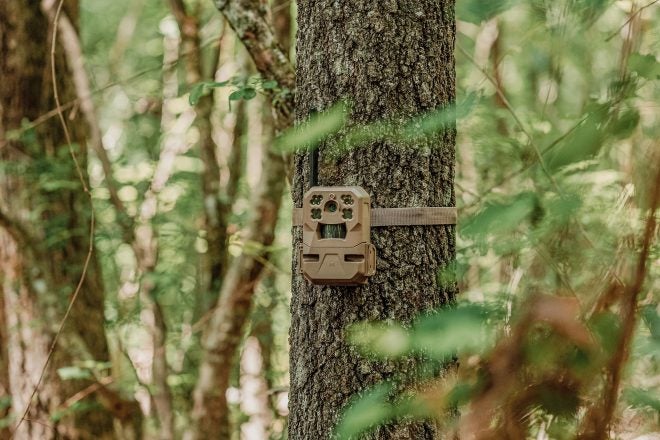 When it comes to surveying and inventorying wild game in your area there is no more prominent brand in the game than Moultrie. In fact, they are pushing that pedigree to another level with the unveiling of the Moultrie Mobile Edge cellular trail camera that is not only easy-to-use, but feature-packed as well.
Moultrie Coverage on AllOutdoor
The NEW Moultrie Mobile Edge cellular trail camera retails for an MSRP of $99.99 and is rich in attributes hunters and land owners want in a game camera. From an industry-best image quality to cellular connectivity to battery life, this cameras has everything you could ask for at a retail price below $100. All of the specifications can be read below in their entirety as presented by Moultrie Mobile.
Moultrie Mobile Edge Cellular Trail Camera Specs
One Camera, Multiple networks, More Reliable Service – Automatically detects and connects to the strongest signal from multiple nationwide networks using Auto Connect technology.
No SD card required! – Edge cameras save you time, money and hassle with Built-In Memory. Unlimited cloud storage ensures that all of your pictures are always available for you to view and manage using the Moultrie Mobile app, and Edge automatically manages its built-in memory to make room for new images.
Exceptional Image Quality – High-Performance Image Sensor captures sharp 33MP pictures and HD 720p video with sound, day and night.
Clearer Night Images – Improved IR LED arrangement produces even illumination out to 80 feet.
Fold & Transport Cellboost antenna for easier transport in and out of the field as well as better connectivity. No assembly required
Even Easier to Set Up – Scan QR code to activate. Switch it on and you're READY TO GO.
Capture More Action – Expanded PIR gives you a wider field of view of 40 degrees and improved trigger accuracy means you know where he's been and where he's going
2-year warranty backed by U.S.-based customer support, available 7 days a week
Resolution: 33MP
Trigger speed: 0.85
Detection Range: 80-foot low glow IR LED flash & detection range
3 capture modes
Field of View: 40 degrees
Power Source: 8 AA batteries or install 16 AA batteries to enjoy extended life (sold separately)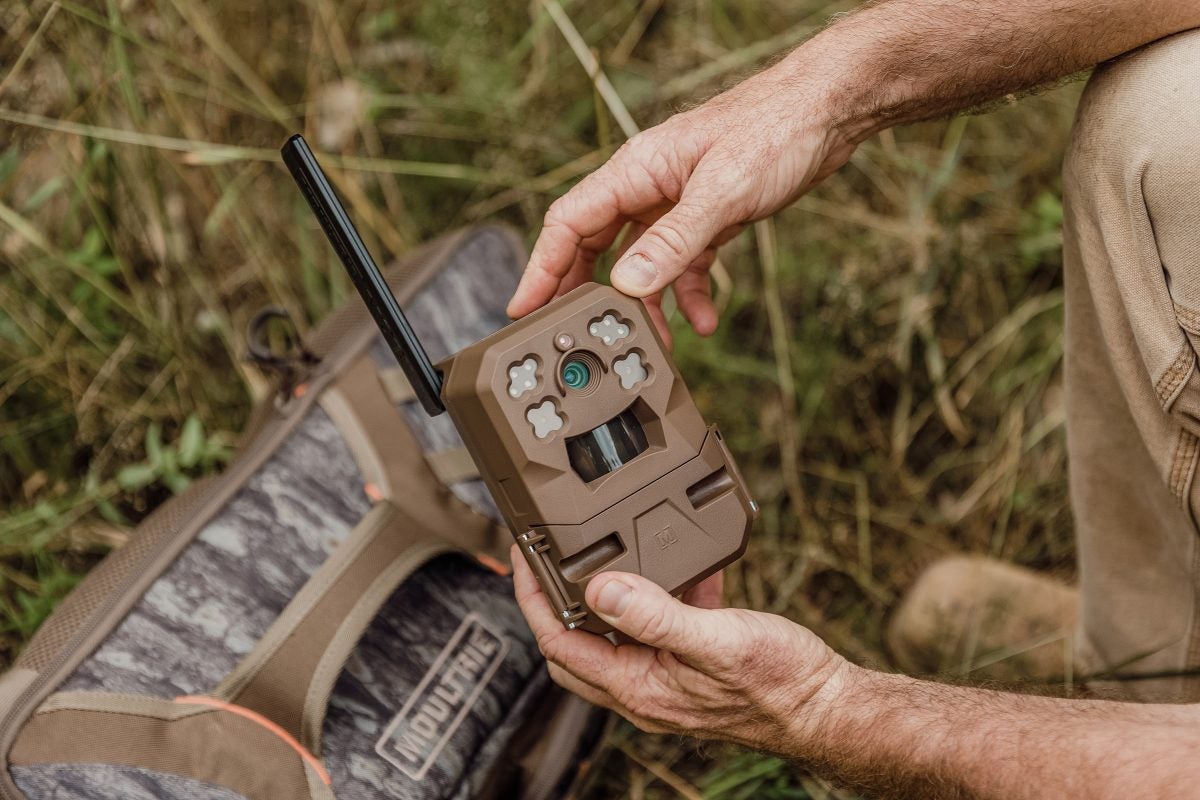 Not only is the Moultrie Mobile Edge one of the most cutting-edge trail cameras to date, but it is coupled with the industry's best mobile app to always keep you in the loop. Whether you have unwanted trespassers on your property or that monster ghost buck has finally come out of hiding, you will know via the Moultrie Mobile app and its bevy og features.
App Features
Unlimited plans as low as $7.99 per month when adding multiple cameras to a single Pro Series plan.
Annual plans offer more dollar savings for year-round power users
Free unlimited cloud storage — no purging of images after 30 days – even if you cancel your plan.
Know the Best Time to Hunt – Activity Charting lets you see which camera locations have the highest traffic for bucks, does, and turkeys based on the time of day, temperature, and moon phase.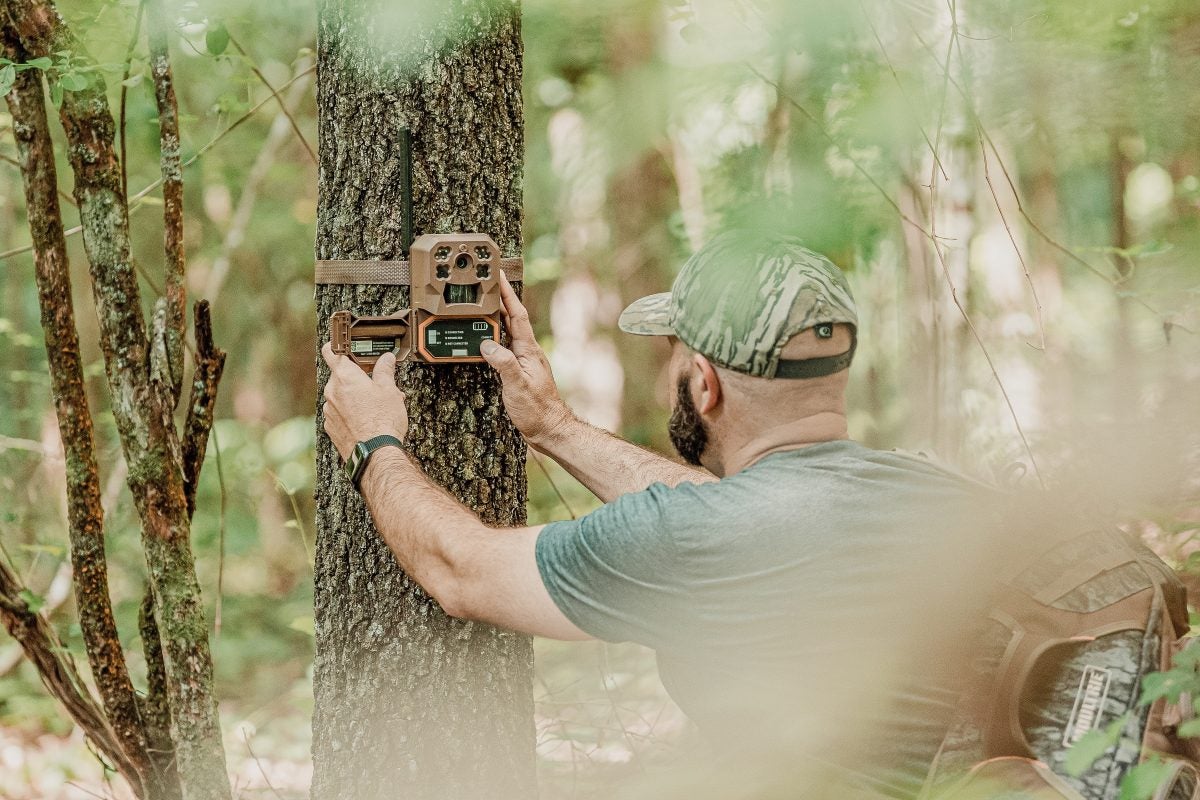 Free Species Recognition – Smart Tag A.I. analyzes and tags images for buck, doe, deer, turkey, person, vehicle, hog, bear, bobcat, and coyote so you can quickly filter your images and set up customized notifications.
Map Your Hunting Property – with free interactive maps for hunt planning and property management. Use 20+ pins including treestands, food plots, blinds, bedding areas, gates, and more to create a strategic map for the most effective hunting.
Free Weather Forecast – designed for hunters, with hourly and daily forecasts providing all the data points you need as you head to the field. Always know where your scent is blowing with wind-direction arrows.
No Extra Fees – all advanced features are free for all users without up-charges or extra club membership fees
Reach a Real Person 7-Days a Week – U.S.-based customer service team is available 7 days a week, from 7am – 7pm CST via phone, chat, and email for personalized, exceptional care.​
The Moultrie Mobile Edge trail camera also comes with a 2-year warranty backed by U.S.-based customer support, available 7 days a week. That is invaluable in the rare event your camera needs troubleshooting during the peak of hunting season. Again, these retail for $99.99 and are currently available at Moultrie sporting goods retailers. As always, let us know all of your thoughts in the Comments below! We always appreciate your feedback.