POTD: Elegant and Scarce – Gustav Bittner 1893 Ring-Trigger Pistol
Sam.S 08.02.22

Welcome to today's Photo of the Day! Here we have a very elegant and scarce ring-trigger pistol from the 1890s. This is the Bittner 1893 Ring-Trigger Pistol. It is sometimes called the Model 1893 and sometimes the 1896, but regardless it is the Bittner. These fancy 1893 Ring-Trigger Pistols were created by an inventor by name of Gustav Bittner in 1893. This very unique pistol was not put into production until around 1896 which is why there is such a discrepancy in the now accepted names of these very old guns.
These ring-triggered pistols were unique in their own way compared to other ring-triggered revolvers and pistols at the time. It used an internal magazine that would hold five rounds of 7.7 Bittner which was a rimmed black powder cartridge similar to the .380 Short cartridges. These used a Mannlicher style clip and the ring-trigger guard would offer spring assist on the rebound. This way it effectively would feel like a double-action handgun.
"This is a beautiful example of a very rare, all original cased Bittner repeating pistol. These pistols were an early attempt by Gustav Bitner to develop a "repeating" (not semi-automatic) pistol in the early 1890s. His design actually centered around using the linear movement of the bolt combined with the mechanical action/movement of the ringed trigger guard which cocked and cycled the pistol. The concept proved to be a good mechanical design; however, it was completely overtaken by the semi-automatic pistols developed by several world famous companies such as Borchardt and Mauser during this time period. This pistol set is very rare as so few example were actually sold as a cased pistol."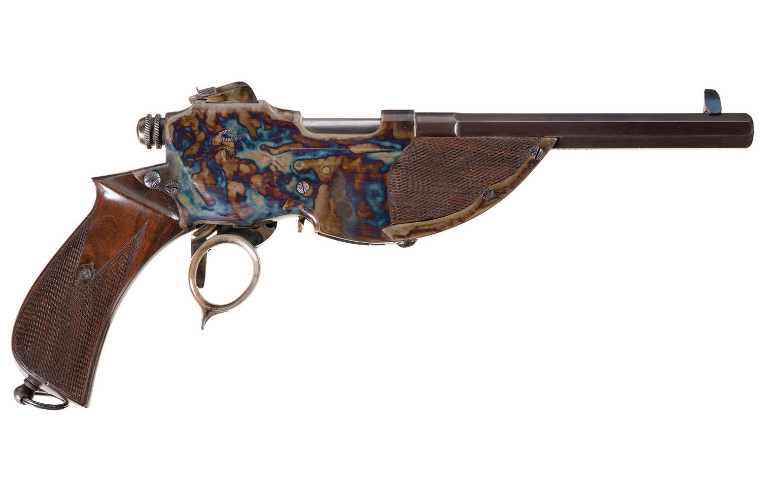 Lot 1387: Bittner Gustav 1893 Pistol 7.7 mm – Outstanding Factory Presentation Cased Bitner Model 1893 Repeating Pistol. (n.d.). Rock Island Auction Company. photograph. Retrieved August 1, 2022, from https://www.rockislandauction.com/detail/68/1387/bittner-gustav-1893-pistol-77-mm.