POTD: Valuable Expertise – Silver & Fletcher 'The Expert' Webley Revolver
Sam.S 08.04.22

Welcome to today's Photo of the Day! Here we have a modified and elegant Webley RIC revolver. This modified Webley revolver is dubbed The Expert by its toolers Silver & Fletcher. The Expert is an automatic eject system built into an existing revolver.
This modification was obviously expensive and complicated which is why they are so rare. The thing that assists the revolver in spitting out spent cases is similar to the Abadie system where the user pulls the trigger to rotate the cylinder without firing. That system plus a mechanical arm forced by the dropped hammer to eject a spent casing is what makes The Expert an automatic ejecting revolver.
This Webley style revolver is based on the famed Royal Irish Constabulary revolver pattern first introduced in 1867 and very few were manufactured from 1885 to 1900. This example marked "SILVER & FLETCHER PATENT 'THE EXPERT'" on top of the barrel and "S.W. SILVER & Co/CORNHILL LONDON" on the top of the frame. The later are retailer/outfitter marks, and the gun was likely produced by Webley or a licensed firm. The left side of the barrel is marked "450," and the serial number is marked on the left side of the frame.
The frame and cylinder feature bordered machined finish. It is equipped with a an extractor that pulls out of the cylinder pin and pivots to the right to push out empty cases and a hammer safety marked "PATENT" on the left that prevents the firing pin from striking the primer by a rotating knob. The extracting system can also work with the casehardened loading gate fully open. Opening the loading gate allows the a pivoting hook to engage the rim of a spent cartridge and the hammer falling on the hook ejects the cartridge.
The front of the frame is marked "157." The underside of the barrel is marked "5." Each cylinder flute is stamped with a British proof. Additional British proofs are found on the lower right side of the frame and on the left side of the barrel. The front cylinder face is numbered to the gun with the partial serial number "3422." It is fitted with a checkered one-piece grip and lanyard loop. The rare hammer safety mechanism is seen on similar Webley R.I.C. No. 1 New Models and a Webley No. 5 on page 69 and 96 of "Webley Revolvers" by Bruce and Reinhart. The revolver comes in a brass mounted mahogany case with a S.W. Silver oval label on the inside of the lid, an empty cartridge block and a glass oiler.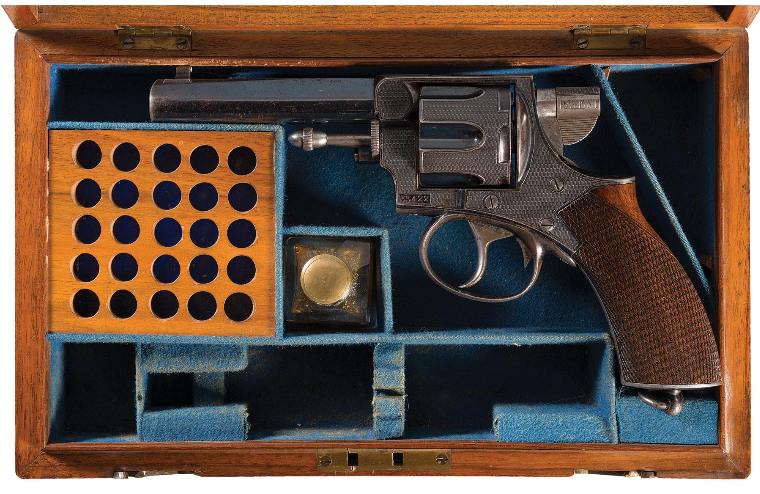 Lot 617: Rare Silver & Fletcher Patented Cased 'The Expert' Revolver – Retailer Cased "The Expert" Double Action Revolver with Unique/Rare Silver & Fletcher Patent Extractor and Safety. (n.d.). Rock Island Auction Company. photograph. Retrieved August 3, 2022, from https://www.rockislandauction.com/detail/70/617/rare-silver-fletcher-patented-cased-the-expert-revolver.