AllOutdoor Review: The Beretta 92X RDO Full Size
Sam.S 08.23.22

Red dot optics on handguns are increasingly becoming an easy add-on for most modern-made current production pistols out there. One reason for this seemingly sudden emergence is red dot optics are much more plentiful, affordable, and durable than ever before. The bottom line is plain and simple in fact, as time rolls on optics ready handguns will be more and more available for base model (or near base model) firearms. Since optics-ready handguns are rather quickly becoming a normal thing, the old timers (or older designs) have not been left behind. The Beretta 90 series has been around since the mid-1970s and the 92 model/style of pistol is an absolute icon with countless iterations. Of the more recent additions to the 90 Series family is the Beretta 92X which is a modern leaning take on the traditional Beretta 92. It features a different set of sights, slimline grips, a slightly shorter barrel, a short reset trigger, and an accessory rail on the bottom to boot! Two years after the Beretta 92X hit the market the optics-ready version of the 92X, the Beretta 92X RDO (Red Dot Optic), was introduced in 2021. I recently had the fantastic opportunity to work with this dream gun of mine and I am excited to tell you how it went below! Let's dive into this AllOutdoor Review on the Beretta 92X RDO!
Beretta Coverage on AllOutdoor & TheFirearmBlog
Specifications: Beretta 92X RDO Full Size
As I mentioned in the introductory paragraph above the Beretta 92X RDO is a more modern take on the 92 models without being a full-on military version. It has aggressive textured Vertec-style thin grips, a beveled magazine well, a short reset trigger, an optics-ready slide, a 0.2" shorter barrel, front slide serrations, and an accessory rail. This specific model of the Beretta 92X RDO is the J92FR92170 (check out Beretta's website) which is the full-size 92X RDO FR, the FR denotes that it is a safety-decocker model rather than the decocker-only model (G). I should mention that the Beretta 92X RDO has a "Universal Slide Design" which means it can be converted from a safety-decocker model to a decocker-only model and the other way around.
Action: Single/Double
Barrel length: 4.7″
Caliber: 9×19 (PARA)
Firing Mechanism: Semiautomatic
Grip Width: 1.5″
Magazine: 18 (two total)
Overall Height: 5.4″
Overall Length: 8.5″
Overall Width: 1.5″
Rail: Yes
Safety: F – Decocking Safety
Sight Radius: 6.1″
Iron Sights: High Visibility Orange/Black
Slide Finish: Bruniton
Weight Unloaded: 33.3oz
The MSRP of the 92X RDO stands at a very fair $749.99 which is only $50 more than the base model full-size Beretta 92X. I say very fair because today's metal guns tend to approach that $1000 mark and Beretta have refined their manufacturing of the 92 series in ways that must bring that cost down without sacrificing quality. Do not get me wrong, $750 is still a lot of money. However, a reliable metal-framed optics-ready pistol in 9mm for that price is reasonable and fair.
"The new Beretta 92X RDO takes the proven reliability of the venerable 90 Series family to the next level. The 92X RDO aims for top performance ideal for competitive dynamic shooting and defensive purposes with a red-dot optic ready slide and dovetailed combat sights for optimal sight options, a short reset trigger, and the Beretta Vertec frame with included aggressively textured Vertec-style thin grips that ensure a more natural fit for all shooters.

Proudly built in the USA, the new 92X RDO continues the evolution of an iconic series that delivers the unmatched performance modern shooters demand."
Red-Dot Optic Ready Slide Factory standard Red-Dot Cut with five available plate options available for aftermarket purchase
Short Reset Trigger Short reset trigger for faster trigger pulls
18-Round Magazine Ships with two 18-round, anti-friction coated magazines, with 10 and 15-round magazine capacity options available for capacity-limited states
Front Slide Serrations Front slide serrations enable the end-user to manipulate the slide easily in any weather and lighting conditions
Vertec-Style Thin Grips Aggressive textured Vertec-style thin grips for instinctive control, consistent target acquisition, and a comfortable fit for any shooter right out the box
Universal Slide Design Universal slide design features Vertec configuration dovetail sights and an easily replaceable control lever that allows the user to convert from safety-decocker (F) to decocker-only (G) and back
Beveled Magazine Well Allows quick magazine changes to be performed easily with one hand regardless of lighting conditions
3-Slot Picatinny Rail Built-in 3-slot Picatinny rail enables easy attachment of a variety of aftermarket tactical lights, laser devices, and more accessories
First Look: Beretta 92X RDO Full Size
The Beretta 92X RDO came in a typical Beretta hard plastic pistol case. Within the case was the pistol, two total 18-round 9mm magazines (other models have 10-round or 15-round instead), two total grip sets for either a more straight style fit with the two-piece or a one-piece with a bit of palm swell, and the normal set of both a cable lock and manual. Although the slide on the Beretta 92X RDO is optics-ready it requires adapter plates similarly to other handguns out there. Unfortunately, none are included (probably to cut down on waste and cost) and you have to buy them separately. Fortunately, Beretta does offer a bunch of quality-made and affordable options for most is not all optic footprint styles. I made sure to pick out the Trijicon pattern optics plate for my Trijicon RMR that I just got (buy once cry once for the RMR I guess).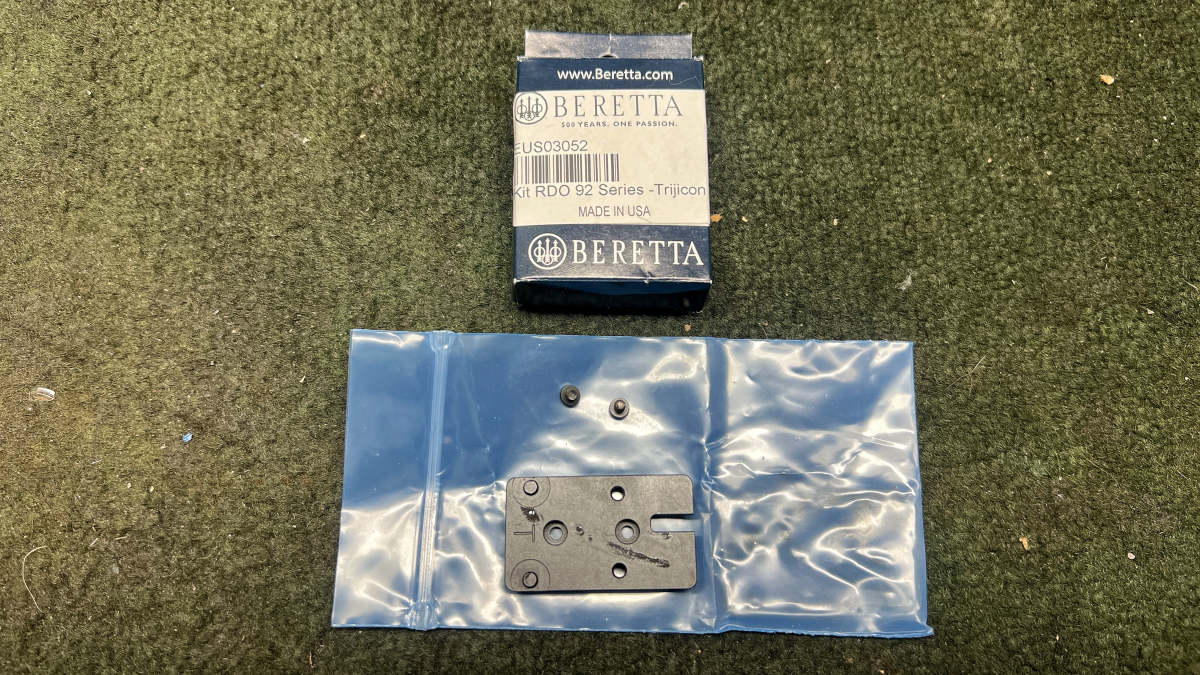 Out of the box, the Beretta 92X RDO is unassuming. This is mainly because the Beretta 92X RDO is just that, a 92X that is optics-ready. That is not to say that my initial opinion of it was lackluster in the least. Right off the bat the gun fit like a glove and I was excited to go to the range with it. First I needed to mount an optic and I recently published an article on that exact process, the link is right here. Speaking of mounting I should say that working with both the 92X RDO and its mounting plates was a breeze and very easy compared to some of the more complicated past experiences with different optics-ready handguns.
Range Time: Beretta 92X RDO Full Size
After mounting the RMR I went to the range and had a short sight-in day. This day turned out to be extremely telling in terms of how enjoyable, how accurate, and how reliable the Beretta 92X RDO actually is. After sighting the gun in perfectly I found myself drilling hole-in-hole effortlessly. What a nice gun to shoot! I could not let that first experience decide it all for me right off the bat so I went in deeper on a second trip to the range.
On my second range trip, I did a number of made-up drills after carving great groups at 15 yards got boring. I started at a low ready and intended to see how fast my sight acquisition was with a red dot and put a hole on the target. All were in the small three-inch circle and some right on the money as they say. I did one-handed and off-handed drills (once again none that were real technical) and thoroughly enjoyed the results.
The third range trip was laid back in a different sense. On a family trip up to northern Minnesota, I took along the Grizzly Targets AR500 Dueling Tree that I had reviewed and done some video work on. Those items can be viewed at their respective links above. I purchased 500 rounds of 9mm Remington Range 115 Grain FMJ and divided it up amongst family members and I also divided up some various 9mm handguns, some of them brought their own as well. What followed was a terrific hour-long barrage of small arms fire directed at the dueling tree in a competitive manner. Besides my experience with handguns being more so than my competitors, the Beretta 92X RDO made it wholly unfair to anyone to show down against me at the tree. Out of all the handguns making an appearance that day the 92X RDO was the agreed favorite.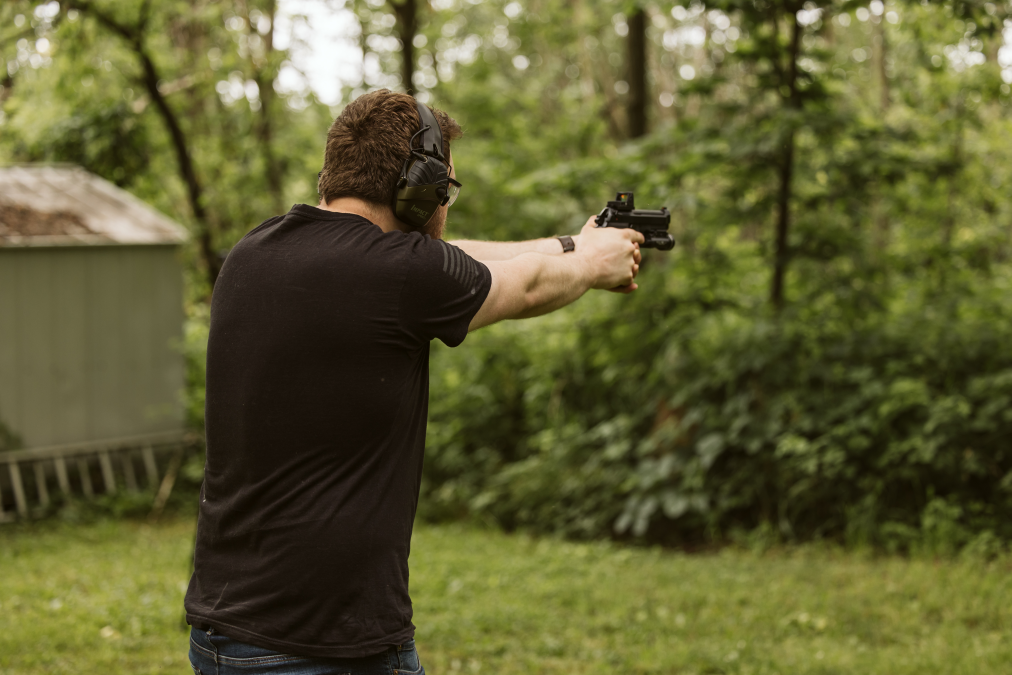 The final trial by literal fire was conducted while filming the Grizzly Targets AR500 Dueling Tree video. I had the excellent and enjoyable opportunity to face off against AllOutdoor Editor Adam S. Adam is much more well-versed and experienced in handgun play than me. I knew This would be close and at the very least I knew I would push him to a magazine change. The result? (SPOILER) The Beretta 92X RDO did most of the work but I pulled it off!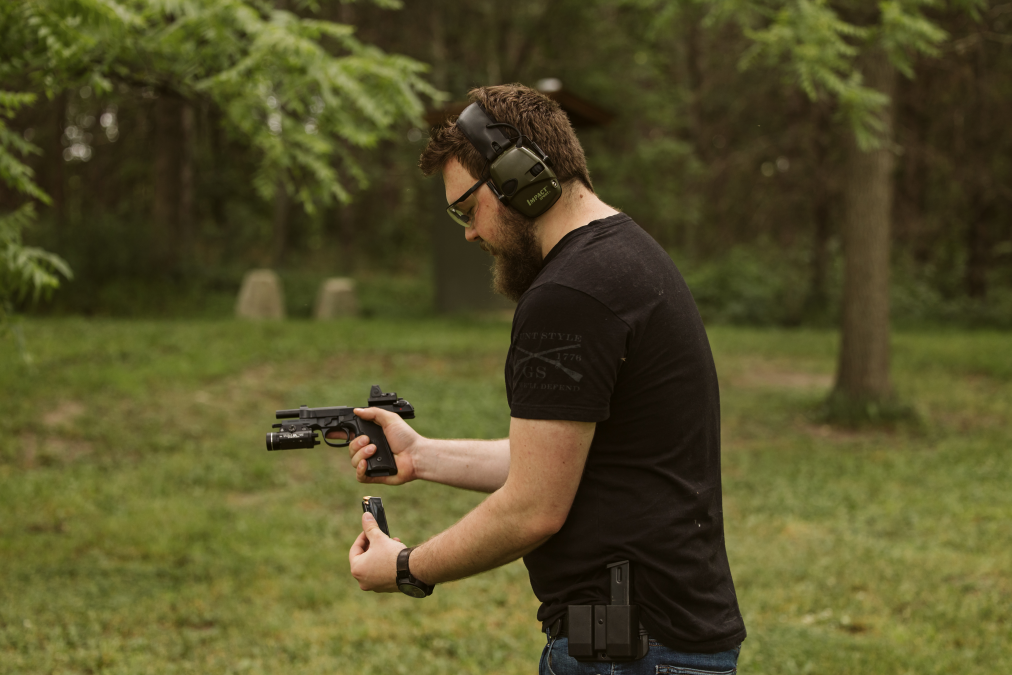 The consistency in accuracy is desirable and admirable. The sense of recoil is minimal and encouraging. The capacity is excellent and the weight behind the overall gun is lovely in the hand. Genuinely, to me, there were very few memorable negatives. Mounting the optic is made easy by Beretta's plates and disassembly for cleaning is a breeze. My only memorable gripe is that upon one of those aforementioned range trips I had pre-loaded those 18-round magazines fully. I noticed at the range that inserting these magazines that had been sitting loaded was difficult. It seems the pressure of the loaded magazines was widening them temporarily to the point where repeated smacks barely inserted the magazines. They were not overloaded and upon removing one or all round the magazines returned to normal fit. Going back to the positive, I have put at least 800 rounds through the Beretta 92X RDO and am happy to report that there have been zero malfunctions of any kind.
Final Thoughts: Beretta 92X RDO Full Size
I realize I am almost always optimistic when writing reviews. When I am not blown away they come out lukewarm but still warm nonetheless. I look on the bright side and always try to see the good. Aside from the dueling tree that I mentioned earlier this is one of the most fun review products I have had the honor of receiving a sample of. I highly recommend it if you are looking for a fun 9mm range toy or home defense gun that does not break the bank. The recoil is very pleasant and highly manageable for someone that knows what they are doing. The value of the total package is entirely worth it as far as my opinion goes. At the end of the day, I will be looking for a Beretta 92X RDO in the future!
In closing, I want to say thank you to Beretta for allowing AllOutdoor and myself the opportunity to try out their 92X RDO Full Size. That is greatly appreciated. Also, we would like to know what all of you guys and gals think. Do you believe that this version of the Model 92 pistol is worth spending your money on? Would you take this out to the range? Would this be your go-to home defense gun? Let us know all of your thoughts in the Comments below! We always appreciate your feedback.