Federal Gold Medal Sierra MatchKing 6.5 Creedmoor – "Most Accurate!"
Adam Scepaniak 08.23.22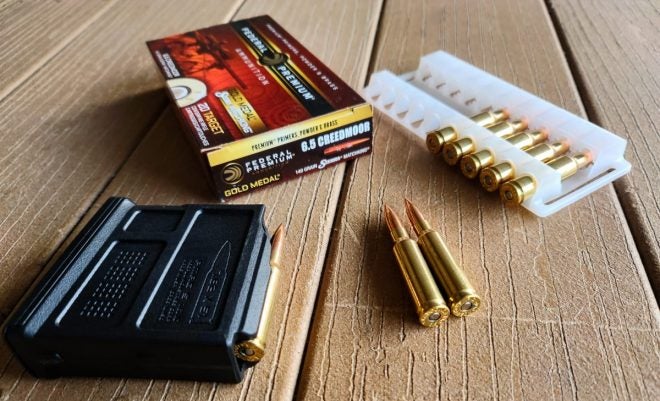 Many of us lean on Federal Premium ammunition for target shooting, league shooting, and for the once-in-a-lifetime moments we drink in hunting big game. It is no small nod of respect to trust the success of our hunts and our ambitions in competitive shooting with Federal Premium ammunition, but our trust is well-placed. In fact, Outdoor Life recently rated the Gold Medal Sierra MatchKing line of ammo – specifically the 6.5 Creedmoor 140 Grain offering – their Editors Choice for the most accurate load tested in 6.5 Creedmoor.
Federal Premium Coverage on AllOutdoor
The Outdoor Life Shooting Editor, John Snow, shot through 9 different 6.5 Creedmoor rifles while using the Gold Medal Sierra MatchKing 6.5 Creedmoor 140 Grain offering. The ammunition performed above its competitors, with the smallest 10 five-shot groups measuring an average 0.501″ (1/2 MOA).
"The quality in design, craftsmanship, and components of Federal products is highly recognized once again by this acknowledgment from Outdoor Life," said Jason Nash, Federal's Vice President of Marketing. "The rigorous testing by the editors shows that the Federal Gold Medal 6.5 Creedmoor, 140-grain Sierra MatchKing is the go-to load for out-of-the-box accuracy for the 6.5 Creedmoor cartridge."
We have had experience shooting this exact flavor of ammunition through several rifles here at AllOutdoor as well with tremendous success. While using such rifles as a Springfield Armory Waypoint, Savage Arms Model 110, and Bergara B-14 HMR we consistently saw 1/2 – 3/4 MOA groups in all rifles tested. Truly incredible for boxed, factory ammunition that is not hand-loaded to any specific rifle or action type.
"Federal Gold Medal 6.5 Creedmoor 140-grain Sierra MatchKing is built for long-range accuracy. The load uses exclusive benchrest-quality Gold Medal primer design and the precision-built Sierra MatchKing bullet. The boat-tail hollow-point bullet is built with a uniform match jacket to ensure consistent long-range accuracy."
For anyone who is looking to prepare for a long-range hunt this fall or even gear up for a new target league, this selection of ammunition would serve you well in both endeavors. Our staff – as well as others – have seen this ammo perform exceptionally well, and you could, too. As always, let us know all of your thoughts in the Comments below! We always appreciate your feedback.