POTD: Variety is The Spice of Life – "Experimental" WWI Mills 1911 Holster
Sam.S 08.23.22

Welcome to today's Photo of the Day! Here we have an interesting "experimental" holster from World War One. This is the Mills 1911 Holster which is a canvas holster that was dubbed "experimental". From all the information i could gather this was an attempt by the Mills Equipment Company to be able to sell their new canvas Mills 1911 Holster to the United States military. All of you World War One history buffs are probably aware that most branches (at least ones using the M1911) had already adopted the leather M1912 holster (later a standardized one would pop up in 1916). The Mills Equipment Company was specifically targeting the Marines since they had not settled on a holster at the time.
"Patented in 1914 and manufactured by the Mills Equipment Company, these holsters were designed for the 1911 pistol. Instead of the traditional leather seen on 1911/1911A1 holsters the main body and hanger assembly are constructed from a mixed green and tan canvas, with brass furniture and a small white felt interior block to keep the magazine catch from contacting the body. A blued brass cap is riveted to the toe, bearing the Mills bullet logo over "PAT'D-JUN. 16, '14/JUN. 30, '14", and the inside of the flap is ink stamped with the Mills bullet. The hanger is a "cavalry" style hinged arrangement, secured to the body with a pair of rivets and equipped with a brass swivel and hook, and a canvas tie-down strap is secured to the holster with a riveted brass bracket on the rear of the main body. Included with the holster is a bull of sale from noted dealer William O. Drollinger which describes the holster as "100% original", notes the tie down strap as "extremely scarce in itself" and classes the holster as being the best observed."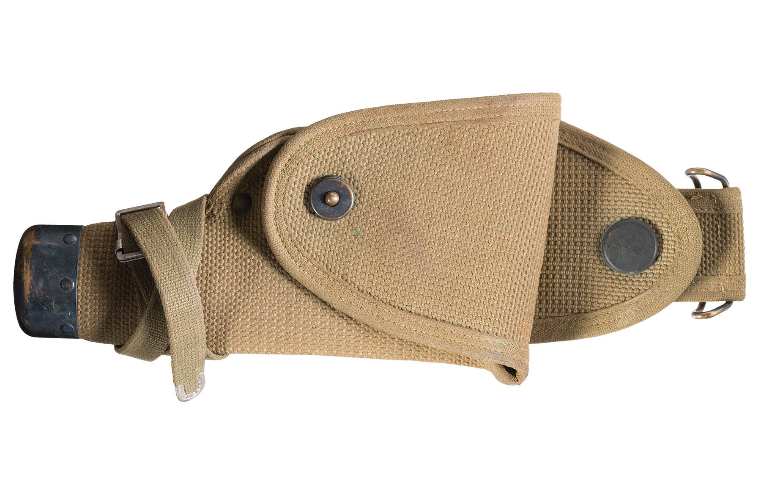 Lot 2686: Scarce Mills Experimental Canvas 1911 Pistol Holster – Scarce Mills Experimental Canvas 1911 Pistol Holster with Tie Down. (n.d.). Rock Island Auction Company. photograph. Retrieved August 18, 2022, from https://www.rockislandauction.com/detail/70/2686/scarce-mills-experimental-canvas-1911-pistol-holster.