AllOutdoor Review: Determinator Effective Range Targets
Paul B. 08.25.22

Determinator Effective Range Targets are designed to easily show a hunter their effective maximum range to hit the vital area on chosen game animals. As hunters, it is our obligation to do everything in our power to harvest game animals efficiently and humanely. Ensuring that your round hits the vital area (heart/lungs) for a quick, clean kill is imperative.
About Determinator Targets
Determinator Targets are a product of JMA Outdoors, Inc., an American Family Company.
My children and I are committed to doing our part to preserve the American heritage of hunting. We believe the first step to continuing our way of life starts with each of us exercising and promoting ethical and responsible hunting.

Good Luck and Happy Hunting
D. Howard & JMA Outdoors, Inc.,
​an American Family Company
Currently available targets include:
Whitetail Deer
Coyote
Rocky Mountain Elk
Mule Deer
Pronghorn Antelope
Wild Hog
Rocky Mountain Bighorn Sheep
Moose
Each target also has a list of game animals that have similar vital rings so if you do not see your preferred game animal listed, check the "applicable to" section for each target, it may be there.
How to use Determinator Effective Range Targets
Verify zero on your rifle
Set your Determinator target at exactly 100 yards
Aim for the bull's-eye for your zero (I zero my rifles at 100 yards so my point of aim will be the primary center dot, adjust accordingly for your preferred zero)
Fire five rounds from as close to the way you will be firing from your hunting position. From the shoulder with just your hand supporting, monopod, tripod, rest to simulate resting on a tree stand brace, ect. You will not get accurate effective information from this target system if you use a lead sled or a pile of sandbags to brace your rifle. Shoot this target as if you were in the field.
Your five shot group will clearly show you and your rifle's effective vital range by looking at the ring(s) that contain all rounds from your group. If all your rounds are contained within the 300-yard ring, your effective range to hit vitals would be 300 yards. Easy!
For the review I chose the Whitetail Deer and Coyote targets. I also borrowed a finely aged, roughly 20-year-old, Ruger 77 chambered in .308 with a Nikon optic for the whitetail target testing and a bolt action .223 for the coyote target. For additional data I enlisted the help of the rifle's owner for a friendly competition. Spoiler, he won.
Determinator Effective Range Targets – Whitetail
Following the instructions, we verified the shooting bench was at exactly 100 yards with a laser range finder and began verifying zero with the ammunition we would be using.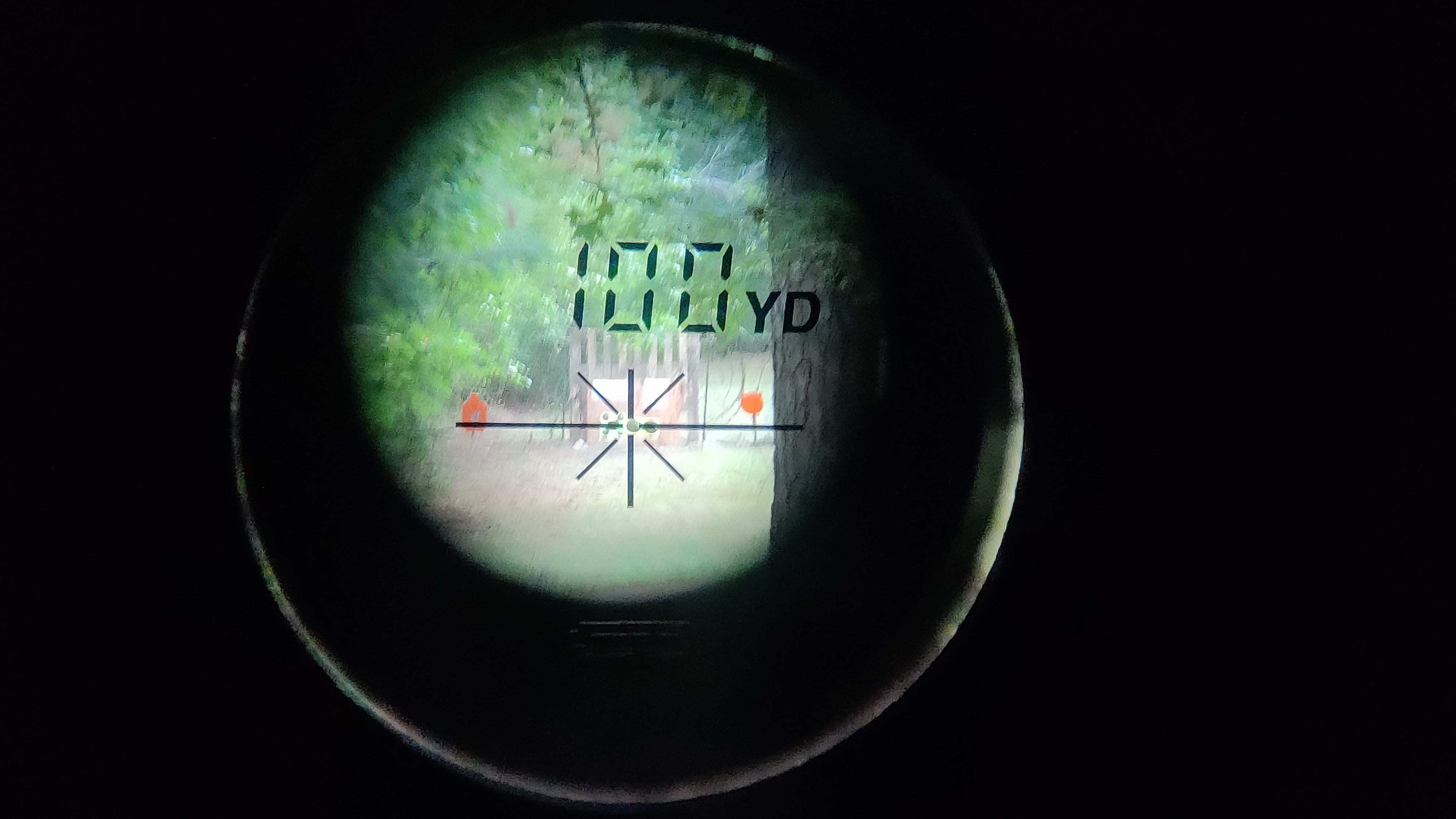 After we were happy that the rifles were properly zeroed. We began with the whitetail target; I was up first. Firing from a semi supported position my grouping on target shows my effective range to be 200 yards.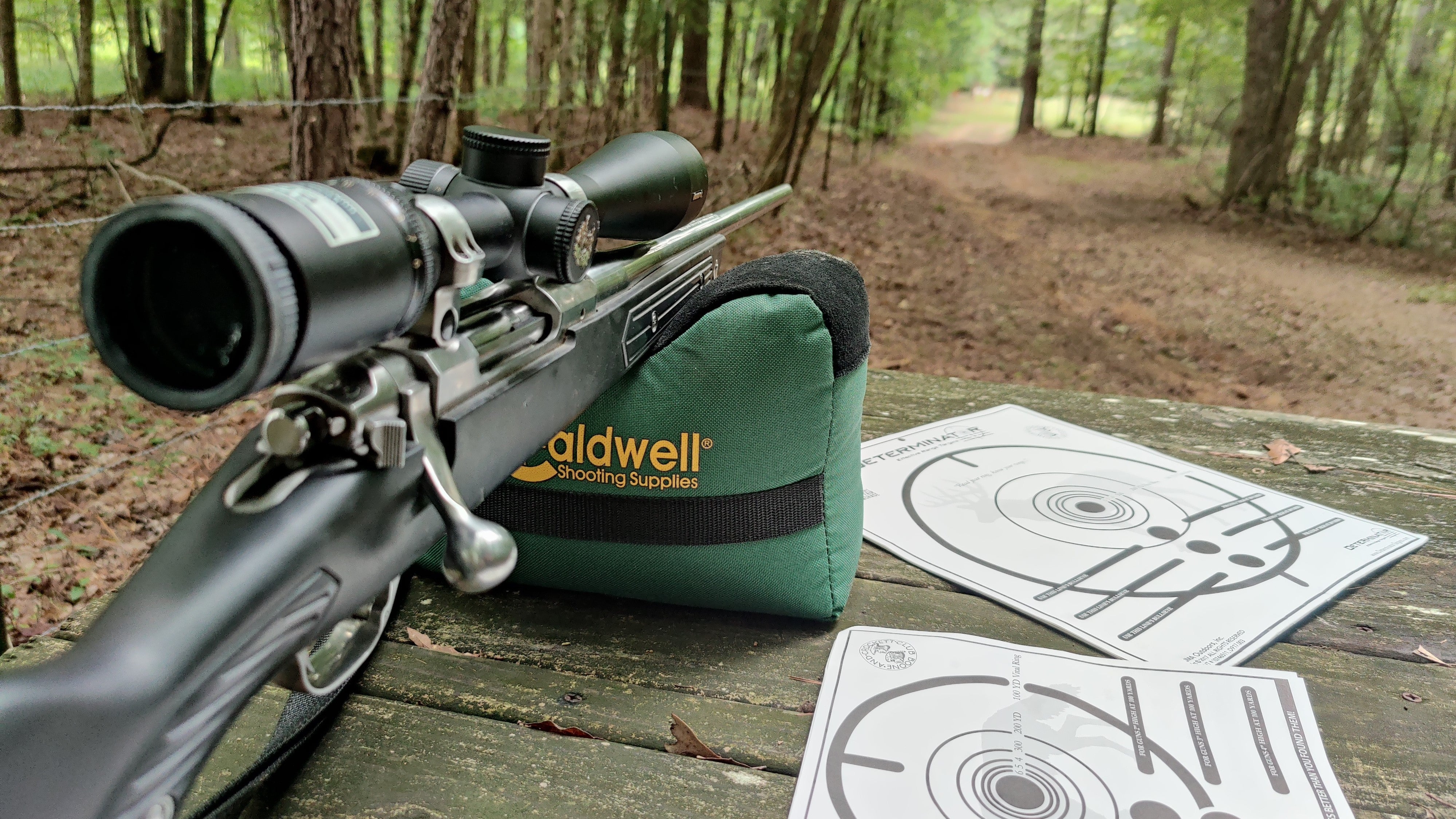 My friend's five shot group being tighter with one just barely outside the 300-yard ring, shows that with just a bit of fine tuning and possibly better ammunition, him and his rifle would be effective out to 300 yards.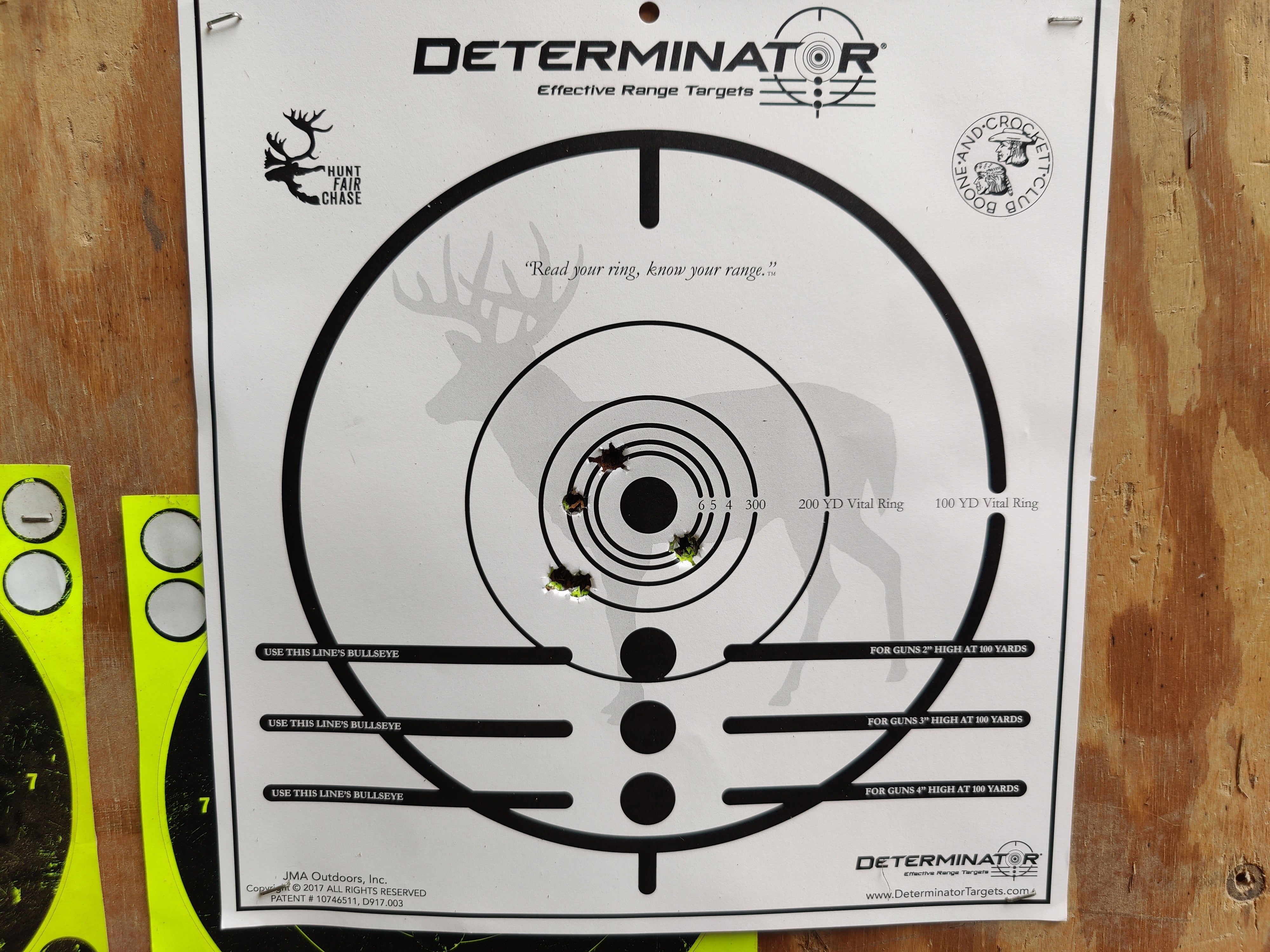 Determinator Effective Range Targets – Coyote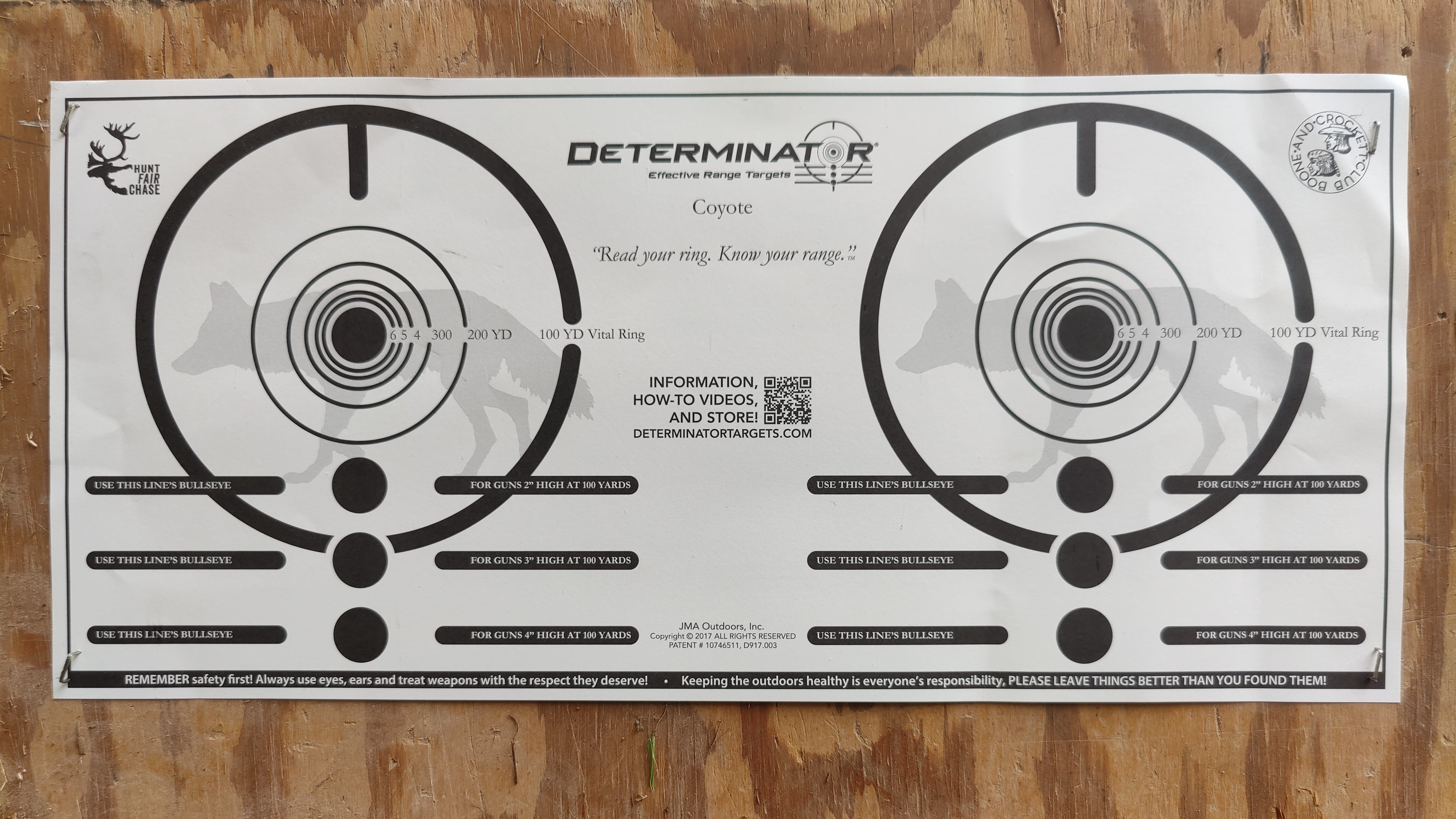 Switching to the coyote target we again verified zero on the .223 rifle. After we were happy with how the rifle was grouping, we started the test. My friend being first up, he fired a five-shot group and stacked his shots all within the 200-yard ring.
Now it's my turn. This was the first time I ever fired this rifle and I'll go a head and get my excuse out of the way. I did not expect this rifle to have such a heavy trigger, when I was pressing the trigger, it hit a wall. Just as I was about to verify that I had taken the rifle off safe, I pressed through the heavy wall and my first shot was a flier. Poor excuse, I know. My five shot group still all contained within the 100-yard ring, I did not want to cheat and redo because if you are in the field firing at game, you don't get a mulligan. My group being on the right side target, my friend's group being on the left.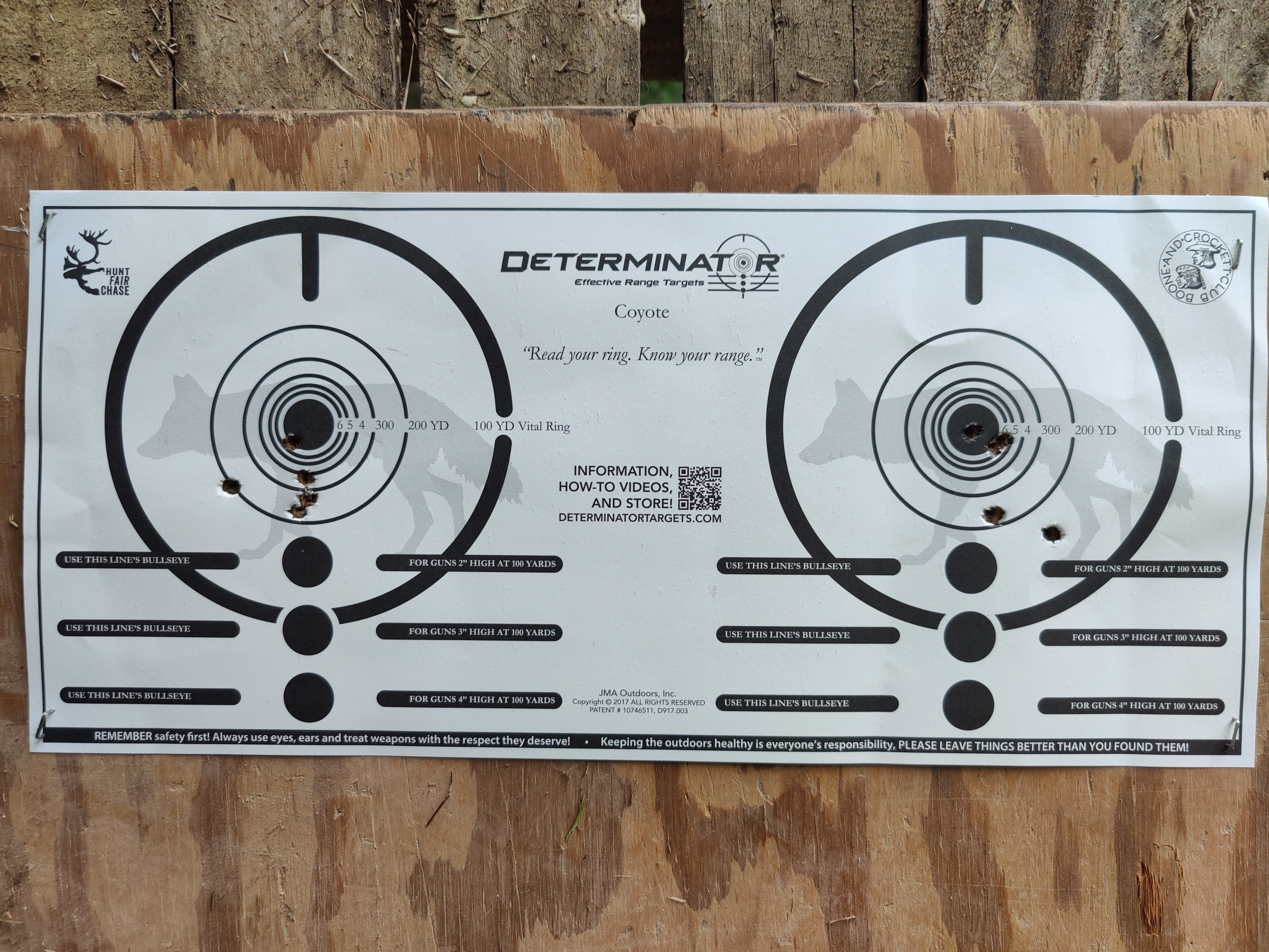 It is a sobering thought while using the Determinator target that if I had pulled that shot in the field on an animal at 200 yards, I could have missed or worse, delivered a nonfatal shot that just injured the animal.
Final Thoughts
The Determinator Effective Range Target system seems to give the most to a new or inexperienced hunter. That said, even if you are a veteran hunter with years of experience, this is an excellent system to test a new setup or get practice before the season begins. Overall, I am a fan of this target system and recommend it, especially now that fall is quickly approaching. Keep in mind that most hunting shots are not taken in optimal settings. It could be cold, low light, slight rain or maybe even snow. It would be a good idea to use the Determinator Effective Range targets under these less-than-ideal settings to better emulate your shooting ability in the field. In keeping with that idea, this test was done late afternoon with light rain and a 5-mph wind.
What do you think of the Determinator Effective Range Targets? Let us know in the comments section below. We love hearing feedback. If you would like to pick up these targets, please visit Determinator Effective Range Targets.