POTD: It Is Kind of The Same – The 9mm Walther HP
Sam.S 09.01.22

Welcome to today's Photo of the Day! Here we have a Walther P38! Just kidding this is the Walther Heeres Pistols (army pistol) otherwise referred to as the Walther HP. These are the direct predecessor to the Walther P38. The main difference between the P38 and the HP was that the HP had a more commercial look to it. It had commercial style font and markings and it had curved black checkered grips. The Walther HP is unique in that it was adopted by the Swedish military in 1939 but since World War Two broke out a very small number of them were ever shipped. Obviously, with the war kicking off Germany probably wanted to keep German arms going to German soldiers. That is when the Walther P38 entered the world as we know it!
"Fixed blade and notch sights with the standard two-line commercial address and model marking on the left side of the slide, matching serial numbers on the slide (interior), barrel, frame and locking block, and a single "crown/N" proof on the right side of the frame. Checkered grips with lanyard loop and correct vintage blue magazine numbered "1991", 41 numbers higher than a gun which is number "1950"."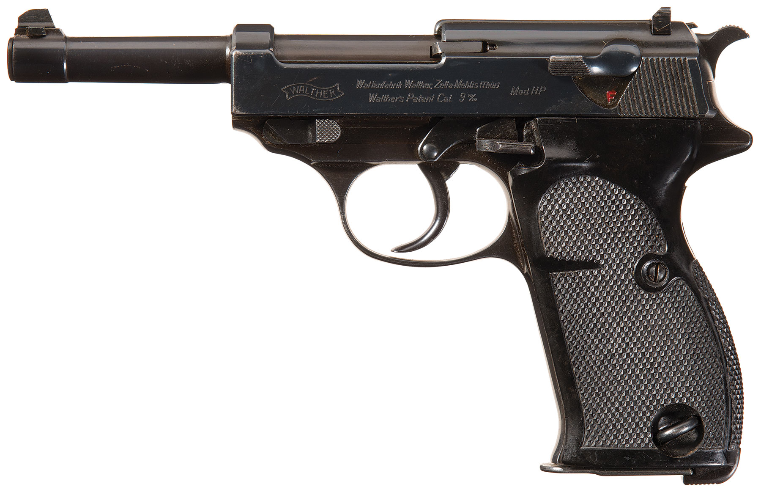 Lot 445: Walther – Hp – Excellent Walther Nazi Crown N Proofed Commercial Model Hp Semi-Automatic Pistol. (n.d.). Rock Island Auction Company. photograph. Retrieved August 31, 2022, from https://www.rockislandauction.com/detail/71/445/walther-hp.