AllOutdoor Review: Savage Arms 110 Apex Predator XP .22-250 Rem
Adam Scepaniak 09.27.22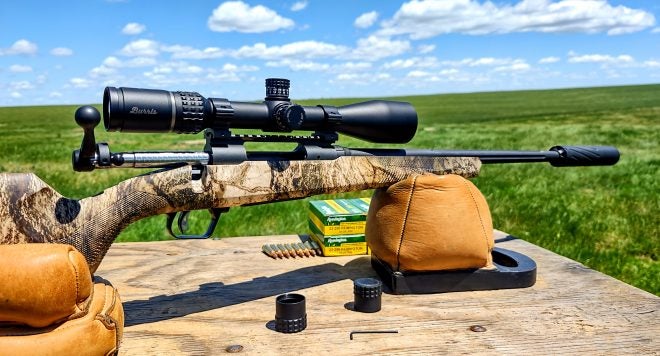 When it comes to varmint and predator hunting there are a bevy of features that hunters will seek out in their rifles – and often times – varmint hunters have very discerning tastes. Shooting for some people might be a recreation, an enjoyable past-time, or even a way to hunt and bond with others. For varmint hunters though, it can often be viewed through the lens of it being a job. Protecting livestock from predation by coyotes, eliminating prairie dogs from grassland meant to feed cattle, and to also ensure that livestock do not hurt joints and bones by tripping in disruptive holes. So, when you look at purchasing a varmint rifle it is a tool to accomplish an important task. With Savage Arms revamping their Model 110 rifle line in recent years, we saw it as the perfect opportunity to put a 110 Apex Predator XP chambered in .22-250 Rem to the test! Join us as we review one here today. Let's dive in!
Savage Arms Coverage on AllOutdoor
Specifications – Savage Arms 110 Apex Predator XP .22-250 Rem
A modern varmint rifle affords you many attributes to customize and fit the rifle to the shooter. With the Savage Arms 110 Apex Predator XP, you get that and a bit more. It is a good suppressor host with a shorter and threaded barrel. The heavier barrel with fluting improves accuracy and alleviates heat on high-round count days in the summer sun. You have studs on the stock for bipods and/or slings plus you get Savage Arms' AccuTrigger™ and an adjustable Length-of-Pull (LOP). The rest of the nitty-gritty specs can be read below as presented by Savage Arms:
Barrel: 20″ Carbon Steel, Matte Black, Threaded
Cartridge: 22-250 REM
Magazine Capacity: 4 Round, Detachable Box Magazine
Length of Pull: 13.75″
Overall Length: 40.5″
Rate of Twist: 1 in 12″
Receiver: Carbon Steel, Matte Black
Stock: Mossy Oak®, Synthetic Camouflage
Weight: 8.4 Lb
The Savage Arms 110 Apex Predator XP is offered in 6 cartridges all at an MSRP of $829: .204 Ruger, .223 Rem, .22-250 Rem, .243 Win, 6.5 Creedmoor, and .308 Win. In the rare event that an issue should arise with your rifle, you are covered by Savage Arms' Limited Warranty for the 1st year of ownership. Some other highlights and features encompassing the 110 Apex Predator XP are listed below as presented by Savage Arms:
Redesigned Model 110 Rifle
Carbon Steel Heavy Barrel Threaded with Thread Protector
Mossy Oak® Camo Synthetic Stock
Vortex Crossfire II 4-12x44mm Scope, Mounted and Bore-Sighted

Dead-Hold BDC Reticle's Hashmark Design reduces Guesswork on Holdover and Windage
Vortex Hunter Medium Rings
One-Piece EGW 0 MOA Rail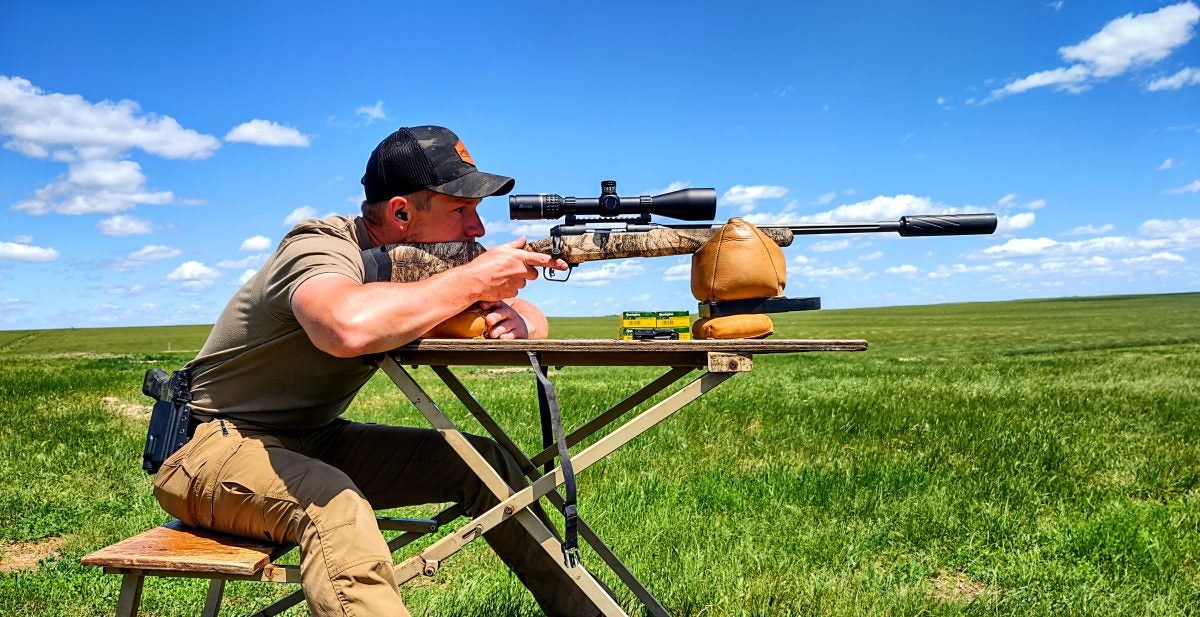 User-Adjustable AccuTrigger
Adjustable Length-of-Pull
Modern Ergonomics
Detachable Box Magazine
Carnivores are crushed. Our Apex Predator XP pairs a Model 110 rifle with a 4-12x44mm Vortex® Crossfire II scope that comes mounted, bore-sighted and ready to hunt. The platform provides accuracy and adjustability like no other package predator rifle thanks to the Savage® AccuTrigger™, thread-in headspacing, floating bolt head and precision buttonrifled heavy barrel. Plus, the length-of-pull of its synthetic Mossy Oak® camo stock can be easily adjusted to fit any hunter for better comfort and consistency. The Crossfire II's DeadHold BDC reticle makes it easy to place accurate shots at extended range, and the optic is securely mounted to a one-piece EGW 0 MOA rail.
Optics – Savage Arms 110 Apex Predator XP .22-250 Rem
The Savage Arms 110 Apex Predator XP .22-250 Rem comes pre-outfitted with an optic from the factory in a Vortex Crossfire II 4-12x44mm BDC. This is a nice optic for shooting mid-range distances of 50 – 300 yards, but we knew that the area we would be hunting prairie dogs could allow for some even further shots. So, we opted to upgrade our riflescope to the Burris Veracity 4-20x50mm Ballistic Plex E1 FFP Varmint which we also reviewed on AllOutdoor HERE.
This allowed us for more magnification for the longer distance shots we anticipated we could take, a more expanded-out reticle with more stadia lines for windage and elevation, and the glass clarity on the Burris Veracity is a tier above the Vortex Crossfire II (which the $1,000 MSRP would suggest for the Burris Veracity). With the factory-equipped EGW full-length rail we could position our new optic exactly where we needed it to be with no issues in regards to eye relief; it was perfectly suited for the shooter.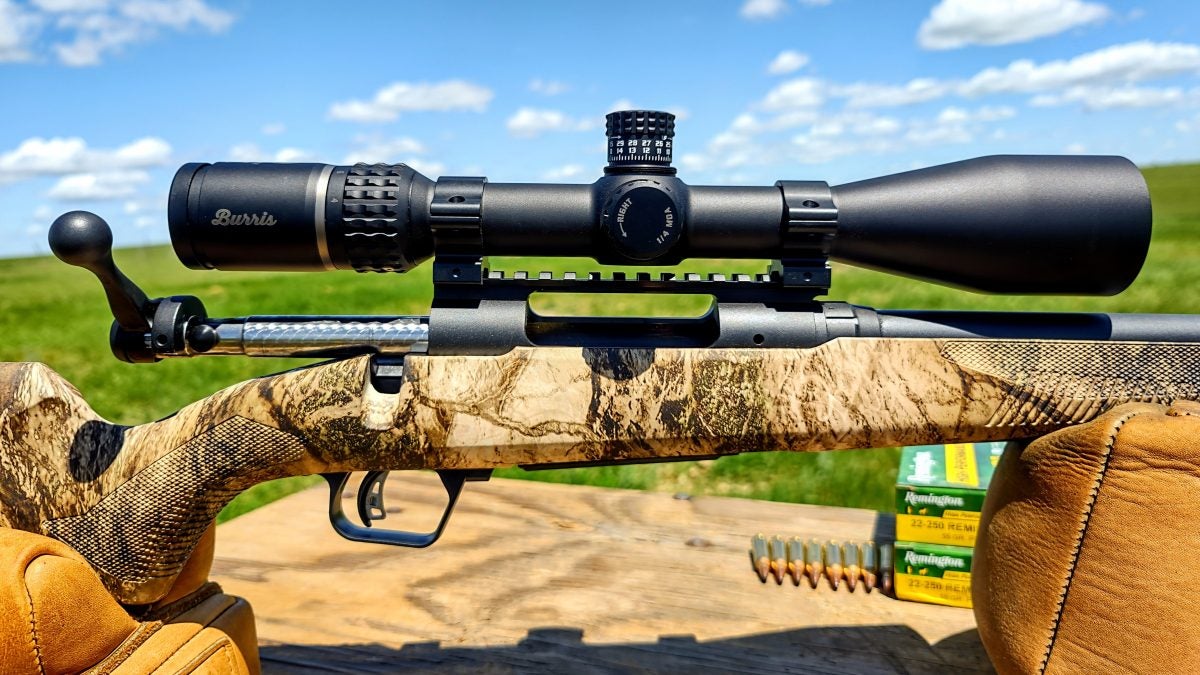 Field Use – Savage Arms 110 Apex Predator XP .22-250 Rem
Once it came to actual time in the field there were several elements of the 110 Apex Predator everyone in our hunting party appreciated. First and foremost was the threaded barrel which allowed us to add a Silencer Central Banish 223 silencer. By having a silencer on the rifle there not only was less noise for the shooter and less recoil impulse when peering through the scope, but it also masked the location of our shots to the prairie dogs. We could get more shots on a given prairie dog town before they all dropped down into their holes in hiding.
With multiple shooters in our prairie dog hunting group with varying statures, it was nice to be able to tune all of the 110 Apex Predator rifles to everybody's needs. We accomplished this by adjusting the Length-of-Pull (LOP) on the synthetic stock as well as tuning the AccuTrigger™ to everyone's personal preferences. This gave a comfortable, custom fit for everyone to accurately and effectively shoot.
The other element that was evident while shooting the Savage Arms 110 Apex Predator is the accuracy we could achieve. We were fighting Mother Nature constantly with searing heat pushing 100 degrees, and crosswinds on the order of 30 – 40 MPH. All of this made it very difficult to make hits on prairie dogs at distance, but we still connected on a lot of them. This is likely a culmination of good ammunition from Remington; a quality barrel, trigger, and action from the Savage rifle; and a good optic in the Burris Veracity. My furthest successfully downed prairie dog was over 500 yards away. A personal record for myself!
A final small, but nice attribute about the Model 110 was the detachable box magazine. Whether you are doing a lot of stationary shooting like we were or you are on the move, it is a nice convenience to have a box magazine instead of a hinged floor plate where all your ammo flops out onto the ground.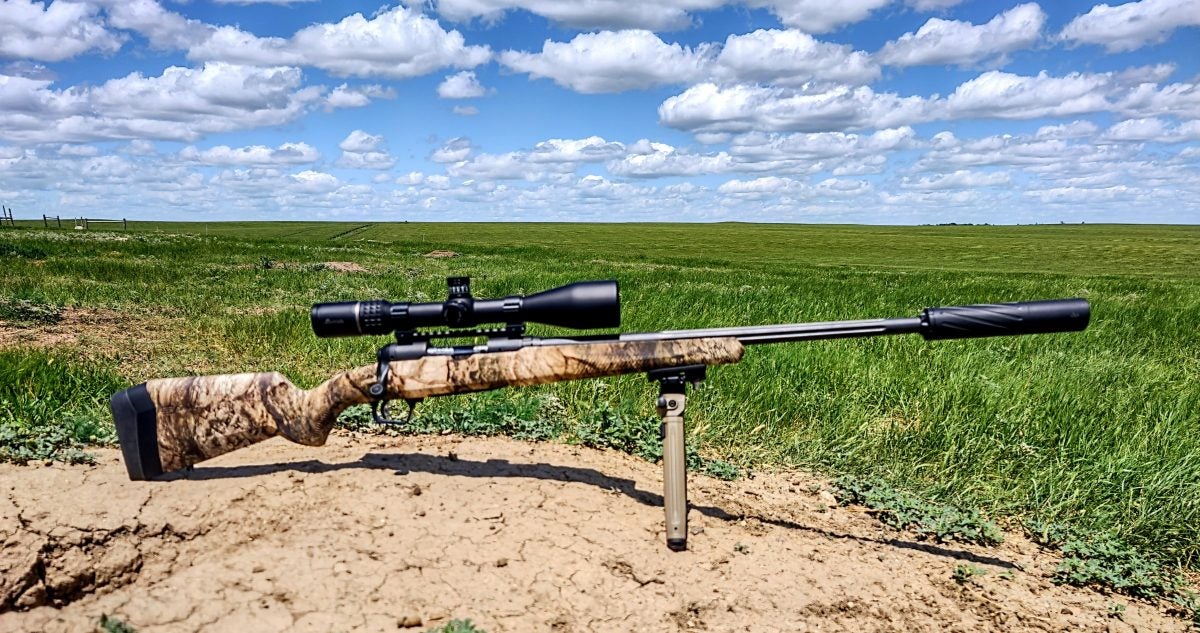 Final Thoughts – Savage Arms 110 Apex Predator XP .22-250 Rem
So, what are my final thoughts on the Savage Arms 110 Apex Predator XP chambered in .22-250 Rem?… For our prairie dog hunting trip out to South Dakota, this rifle performed like a champ. We never experienced any Failure-to-Feed (FTF), Failure-to-Extract (FTE), or any failures of any kind. With swirling clay, dirt, oppressive heat, and a high round count the conditions were perfect to expose any imperfections and the rifle exhibited none. If you are looking for a modern, varmint rifle that you can outfit to yourself with all the accessories you can think of, then the Savage Arms 110 Apex Predator XP could be perfect for you.
In closing, I want to say thank you to Savage Arms for allowing AllOutdoor and myself the opportunity to try out their Savage Arms 110 Apex Predator XP .22-250 Rem. That is greatly appreciated. Also, we would like to know what all of you guys and gals think? Do you believe that the Savage Arms 110 Apex Predator XP .22-250 Rem is something worth spending your money on for varmint hunting? Would you use it on prairie dogs, coyotes, or medium-sized game like antelope? As always, let us know all of your thoughts in the Comments below! We always appreciate your feedback.