POTD: Marlin Model 55 Goose Gun with an Integral Silencer
Sam.S 09.27.22

Welcome to today's Photo of the Day! Here we have a classic and common bolt action shotgun from Marlin, but something is off. It has an integral suppressor! This is a Marlin Model 55 Goose Gun with an integral silencer. The Marlin Model 55 Goose gun was produced from 1962 to 1996. It was a bolt action shotgun with a 2 shot magazine. They were chambered in 12 gauge and had a three-inch chamber. The real noticeable kicker to these goose guns is that they have a 36-inch barrel with a fixed full choke! Someone went through the trouble of swapping out the stock and fitting a suppressor integrally to the barrel.
"Outfitted with a cylinder choke, 3 inch chamber and a 13 3/4 inch length of pull, this shotgun has been modified via the permanent installation of an Earl's Gun Shop SSG1 silencer (see item B). The barrel has been extensively ported throughout the length, and the forearm shortened to accommodate the body. A vented recoil pad is installed. Permanently installed on the barrel, with an overall length of 18 1/4 inches (barrel included) and tube measurements of 15 1/4 inches long and 2 inches wide, with a spanner-style front cap and an unknown number or arrangement of baffles. The Earl's nomenclature is present on the right side near the muzzle."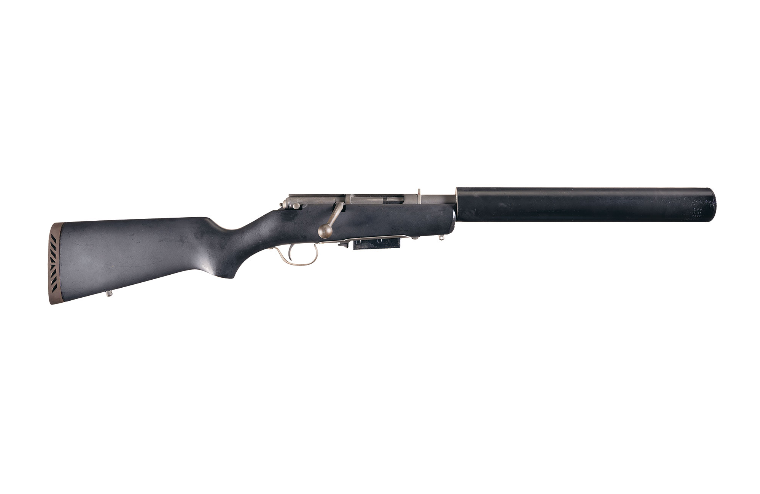 Lot 3543: Marlin Goose Gun with an Integral Silencer. (n.d.). Rock Island Auction Company. photograph. Retrieved September 26, 2022, from https://www.rockislandauction.com/detail/71/3543/marlin-goose-gun-with-an-integral-silencer.